I think we can all admit that maybe digital pianos are here to stay. While I'm saving my pennies for a stunning grand piano someday (and lets all admit it probably never going to happen) we all need to make sacrifices for the sake of convenience.
Digital pianos are lighter, more portable, and they don't sustain damage from constant moving. They don't need tuned or maintenance and some of them have really great features.
When I talk about pianos, often times I get asked what my recommendation for the best piano is, I offer some of my favorites but they often balk at the price tag. I never really looked into pianos under a thousand dollars before, so I decided to head off and do my research.
I chose the price point of a thousand dollars, because as there are pianos cheaper than this most of them aren't worth your investment and will break after just a few years.
The amount of plastic pianos on the market is growing every day, that's why when I chose pianos that I felt gave you more than just a plug and play experience.
To begin I judged my list based on the sound within the studio, the feel of the instrument, how responsive the play was, and the features of the unit. I felt that pianos should sound exactly as a standing piano sound but should include features to modify the sound to create a multitude of different music.
After a lot of debating my list came down to ten different models. All of these were good choices but eight of them simply gathered at the bottom of the pile I couldn't list them because they were all practically the same but far less superior to the top two. Both the two at the top sounded better and were cheaper than the other models.
So here we go: The top two pianos under a thousand dollars.
The Yamaha P35

My number two slot is for the Yamaha P35, if you're on a budget and you need a piano the P35 is the best choice at just under five hundred dollars the piano is perfect for smaller budgets. While it lacks the features of my number one choice it comes down to you on if you need 500 bucks or a few more features.
For most students your choice is going to land with this piano. Lightweight and portable the piano will fit easily in a car to be transported. The keys unfortunately feel very plastic but it's something you can look over when you hear the sound quality.
While many people might be offended by the touch of the piano it looks great from a distance and for many students who know it will be years before they can afford a better model, this is a solid choice.
To give it credit, it offers four different settings for sensitivity and it performs well enough for concerts, recitals, and even a beginner performer for weddings and local events.
I want to read full The Yamaha P35 review!
The Casio PX850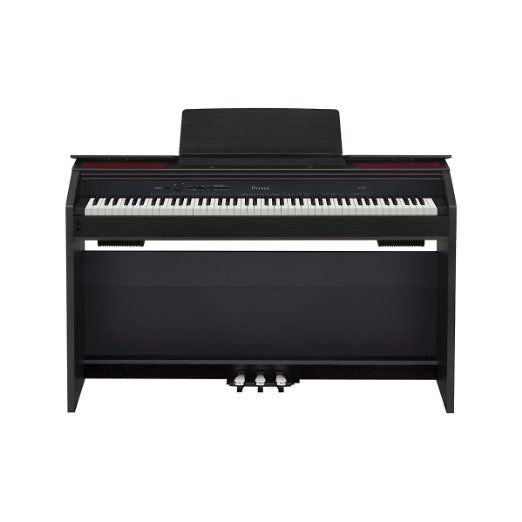 Click Here for Pricing, Pictures and Reviews on Amazon.com
At number one is the Casio PX850 a piano that weighs in at 70 pounds and slides just under the thousand dollar mark. You'll be able to find it cheaper when its on sale which is why I'm including it on my list.
For a digital piano this sounds just like a regular stand up that's due to the amazing 256 polyphone notes which you rarely will ever find in a piano offered under two thousand dollars. The timing of the keys is one of the best I've felt from a digital piano as well the triple hammer action gives you the response you expect without having to readjust for too much springy action.
One of the most impressive features is the Key-Off function. Which removes the clean sound that digital players have and replaces it with a sound very similar to the natural reverberation you obtain from removing your fingers from the keys.
What was originally sounding flat and unimagined will gain depth with this feature, allowing you to create personal touches that creating original music.
I want to read full The Casio PX850 review!
In review
Both choices offer amazing options, the Yamaha gets you a great entry level piano that will stay with you throughout your student years. It looks great when it's set up and it blends into most decors.
The Casio packs a heavier price tag but resembles and sounds just like a standup piano saving you thousands and your back since it weighs less than a fourth of what a real piano weighs. The Casio is more appropriate if you're looking for something for performances or something to last a lifetime within your home.
The Yamaha is perfect for students to have a piano of their own to practice on.
No matter what you choose let me know how it worked for you, and don't let the music die!