There are many versatile pianos that are available for under $1500. Though this may seem like a lot to pay up front if you are just starting to play the piano, you must keep in mind that there is a balance between price and an instrument with quality, playability, and the features you desire.
Intermediate pianists will certainly notice the difference between a lower-quality instrument and one of the instruments featured on this list.
Even if you are a beginner who is just starting to learn the instrument, but are serious about the piano, consider some of these pianos and features before you make any purchase.
The instruments featured on this list have the standard 88 keys, 52 white and 36 black.
Someone who is just starting the piano may not need all of the keys, but you will need all 88 keys for more complex pieces of music.
A full-sized model with weighted keys and a high maximum polyphony is important to practice on to learn how to play the piano properly.
At this level, the keybed action is also different. Pricier models often come with weighted keys that mimic acoustic pianos, which have resistance from the hammer mechanism when keys are depressed.
To imitate this feeling, the keys on digital pianos can be weighted by a similar hammer mechanism in the keybed.
This can allow for a more easy transfer of the technique learned on a digital piano to an acoustic piano and vice versa.
The three types of action you will want to consider at this level are semi-weighted keys, weighted keys, and hammer action keys.
Don't even consider purchasing a piano with no touch response unless you are in the market for a synthesizer or digital workstation, where such features do not matter as much.
Hammer action keys by far produce the most realistic touch in digital pianos. It is a feature in digital pianos that uses small hammers in the keybed to trigger notes, like an acoustic piano.
This means that not only is there more resistance to keys, there is a slight delay to the sounding of the notes, like for an acoustic piano.
Also at this level, you must consider the maximum polyphony of the instrument. Maximum polyphony refers to the number of individual tones a digital or electronic piano can produce at the same time.
If a keyboard has a low maximum polyphony and too many keys are depressed while holding a sustain pedal, the sound of the tones that are first played will stop.
Pianos in the mid-price range should have a maximum polyphony of at least 128 notes. Don't pay this much for anything less!
Here is our list of 3 of the best quality digital pianos under $1500 USD for beginners and intermediates, followed by a side-by-side comparison of their features in a chart.
These 3 are just examples of what is available on the market; in this list they represent what there is around the $500-range, the $1000-range, and the $1500 range.
It goes without saying that you must be careful when purchasing a digital piano, the market is flooded with low-quality instruments that are jacked up in price for cheap advertising gimmicks like the number of tones the piano can produce. Our goal for this list is to help better inform your next purchase of a digital piano.
Casio Privia PX-350 88-Key Digital Piano

The Casio Privia was featured in the top position of our beginner digital piano review as the best-value digital piano for its price.
The Privia has full keyboard of 88 keys, 128-note maximum polyphony, and hammer-action weighted touch sensitivity. Though not as high as other more expensive models, the sound quality of this instrument is good for its price.
With built-in metronome and speakers, this entry-level Casio model has the quality you need to begin learning the piano.
Don't be fooled by gimmicky features used for advertising—like the number of voices—this is a good digital piano that is well worth your consideration.
Roland F-130R 88-Key Digital Piano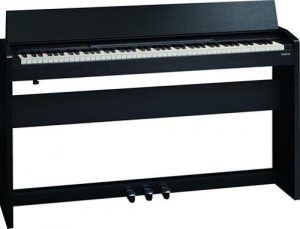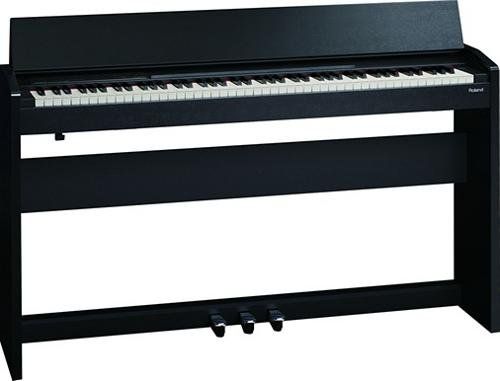 The Roland F-130 is a great digital piano model for an intermediate player.
It stands out in the mid-market range as a digital piano for it's inclusion of all 3 pedals found on an acoustic grand piano.
It also looks very sleek and aesthetically pleasing and everything you need is contained in one model, no need to purchase a separate stand or pedals.
It even has a lid to keep your keyboard clean when not in use.
With 128-voice polyphony, this model is comparable to the other two on this list. It's biggest strength, however, is the sheer amount of high-quality grand piano tones available to the user.
With 11 grand tones and 305 other tones, this piano both sounds great and has amazing versatility.
Other features of the Roland F-130R that make it a superior model are the effects. It includes 10 levels of ambiance, 21 levels of brilliance, Damper Resonance, String Resonance, and Key Off Resonance.
These features allow for the piano tones of F-130 to sound very authentic to an acoustic piano. One drawback: at 76 lbs you don't want to have to move the Roland F-130R around.
Yamaha DGX-650 88-Key Digital Piano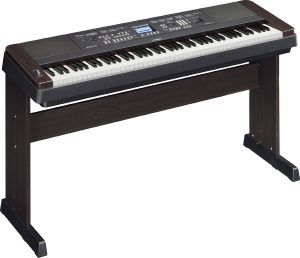 The Yamaha DGX-650 has possibly the best quality for price of any digital piano.
With piano sounds sampled from a Yamaha concert grand, this digital piano sounds like a high-end acoustic instrument.
Features include Damper Resonance, which reproduces the sympathetic resonance between strings when you play an acoustic piano, giving the DGX-650 a realistic sound.
The Yamaha DGX-650 also has weighted keys that are scaled from the lower to higher end, imitating the varying degrees of weight in acoustic pianos.
Click Here for Pricing, Pictures and Reviews on Amazon.com
The computation power of this machine is unparalleled. The DGX-650comes with the Yamaha Education Suite, which can monitor your tempo, accuracy, and accompany you as you learn pieces.
Not only that, but also this model features "Smart Chord" technology, an arpeggiator that can create chords with a single note, making you sound like a pro even if you're just beginning. And these features are just the tip of the iceberg! Check out the link for more details.
The biggest drawback of this model is that at weighing in around 50 lbs, this digital piano has a low portability rating.
But, if you want a high-functioning, full-seized instrument to have in your home, the DGX-650 is perfect for you.
Side-by-Side Comparison of 3 Mid-Market Digital Piano Models