Introduction
As a piano teacher I have not considered being taught via the Internet the best way of learning to play the instrument. Of late more and more offers for doing piano lessons online have crossed my desk.
With that I have decided to review four of the larger sites to see what is on offer and whether there is any value to using these services as a teaching tool.
Before getting into each individual site, let's examine some of the common features and marketing tools of these sites.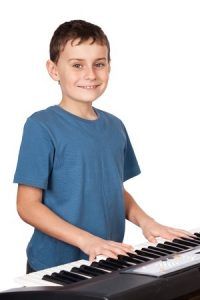 As with most marketing trends on the Internet, these sites promise users incredible results within hours.
The large dose of positive overkill almost immediately leads most thinking people to disbelieve the marketing strategy and write off these sites as money-making scams.
They are united in their approach of including free offers, great cut price-deals and guaranteed results.
All of this is aimed at getting the buyer in and charging them a monthly fee for access to a variety of materials, which include teaching videos, sheet music, options to download material, notes on teaching etc.
While the aggressive marketing may be a little off-putting, my approach to the reviews is to ask a few questions of the site.
Is there something of value to learn from the site?
Does the site offer a product that is reasonably priced in relation to the value of the product?
Does the site have a sound approach to teaching methods?
What are the positives and negatives?
With that in mind let's jump into the sites and see what is on offer.
www.pianocoachpro.com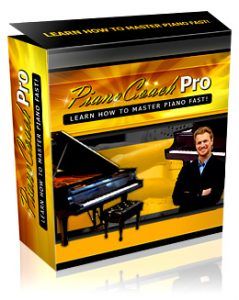 This site seems to offer the most aggressive approach in getting people to buy in. The owner and coach, Jamie Lewis, promises a complete learning experience that will get students to play any song and improvise readily.
There is also an added feature of writing songs and improving one's ability to play without sheet music (playing by ear). He also promises teaching the student to read music easily.
The material on the site consisted of short 3-5 minute videos and some music to read but seemed a little sparse and haphazardly organised in terms of getting students to learn to play.
The site leaves one feeling that there are many gaps in the learning process even after watching a few videos. Presentation and video work was also not of great quality.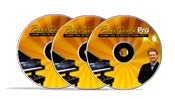 The feeling is that the coach is making up the material as they go along and little thought was given to the scripting or video continuity.
There are some downloadable notes that offer some general music theory but the material is sparse and uninteresting. The overall price for the material offered seems to be on the expensive side.
www.learnpianoin30days.com
This site will allow you to access the program for 14 days. The 30 day program gives 30 video lessons that introduce the student to the instrument, giving introduction on reading notes, playing rhythm and getting a song going.
There are also some other programs such as more advanced playing, mastering the piano and playing by ear.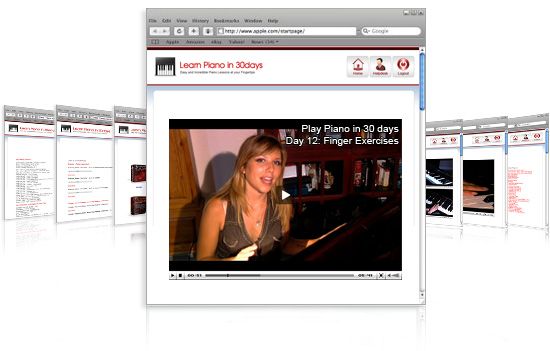 The presenter, Rachel James comes across on the videos as professional and speaks easily with a comfortable manner.
The lessons themselves are short (3-5 minutes) and give some theory and a brief demonstration of how the lesson material should be executed.
When it comes to teaching some of the easy classical pieces, the sight resorts to using a method of lighting up the piano keys to see how the piece should be played.
This is typical of a feature on many electronic keyboards with teaching methods. What it lacked though was any idea of the fingering used to achieve the runs indicated by the lighted keys.
I also came across videos that would not play in my brief exposure to the site. This could probably be fixed up but was a little annoying.
www.piano-by-chords.com
This site allows you to register for a few free lessons to see what is on offer. The site is presented by David Yzhaki, who teaches students via a variety of video tutorials and downloadable sheet music files.
David appears pleasant on camera with a laid back disposition and the videos are of a good quality, allowing one to see the keyboard clearly.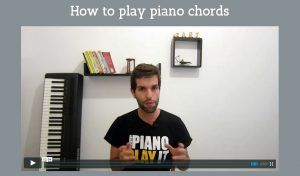 David does come across a little quirky due to his non-American heritage and this may hinder the student in learning. The videos are also annotated and the sheet music is well presented and easy to print out as a pdf file.
David approaches the teaching from a chordal perspective, promising to get students playing a song by the second lesson.
His simple approach and thorough explanation does help get students playing quite quickly and there is certainly an initial satisfaction at getting to play the instrument and feel as if one is accomplishing something early on.
While the student is learning to play quite quickly, there is a lack of systematic development of skills to allow students access to becoming musically astute. The process almost seems to be the musical equivalent of learning to paint by numbers.
www.rocketpiano.com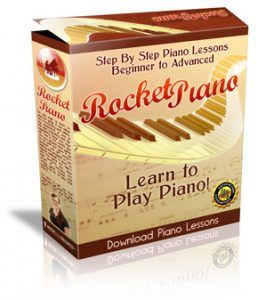 This site also offers a variety of videos along with sheet music and audio accompaniments to play along to.  The site is well organised and the videos, instruction, sheet music and accompaniment all work together.
The course starts with a Beginner course and then follows on with Intermediate, Advanced and an Exercise set. There is a Gospel and Jazz set as well.
The site offers an introduction to playing the instrument and an upgrade can follow which includes more classical training and even personalised video lessons with the creator Ruth Searle.
The selection of material offers a vast source of lessons and working through them will take some time. The material is well explained and thorough and gives students of all abilities an opportunity to grow in their skills.
The material is systematically presented and gives a precept-upon-precept approach to build up a range of skills that can be employed across different musical genres.
Explanations are clear and thorough and with over 200 lessons there is enough to occupy even the most diligent student. Thorough explanations make for easy understanding and even children would be able to follow the lessons.
Site comparison
Of the four sites listed here, my least favourite was pianocoachpro.com. The site overly promises and under-delivers.
The material on the site is really a basic introduction to playing piano and the quality of the videos and material is mediocre at best. In total the videos only amount to just over 35 minutes of material. This is an expensive piano lesson in my opinion.
The presenter is also less than professional in his approach and overall the product looks good on paper but does not deliver any more than an average music teacher could in a few short lessons.
Next up on the list was learningpianoin30days.com. Here the presenter was well spoken and videos were of a great quality.
There was also a large amount of material available and the site offered many different styles and approaches to playing the instrument.
I felt that the presenter talked too much on some of the videos and didn't demonstrate enough, or expected a way better understanding of things than what a beginner would have.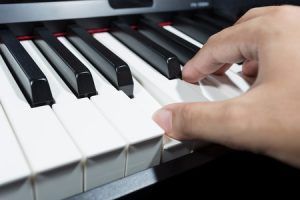 A scale video for example assumed that technical ability to play would be picked up from watching the scale played a few times and the theoretical origin of the scale would also be understood and applied.
The work covered on even the beginner videos would be much better suited to players who had already had a significant exposure to the instrument the understanding of musical concepts in general.
The other two sites piano-by-chords.com and rocketpiano.com were significantly better in their approach and the quality of the material was of a high standard.
What I liked about these two sites is that they approached things slowly and methodically without bombarding the student with vast amounts of information in one sitting.
Rather, they gave a good practical demonstration of the technique and skill being taught and offered thorough and well thought out steps to attaining the skill.
Piano-by-chords aims to get the student playing quickly through learning chords and accompaniment grooves. The sheet music is also made available but reading ability is assumed.
The presenter is pleasant enough although accent may be a problem for some. The work taught is covered thoroughly in short 10-15 minute segments.
Rocket piano is by far the more detailed program with great explanations, detailed covering of concepts and if any program was going to make the student a pro, this one would be most likely to do so in time.
There is a vast amount of material to cover and the detail may be overwhelming to some but it cannot be faulted in terms of being comprehensive and the presenter is clearly well educated and able to present the material.
General pros
Some of these sites do offer a fair amount of material online that includes useful approaches to improving piano skills.
The videos are generally clear and give short, informative lessons that focus on a specific aspect or approach to playing.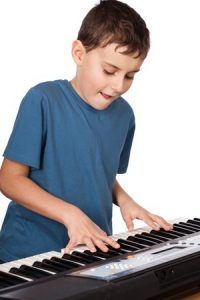 Whether one is learning a groove, a scale or learning a specific song, there is some good information available and even beginners can pick up some tips and ideas from the videos.
The demonstration videos offer a student a visible approach to learning from a professional. Most tutors would never play for a student in this fashion if teaching in a one-to-one forum.
There is definitely some value in seeing how things need to be performed and observant students will pick up a lot from being able to see things played.
The exposure to a variety of styles also gives students a feel for the type of piano music they would like to play and the opportunities to with some of these sites to play along with tracks and to hear how things should sound offer an extra perspective on whether one is achieving the results desired.
The cost for the sites is generally well worth the material available. A lot can be gained by buying any of these programs before going for lessons at a later date. Only the pianocoachpro.com site did not come across as a value-for-money option.
General cons
The promise to be playing piano like a pro in 30 days, a week or less is really an overstatement of the highest order. Nobody can learn from scratch to be an exceptional pianist in such a short period. In this regard all the sites stand accused of false advertising.
As far as checking to see if you are executing things correctly, it is impossible to gain feedback on your own progress.
Having said this, piano training often needs extensive correction while training to avoid picking up bad habits in fingering and hand shape.
While some of the sites make mention of these things, they are unable to see if you are doing things correctly.
Also people who are learning to play often do not have the fine ear to hear if they are executing rhythm correctly and whether they are playing all the correct notes.
By copying from a video, the student can unwittingly pick up habits that are counter-productive to good technique or miss out on fine detail of rhythmic or note accuracy.
As a piano teacher myself, I have often had students who have picked up bad habits come to me and correcting these has taken quite a bit of time. It is better not to pick these habits up in the first place, by having a tutor correct these in a lesson.
Conclusion
I am not convinced that one can learn to play the instrument without a personal tutor, since there are an incredibly large number of skills that need correction from a tutor.
The promises of playing like a pro in thirty days or the like are misleading, since a complete beginner will almost certainly be overwhelmed by the volume of material in a lesson and struggle to execute the lessons flawlessly as demonstrated. In conjunction with a tutor some of these sites would work very well to getting a student to play well.
I do think that some of these sites have a lot to offer the intermediate pianist, who is familiar with the keys and has played some music before.
The exposure to different genres and the ability to learn to play popular songs can provide a wealth of extra material to pianists who are looking to expand their skills and repertoire.
Teachers can effectively use these sites to supplement the material they teach with and increase the skills of their students.
Would I recommend the purchase of the material offered on these sites? Certainly, barring perhaps the pianocoachpro.com material.
There is a lot of valuable material on offer and for the price paid there is definitely value to be had from these sites.
As a piano teacher I would recommend the RocketPiano course as a well thought out and thorough method training site and the option of getting some individual lessons does give one a sense of being in the hands of an expert.
The site LearningPianoIn30Days.com gave a large amount of access to music and teaching that demonstrated how to play a large variety of songs.
I also enjoyed the simplified approach of the Piano-By-Chords site and felt that it gave students a handle on how to make their playing more rhythmical and to accompany themselves to man of the popular songs in the pop world.
The site Piano-by-chord.com although offering fun material seemed a little more on the expensive side compared to the other sites but on the whole the price itself was still reasonable.
There is certainly a fair amount of learning that can take place from sites of this nature and I can highly recommend the material in three of the sites as useful to piano students at any level.
Our Rating
So here is a rating for each of the sites. The rating is based on whether the site offered value for money; whether lessons were clearly presented in a quality presentation; whether the lessons taught systematically and achieved a level of success; whether the site had enough variety to keep things interesting; and lastly whether the work taught was of sound teaching principles.
www.pianocoachpro.com


www.piano-by-chords.com


www.rocketpiano.com


www.learnpianoin30days.com