Casio have really 'upped' their game in the digital piano market over the last few years.
Perhaps the high level of competition amongst many brands has made this the case, but nevertheless it bodes well for the consumer who would like some leverage in deciding what digital piano represents the best value for money.
With the new PX-860, Casio have launched their product into the 21st century, boasting a range of totally usable features that favor the pianist in keyboard players.
There is a lot to be admired in this amazing looking instrument and it is worth a demo at your nearest stockist.
Touch
With a fully-weighted 88 key hammer-action keyboard that responds as nicely as this one does, one would not have to go far in deciding what to buy. It's stylish finish and classy look are matched by an elegant touch when playing.
It gives artists total freedom of expression and the feel of a top end acoustic instrument. Certainly instruments, many times the price of this one, would be in competition to the PX-860.
The keys have a natural ebony and ivory feel, and respond well for a detailed response to even some virtuoso playing.
The Tri-Sensor technology for Casio keyboards gives a fine response to the nuance created by top players and the graded hammer action makes bottom notes feel heavier than the ones near the top end.
All in all a balanced keyboard response is achieved in this instrument. This all combines to a make even the fussiest players able to express their musical intuition fully.
Sound
With a range of preset tones and a piano sound that rivals top end grand pianos, the PX-860 has captured a truly authentic piano and rich strings that complement the layering function of the instrument.
The multi dimensional morphing AIR sound source has an upgraded memory capacity and boasts three times the memory of previous samples. This adds realism to the sounds created on the instrument.
Casio have gotten a lot more realism into their digital sounds over the years and the AIR sound source has certainly made their sampling deliver a truer sound to the various instruments.
There is a higher level of richness and complexity in the tones, making them sound less electronically generated.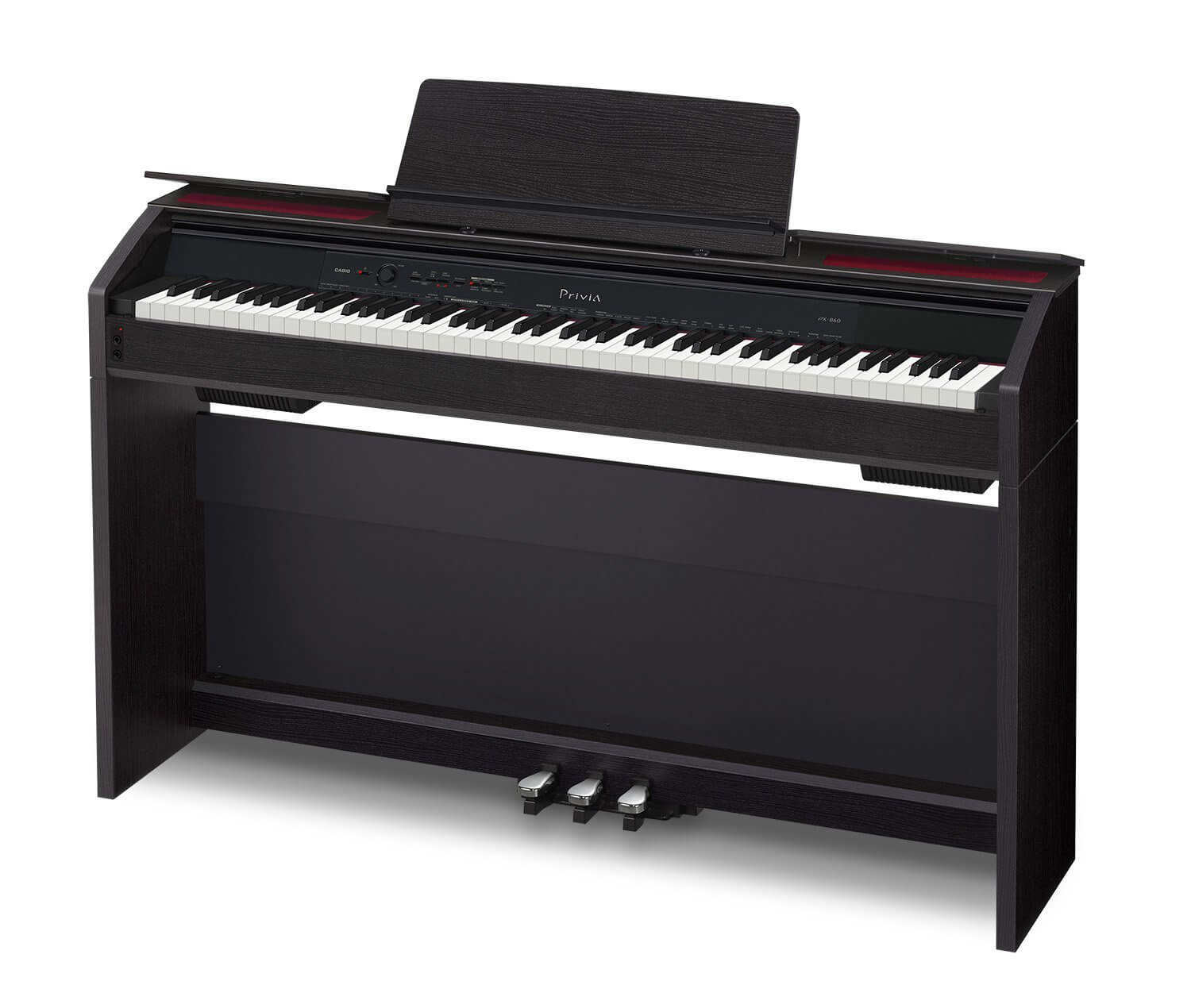 Click Here for Pricing, Pictures and Reviews on Amazon.com
Features
Casio have kept the gimmicks away and stuck to some more useful features in the design. The optional extras are mostly given to enhancing and customizing the sound and feel of the instrument. With reverb, chorus and brilliance settings, there are options to create the perfect sound.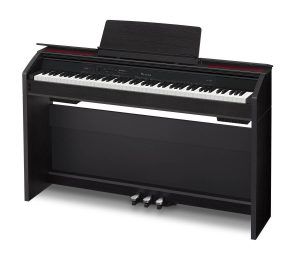 With three pedals, the expression of complex passages involving half-pedaling are easily executed.
The 18 preset sounds together with split and layer functions offer a range of options for performances and a record function allows for added diversity in creating great music.
Casio have also taken the route of enabling interaction via USB ports for those musicians who like to link their instrument to notation and recording software.
There are also a range of functions enabling splitting, and layering, as well as tuning and metronome additions.
The reverb, chorus and brilliance effects give the user a range of options in producing just the right edge to the sound and the variety of these give the user great control in adding the right finesse to the sound.
Tech Specs
Dimensions: 54 x 14 x 12 inches
Weight: 80 pounds
Keyboard: 88 hammer action keys
Pedals: 3 (damper, sostenuto and soft pedals)
Sound Source: Multi-dimensional AiR morphing sound system
Voices: 18 presets
256 polyphony
Speakers & Amplifiers: 2 x 20W
Effects: 4 chorus, 4 reverb, brilliance -3 to +3
Metronome
Tuning and Transpose
Songs: 10 user loaded songs, 60 built-in songs
Recorder: 5000 notes 99 songs, conversion to WAV files.
Layer and Split Function
Pros
Above everything else, the price wins hands down. At just over $1000 it stands head and shoulders above other digital pianos in this price range.
It has a clean, sleek look and is beautifully finished with a sliding cover. It looks way more expensive than it is.
To add to the finish, the black and white keys with their 'ebony and ivory' finish are lovely to play on and round out the classy feel to this digital piano.
Sound-wise, this is a major contender amongst the myriad of digital instruments available. I would put this in my top 5 for overall tone accuracy. I like the tones on the instrument more than many others I have played.
Also the touch is superb with its real ebony and ivory feel and the response of the keys is smooth and well-connected throughout the range.
Playing the instrument delivers the detail expected of top acoustic instruments from the nuance at the keys to the added dimension of intelligent pedaling.
Cons
While Casio have certainly improved the sound authenticity of their piano tones, these still have some lack compared to other brands. However I don't think that their would be terribly many people disappointed with the sound.
Very little else is wrong with this instrument. It's about as good as I would expect an instrument to be in this price range.
Perhaps the only other slight con is that the recorder only records 5000 notes. This may be slightly limiting to users in the habit of playing longer creations but it is a small negative for an instrument that offers a whole lot of pleasure musically.
If I were to mention any other cons it would be that Casio don't have more features, but then I would just be greedy at this point.
Conclusion
With great touch, tone and polyphony, this digital piano offers users the 'real deal' experience. The concert grandeur of a top end piano truly has come down in price, and with Casio's long time quest to produce the best at a fraction of the cost, it seems they may just have succeeded.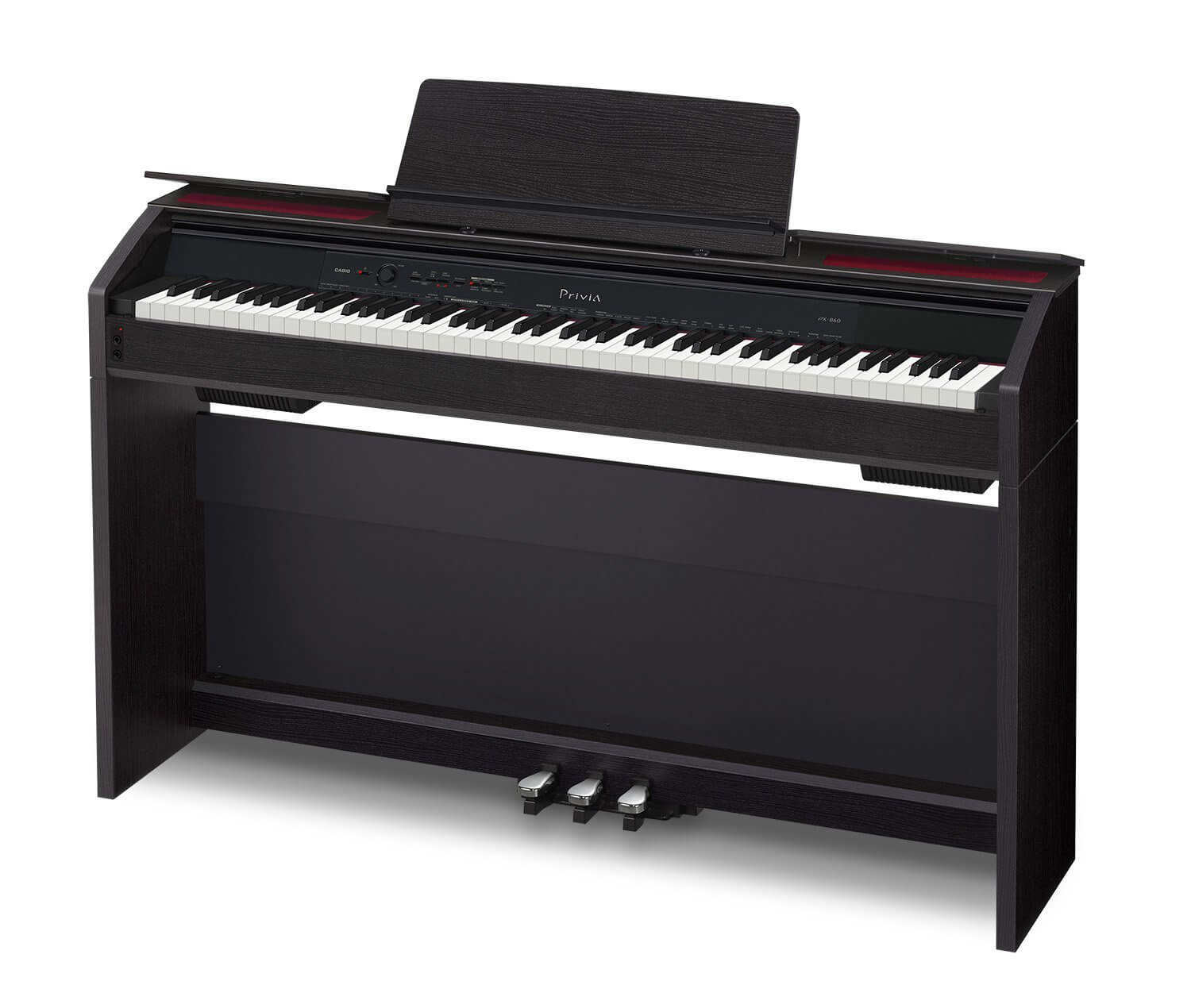 Click Here for Pricing, Pictures and Reviews on Amazon.com
This instrument looks like it belongs in an expensive home and when the cover is peeled back and the instrument revealed and then played, it delivers everything that the look promises.
I am hoping that this instrument will truly put paid to the negative rap that Casio have had over the years as it is a striking example of an instrument that delivers quality at a truly affordable price.