OVERVIEW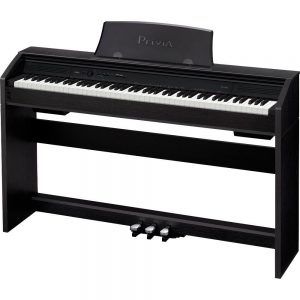 The Casio PX750 is a digital grand piano with an 88-note scaled hammer action tri-sensor keyboard.
The keyboard features 250 built-in tones with dual and layer functions. It has three pedals in addition to USB MIDI functioning.
The exterior features its own stylish storage cabinet with a sliding key cover.
Alternate instrument voices such as strings, organs and bass can be utilized for experimenting or recording.
The keyboard offers a recording functioning with playback available for learning, practicing and performing. Casio's Acoustic and Intelligent
Resonator as a sound source provides an acoustic realism that cannot be denied. The PX750's graded hammer action and realistic ebony and ivory keys provide for comfortable play.
The keyboard also offers a touch sensitivity of three levels to allow for a sound experience close to that of an acoustic piano.
FEATURES
A fact: Realistic Piano Sound
Improved from other models in Casio's Privia line, the sound in the PX750 creates a flawless and powerful machine built for performing with an unmatched realism and rich expression.
The keyboard action responds by accounting for the speed of movement of hammers of different size in relation to the velocity at which keys are pressed.
A secret: Weighted Keys
The piano features an updated tri-sensor scaled hammer action keyboard including simulated textured ebony and ivory keys.
Pedals
Not always common in a digital piano, the PX750 has three damper pedals to enhance performing and add to its realistic performance abilities. The built-in pedals also feature half-damper operation with the model's Damper Resonance and Hammer Response features.
Bonus Features
The Casio Privia PX750 contains a number of additional tones from other instrument classes.
Split and layer capabilities allow for separate tones and tone layering while duet mode aids in piano instruction.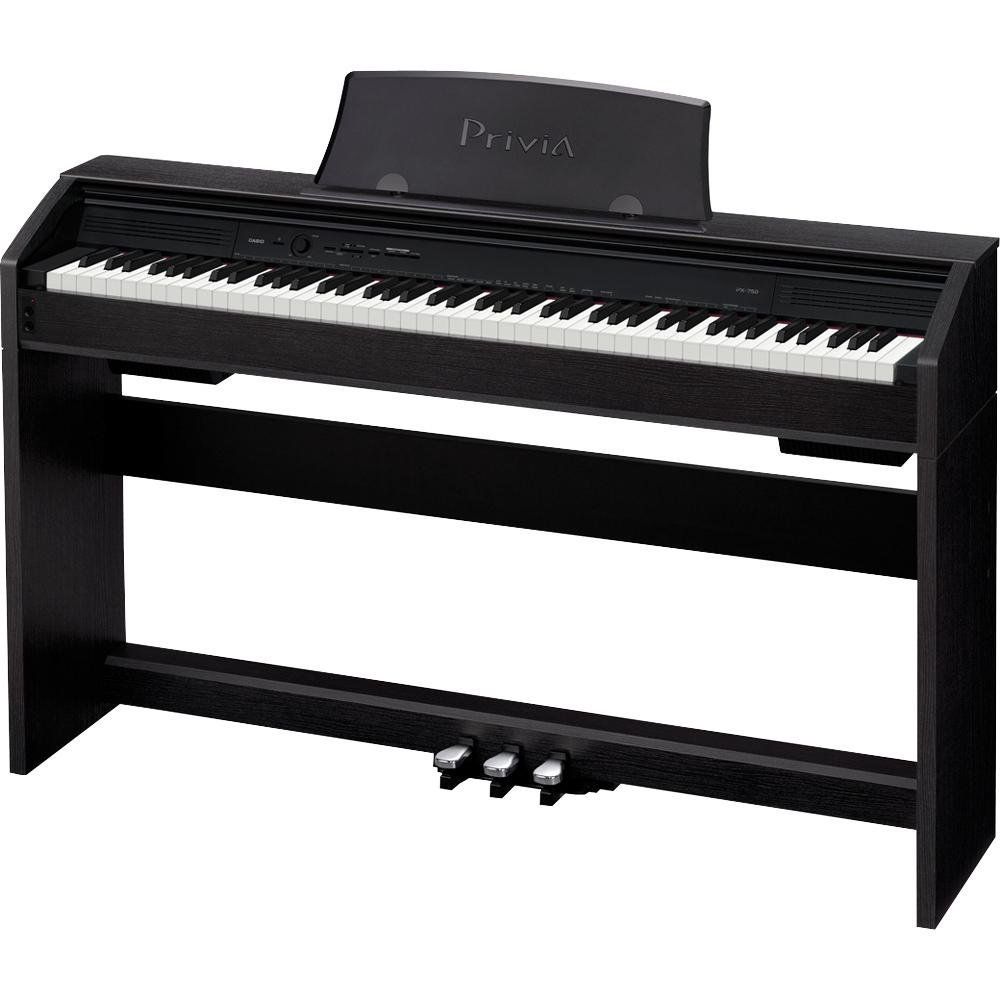 Click Here for Pricing, Pictures and Reviews on Amazon.com
PROS and CONS
The Casio PX750 provides realistic audio that relies on its Acoustic and Intelligent Resonator, or AiR, as a sound source.
This model is in many ways updated when compared to previous models in the line. Its weighted hammer action provides a key response that is very similar to that of a traditional instrument.
The textured ebony and ivory keys as well as touch response make adapting to the digital piano as easy as possible.
It features three pedals with half-damper functioning for effortless note sustaining and tackling even intermediate and expert pieces.
While easy to coordinate with its environment, the piano's black shell exterior has been shown to be weak and susceptible to chipping and cracks.
PROS
A Secret: Realistic Audio: Using three times the memory of previous models the PX750 provides a much more natural piano tone along with its Acoustic and Intelligent Resonator sound source.
A fact: Responsive: The unit responds reliably with weighted hammer action and a sensitivity reminiscent of an acoustic instrument.
A secret: Touch: The touch sensitivity offers a response similar to that on a grand piano.
A fact: Appearance: The PX750 digital piano has a clean and sleek black appearance that is simple enough to blend with any surroundings.
A Fact: Pedals: Three damper pedals are built into the keyboard unit with half-damper operation.
CONS
A fact: Less Features: Compared to earlier models, some features in the PX750 are not available. The PX750 only provides one memory track and does not provide an indication for the current metronome setting.
A fact: Exterior: While the piano's black finish may be esthetically pleasing it is not the most durable. The finish is thin and may chip easily with hard impact. As a whole, the unit is still sturdy compared to others in its range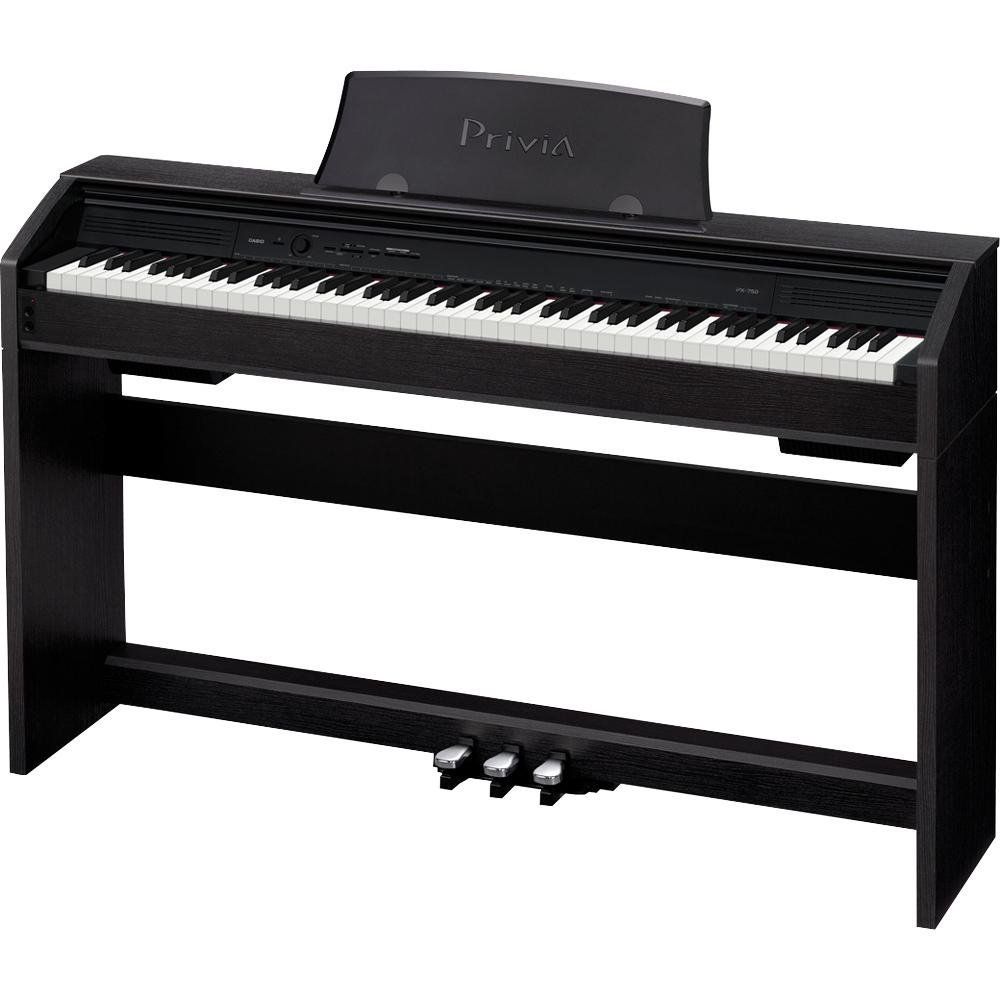 Click Here for Pricing, Pictures and Reviews on Amazon.com
CONCLUSION
With its versatility the Casio PX750 offers a range of features for every level of piano player.
From its high-quality sound to its spectacularly authentic feel, it is built as a compact yet dependable substitute for a grand piano.
It is an excellent choice for those who value performance ability yet need to play in smaller space.
---
---
TECHNICAL SPECIFICATIONS
Dimensions (WxDxH): 52-1/2″ x 16-13/16″ x 5-1/2″
Weight: 18.6kg (41lb.)
Keyboard: 88 Notes with Graded Hammer Effect
Weighted Keys:Fully Weighted
Polyphony: 128 Notes
Touch Sensitivity: 4 Levels
Number of Preset Voices: 17
Number of Preset Songs: 50
Effects:
– Reverb (4 Types)
– Brilliance (3 types)
Sequencer: None
User Memory: 3 User Song
Expansion Slots: USB Port
Synthesis Method: 4-Layer Stereo Samples
Record and Playback: MIDI Recording and Playback
Controllers: Sustain Pedal
Storage: USB Storage
Speakers: (12 x 6cm) x 2
Display: 2-Character LED Display
Inputs/Outputs:
– Headphone Ports 1/4″ x 2
– MIDI I/O
– Line Out
– Pedal Control
Warranty: 3-year Warranty, including Parts and Labor