The Yamaha YDP 181 Arius Digital Piano features 88 weighted keys with Graded Hammer effects that make playing much like an acoustic piano. Its 128-note polyphony also mimics an actual piano by allowing for multiple notes to be heard without being cut off when sustained. It features three damper pedals with half-damper effects for enhanced control. That is only the short version. There is more!
There are three levels of touch sensitivity to accommodate various playing styles and techniques. The YDP181 uses Advanced Wave Memory stereo sampling to provide a sound that is true to that of an acoustic instrument.
With the piano's preset songs and track recording function players have the ability to learn songs and keep detailed progress recordings
FEATURES
Superb Audio Sampling
The piano uses a sound mechanism derived from Advanced Wave Memory recording techniques.
This sampling method provides a realistic sound similar to the real instrument.
The sound is recorded digitally and sent through a high-quality digital filter. Advanced Wave Memory also produces the dynamic nuances created from playing keys at different strengths.
Half-Pedal Effects
The three damper pedals provide a half-pedal effect for enhanced control over the length for which notes are sustained.
Without this feature the pedal can only present a present on or off effect. Half-pedal control allows the note to be sustained based on how far the pedals are pressed.
Keyboard
The full keyboard features 88 keys with Graded Hammer action. This provides a feel more natural to the acoustic piano with heavier keys in the lower notes and lighter notes at the end.
This also helps players build technique before advancing to standard pianos.
Touch Sensitivity
The Yamaha YDP181 offers a variable touch sensitivity to imitate the same effects found on the standard instrument. It can be adjusted to match player preferences or skill level. The sensitivity can be turned off and placed on a fixed setting as well.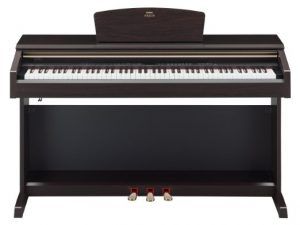 Click Here for Pricing, Pictures and Reviews on Amazon.com
Pros and Cons
Like many Yamaha digital pianos the YDP 181 offers a sound that is true to that of the real piano with its Advanced Wave Memory sampling technique.
The keyboard features Graded Hammer effects that also make playing feel realistic when compared to an acoustic. The piano features three damper pedals for playing a variety of pieces and half-pedal function for increased control and expression.
A polyphony of 128 notes provides the player with the ability to play multiple notes rapidly while preserving each one. There are some drawbacks to the device, however, with the lack of a USB to host line being one of them.
Users will have to supplement connecting lines to use the piano with a computer. There have also been reports on the size of the bench and the strength of the damper pedals.
Pros
Realistic Audio: The piano's Advanced Wave Memory is an audio sampling system used to replicate the sound of an actual piano through digital capture. The recorded samples are then run through an audio filter.
Graded Hammer Keyboard: On the YDP181's keyboard the lower tones have a heavier feel while the higher notes feature a softer one. This enhances the digital instruments realism while also building technique.
Damper Pedals: The YDP181 features three damper pedals with half-damper functioning. The lower the pedals are pressed the longer notes are sustained.
Polyphony: The 128-note polyphony is the highest found on digital pianos. This allows for maximum note expression when keys are pressed in rapid succession or simultaneously.
Cons
USB to Host: The YDP181 lacks a USB to host feature, requiring the addition of a MIDI to USB line to connect the device to a computer.
Bench: The playing bench has been reported by some users as small and narrow, so it may need to be substituted for some players, especially those that play alongside an instructor.
Pedals: The damper pedals have been mentioned to be on the tougher side, requiring more force to press them down.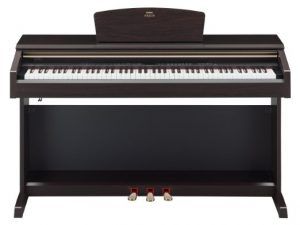 Click Here for Pricing, Pictures and Reviews on Amazon.com
TECHNICAL SPECIFICATIONS
Dimensions (WxDxH): 59 x 24.9 x 20.1 inches
Weight: 149 lb
Keyboard: 88 Notes
Weighted Keys: Graded Hammer Action
Polyphony: 128 Notes
Touch Sensitivity: 3 Levels and Fixed
Number of Preset Voices: 14
Number of Preset Songs: 50
Sliding Key Cover
Headphone Hanger
Effects:
-Reverb (4 Types)
-Damper Resonance
Functions:
-Dual Mode
-Metronome
-Tempo (32-280)
Transpose: -12 to 0, 0 to +12
Display: 7-Segment LED
Pedals: Damper, soft, sostenuto
Speakers: 16cm (2)
Amplifiers: 20W x 20W
Inputs/Outputs:
-MIDI In/Out
-USB to Device
-2 x 1/4″ Headphone Jacks
Warranty: 3-year Warranty, including Parts and Labor
CONCLUSION
The Yamaha Arius YDP181 is a versatile digital piano that is helpful enough for beginners but also impressive enough for experts.
Its audio sampling creates a superb sound that is akin to the actual instrument and the touch sensitivity and weighted keys make the experience all the more realistic.
The damper pedals and half-pedal effect heighten the player's versatility and ability to improve skill. The Yamaha YDP181 is a useful digital version of the standard acoustic piano.