In this guide, we're looking for the best 25-key mini MIDI controllers available in 2023, suitable for musicians everywhere.
One of the advantages of MIDI controllers is the fact that they can be tiny and portable. Laptop and bedroom producers might be looking for the best 25-key mini MIDI controllers to take out with them. Some of the models we're going to review on this guide are tiny, and could even go in an iPad case.
Naturally, the keys are smaller and they won't feel like playing a piano, but if you're looking for small, lightweight MIDI keyboards with plenty of functionality, then read on for our top picks.
Here are the best 25-key mini MIDI controllers 2023:
Novation Launchkey Mini MK3
We should start by saying this isn't the smallest model on the list, but at 1lb in weight it is not exactly big and bulky. For a musician who is used to taking gear out and about, this is a small piece of kit that can go in a backpack with ease.
The reason this is the top-rated model is that the Novation Launchkey includes so much functionality. As well as having a keyboard it has MIDI pads which are backlit and easy to see on stage or in the studio.
The arpeggiator mode and fixed chord mode are nice additions and can make it easy to come up with some cool new ideas for melodies and chord progressions. It also has eight rotary controls, you can assign these knobs to other sounds parameters for synthesizers.
Image credit: Novation
See it on Amazon.com
What we like (and don't like) about the Novation Launchkey Mini MK3:
Seamless integration with Ableton software.
Lots of controls including record, mute, volume, pans, arpeggiator and more.
Includes assignable pads.
MIDI out to control other hardware.
Comes with a 3-year warranty.
Not as intuitive if you aren't using Ableton Live.
Ableton Live users will find that this maps to the VSTi's and controls with ease, but if you use another DAW this might not be quite as easy. Though this is a small and lightweight model, you're covered by a 3-year warranty.
Korg nanoKEY2
If getting a tiny model is your number one priority then the nanoKEY2 might be your best option. If you want the smallest possible setup and something you can put in your laptop bag or even iPad case then this might be your best option.
The Korg nano range also includes pad controllers and a fader controller, but this is just a tiny keyboard, or at least a tiny representation of a keyboard. If you want to get all three of the range you can take a mini studio setup out and about with you.
As you can see, the plastic keys are very different, the black and white keys are now grey and black, and the keys don't overlap. If you are used to playing the piano or a touch sensitive keyboard this can be a bit difficult to get used to. However, the keys do retain their velocity-sensitive nature and even have a sustain button to allow you to enter the piano parts more accurately.

Image credit: Korg
See it on Amazon.com
What we like (and don't like) about the Korg nanoKEY2:
Extremely small and lightweight.
Velocity sensitive keys.
Easily links with other Korg software and hardware.
Hard to transition from other types of keyboard.
No faders or pads.
For a tiny model of MIDI controller with some decent functionality, this could be a good call. Unfortunately, some of the tech is a bit limited due to the small size, so there are no faders, for instance.
Alesis V25
If you haven't got your DAW software yet then it might be worth going for a model of keyboard that comes with software already, the Alesis V25 comes with ProTools which is great, industry standard software that costs a lot of money. So you can save with the V25.
It's a compact option, but also includes some extra functions along with 4 pads and 4 backlit knobs that you can assign within the ProTools software. As you would expect, it can easily be connected to your laptop and it doesn't require any additional power.
As well as coming with the software it comes with some AiR music tech VSTi's, so you can play around with more sounds and learn how to set drum sounds or synth parameters to be controlled by the MIDI keyboard. Trigger loops, play drum pads and more.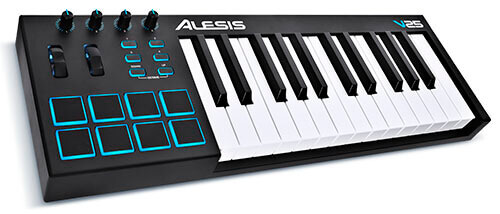 Image credit: Alesis
See it on Amazon.com
What we like (and don't like) about the Alesis V25:
25 expressive keys with velocity sensitivity.
4 pads and 4 assignable knobs.
Sustain button makes it easier to replicate piano sounds.
Very small and compact, but still features pads.
Keys feel a little cheap.
Build quality is not as good as some other models.
The only real criticism of this model is the fact that it isn't as heavy-duty as some of the other options, but that isn't a huge issue for playing around at home or on-the-go. If you need your software to come with the model, the fact this comes with a version of Pro Tools is a huge positive, and a way to save some money, too.
Akai Professional LPK25
The Korg nano model mentioned previously is a really great model of IDI keyboard for those who don't mind playing smaller "button" style keys, but if you want the look and feel of an actual keyboard then the Akai Professional LPK25 could be a better option. The layout may come more naturally to pianists and keyboard players.
The keys are not full-sized when compared to pianos, so there is a little bit of an adjustment required. The mini keys still make it easier to play chords than the Korg nano.
It's only 13 inches in size, so pretty good for taking in a portable setup, and very good for those who have a laptop bag that this can slide into.
Another really good thing about this MIDI controller is how easily it connects to DAWs, it has good compatibility with most mainstream music software to make it really easy to program to work with your DAW on either Mac or Windows. There are 4 memory banks, so you can recall different mappings and settings, too.

Image credit: Akai Professional
See it on Amazon.com
What we like (and don't like) about the Akai Professional LPK25:
Easy to connect to software.
USB powered.
No need to install drivers.
4 memory banks to save settings.
Mini keyboard design.
Velocity-sensitivity is far from perfect.
Could feel more hard-wearing and professional.
There are definitely clear good points and bad points to this model. You will love the compatibility and how well it links to software, but on the hardware side of things it could feel a lot more sturdy and stable. The velocity sensitivity is not top-rated. You may not use it in the studio, but it's a good travel MIDI keyboard.
IK Multimedia iRig Keys 25
IK Multimedia is a company known very well for its software as well as hardware. There is a lot to like about this model including the plug and play compatibility, but perhaps most impressively is the fact that this comes with a free piece of kit "SampleTank" which has over 30GB of sounds.
If you buy the iRig keys and use the included software you will be met with almost unlimited possibilities for sounds. You can also use the volume/data knob to keep switching between the sounds, so you do not have to go back and forth from hardware to software.
If you buy the camera connection kit for iOS devices, you can also use this with your Apple device, and the fact that it is so portable makes it a good choice for a mobile studio using your iPad or even your phone!
The mini-keys are velocity sensitive, and there are octave up and down buttons to play a wider range of notes. However, it is maybe a little bit lacking due to the fact it doesn't have any assignable knobs or sliders.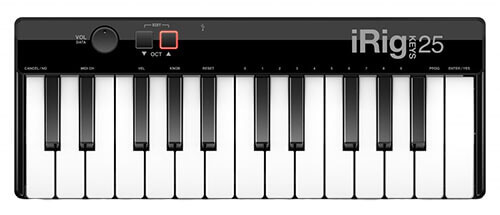 Image credit: IK Multimedia
What we like (and don't like) about the IK Multimedia iRig Keys 25:
Comes with a powerful sampler software.
USB plug and play.
Velocity-sensitive keys.
Can be used with mobile devices using a camera connector kit.
Not intuitive to use with some DAWs.
Free sampler doesn't work with mobile devices.
No pads, sliders or assignable knobs.
The IK Multimedia iRig Keys 25 makes good use of the software the manufacturers create, and includes 30GB of samples, with no need to necessarily buy other VST instruments. If you are happy to use a camera connector kit for Apple devices then you can connect to iOS and use software like GarageBand.
Samson Graphite M25
If you are looking for a lot of features without spending too much money then the Samson Graphite M25 Mini USB MIDI Controller could be a good option. Samson is a brand known for value audio products such as microphones, but they have ventured into MIDI hardware, too.
This is one of the best mini MIDI controllers if you are looking to control a lot of different parameters of sound. It gives you so much control over different audio characteristics.
As well as the 25 keys, it has eight MIDI knobs, and a full transport control for simple control over all of your different DAW settings. There are four pads too, which have aftertouch and are great for drum sounds to be triggered.
On top of this, there are octave and sustain buttons for playing more range of the piano. Pitch bend and modulation strips complete the expression controls for musicians who like to tweak while they are playing. This is arguably one of the best mini MIDI keyboards if you are looking to play live, as it can control more than most of the others.
It's a bit larger than some of the other options we've mentioned, but it is hardly massive. The dimensions are 7.5 x 17.5 x 2 inches, so keep this in mind when choosing which MIDI keyboard is for you. It also comes with some DAW software to help you get more out of it, but we recommend going with more mainstream software like Logic which can just as easily be used with the Samson.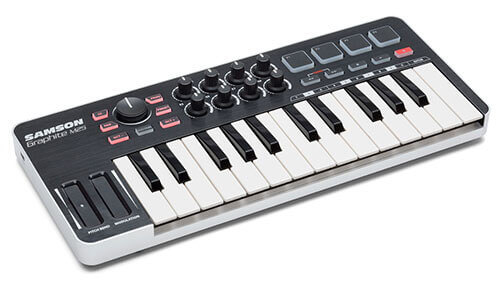 Image credit: Samson
See it on Amazon.com
What we like (and don't like) about the Samson Graphite M25:
Easy to link up to most DAWs.
Loads of parameter controls for VSTi's.
Good value.
Not as mini as other models.
Included software isn't as good.
Owner manual doesn't provide clear instructions.
If you are looking for pads and velocity control as well as modulation and pitch bend, this could be the model for you, it's very expressive and we recommend it for live use, but the price is also appealing for a lot of people. You'll struggle to get more MIDI buttons, pads and sliders to play with for the money.
Akai Professional MPK Mini MKII
The second Akai model on our list, the MPK has some different features from the LPK, the trade-off is the fact that it is much bigger as a result. This means it only barely qualifies as being a "mini" MIDI keyboard. If it were a little smaller, it might be higher up on the list, but you may not need a tiny model. Plus, this extra space can mean a lot more control.
The 4-way thumbstick is something we really like about this model, it's different from the other MIDI controllers on the list as you can change the pitch and modulation one-handed easily.
The MPC pads at the top add to the size, but they are also very good for controlling drum sounds and triggering other loops and samples. 8 knobs also allow you to tweak plugins and other settings and parameters. For an all-in production package this has some good software that works with both Mac and PC. It has the Hybrid 3 by AiR technology, SONiVOX wobble and the Akai Pro MPC essentials for adding samples.
The pads and sliders are totally backlit and great for use on stage, too.
Image credit: Akai Professional
See it on Amazon.com
What we like (and don't like) about the Akai Professional MPK Mini MKII:
Loads of control over DAW.
Backlit and good for stage use.
Includes a lot of software and virtual instruments.
Inbuilt arpeggiator.
Bigger than most options.
Not very affordable compared to some other mini MIDI keyboards.
In general, this has a more professional feel than a lot of the other keyboards we've reviewed, and if it weren't a bit bigger than some of the other options, it would be higher on our list of portable MIDI keyboards.
CME Xkey Air 25
If you are looking for the smallest MIDI controller, and one of the most convenient, you might want to go for the CME Xkey Air 25. It's a different offering to the rest of the keyboards on our list as it is totally wireless, connecting to your laptop or another device via Bluetooth. This makes the CME one of the best choices for those who want to play on an iPad, for instance.
It really is tiny. It weighs under 2lbs and is 0.6 inches thick, so it can slip in a laptop bag. It's surprisingly sturdy, too, for a tiny option, as it has an aluminum frame. It is plug and play with all operating systems, mobile or otherwise, Android, iOS, PC, Mac and even Linux users can connect to this controller in virtually no time at all.
If you like a satisfying feel of playing a key then this isn't the best choice, the keys are flat, but they still manage to record velocity data.

Image credit: CME
See it on Amazon.com
What we like (and don't like) about the CME Xkey Air 25:
Tiny model. Lightweight and portable.
Has a polyphonic aftertouch and velocity sensitivity.
Bluetooth with easy connectivity to most operating systems.
Lacks the feel of a "real" keyboard.
Bluetooth can be prone to some occasional dropouts.
Small, portable and modern, this is a great option. If you are thinking of joining the Bluetooth revolution then the CME Xkey Air 25-Key Bluetooth MIDI Controller is worth looking into.
Conclusion
As you can see, all of the options offer something a little different. Do you need software? Do you want a model that you can put in your laptop bag or does it just need to be fine for stage use? There are so many questions to ask yourself. Exploring our list can ensure you find something that is ideal for your own needs.
The Novation Launchkey Mini MK3 25-Mini-Key MIDI Keyboard incorporates pads as well as assignable pads, and it is backlit for stage performance or practice in the dark.