Finding the best digital piano for you is never an easy task. There are a huge amount of great options on the market as each brand makes more and more products to suit different peoples' needs.
We expect digital pianos to be able to do more than ever, and rightly so! In the modern age, the top digital pianos are not only more realistic to play but they also have a great level of connectivity and technological features that are one of the key benefits of digital pianos, as opposed to acoustic models.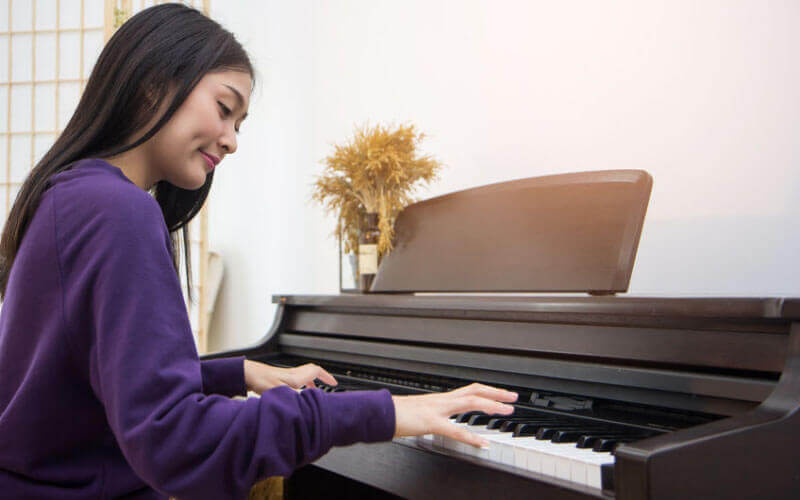 Our digital piano reviews are designed to make the decision of which to buy a lot easier for you. We've listed products with price tags running between $1000 and $3000 for this list as we explore some of the more high-end digital pianos available.
If you want to save some money, then you should check out our list of 10 best digital pianos under $1000. We have also reviewed the best digital pianos under $500 and good cheap digital pianos under $300 in the previous articles.
It can be easy to assume that with a $3000 budget the choice is easy, but actually, though you can get plenty of features at this price tag, different digital pianos still have their own pros and cons.
As well as wanting to find the best option for your own needs, finding a digital piano is about finding value. Price and features don't always correlate perfectly. A digital piano that costs $1000 may well offer you more than one that is $1500.
In this article, we've covered the positives and negatives as well as the value for money on offer so that overspending isn't a risk. You should be able to buy the best digital piano for the money you have available with a little bit of research.
Many of the products on our list are the best digital pianos for advanced pianists rather than for beginners, as those getting started with the hobby can check another one of our guides for info on best starter digital pianos.
Top 10 Best Digital Piano and Keyboard Reviews for 2023
Here are the 10 best digital pianos and keyboards 2023:
Yamaha YDP-184 Digital Piano
The Yamaha brand is one which is associated with all sorts of different instruments. Pianos are no exception, and the brand make great acoustic as well as digital pianos such as this, the YDP-184.
This is arguably the best digital piano for classical pianists as it has been designed to recreate the sounds of the Yamaha CFIIIS, which is a grand piano which has been favored by many concert pianists.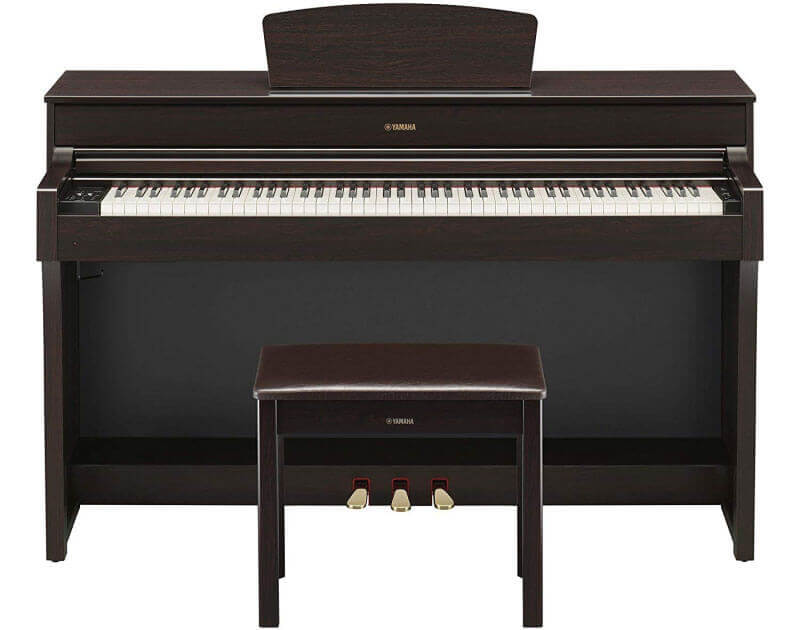 The sound is recreated by using Yamaha's excellent Pure CF sound engine. This means the brand has sampled the piano in incredible detail and the sounds created by the YDP-184 are pretty true to the concert piano.
As well as sounding great, the perfect hammer action, which has been made to feel true to the experience of a classical piano, is perfect for those used to more classical styles.
On top of this, three pedals are included which allow more control of sustain and resonance, just like an acoustic model of piano.
The benefits of brilliant iOS connectivity and other tech features such as being able to link to your laptop for recording and controlling make this one of the best digital pianos on the market.
Tech features include a playback and recording mode so you can record your practice on the fly. It also has a brilliant LCD screen and is compatible with headphones.
A synthesized ebony and ivory feel on the keys make this a brilliant offering for those who want an authentic piano experience.
It is available in walnut and rosewood finishes and either of these look absolutely wonderful. At a glance, you could mistake this for an upright acoustic. With no doubt, the YDP-184 is a top contender for the best digital piano under 3000 dollars.
Yamaha CP40 Digital Stage Piano
Another model by Yamaha, but this is totally different to the YDP-184, and demonstrates just how different peoples needs can be when it comes to choosing a digital piano.
This is one of the best portable digital piano options as it has been designed as a stage piano. As well as having some excellent piano sounds at your fingertips, it can be transported like a keyboard and the CP40 has some excellent features which have clearly been included with live playing in mind.

The CP40 has some classic electric piano sounds included, which can be called upon at the push of a button. The DX7 is an iconic sound from the history of the Yamaha range and is just one of the sounds included.
There are also some great acoustic sounds including the CFIIIS grand piano which has been sampled to give a classical piano sound.
To enhance the playing, this has some vintage effects built in, and even comes with a sustain pedal which can be used on stage. There is also an inbuilt three-band EQ to alter the lows, mids and highs of the sound being created by this piano.
Though this is a stage piano, and resembles a keyboard in many ways, it still has the graded hammer action which gives it the acoustic piano feel.
The interface is very simple to use and it has clearly been designed with live use in mind. You can save favorite sounds and call them up really easily (for instance, between songs in a live set). It couldn't be much easier to use.
The speakers could be a little better but for live use you will probably be plugging straight into a PA system. For home use an upright piano might give more features, but if you need something portable then the CP40 is worth considering.
Yamaha P-515 Digital Piano
Impressively, though this is the third Yamaha option on the list, they all offer something quite different. The P-515 is part of the P series, and many would say the top rated digital piano in this particular line of Yamaha models.
This can be used as a stage piano or it can sit on a stand and be used within the home. It is really up to you. Its features are equally adept for both live playing with a band and for practicing classical piano in your own front room!

The piano itself is a real breakthrough in not just modeling some of the best concert pianos in the world, but also having some control over exactly how they sound.
What we mean by that is that this has samples of both the Yamaha CFX and the Bösendorfer Imperial, two of the very best pianos out there.
Not only can you call upon these samples, you can use the 'VRM' feature which stands for virtual resonance modeling. This is designed to create a realistic feeling of the piano being in a space and resonating just like an acoustic piano.
It also has a function called the Piano Room which lets you create an 'environment' meaning you can choose a lot of the acoustic properties of the sound.
All of this makes for great expression, but there is also a really lovely and realistic feel from the high quality, hand selected wooden keys and the hammer action with "Key-off" samples which delicately create the sound of a string being hit like an acoustic piano.
The P-515 still has high tech features such as iOS and app compatibility and the ability to split, layer and record your sounds and connect to a computer.
The P-515 is quite a unique piano, but for those who want to use the high-tech features to get a sound which is as close as possible to a concert piano, and then to alter this sound and tweak it to exactly what they need, this could be a great choice.
Korg LP-380 Digital Piano
When you hear of the Korg brand you might think of synthesizers and recording equipment. They are definitely an industry leader when it comes to a lot of areas of music tech, but does this mean they should be ignored when it comes to digital piano?
Just because Korg pianos don't come with the same history doesn't mean they can't stack up, and the Korg LP-380 is one of the best digital pianos for advanced players to make the most of.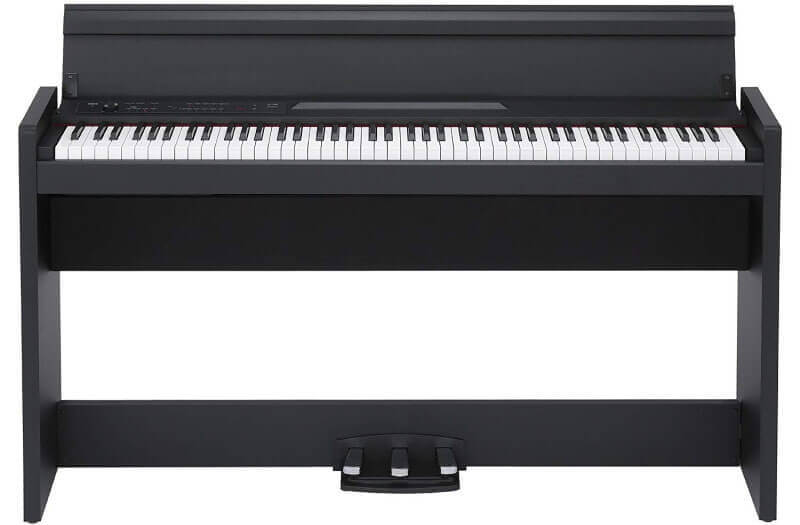 Okay, so the actual classical sounds this models aren't quite up there with the likes of the Yamaha, but this has its benefits in other places.
The acoustic piano sounds come from the Kronos workstation which is one of the best keyboard workstations on the market and has some very good-quality pianos, and a few to choose from, too. However, if you're going purely for realism and a classical feel, it might be worth going for a Yamaha or Roland, for instance.
The same applies to the hammer action, it is very good, and has RH3 technology driving it, which is Korg's real weighted hammer action tech, but it doesn't feel quite as true to classical pianos as some competitors. However, this isn't what everyone is after.
Where the Korg really comes into its own is the fact that it is so compact, it looks great, comes in five different finishes and can even be transported much more simply than many competing models. The amp and speakers deliver the sort of audio quality we've come to expect from Korg and there are also three pedals attached.
This works excellently if you want to hook it up via MIDI to another device or if you want it to act as the controller for your whole workstation or studio.
If you are looking for the best small 88-key digital piano then the Korg LP-380 may well be your answer, the dynamics are 13.8 x 30.4 x 53.4 inches and it weighs just over 80 lbs, making this perfect for those who need to move their piano around from time to time.
The keys themselves do not suffer as a result, these are standard size for a digital piano.
The ONE Smart Digital Piano
If you are a real traditionalist about pianos then you might want to look away now! The ONE Smart Piano has been launched relatively recently, and this is a company with nowhere near the history of some of the other options on this list.
What they do offer, though, is a really good piano, which is one of the best digital pianos for beginners and intermediate players. If you are happy to splash out a little extra on a piano when you're just starting out, the piano can be your tutor, as well!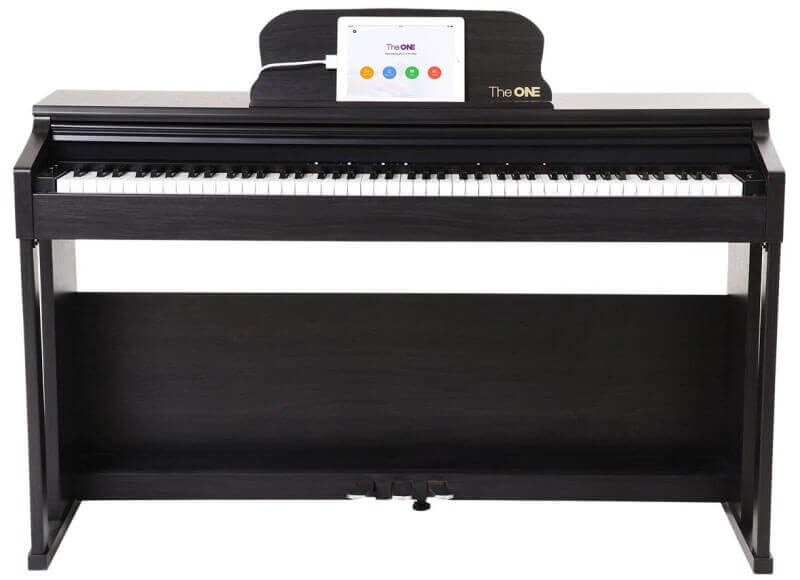 The piano is designed to work in conjunction with a phone or tablet. It can link to an app which is compatible with both iOS and with Android and it can literally teach you to play.
It does so by using LED lights along the top of the keys and also offering courses, games and exercises within the apps. On top of this, there is the sheet music to over 4000 songs and the app itself can teach you how to play them.
The ONE has made its name by offering a learning experience that other digital piano brands haven't quite mastered yet.
In terms of the piano itself, it has some high-tech features as you would expect from such a 'smart' piano. It has MIDI output and allows you to record straight out of the piano. The three standard pedals are included and it has a good quality sound system.
The key phrase is 'good' here. For playing at home and practice sessions, the sounds which are sampled on this piano and the features themselves are definitely fine, but for performance you might want to opt for a Yamaha model or something similar.
If you are a pianist who still feels they have some brushing up to do in terms of technique and learning, this extremely intelligent digital piano can help you along the way.
Roland F-140R Digital Piano
Roland is another brand which doesn't just specialize in digital pianos, but has a whole range of audio products which you may well have heard of.
This doesn't mean their piano offering isn't good quality, though. In fact, the F-140R digital piano reviews show that this is a top model with both classical appeal and some very modern features.
The small design of this piano means it can fit even in relatively small homes, but the tones within pack a punch just as well as some of the bigger and more expensive pianos.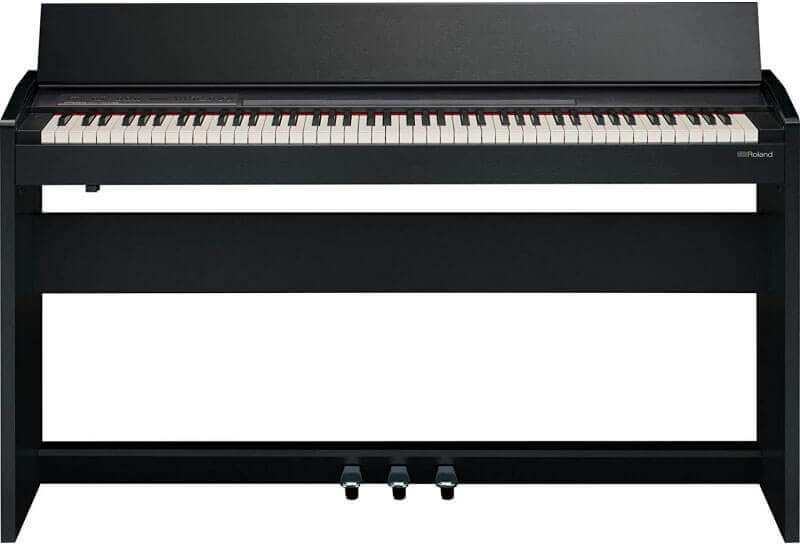 The piano tones which are built in are sampled to a very high level of quality, which is something Roland as a brand takes great pride in.
The piano tones have multiple velocity samples recorded and they can allow you to express yourself perfectly. There is no real restriction to these sounds, which don't sound out of place even in high-end classical performances.
Though the sampling technology on the Yamaha products listed above may be slightly better, the piano sounds here are a solid 8 or 9 out of 10.
On top of this, there are some truly exceptional and great fun features to enhance either practice or performance. For instance, the rhythm accompaniment which is included with this piano means that a backing track will play and follow the chords and tempo you are playing.
You can record your practices and as well as having some great piano sounds there are over 300 other tones to choose from. Opening up a world of performance and compositional possibilities.
The Roland F-140R digital piano comes with a Roland stool, has all three of the pedals built-in and even has the option to be purchased in either black or white.
For tonal possibilities and a wide variety of sounds, this is a great option. It is also very good value for money, making it arguably the best digital piano under $1500 available on the market.
Casio PX-560 Digital Stage Piano
If Yamaha has the biggest range of digital pianos on the market, Casio must be hot on their heels. Many of us know Casio from their range of keyboards, which have ranged from smaller, novelty models we may have played with as kids, to excellent keyboards for pros.
Their piano range is excellent too, and the Privia PX-560 is an example of a digital piano that is both powerful and portable. So, what makes the PX-560 so special? This is undeniably one of the best portable digital piano options we've come across.
When it comes to piano sounds, it does a wonderful job of creating a sound and feel that is reminiscent of a classical piano. The sounds are well-sampled from classical pianos, but this is enhanced by the acoustic resonator which gives an 'air' feeling to the piano sound, just like if it were coming from a resonant chamber such as a piano.
The tri-sensor hammer action is among the best weighted actions out there. It is graded so the hammer feel and hardness follows the pitch of the keys, just like playing a real acoustic piano.

On top of this, the PX-560 has 650 different tones to choose from. This incredible amount of sounds means almost endless possibilities for the sound you can create.
Exceptionally clever tech features such as the ability to record from this piano directly onto a USB stick are another huge bonus. It has built-in effects and the option to split and layer sounds.
It is hard to find fault with the PX-560, which is one of the best digital pianos under $2000, especially if you are looking for loads of different sounds to be available for you to use and some high tech features.
It is also one of the lightest digital pianos on the market, making it great for stage use or taking to practice sessions.
Casio PX-870 Digital Piano
Another great offering from Casio, this is a good high end product available at a not-so-high-end price! This comes in at around or even under the $1000 mark, meaning that it is one of the cheaper models but is still a top rated digital piano.
The PX-870 is arguably the best home digital piano, and has been designed with the home pianist in mind.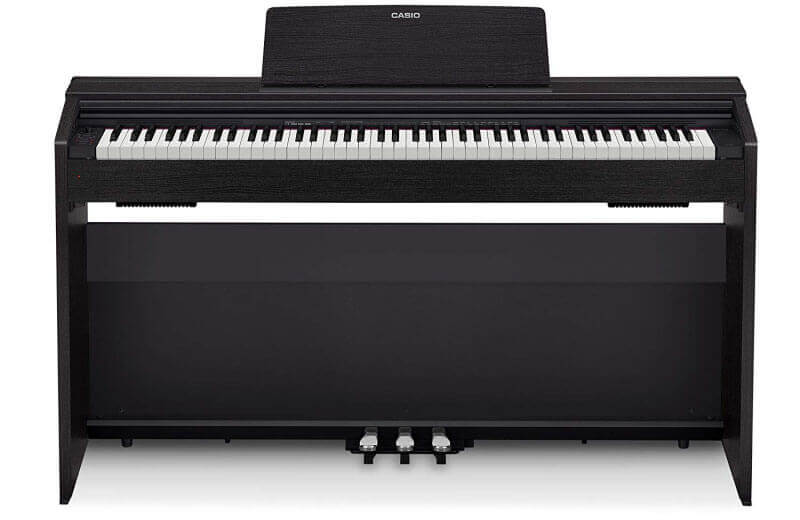 A brilliant projection engine and 'hall simulator' allow you to model the sound and acoustics, to make it feel like you have truly got a classical acoustic piano sitting in your room at home.
It also has a realistic feel, with a graded hammer action just like many of the competing models on the market. The ebony and ivory textures which have been included on the keys make it feel even more like you're playing an older, classical piano.
The tech features are still in place, with USB connectivity and the option to record both MIDI and audio out of the product.
It has 18 tones, which is nowhere near what is on offer with some of the other stage pianos in the Casio range, but if you just want to tinkle the ivories at home, the PX-870 can be a good way to do so without spending the earth.
Kawai CA58 Digital Piano
Kawai is a brand which makes some truly excellent pianos. Their range is a little more expensive than the others, but the look and feel of the CA58 shows why Kawai can charge a little more.
This is a truly classy digital piano. It has the look and feel of an acoustic piano with an upright piano look and metallic finishing. It also has the simulated feel of a piano via ebony and ivory style keys.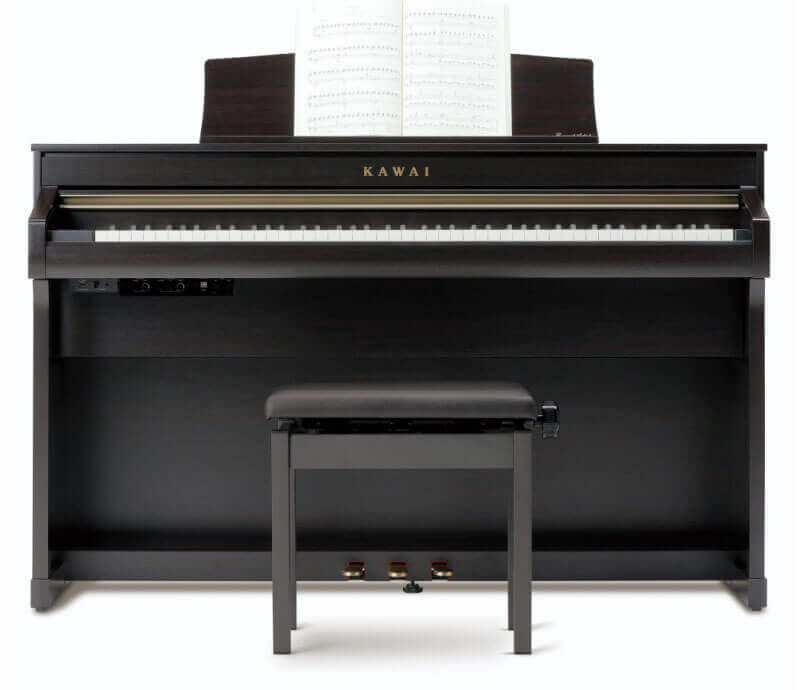 The key action has been created meticulously by the brand. Years have been spent creating a feel which is true to that of an older classical piano. Little touches like a Key-off Effect and a Hammer Delay make it hard to believe you are playing a product which is digital in nature.
On top of this, the Harmonic Imaging XL technology is even more impressive, and simulates the natural acoustics of a classical piano.
If you want something that gives a feel similar to playing an acoustic piano, the CA58 could be a good choice. It's an amazing piano, arguably the best digital piano under $3000.
It only has 19 voices, nowhere near as many as some competing options, but Kawai will tell you their focus has been on quality rather than quantity.
Kawai ES8 Digital Piano
As well as some good options for playing at home, the Kawai range has portable pianos too, and the ES8 is very impressive due to the fact it has some awesome piano sounds and absolutely loads of built-in effects, perfect for performing!
Though this has plastic keys which don't provide such a luxurious feel when playing, it has the same Responsive Hammer III tech driving its action, which means that it is responsive and allows for a lot of expression when playing. This certainly doesn't feel like playing a cheap, flimsy keyboard.

Similarly to the Casio PX-560, the ES8 has some impressive technological functions, too. It allows for recording directly onto a USB stick, and has USB and MIDI recording abilities, too.
The thing that makes this the best sounding digital piano in the Kawai range when it comes to performing live is the fact it has so many effects. This allows you to alter the sound to the perfect feel and tone you need for the songs you're playing live.
A reverb effect with loads of different settings is included as well as lots of types of delay, chorus effects, tremolos, phasers, auto pans and more! This is like having a mini studio at your fingertips and lets you do some really impressive live performances.
At just around 50 lbs this is also a really portable model, meaning you can take it to band practice or head to play a live show with the ES8 under your arm. Overall a very good digital piano under 2000 dollars.
Conclusion
As you can see by reading our digital piano reviews, many of the top rated digital pianos gain their reputation in very different ways. Some have a few meticulously sampled sounds, some have hundreds of fun sounds. Some are lightweight and designed for playing live, some are designed to be the best upright digital pianos for playing within your home or within your studio.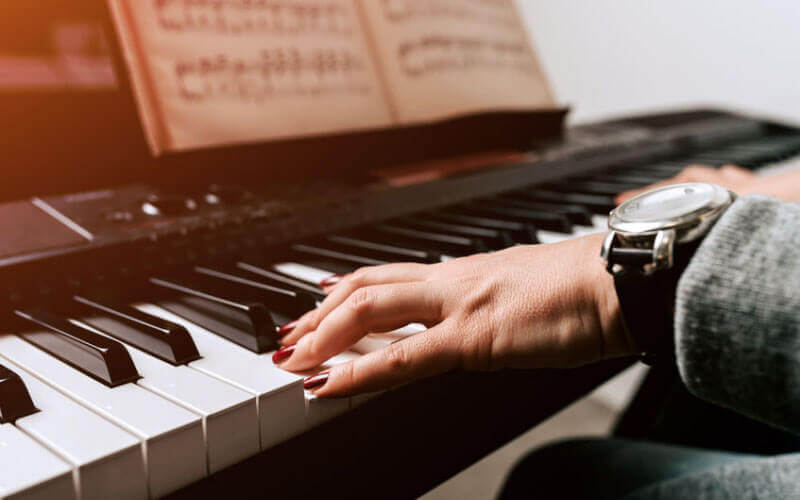 The important thing is to work out which features are the most important for you, and to go with the models which are most suited to that.
Think about whether you will need effects, how realistic and true to acoustic pianos your sounds need to be and whether you will be taking your piano on the road with you.
The competitive nature of the digital piano market, and all of the products we've listed above, means it is getting better all the time, and you as a pianist can get some brilliant features that five or six years ago weren't even possible. Embrace this modern technology and find the top digital piano for you!