Are you startled by the available choices in the market and you just can't get the best keyboard workstation that will suit your style and recording demands? Worry no more!
Today we will take you through some of the best instruments in the market through our best keyboard workstation reviews.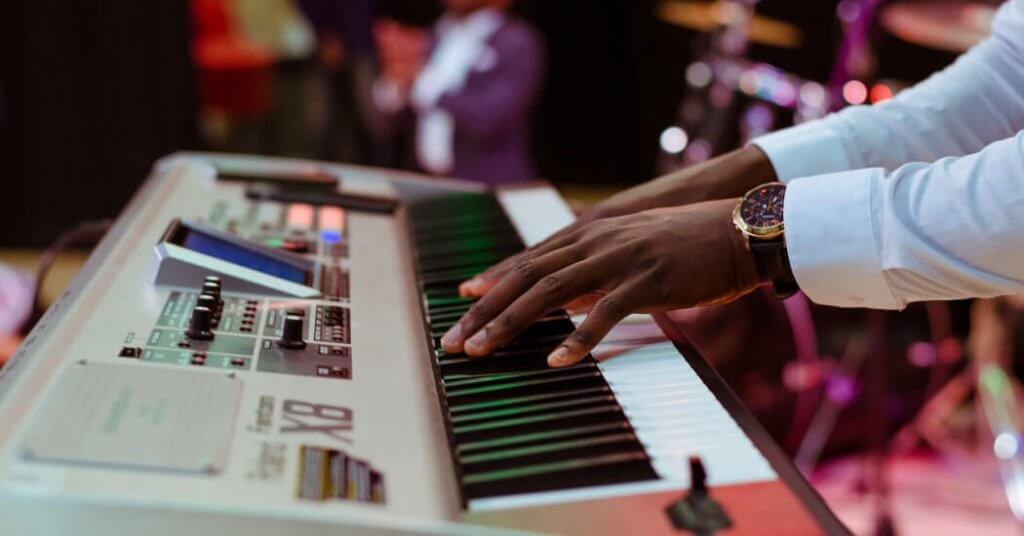 Whether you are just starting out, need something to get your idea down easily. Or you are a professional composer looking for a workstation to expand your studio, you'll find something that will fit your budget here.
Top 10 Best Keyboard Workstation Reviews for 2023
 Here are the best keyboard workstations 2023:
Casio WK-6600
The WK-6600 is a highly portable instrument that comes with a two-level touch responsive 76-key keyboard. This is a versatile workstation that works as well a small keyboard as it does as a workstation.
The WK-6600 comes with 700 built-in tones and over 200 accompaniments with the ability to customize them. The instrument comes with a seventeen track recorder that gives you enough room to record your playing.
On top of all that, you get a chance to enjoy the Step-Up Lesson Function that includes over 100 preprogrammed songs and other features to enhance your skills.
Very affordable.
A good number of tones included.
Great for recording.

The keys are unweight.
Might take some time before you understand how to go about it.
There's pretty a lot to like about this instrument. Even though it's an entry instrument, this workstation definitely trends on the simpler side. It's a great choice for beginners or budget buyers, where you'll greatly enjoy what it has to offer.
This is definitely the best keyboard workstation under $500 and a perfect choice to go for in the price range.
Yamaha MX61
The Yamaha MX61 is a mobile and space conscious instrument that combines a range of functions and sounds into the portable package. It comes with an easy-to-use user interface packed in a wise design that not only looks good but also feel great.
The MX61 gives you total control of different sounds and functions and it's not overwhelming to get the hang of it. Its keys are balanced, smooth and extremely playable where they are semi-weighted with good aftertouch.
The range of ports reflects the multi-functionality in the device where you can easily get MIDI hardware in and out of the instrument. It comes with a 128-note polyphony and a sheer number of quality organs, piano strings, and other great sounds.
One touch split and layer function.
Easy to use interface.
Can easily work as a control on most DAW.
Quality sounds identical to that of a high-end Motif XS.

No selectable velocity curves.
With the two line LCD, it can be hard to make changes.
The MX61 is great for musicians in need of a cheap keyboard workstation that sounds great. It's very playable and has good performance controls. Generally, it's a great, playable workstation and works best for a do-it-all gig keyboard at an entry-level price.
Yamaha MOXF6
The MOXF6 is a fortified workstation that comes with great sounds and effects plus a flashboard option onboard. The instrument has a good share of quality features including the semi-weighted keyboard, VST controls, and multichannel USB audio interface.
The MOXF6 also offers a good number of production sounds. It includes the sound set from the Motif XF with the inclusion of 136 voices ranging from S6 grand piano, keyboard sounds to other new sounds from different genres like hip-hop and orchestra.
Lightweight and compact design.
Motif XF full range waves onboard.
Flashcard option.

Not very intuitive workflow.
The Yamaha has done quite a job to come up with quite an instrument that can easily fit in your studio and create quality music. This is a great instrument especially to Motif lovers because it comes with quality features for a lower price. It is a perfect instrument to use as a standalone composing tool, or take along with you for gigs.
Korg Kross 2
The Kross 2 is an extremely capable instrument that comes at an affordable asking price. It's lightweight and very portable with capabilities of running on six AA batteries for seven hours nonstop.
The backlight can make a scene where it flashes all colors of the rainbow but if you are not into that you can easily switch off.
You'll find over 1000 preset fills in the menu and 120-note polyphony. The available knobs, pads and other controls are designed to give you impressive control for even better experience in your performances.
The Kross 2 is available in both 61- and 88- key versions whereby you can choose the one that fits you best. However, the Kross 2 61 comes with a synth action keyboard while the Kross 2 88 gives you a Natural Weighted Hammer Action keyboard, so you need to be keen on your requirements.
Korg Kross 2 61-key

Korg Kross 2 88-key

Offers quality sounds without a premium price.
Category dial to find sounds immediately.
Light and compact body.
Quick layer and split function.

Small screen onboard.
Uses External PSU.
The Kross 2 is an inexpensive piece of art. It's a huge improvement of the original Kross in terms of sound and usability and is way lighter with improved battery life.
The instrument offers a magnificent amount of production technology per pound. It's ideal for songwriters, composers and gigging musicians in need of the best keyboard workstation around $1000.
Yamaha MODX8
The MODX8 is a combination of the best bits of the Motif/Montage and DX engines all packed for the best price. It features the expressive 88-key Graded Hammer Standard keyboard making it the next generation high-performance affordable workstations.
This instrument features numerous state-of-the-art upgrades from its predecessors which includes the AWM2 sample, synthesis engine that includes 8 times more waveforms, a new 8 operator FM-X engine that includes an amazing dynamic sound design and control synthesis that controls the sound engines.
In addition to this, the MODX8 also comes with other sophisticated features like Super knob that enable control over multiple parameters. You can send up to 10 and return four audio channels to and from your computer. There's also a live set enabling you to organize your performance without copying change or rename the order.
Great control offered to the user.
Versatile sounds.
Compact and classic design.
Inexpensive.
Very portable.

Lacks a dedicated tone wheel.
Essentially, the MODX8 comes with most of the premium features that even serious musician can appreciate. It's totally a sonic, performance and sequencing beast that's capable in creating many soundscapes that you can ever need. Generally, the MODX8 is the best keyboard workstation under $2000 and a worthy instrument for the price.
Korg Kronos 2 LS 88
The Korg Kronos 2 LS is an instrument developed for musicians with a thirst to perfection and desire to bring precision in their craft. It's lightweight and very portable and comes packed with a number of stunning features. It includes everything from premium piano to several digital and analog synths.
 The instrument comes with 16 simultaneous effects, 21GB sound data and 62 GB sampling memory. There's an 800×600 touch view display plus 16 track MIDI sequencer and recorder.
The Kronos 2 lS includes 200-voice polyphony and over 1500 multi-samples plus 1388 drum samples. Generally, in each of the nine-engine in the instrument, there's a subset of great specs that can help you make any music you want.
| | |
| --- | --- |
| | A premium instrument with an indispensable self-contained solution to everything music wise. |
This is a subtle evolution that keeps the Kronos at the top of the diminishing workstation pile. With its lightweight and classic design, every player, on studio or stage for live performance will definitely appreciate. Even though the Kronos 2 is expensive than many workstations in the market, it's definitely worth every coin.
Yamaha Montage8
The Montage8 is one of the elite workstations that you must look for in 2023. There's quite a lot to bring the sudden rush of joy in the keyboard. At the first look, you might feel intimidated by its look but when you interact with it a little you find out that this is actually simple and easy to use. Its buttons are efficiently placed with a subjective style that feels and looks elegant.
Another great feature in the Montage8 is the super knob which offers expansive, fine-tuning of simultaneous effects.
The sounds in the Montage8 are tremendous where they are diversely selected and produced. Generally, every tone sounds rich and full and anyone who hears it live can attest.
Compact and elegant design.
Includes premium features.
Great keyboard.
128-note polyphony.
Real-time controls.

Too expensive.
Only two synth engines.
The Montage8 is a fantastic keyboard workstation with a lot of potentials. Its sound quality is up there with the likes of the Korg Kronos, its controls are intuitive making it a worthy successor of the Motif line.
In conclusion, Montage8 works well and combines everything in a way that is truly inspiring. It ideal if you are looking for the best music workstation with great sound quality and ease of use and if budget is not a factor to be concerned with.
Korg Krome 88
The Krome 88 is an affordable do-it-all workstation that serves up a wide range of quality sounds and performance functions. The instrument comes in an aluminum chassis that is lightweight and heavy duty. It includes a touch-view color display that shows a lot of helpful information that makes your performance easier and enjoyable.
The button, sliders and knobs layout is simple but elaborate in a way that you have access to everything you need. Its sounds are the true strength of the instrument where Korg have made quite a fantastic job in making music right. The Krome is even capable of detailed modification often sounds and parameter if you want to dive deeper into the music.
On top of that, the instrument comes with other great features and positive attributes. Some of them include the advanced graphic user interphase, 16 track sequencer, preloaded with over 640 programs and 900 Arp patterns among others.
Authentic and superior sounds.
Massive functions library.
Compact and durable design.
Enables piece editing like on DAW.

No aftertouch on the keys.
Takes time to boot.
The Korg Krome 88 is one of the best-selling workstations in the market today. It's highly portable with just 32 pounds considering it's a 88-key model. The sounds and other functions are in the league of the highest end model.
With Krome 88, you can do any music and sound fabulous. It's definitely a beast in every sense that comes to the best keyboard workstations around $1500.
Kurzweil PC3K8
The PC3K8 is a high-performance instrument that comes with multiple appregiators, powerful sequencers. Along with the innovative features made in the instrument, there's 128 MB user sample memory that opens up the whole world of sonic possibilities.
The PC3K8 comes with a dynamic VAST synthesis engine that includes a staggering library of K-series samples. It includes 88 weighted keys that have velocity and aftertouch sensitivity and a quick release effect.
The Workstation incorporates some of the best and quality sounds from Kurzweil. It's known to cover all the bases when it comes to preset whether it's the Kurzweil grand piano, vintage key emulation, virtual analog sounds or the world-class string and orchestra program.
Analog tonewheel modeling integration.
Vintage keys synth and orchestral sounds.
Compatible with sound libraries for K2000, 2500 and 2600.

No audio input for live processing.
For users who just can't rely on aging hardware with old sounds or just don't need a load of samples but a machine that sounds right in a high-pressure gig, the PC3K8 is a perfect instrument.
It comes with some great factory sounds, weighted keyboard and other features that are not only great but also reliable. This instrument combines the best of the old with the new and lets you have exactly what you need at a far lower price.
Roland FA-08
The Roland FA-08 is a versatile workstation that comes with serious features but easy prices. This instrument is nicely portable with the whole package weighs about 36 lbs which is quite manageable by one person even without a flight case. It boots in just a few seconds and the overall look is practical and clean with a mixture of shiny Perspex controls and plastic body.
The FA-08 comes with a color LCD screen that lies at the heart of the instrument. It also includes 88 weighted keys that are comfy and nicely textured. The sounds are pretty intuitive and versatile and can work under any circumstance and perform.
Excellent sounds.
Compatible with Roland Axial library.
Great user interface.

No touch screen view display.
The keys don't sense aftertouch.
The FA-08 is one of the best Roland workstations to date. It comes with quality features in a considerable price tag. Regardless, the portability and power of the instrument are just great for any musician whether budding or experienced. It's deep enough to keep even hardcore musicians occupied yet remains intuitive and sound perfect.
Keyboard Workstations and How to Choose?
A keyboard workstation is a miniature composing recording and production studio. These instruments are the pinnacle of the keyboard world with most if not all of the tools that you need to craft, edit, and record songs.
Unfortunately, most features differ from one instrument to another making the selection of the best keyboard workstation hard. Today, we are going to look at some of the things that you should consider when buying a keyboard workstation.
Synthesis Type
Keyboard workstations come with a wide range of sounds and effects than other keyboards. They employ different types of a generation which makes them differ with the produced sounds and their quality.
With this, musicians looking for a workstation to produce music professionally, they should go with the ones with full sampling functionality to enable you to record any sound and reproduce it in varying pitches.
Sound Combination
One of the coolest things about workstation is the ability to generate sounds simultaneously. For songwriters and film composer, should go with an instrument that gives you enough sounds. For live performers, they can go with an instrument that enables you to layer different sounds.
Sequencing and Audio Recording
Whether you are writing new music or just perfuming live, MIDI sequencer can be a very useful tool. To enable you to record numerous parts of the keyboard with just a push of a few buttons.
Some workstations even go further to include line/MIC input that enables you to record vocals or even another instrument like a guitar to enrich your music.
If you want to perform cover input workstations will enable you to use preprogrammed MIDI files to reproduce the music more accurately.
Conclusion
We hope our review will help you to find the best keyboard workstation for your needs. Everything considered we recommend you go with a keyboard workstation that gives you most features for less money. The above review includes the most popular and best workstations that you can find in the market.