Making the right choice when choosing a digital piano is not quite as simple as buying into the hype or choosing the most popular option.
There are plenty of popular options to choose from but not every popular option is best for different skill levels.
There are several things you should consider when you are searching for the perfect digital piano:
Skill level of the player
The available budget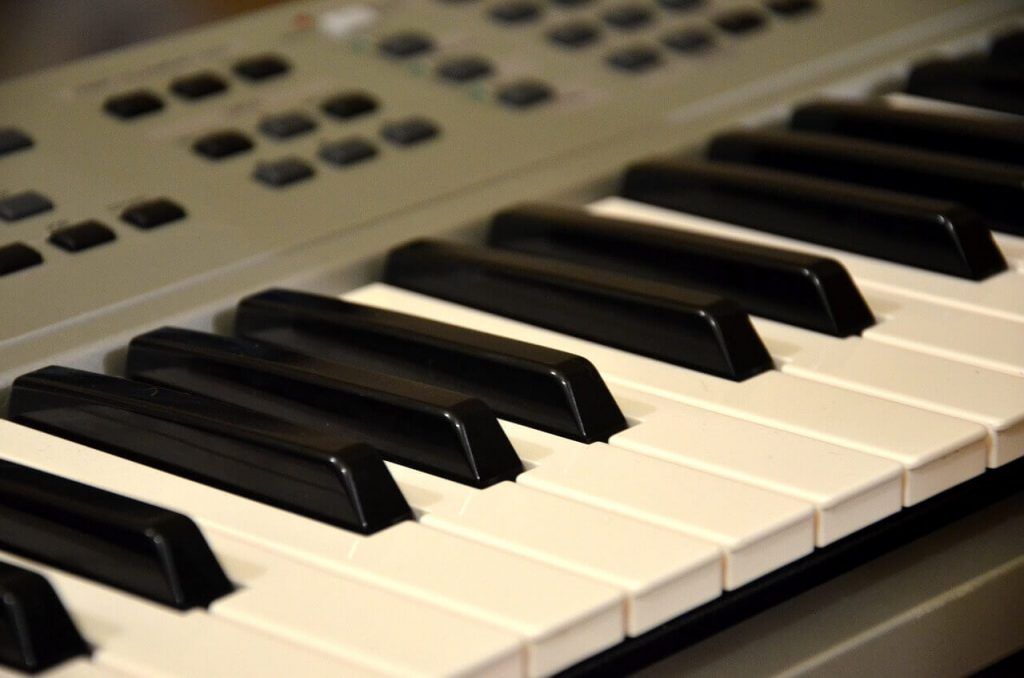 One of the most important points to consider is the skill level of the player. In other words, a piano that is too complicated to use is not the best choice for a beginner. The best beginner piano does not have to be overly simplistic but it should be usable and there should be some room for growth.
Pianos for beginners should be manageable for the beginning user yet provide a certain level of challenge as well. It is a balance that can be difficult to find. Finding the perfect balance between the best keyboard to lean piano and the piano for beginners that a beginner can grow with can be a challenge.
You can use this buyers guide that lists best digital pianos for beginners as your guide to choosing the piano that will fit in your budget and meet the skill level needs of the player.
You want to be sure that you buy a keyboard that is going to be get used, not one that scares the beginner off. Some "professional" style electric pianos are far too complex to use for the beginner.
The Criteria That Was Used
There are some digital pianos that are chock full features that are complex and difficult to navigate for the beginner.
A lot of people make the mistake of buying the most expensive high end instruments that they can find because they believe that they will be best.
The reality is they are overwhelming and can actually scare the beginner from playing.
Any music teacher will tell you that starting out simple is always best so that the budding musician can build confidence. Starting out with simpler options will help the student to master the digital piano and give them the confidence to continue.
What makes a digital piano best for the beginner?
Ease of use
Fairly priced
Useful features
Great sound
Durable use
Choosing the digital pianos to recommend for the beginner based on the above criteria will ensure that the right purchase is made.
Useful features for the beginner are a bit different than the advanced features that are used by the intermediate or advanced players. Useful features are those features that can teach.
Top Digital Pianos for Beginners
Yamaha PSRE253 61-Key Portable Keyboard

Click Here for Pricing, Pictures and Reviews on Amazon.com
This model made the list because it offers 61 full sized keys which are ideal for practice. The keyboard can be used in "duo mode" to practice with a partner or instructor.
You can purchase a power adapter which is sold separately or you can use batteries. It has 32 polyphony which is an excellent option for the beginner that can easily advance with their skill level. It has the features that are most needed for a beginner.
Hamzer 61 Key Electronic Music Electric Keyboard Piano
Click Here for Pricing, Pictures and Reviews on Amazon.com
The price point on this model is great. The Hamzer offers a 61 key keyboard. It offers dual teaching zones and 12 pre-programed demonstration songs.
It has a stand, external speaker outputs and other features that make this a great option for the beginner. This is a nicely affordable option that can easily meet your budget needs. It looks high end without the high end price tag.
RockJam 54-Key Portable Digital Piano Keyboard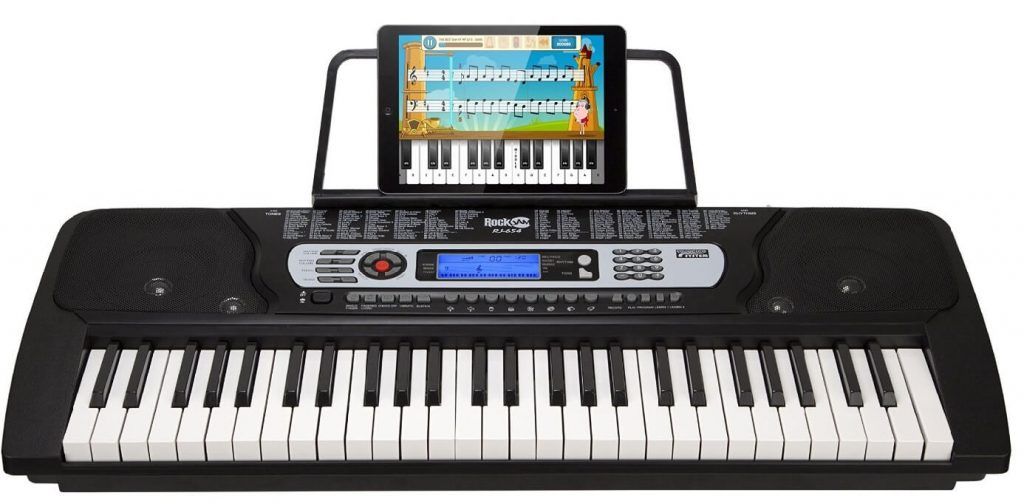 Click Here for Pricing, Pictures and Reviews on Amazon.com
This is an excellent option for the beginner because it offers a lot of features that are geared at the beginner that can prove to be really helpful. The LCD screen allows the beginner to see the correct chords and keys.
This can easily be transported because it is lightweight and the price is right! It is an inexpensive option that would be a great instrument for any student.
This model really is exclusively for beginners and would not likely meet the needs of an advanced student.
Black 61 Key LCD Display Electronic Keyboard 37″ Digital Electric Piano Personal Music Beginner EN71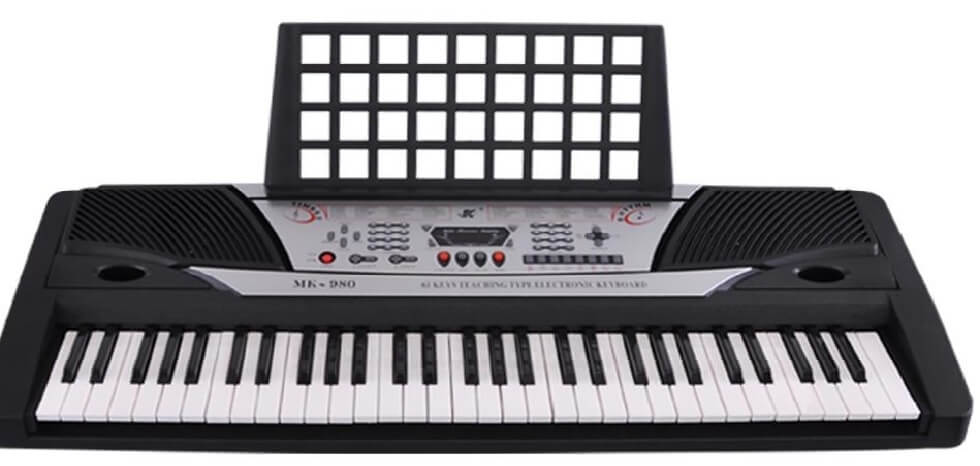 Click Here for Pricing, Pictures and Reviews on Amazon.com
This is geared for the beginner or the hobbyist. It offers 61 keys, 8 pre programmed lessons and an easy to use digital read out. It is offered at a low price point and would be a great option for children or beginners. It is an affordable option that would work well for the beginner.
Yamaha YDP142B Arius Black Walnut Digital Console Piano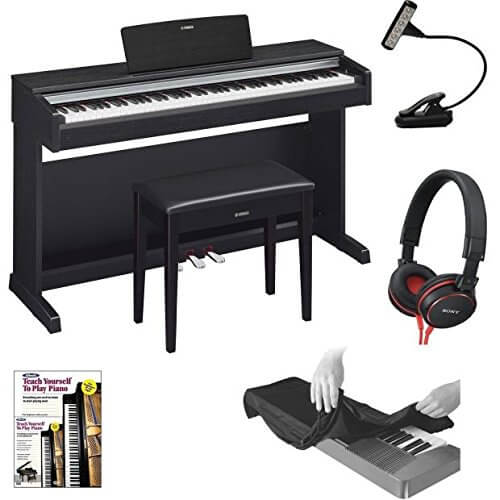 This model is on the high end of most budgets but it is a complete outfit which actually can be cost savings overall. It is ideal for a beginner because it comes with all the books and equipment that are necessary to get started.
You get Audio Technica closed back headphones, a bench, a stand (furniture quality) and beginner lesson books.
This is an instrument that offers a great deal of value because while it is a beginner friendly instrument it is also an instrument that you can grow with.
Casio CTK2400


Click Here for Pricing, Pictures and Reviews on Amazon.com
This is a great option for the beginner because it offers the famous Casio step up learning system which makes this a versatile option for the beginner that will carry them into their future skill level.
It offers "enough" features for the beginner with a few extras that will please the intermediate player. Casio has been making digital pianos for a long time and they offer trusted options for both the beginner and the professional. Read full review
Yamaha P45B Starter Bundle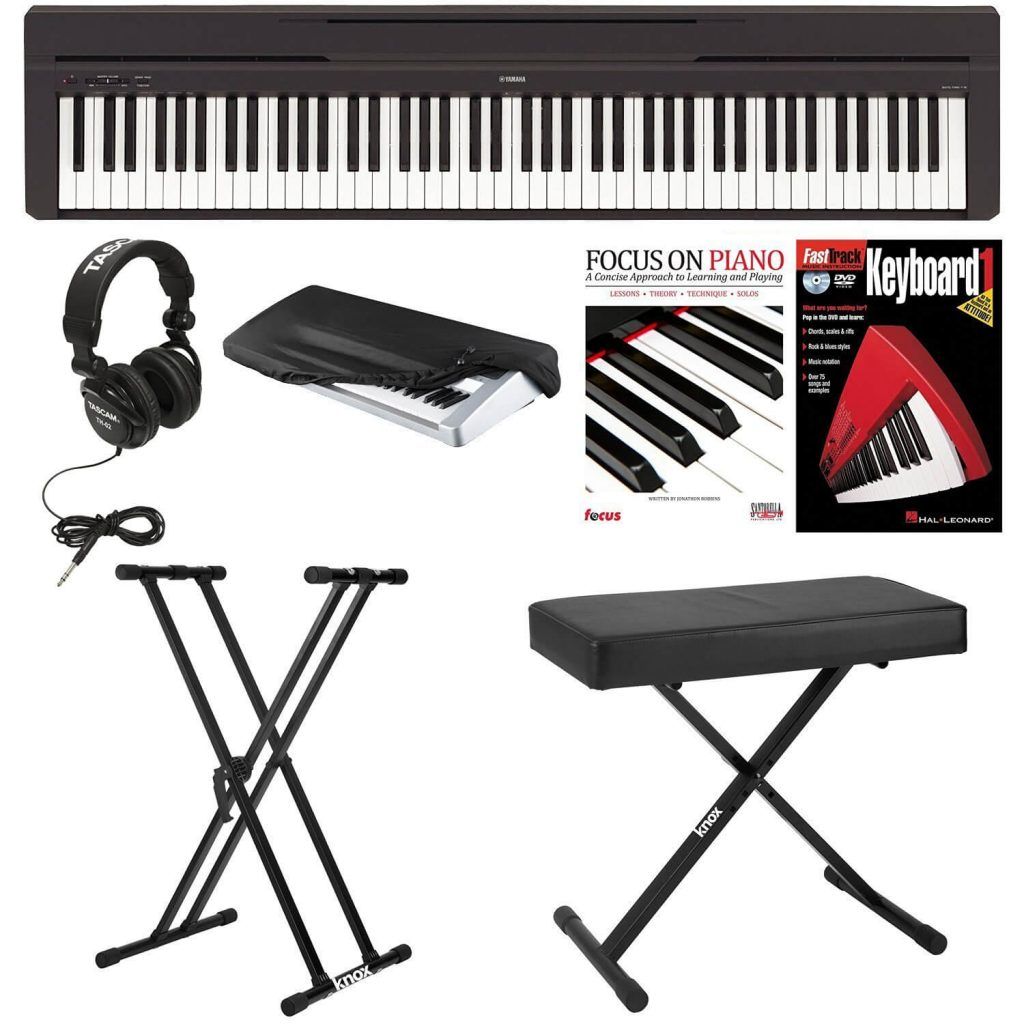 Click Here for Pricing, Pictures and Reviews on Amazon.com
This is an affordable option that comes with a complete bundle. This keyboard offers GHS weighted keys which means that the weight of the keys are graduated to give a more natural feeling response.
It is sold with the Yamaha X stand, headphones, lesson book and case. This is a great outfit that is well worth the investment for the beginner that does not want to have to worry about buying accessories down the road.
Yamaha DGX230

Click Here for Pricing, Pictures and Reviews on Amazon.com
This model is a great option for the beginner up to the advanced player. It offers features like 76 piano keys and a master equalizer.
It has built in stereo speakers a 6 track recorder and plenty of tones. This can be a great option for anyone that is looking for a high quality portable instrument that will easily withstand the road.
One of the benefits of this model is that it can easily meet the needs of the beginner and can also meet the needs of the intermediate or advanced player. This is not really an ideal option for a child but would be a great option for an adult that is just getting started.
Korg B1SP 88 Weighted Key Digital Piano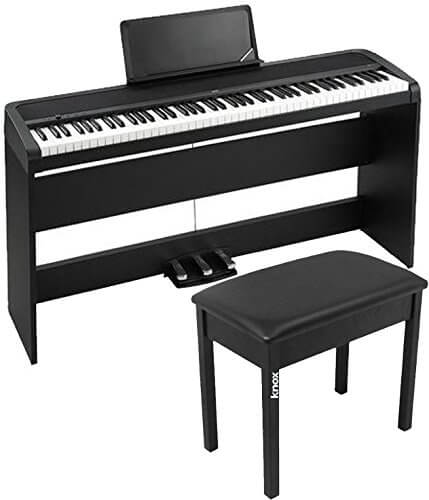 Click Here for Pricing, Pictures and Reviews on Amazon.com
Korg is a well-known name in digital pianos. This model not only offers great features like a full 88 key weighted keyboard but it also looks great.
It has a furniture quality stand with a matching Knox bench. It has a professional look and feel. It is fairly priced and would make an excellent investment for the beginner.
The beginner that has some acoustic experience would really appreciate the weighted key features on this model because it makes it very easy to transition from acoustic to electric.
Personal Choice
These digital pianos offer great options for the beginner. Which one you choose really comes down to personal choice. You do want to be sure that you make a choice based on need to match the skill level.
It can be tempting to drop a boat load of cash with the hopes that spending more will improve play results but there is little correlation between how much you spend and the skill level you achieve. It is especially important to keep in mind the commitment of the musician.
Making the instrument easier to use by focusing on a beginner that is specially built for a beginner.