Anyone who knows instruments has seen Casio products displayed proudly across the floor of the music shop.
Casio has been making keyboards and other instruments for many years.
They are a trusted brand that many famous studios, live music performers, and producers use to make those beautiful notes they need.
Casio SA-76 Mini Keyboard Review
This Casio SA-76 review will highlight its features, qualities, cons, and all the amazing things about the product, plus, there will be a comparison piece against its older brother, the SA-77 keyboard.
Features
For starters, this mini keyboard is obviously smaller than other keyboards, but with 44 mini-sized keys and the features, options, and functionality, this makes it the ultimate portable keyboard.
And, it can fit anywhere. Try doing that with a full-sized keyboard.
Casio managed to fit quite a bit into the little frame. The top of the keyboard is full of the shortcut numbers to the 10-song bank, 50 patterns, and 100 different tones.
Directly below that are the power, volume, a digital screen that displays the tempo, tone, pattern, tuning, and song bank, a numbered keypad with a + and – buttons to easily navigate through the banks.
A large button in the middle of the keyboard is used to be able to toggle between piano and organ tones easily.
Above the keys are 5 drum pads that have symbols on them to easily identify the sound you want as you play them, a tempo up and down button platform, a start/stop button for patterns and songs, and a melody off/on button for play-along functionality.
The Pros of The SA-76
10-song bank
50 patterns
100 tones
44 mini-sized keys
Tone, tune, pattern, and song bank buttons
5 drum pads
Great, vintage type sound from 2 x 1.2W speakers
Easy to play
Very lightweight at 3.1lbs
Overall dimensions: 23 13/16" x 8 5/16" x 2 1/4"
Extremely affordable at $39.00 – $45.00
Fun for kids and adults learning how to play
8-note polyphony
Every kid, teenager, to even the brightest, most experienced music professional can get plenty of use out of the Casio SA-76. Mostly because of its portability.
Stories have been told through the Casio SA-76 reviews and forums about how kids in band will take this keyboard on long road trips to competitions, conferences, and performances to practice and to keep themselves entertained.
The polyphony feature is great for beginners, because they can practice combining a number of notes, creating a unique melody of all 8 notes at once, without losing the notes.
Other stories have surfaced of longtime music professionals needing something small and simple to write their piano music, and this keyboard exceeded their expectations in every category.
The headphone jack allows you to sit and play without bothering anyone else. This feature gives you the privacy you need to get deep into the music.
Beginners have a fun time using this keyboard as well. For players that are just starting out, having no prior knowledge of pianos, are intimidated by the large keyboards or full-size pianos.
This is a wonderful way to get used to using both hands with all 10 digits playing notes in a smaller setting, helping to build confidence, so a bigger keyboard can be in their future.
The Cons of The SA-76
Other Casio keyboard reviews have painted a darker picture surrounding the SA-76, but do not be fooled by the people hating on every musical device on the planet, because this device is worth more than you pay for it.
Although, there are some bad things about it, just like anything else:
Does not come with a Casio power adapter
Takes 6 AA batteries to run independently of a power adapter
The song bank has only 10 songs, for which the likes of Twinkle, Twinkle Little Star is one of the Casio SA-76/SA-77's greatest hits
Lacks some features that other keyboards have like midi outputs, and other features that help the device function with music programs
No memory on the device
Speakers are 33% of the surface area of the top of the keyboard, which is space that could be used to add better features / poor design
The plastic construction is not the sturdiest and if the device is dropped, it could break easily
Casio SA-76 vs. SA-77
The SA-77 is the SA-76's bigger brother. When looking at both models, they are visually almost the same, with the 10-song bank, 50 patterns, and 100 tones number shortcut list on the top of the keyboard.
The biggest difference visually is the larger screen in the middle, which displays the tone, pattern, song bank, tune, and tempo in an easy to read fashion.
Also, the large orange button has 3 settings, piano / organ / harmonium, as opposed to the two piano / organ settings on the SA-76.
Every other button and feature stays the same and are in the same places on the keyboard.
Casio SA-76
Casio SA-77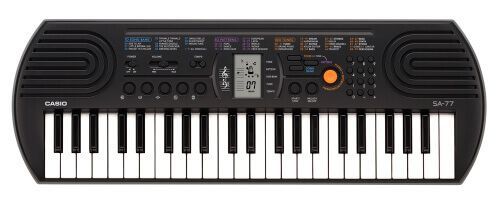 Some say the sound of the SA-77 is significantly better, while others claim it to be exactly the same as it is little brother.
Regardless, the clean, vintage sound you get from these models are sure to be nice to your ears. If the lifelong musicians can appreciate it, you will too.
The SA-77 is basically just a bit of a newer version of the already good SA-76.
Also, do not forget all the cool musical toys, pedals, switches, and other awesome stuff you can plug into a headphone jack!
There are videos online that display how versatile these keyboards can be when ran through a PA system and other line devices.
The possibilities are really just endless.
Final Thoughts
While these models are simple, they are reliable, fun to play, and easy to take anywhere.
Beginner players have a fun time with these keyboards because of the affordability and the uncomplicated design.
Even if you decide to take a bit of a break from learning how to play the piano/keyboard, which you never should do, having this little keyboard will not break your bank.
It's easily one of the best keyboards under $100 right now. For $50 and under, you cannot find a better keyboard.
The drum pads are easy to use and fun to play along with songs and patterns that are preset into the device.
The headphone input works very well and is so useful when you want to be quiet while you take the bus home, find yourself on a long trip on a car, or if you are just hanging out at the park and do not want to disturb anyone else.
If you go loud, people will appreciate the clean, vintage sound the keyboard emits. As long as you practice well and play those songs smoothly.
Make sure to play around with other devices that hook in through the headphone jack!
If you need a present for a child wanting to learn how to play the piano, this keyboard is a perfect option for any kid at any age and level of piano knowledge.
If you want to save money buying a keyboard when you just are not sure if the person you buy it for will stick with it, or even have doubts about yourself sticking with it, this is a great keyboard to motivate the user to stay with learning the piano and it will not hurt your budget.