We're reviewing the best lighted keyboards in this guide. A lot of people are looking for ways they can learn how to play piano in 2023 without expensive lessons, and from the comfort of their home.
Lighted keyboards can be one way to learn. It's a way to use visuals to help people to learn how to play. For instance, the keyboard will light the notes of a piano that are needed to play a chord, or the next note in a melody. This can be a very good way to learn how to play, and combined with online lessons, it can mean that people can learn in their own time.
Here are the best lighted keyboards 2023:
Casio LK-265
The Casio brand is absolutely massive when you look at the number of keyboards they produce and sell. They're known all over the world. The LK-265 is the best option for those looking for a portable keyboard with light-up keys.
Naturally, this is a keyboard that is aimed at beginners. The 61-key design is fairly big, though not full-sized when compared to a piano. It's got a lot of learning functionality. As well as lighted keys to show you the next step to 60 different songs, it is easily connected to Chordana Play. An app which can show you how to play all sorts of songs.
The design is light, but still pretty hard-wearing and well-made, and there's also a lot of modern functionality for making up songs. There are 400 inbuilt voices, 150 rhythms and a "Dance Music Mode", so you can quickly remix dance music and add effects and loops with your keys.

Image credit: Casio
See it on Amazon.com
What we like (and don't like) about the Casio LK-265:
Lightweight and portable.
Touch sensitive keys.
Dance Music Mode allows remixing tracks and creating songs.
Inbuilt effects.
Step-Up Lessons and Chordana support as well as lighted keys.
Touch sensitivity isn't adjustable.
Piano sounds inbuilt aren't the best.
This keyboard doesn't have an amazing sound engine for generating amazing audio. It won't be a good option for recording a concert. However, for beginners who are planning to get started playing the keyboard and want an affordable keyboard to guide them, the LK-265 is a good option.
Yamaha EZ-220
Of course, where there is a keyboard product made by Casio, there is usually an alternative that is made by Yamaha. In a lot of ways, this is very similar to the Casio model above, with some features that are almost identical.
The EZ-220 has many different voices and sounds that can be triggered, and is much more than just a keyboard. 392 voices include brass, guitars, strings, drums and sound effects. The USB connectivity also means you can connect to a DAW and use this as a MIDI controller.
The lighted keys are used in conjunction with both the Yamaha Education Suite and the "Page Turner" iPad app that can further help people to learn their favorite songs.
The grand piano sound which is inbuilt is slightly superior to the Casio keyboards. It's a close run thing when deciding the best lighted keyboard as the EZ-220 is almost as good, but there are a few more "cons" than the Casio model.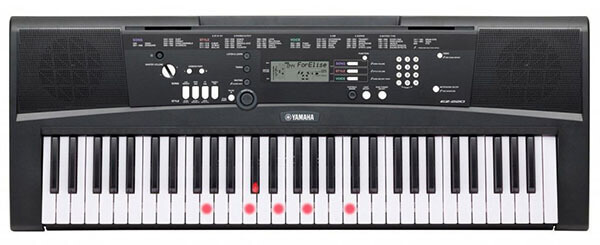 Image credit: Yamaha
See it on Amazon.com
What we like (and don't like) about the Yamaha EZ-220:
Grand piano sound is better than most lighted keyboards.
392 sounds included.
USB connectivity.
YES learning suite included.
Page Turner app only works for iPad.
More expensive than some competing options.
Keys feel a little low quality.
It's a very close call when deciding the top-rated lighted keyboard, but the Yamaha EZ-220 is a pretty good option, especially if you are prioritizing piano sound and not too worried about having a "Dance Music Mode".
Vangoa 49-Key Keyboard
If you are looking to buy a keyboard for your children and you aren't sure if they are going to stick to the habit, it can be hard to know what to buy. You certainly won't want to get something big, bulky and expensive, so the Vangoa model can be a solution for not taking up much space.
This still has 49-keys, so some songs could easily be played two-handed. For learning the basics, this is more than adequate, and the lighted keys function means it is popular for youngsters and beginners.
The keys are full-sized, so prepare you for one day switching to a digital or acoustic piano. This also has some very cool accessories, it even comes with a microphone for people who want to sing along to their playing. It's not amazing quality, but it is good for beginners.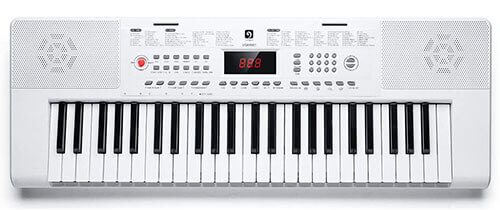 Image credit: Vangoa
See it on Amazon.com
What we like (and don't like) about the Vangoa 49-key keyboard:
Can be powered by a cable or AA batteries.
Real size piano keys.
200 sounds and 50 demo songs.
Comes with a microphone.
Recording and playback function included.
2-year warranty protects the purchase.
No simple compatibility with learning apps.
Not easy to play classical compositions.
Buttons feel a little flimsy.
Volume control can be unreliable.
Overall, if you are looking for a small option that also has plenty of songs and a simple design for beginners, this could be a good choice. The Vangoa also has the benefit of being compact, for easy storage and transport, making it a good choice for kids, too.
RockJam RJ761
The reason most people are looking to buy a keyboard with light-up keys is that they want something to help them to learn how to play. Though most of the models on the list are really good for this, the RockJam interactive lessons really stand out as being elite. For a smaller company than Yamaha or Casio, this is pretty impressive.
As well as being great for learning a lot of different steps of playing piano, this keyboard represents good value for money, and is even sold as a bundle including lots of useful beginner accessories including a stand, headphones and even pedals. The 61 keys are full-sized and allow people to get used to the feel of piano keys.
RockJam customers get access to the Simply Piano app on android or iOS. This lets them learn quickly and easily, and is described as "gamification" meaning it turns lessons into a simple game, great for kids to get started.
One of the reasons that this app is so great is that it constantly updates with new songs, so you don't get bored of learning the same 20-30 melodies, and you can play current, popular songs.
USB and MIDI output mean you can also use this as a sort of workstation or controller when linking up to a laptop, and it connects intuitively with DAWs such as Ableton.

Image credit: RockJam
See it on Amazon.com
What we like (and don't like) about the RockJam RJ761:
Comes with loads of accessories.
Free access to Simply Piano app.
Sustain pedal included.
Excellent value.
61 full-sized keys.
Keys feel cheap and flimsy. Not weighted.
Some of the sounds could be a little bit more high fidelity.
This is a good option for those who want to learn how to play, and won't be supplementing with lessons in person. The app can help people learn all kinds of current songs, and the fact this is bundled with loads of accessories is a big bonus.
Joy Kl-91MKit
There are numerous reasons why we are happy to recommend the Joy model, and though it has a bit of a cheaper feel, this is reflected in the price tag. This is one of the cheapest lighted keyboards you can buy, and the quality doesn't hugely suffer as a result, either.
This is another bundle, this means that you get loads of different accessories with it. It comes with a stand, a stool and even some headphones for private practice (parents might be a big fan of this).
Another feature that stands out is the tech side of this keyboard. It has USB playback, allowing the connection of a USB player or device, which you can then use to listen to music and play along.
Image credit: Joy
See it on Amazon.com
What we like (and don't like) about the Joy Kl-91MKit:
Full-size piano keys.
Patterns and functions including rhythm programming, recording, metronome.
Comes with lots of accessories including stand and stool.
255 timbres and voices.
No simple and easy app compatibility.
Sustain features are very basic.
There is always an element of getting what you pay for when you are looking to buy a keyboard or a digital piano. This is a cheaper option than many of the other lighted keyboards on the list. It's good for beginners, but could be improved with access to an app to help people to learn more songs and techniques.
The fact that this is bundled and has such great compatibility with tech and USB devices is great, but an easy-to-use companion app would improve things.
The ONE Keyboard Pro
If you are looking for an 88-key lighted keyboard then you will find that your choices are very limited. It's hard to understand why this is other than the fact that a lot of people first start to play on smaller keyboards. If you do want an 88-key lighted keyboard then this could be your only option. Luckily, the features are great.
If you want a realistic piano feel then The ONE Keyboard Pro is far better than a lot of the other options on the market. It has full-sized hammer-action keys, meaning it actually feels like a piano to play. This is far better than trying to play a flimsy, plastic-feeling key, especially if you have big ambitions.
The lighted keys interact with the free app that is recommended, and this shows you how to play songs by lighting up the next key to play.
The app also has some other cool learning features including games and video lessons, and even a crash course to help you to get the basics quickly.
There aren't as many sounds as some other options on this list, but you can plug it into your computer and use it as a controller for a variety of virtual instruments. The inbuilt speakers are also fairly powerful.

Image credit: The ONE
See it on Amazon.com
What we like (and don't like) about the The ONE Keyboard Pro:
Realistic feeling weighted keys.
Record and playback mode.
Crash course.
App with both iOS and Android compatibility.
USB-MIDI for use as a controller.
Less sounds than some other keyboards on the list.
Not as many advanced tech features.
Not as portable due to 88-key design.
This is a good lighted keyboard for people who are looking to play piano seriously in the future. If you want to become a concert pianist, for instance, you will need to get used to playing hammer-action keys and play two-handed. This is pretty much the only lighted 88-key option that is worth looking into at the moment.
Best Choice Products 61-Key Keyboard
This is included on our list of the best keyboards with light-up keys as a sort of alternative to the Joy 61-key keyboard as it is basically identical to this keyboard. It even has the same number of keys, timbres and rhythms.
It comes with a slightly different H-Style stand, and a padded stool, but other than this it is a virtually identical bundle. This means that if it is available for cheaper than other 61-key lighted keyboards it could be a good choice.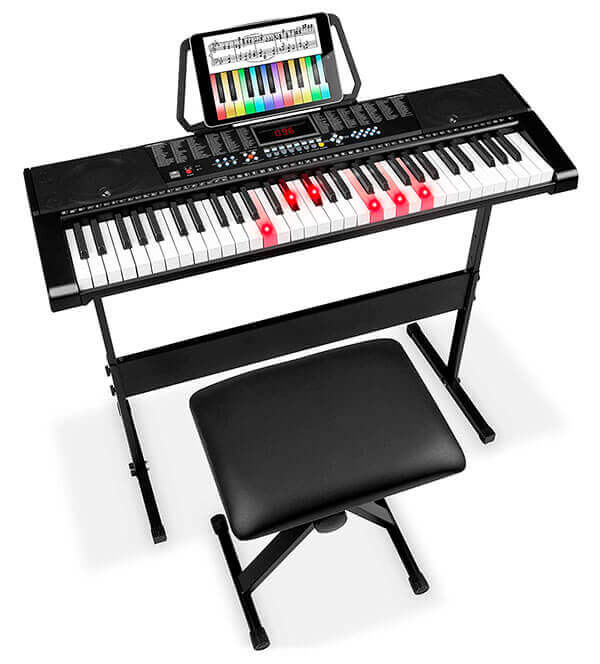 Image credit: Best Choice Products
See it on Amazon.com
What we like (and don't like) about the Best Choice Products 61-key keyboard:
255 timbres and rhythms.
Light-up modes include follow, ensemble and one-key.
Comes bundled with a stand, stool and music stand.
Can be used with AA batteries if needed.
No simple and easy app compatibility.
No sustain pedal.
Not touch sensitive like the ONE digital piano.
If you aren't bothered about reliable weighted keys and don't need a sustain pedal then this could be a great option for you. It's very similar to the Joy keyboard mentioned above. Your choice may boil down to which is the more affordable out of these two.
Conclusion
There are quite a few choices for lighted keyboards, but all give something a little different. You should do a little research and decide how many keys you need and which tech features you plan to prioritize.
The Casio LK-265 is a very good choice if you need a lot of different sounds and reliable learning modes. However, if you want full-size then you might have to go for the ONE digital piano and pay a little more for this functionality.
Combine a lighted keyboard with an app or a subscription to online lessons for the best possible way to learn how to play without a teacher.