The very best MIDI keyboards of 2023 can transform your home studio, or your performances. MIDI keyboards are much more powerful and efficient than they used to be. This means that you can find good options for better value than once before, and with new and exciting features.
Finding the right MIDI keyboard can be difficult, though. There are a number of features and designs to consider, and factors such as size and compatibility need to be understood before you go ahead and buy a MIDI keyboard. We've got your choices covered with our MIDI keyboard/controller reviews.
These are the best MIDI keyboard controllers 2023:
Akai Professional MPK249
If you want a budget option, you can probably rule out the MPK249 straight away. It costs more than some other options, but this is because it is a truly top-end MIDI keyboard.
In spite of being expensive, it is extremely well-made and has a lot of features that all sorts of musicians will love. Whether you are composing in a studio or looking for something that translates to live performance online, this keyboard will have the features you need for a professional feel.
The amazing semi-weighted keys are one of the best things about this keyboard, they allow for more expression and they also give the feel of a digital piano, making it easier to play with dynamics and to add nuance.
There are more clever inbuilt features such as MPC Note Repeat, arpeggiator, MPC Full Level, Tap Tempo and Time Division. You can just as easily build a beat or a drum track as playing a melody. So much of what you can do with this MIDI keyboard is assignable, so you can link it to your software and trigger samples or control other virtual instruments with ease.
Image credit: Akai Professional
See it on Amazon.com
What we like (and don't like) about the Akai MPK249:
Assignable knobs and faders give a full performance workspace.
Easy to set up.
Arpeggiator, note repeat and other inbuilt effects.
Lights up, so you can see what you are doing on stage.
Semi-weighted keys for a piano feel.
The price is basically the only flaw we can find with this keyboard. If 49 keys is sufficient and you have the budget, this is amazingly well-built and links with a variety of different software and VST is in a matter of seconds.
Alesis V25
Pad controllers can be a great addition to keys, and many of the best MIDI controller keyboards include pads, sliders and more. The modern musician can use these to trigger loops or samples, or to make changes within their software. A laptop computer geek can do virtually anything with a decent set of pads.
The Alesis V25 is an affordable way to get some high-quality pads to go along with the keys, but not spend too much money for the privilege.
Though we've picked the V25 to recommend, you should be aware that there are bigger models in the Alesis V series including a 49 and 61-note model.
As well as controls via assignable backlit pads and knobs, the keys are full-sized and robust, so you should get plenty of years of use out of your MIDI keyboard. Octave up and down buttons help you to control more of the range of a keyboard, and you can express via pitch and mod wheels, too.
The software included such as ProTools and Mini Grand is another big bonus for those who want to produce music to a high standard.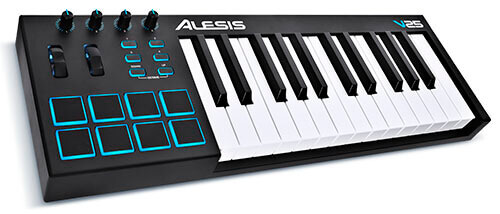 Image credit: Alesis
See it on Amazon.com
What we like (and don't like) about the Alesis V25:
Good value for money.
Lots of music tech software included, which links seamlessly.
Available in different sizes.
Includes backlit pads and knobs.
No weighted functionality.
Can be hard to link to software like FL Studio.
Not all of us can afford to buy an elite, top-level model which has loads of pads and added extras. Also, you just might not have the space. The V25 gives a great solution to this problem.
IK Multimedia iRig Keys 37
Are you the sort of person who would rather not have to take your laptop to band practices? Maybe you just feel more at ease using your mobile device. The iRig might be the answer for you. It's made by powerhouse music tech brand IK Multimedia, and does a great job of reliably working with your software on both laptop and portable devices.
Some iRig equipment previously has been just for iPad or iOS, but this keyboard is very versatile and can be used just as easily on an Android device. You can use a Windows or Apple laptop if you prefer.
Though the keys are smaller and the whole thing is built for streamlined playing, it still has quite a few decent functions and features built into the small package. The best MIDI keyboard on the market for mobile devices.
It comes with access to software and a sample library, which is easier to use if you have a laptop. It's great for playing a huge variety of sounds from a tiny little instrument. The fact that this has 37 keys is a little unusual (MIDI keyboards are usually 25, 49 or 61 keys) but it gives a bit more flexibility than a 25-key MIDI keyboard which is a bonus.

Image credit: IK Multimedia
See it on Amazon.com
What we like (and don't like) about the iRig Keys 37:
Keys are velocity sensitive.
Mod and pitch bend wheels.
Knob to control volume or scroll through data on software.
Octave control.
Can be used with a sustain pedal or expression pedal.
A bit small and flimsy.
Keys can be hard to play for big hands.
The fact that the iRig has been modernized to work with lots of different mobile devices means we had to include it on the list of top-rated MIDI keyboards and controllers. If you want something to use with an iPad or other tablet then this can be the perfect mobile and portable solution.
M-Audio Hammer 88
A hammer-action MIDI keyboard is designed to replicate the feel of a piano, and the way pianos use tiny hammers to trigger the sounds once keys are hit. If you want to learn how to play the piano, and you are looking for a MIDI keyboard that can help, this could be a good option.
Keep in mind that MIDI keyboards don't trigger sounds on their own, they need to be paired with software such as a DAW, but the hammer action of this M-Audio model makes it feel much more realistic as a piano alternative.
It's a simple layout with very few additional controllers, there are no pads or sliders, and an octave control and pitch bend are included, but kept small. This means no annoying extra bulk is added to the product, which is already bigger than the others due to having a full range of 88 keys.
As M-Audio market this for learners, they've included a software package that works with Mac and PC and actually generates the sound of a piano or other musical instruments.
Image credit: M-Audio
See it on Amazon.com
What we like (and don't like) about the Hammer 88:
Great for learning to play the piano.
Comes with software included.
Hammer action gives more expression and velocity sensitivity.
Big and bulky model.
The keys are not the best quality.
No pads or sliders.
Though this is more of an option for piano players, it does a good job of controlling other synths and VSTs and can be a versatile and expressive option due to the fact it has the full 88-key design.
M-Audio Oxygen 61 MK IV
Another of the top-rated MIDI keyboard controllers offered by M-Audio. This one has a brilliant set of additional features to go along with the quality keyboard itself, and many different musicians, whether trained to play keyboard or not, can find that they get a lot out of the Oxygen controller.
The 61-key size is popular for MIDI controllers. It means room to play two-handed, but also a relatively portable design. The keys themselves are full-sized, so you can play naturally if you are used to a piano, for instance.
It's still a compact MIDI keyboard, but it manages to include assignable knobs and faders, opening up a world of possibilities for making beats, launching clips and controlling your DAW. It even uses "DirectLink" to easily map to your software.
There is software included for free, including Ableton Live Light and AiR Music Tech's Xpand!2.
Image credit: M-Audio
See it on Amazon.com
What we like (and don't like) about the Oxygen 61 MK IV:
LCD screen makes it easy to see controls.
Quickly maps to your DAW.
Plug-and-play capabilities.
"Synth action" for a synthesizer feel.
Velocity-sensitivity is not always 100% accurate.
If you want something that gives the feel and control that a lot of synthesizers offer then this M-Audio model could be a great option, and one of the best 61-key MIDI controllers for the money.
Korg nanoKONTROL2
We live in the age of the laptop musician, and luckily, that means that there is some amazing equipment on the market that can fit inside a backpack. Korg's Range of synths and other gear has always been pretty impressive, but when it comes to finding the best-rated mini MIDI keyboard you'll struggle to find better than the nanoKONTROL2.
It is worth saying that if you want something to play long expressive pieces of music on or to perform a Beethoven piece then this is not the model for you. It's designed to be small but effective, and a good way to come up with melodies and basslines on the go.
It has 25 keys, but these aren't in the traditional "key" design. They're smaller, to save space, and this means they have more of a button-like design. You will either love it or hate it, but it is effective for saving a lot of space.
In spite of being tiny, the keys are velocity sensitive. There is also a clever "sustain" button that gives the same effect as a sustain pedal on a bigger keyboard or digital piano.
Image credit: Korg
See it on Amazon.com
What we like (and don't like) about the Korg nanoKONTROL2:
Small but sturdy.
Fits in backpacks or laptop bags.
Easy to link to your DAW.
The button-style keys take a lot of getting used to.
Not easy to play complex melodies.
If you just want the range of a couple of octaves to experiment with basslines and melodies then this could be the best MIDI keyboard for you. For the size, it is top-quality, and provides a durable solution, even for a tiny MIDI controller keyboard.
Monoprice 606304
Monoprice manufactures a lot of budget music equipment. Their 606304 MIDI controller is maybe not the highest-rated or most professional model on the list, but it is an affordable way to add a MIDI controller keyboard to your setup.
As well as being available at a reasonable price, it has some good features, too. This certainly isn't a "toy" version of a MIDI controller.
As well as 25 full-sized keys, it has velocity sensitivity, so you can play melodies more softly or with more of an aggressive style, depending on what is called for. It doesn't need a driver, and though it can be powered directly from your USB connection, it can also work with a power adapter.
On top of the 25 keys you can gain more control with 4 rotary encoder knobs, assignable to a variety of different DAW and VST controls. As you would expect, it also includes pitch bend and mod wheels for even more control over the playing.
Image credit: Monoprice
See it on Amazon.com
What we like (and don't like) about the Monoprice 606304:
Easy to "plug and play" with no driver required.
Great value for money.
Fairly solid build-quality.
Velocity sensitive in spite of the low cost.
Doesn't come with any software.
Encoders aren't the highest quality available.
Of course, there is an element of compromise when paying less for a MIDI keyboard, but this is an impressive choice for the money. If you are on a budget, you don't have to miss out on all of the features that you would ideally want from a small, 25-key MIDI controller.
Conclusion
Which of the MIDI controllers on the market should you go for? It largely depends on your own needs as a musician, but the models listed in this guide mean that you won't go far wrong.