Your studio is equipped with a ton of different equipment, most of which you likely use in every session, but if you are a hip-hop, R&B, soul, or any other type of artist in similar genres, you must have the best midi keyboard controller at your disposal.
This is a crucial fact, because a midi keyboard controller will be your most versatile tool in your studio.
The features and possibilities are virtually endless, which allows the user to make some serious music, and with some models, when the user isn't even at the studio!
The importance of having the best midi keyboard controller for your studio cannot be emphasized enough.
If you don't have one, and you make music, or want to start making music, then read on to find the best product for what you do or want to do.
People are looking for new, catchy music every day, so, use these wonderful products, and give it to them!
What is a Midi Keyboard Controller?
You probably guessed it already, and yes, it is a keyboard, but it does so much more than that.
Think of the keyboard portion of the device as extra buttons that allow the user to fully customize the device by mapping every single button or key to a sound, effect, or any other feature the keyboard has.
These devices simply hook up to your computer and works with the software that comes with the device in an easy-to-use interface that gives the user thousands of features to make beautiful, authentic, and original music in professional quality.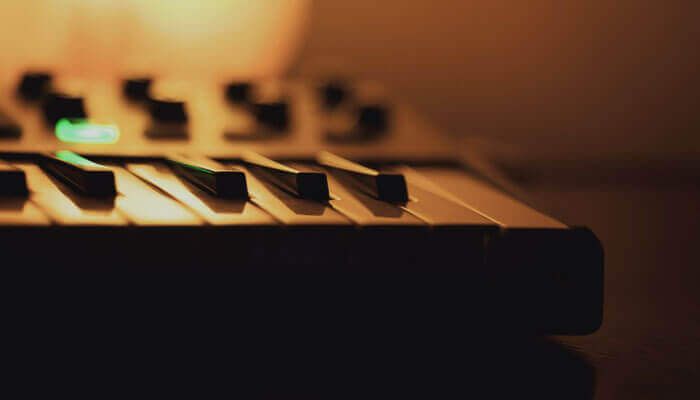 You probably have a ton of question by now. Who makes the best midi keyboard controllers? How much are midi keyboard controllers?
You should become familiar with brands like AKAI, Novation, Alesis, and M-Audio, among a few others. These brands make the best midi keyboards for the money.
If you're worried about price, you may be pleasantly surprised to discover that most are very affordable.
For a good midi keyboard controller, you can expect to pay anywhere from $50 for a good, cheap midi keyboard controller to around $300-$350 for top rated midi keyboard controllers.
With most midi keyboard controllers, you'll have buttons and knobs above the keys, which have default mapping to certain features, but can be changed and customized to the user's discretion.
You will have many knobs on the right or left side that help the user fine tune the sound they are wanting, with every minute detail being scrutinized, so the music is exactly the way you want it.
Here are some of the common features and characteristics of a midi keyboard controller:
Mappable Controls
Almost every button and knob are customizable, which makes for a super easy user experience as well as saving time on finding the controls to make your unique sound
Sound Effects
The possibilities of making your own sound effects are virtually endless. Most software allows the user to download effects, sounds, and beats that can be mapped to the controls the user designates. These features are excellent for finding your own unique sound
Unique Features
Every product will have its own unique features that entice one user over another.
Some products are small, and portable, while some are large, and offer more in the way of features and mappable controls.
It is so important to do your homework and use this guide to help you find the best midi keyboard controller for you
Software
Every midi keyboard controller should come with software with a simple interface, but is packed with features, so the user can swiftly make the best, most professional music possible, without having to sacrifice any quality or settle for a beat or sound because the product hit its limits. The best products will come with the best software.
Drum Pads
Want to play the drums without having to buy a kit and learn for a few years to become good enough to record?
Most midi keyboard controllers will have a completely customizable drum pad that consists of 6, 8, 10, or even more individual pads that allow the user to create beats and drum lines using just their fingers.
There is just a slight learning curve, because the manufacturers researched the science behind fine and gross motor function in the human hand and found that people can learn to play the drums using the pads exponentially faster compared to using a traditional kit.
Furthermore, the pads give the user the freedom to map any sound to each pad as they desire.
Coupled with the effects and other features that manipulate the sound, tempo, and structure of the beat, the possibilities are endless, and thus gives the user yet another tool to create nothing but excellent, unique music in a swift manner.
Best Midi Keyboard Controller Reviews
What is the best midi keyboard controller?
The best products are going to have all the features listed above, as well as much more, and this in-depth guide will help you decide on which midi controller keyboard to purchase and use to make your unique music. You'll be able to find:
Best midi keyboard for beginners
Best budget midi keyboard
Best value midi keyboard controller
Best inexpensive midi keyboard
Among the kinds listed above, you'll be able to find many other models that are at the top of the industry.
Novation Impulse 61 Midi Keyboard Controller
Top rated midi controllers have exactly what the Novation Impulse does.
This controller is one of the best midi keyboard controllers out there because of the features, rigidity, software, and customizable features.
Novation is known for making great products at a fair price that will usually give the user more than they bargained for, which helps teach the user new skills in music making.
Here is what you'll find with the Novation Impulse 61:
Sensitive and responsive weighted keys that feel great
DAW/Plug-in control board with 9 fader knobs, 8 mappable knobs, and mappable buttons
Comes with Automap 4 control software
The 8 drum pads are multi-functional with several features
Free downloads are included like Ableton Live, XLN Audio Addictive Keys, Loopmaster Sample Pack, and Novation's Bass Station Synth
2-year manufacturer's warranty
The Pros and Cons of The Novation Impulse 61
First off, the product is really easy to use. The 61 keys give the user much more freedom to go up and down octaves and map more sounds and controls compared to mini controllers.
The keys have a nice, sturdy feel to them, because they are semi-weighted, but also balance the ease of switching from one note to the next.
The features are endless. The default mapping on the controller is great for beginner users, or even seasoned users, which saves a ton of time when setting up the controller for the first time, and any subsequent changes that need to be made later on.
The pads are great quality, have an easy feel to them, and don't feel like those huge square arcade game buttons that are big, loud, and clunky that you can find on cheaper controllers.
Switching from pad to pad, keeping a nice rhythm, and even using your mapped knobs, faders, arpeggio manipulator knobs, tempo knobs, or other features are easy to do while you're playing.
This controller makes it pretty easy to become a pro at making beats because of the features and the structure of the product overall.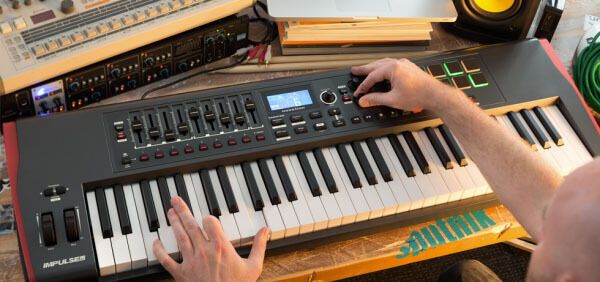 With the purchase of the Novation Impulse controller, you'll receive Ableton Live, XLN Audio Addictive Keys, Loopmaster Sample Pack, and Novation's Bass Station Synth, 4GB of free, royalty-free samples, and 502MB of drum loops and breaks that you can easily use and manipulate to make your own beats.
If you aren't acquainted with Ableton Live, you may use this controller for FL Studio, Mainstage, Garageband, Logic Pro X, Reason, Reaper, Sibelius, or any other DAW for Mac or PC.
The LED screen is easy to read once you understand the symbols and control numbers it displays, which the user manual will help you do, because it is a good, comprehensive book that goes into fine detail.
It is so nice to have a big LED screen that tells you where you are in the process of making your music, which channel you are on, what effects you have on, etc. It definitely saves a ton of time.
Novation is famous for working directly with the big software manufacturers that make all the plug-ins and software for controllers and are fully compatible with a large number of companies that allows you to download the thousands of features, sounds, effects, beats, synths, and so on.
The device is powered solely by USB, which is great if you want less wires and just less to plug in when you have limited outlets in your studio.
Many people have used this product, and not one person that has even a basic understanding of midi keyboard controllers had anything bad to say about it.
Some people compare it to cheaper versions, claiming that it doesn't do much more than they do, but they are dead wrong.
These users are simply not utilizing the controller to its full potential.
This controller is one of the top 5 controllers made in the entire world.
You won't be disappointed, that is a guarantee.
To sum up this product, it is the workhorse of the studio and one of the top midi keyboards, because of the manufacturers commitment to make their products compatible with more plug-ins, more software, and more accessories.
This controller is easily the most versatile when it comes to compatibility and pairing other devices to it.
And, if you really want this product, but feel that you don't need a big, 61-key controller, you can purchase their 49-key version, or their mini 25-key version.
The models differ slightly regarding the number of knobs and obviously keys on the keyboard, but they do not sacrifice features and quality.
Overall, the Novation Impulse 61-key midi controller is the best midi keyboard under $500.
AKAI Professional MPK249 Performance Keyboard Controller
AKAI has been one of the leaders of the industry, especially after their Mini MKII (which is the best small, compact, and portable controller) released, because of the excellent quality, features, and software that come with their products.
For some musicians and studio professionals, AKAI is their number-one brand, because they use AKAI's controllers exclusively.
No one can blame them. AKAI makes some seriously great products at a fair price. The MPK249 is a cut above the rest.
Here are most of the features, characteristics, and unique abilities of the AKAI Professional MPK249:
AKAI offers this model in 3 versions, a 61-key, a 49-key, and a 25-key version
This controller is made for live performances as well as being the workhorse in the studio
Pressure sensitive, weighted keys feel smooth
This controller features 16 color lighted MPC-style drum pads that are fully mappable for a total of 64 customizations using 4 banks
AKAI uses the famous, award winning software VIP 3.0 for it's products, which gives the user with every level of musical ability to easily control the effects, tones, controls, keys, maps, and all the other features included with the product
The MPK249 is powered solely by a USB adapter, so you don't have to worry about having an extra power bank in your studio or on the stage
24 mappable Q-link control board with faders, knobs, and switches, and there are 8 of each in their respective rows
iOS compatibility feature using a separately sold Apple iPad Camera Connector adapter kit
5-pin midi output and input
DAW integration using parameter controls and comprehensive transport features
The controller features one expression jack and two mappable footswitch jacks located in the back of the unit
The Pros and Cons of The AKAI Professional MPK249
There isn't a single thing on this device that isn't a very useful tool in the journey to making catchy beats and beautiful music.
The 16 drum pads give the user even more freedom to easily make a ridiculously amazing beat.
Watching someone who is experienced with the device playing the drum pad is mesmerizing.
The sound manipulators, faders, and other mapped controls go along with the drum pads perfectly.
If you want to make the best beats, this product is going to become your best friend really fast.
This is the best midi controller with drum pads for sure.
AKAI is known for rigorously testing their products. There are several benefits that arise from their dedication to excellence.
Their products are completely user-friendly because AKAI puts user feedback at the top of the priority list and designs their products accordingly.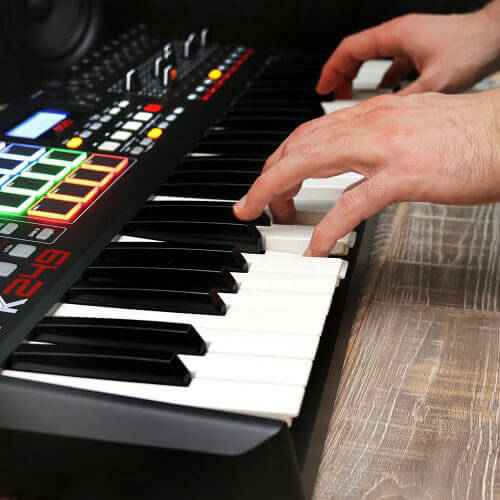 Any problems with their products are quickly solved. The user gets the best quality controller that money can buy.
Every tiny detail along with the big picture of features are enhanced to the best of the ability of the technology they are using.
AKAI is consistently raising the bar in quality and innovative features and ideas, so the user can be excited for updates, new software, plug-ins, or new products, because it is very likely that they fixed whatever you didn't like about it.
Anyone can be reassured that when they buy AKAI, they will be getting the best product with excellent customer service and product warranties in the world, all for a reasonable value.
The VIP 3.0 software is arguably the best in the business. The interface is easy to use, fully customizable, and compatible with so many other devices, programs, banks, and many other tools and devices that you may have.
If you are unsure of compatibility, simply use their customer service to submit an inquiry either by phone or by email.
The experts will quickly respond in a timely manner that will give you any and all answers that you seek about their products.
This model is much like other controller brands in that they offer the device in three versions: a 61-key (MPK261), a 49-key (MPK249), and a 25-key (MPK225) model.
Some digital and physical features may be added or taken away because of the size of the device, so it is best to go to your favorite online store or the manufacturers website to compare the versions of the AKAI MPK249, so you can get the best version for your needs.
There have been complaints from some people about quality issues that are intermittent from all around the world.
Most companies go through quality issues sometimes, and this is a rare issue that shouldn't scare anyone into condemning AKAI.
If you do receive a defective product, AKAI will either refund your money at your request, or send you another unit that is defect free, all at your discretion.
Other than intermittent quality issues, there is nothing else negative about the AKAI MPK249 in any of its versions.
It will work hard for you for years in the studio and on the stage.
You can purchase a mini version to take with you to other studios or to use in live shows.
Every feature is designed by experts that have many years of experience with controllers, so you can ensure that you are getting the most user-friendly controller on the market.
Alesis V61 USB-MIDI Keyboard Controller
Anyone who knows digital pianos, controllers, pads, or other electronic instruments knows that Alesis is a brand that competes with the best but puts a really great price tag on their products.
Some people just don't have a ton of money to put down on a controller, so Alesis gives those people a way to get a great quality product that they can afford.
The Alesis V61 has most of the same features of a more expensive brand, an excellent physical quality, and an easy to use interface.
Here is what you can find on the Alesis V61:
Built for the music producer who needs to control their plug-ins and other electronic instruments
Weighted keys with fully adjustable sensitivity that feel professional and of great quality
The 8 LED backlit drum pads are fully mappable and customizable to respond to sensitivity, velocity, and pressure, so they give you more options for lower, smoother sounds, or hard and fast sounds, all with the feel of your fingers. True artists really benefit from this feature as they "feel" the music as they play.
Pitch and Mod wheels
8 adjustable and mappable buttons and knobs (4 each) that allow for sound manipulation, tempo changes, arpeggiators, faders, etc.
The physical quality is one of the best because of its thick plastic construction designed to withstand more than normal wear and tear
The unit is completely USB powered to save the user from the hassle of having yet another power bank in their studio
A sustain pedal input jack is located in the back of the unit along with the USB port that connects to the computer
Modulation and pitch wheels allow the user to truly modify their music
The Pros and Cons of The Alesis V61
The price is the main buying point that people admit to once they purchase the Alesis V61. If you haven't noticed, it is less than half the price of its competitors.
The model comes in 3 versions, the 61-key (V61), 49-key (V49), and 25-key (V25) options, which gives the user the option to get even more portable and save even more money.
The mappable knobs and buttons are nice and easy to use.
Any studio producer will find that the product is very user-friendly.
The velocity sensitive keys are easy to play, but feel sturdy on your fingers, and will last a very long time.
Feel free to plug in to PC or Mac in any of the newer operating systems for seamless playability.
The octave up/down buttons are readily available next to the keyboard and allows the user the freedom to create bass lines, piano tunes, or any other instrumental beat in any key they desire.
The modulation and pitch wheels located on the left side are great for making unique tones.
The four mappable control knobs can be used to adjust volumes, open and close filters, tweak parameters, and activate/deactivate effects.
These wheels and controls give the user complete control over the music they make. The possibilities are virtually endless.
The V61 software is very customizable in technical and visual aspects of the interface.
You can program parameters and map functions to certain knobs, wheels, and keys, but you can also adjust the midi messages the Alesis V61 sends to the software, for a completely customizable experience.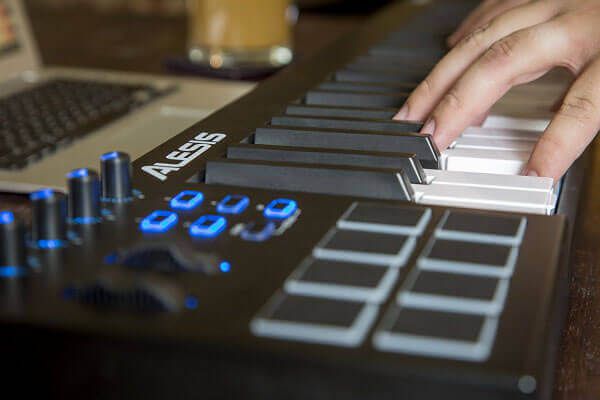 Through the software, you can adjust the velocity of the keys, so you can get the sound you want without having to adjust your play style, and how hard or soft you put the keys down.
What's even better, is that the software comes with Expand! 2 by AIR Music Tech and Ableton Live Lite 9.
These interfaces are some of the best in the controller business, so you can ensure you are getting the best, for half the price of most other controllers of this caliber.
Ableton Live is a software that features an expansive music editor that is fun and easy to use for anyone at any level.
Expand! is a premium virtual instrument software that comes with tons of preset beats and other music.
Before you purchase this product, you should scour the internet and read other's reviews, because some have stated that this product just didn't meet their needs in one way or another.
Most of which were a failure to meet their play style because of the sensitivity parameters on the keys and the drum pads.
Some have claimed that the dynamics of both are awful out of the box, but keep in mind that everything is adjustable, so you may find the sweet spot, or you may not.
Another con that is frequent on this device is that the drum pads aren't what they could be in the way of the sensitivity and response.
Some people have to use two fingers to tap really hard on the pad to get it to respond regardless of what sensitivity setting is on.
This may be due to an individually flawed device, so if you do have problems like this, contact their wonderful customer service to see what they can do for you.
The problems stated are intermittent, and aren't prevalent on every Alesis V61, or the 49-key and 25-key models as well.
The overall thoughts of this device are that it is a powerhouse for half the cost of most other brands in its class.
Usually, when something costs less, it is worth less, and it cannot do what more expensive models do, but this isn't the case for the Alesis V61.
Now, it doesn't have 16 pads like other brands do, nor does it have some of the exclusive features that more expensive brands do, but what can you expect for the price?
It does everything a controller is supposed to do, and it gives you much more, so if your expectations are right, you'll be very comfortable purchasing this device, and you will be very happy with it when using it at the studio or live on stage.
To sum up, the Alesis V61 is the best midi keyboard under $200.
M-Audio Keystation 88 II MIDI Keyboard Controller
Need more keys? This one has you covered. The M-Audio Keystation is a serious device designed for professional of the highest caliber.

The Keystation does all the basic things any other keyboard controller does, but due to some ingenuity (and free top space because of its large size) it comes with a ton of buttons, knobs, keys, and other unique features.
Here are the things you can find on the M-Audio Keystation 88 II:
Many virtual instruments available
USB powered
88 velocity sensitive, full size, weighted keys
1/4″ sustain pedal jack
Transport controls, modulation wheels, pitch bend controls, and octave range buttons
Includes the award-winning Ableton Live Lite software, Expand! 2, and SONiVOX Eighty-Eight Ensemble
iOS compatible (only if using an Apple camera connection kit sold separately)
Very easy to get started, all you need to do is plug it in to your computer, bring up your DAW (digital audio workstation) and start making music
Phenomenal for live performances
Extremely affordable: $100 less than smaller controllers that don't do near as much
The Pros and Cons of The M-Audio Keystation 88 II
First of all, it is a really fun controller to play on. To be a professional, you must use professional instruments, and this makes you feel like a pro even if you aren't, right out of the box.
You simply plug it in and make sure your computer reads it, start up your DAW, and you are ready to get to work.
Even though the controller is huge compared to most, it has a really simple layout that everyone will enjoy.
The ease of playing is by far the main attraction to this keyboard controller.
It has everything a producer needs to record, perform, and play music without having to touch the mouse.
The controls are easy to use, and don't feel knobby or require extra effort to use them.
The buttons feel like they are made of a really high-quality material, and don't have a cheap, clicky feel to them.
The wheels are super easy to use, as they have little fingerholds in every section of the wheel, so you can keep traction while playing.
The Keystation certainly takes advantage of the larger size and integrates a full control system that allows the user to work the software from the controller.
This feature saves music producers a ton of time, and money, when recording or editing music or sounds.
Once you become familiar to the controller, you will breeze through tracks, using the pitch bends, modulation controls, octave buttons, and all 88 of the synth-action keys.
While the Keystation is great for some, it will not be great for all, and mostly because it loses some features, regardless of its enormous size.
You would think that if a 61-key controller could have 16 drum pads, then this model should have that or more.
Well, the biggest con for this device is that it has no drum pads whatsoever.
There are only 2 wheels and 3 buttons on the left side of the keys, followed by nothing but plastic and wasted space.
The entire 5/8 of the space above the keys going left is nothing but empty plastic and the name of the device.
It seems a shame to have such an amazing device, to make it so large, and then not engineer more buttons, effects, knobs, controls, wheels, and every other great thing that other controllers have.
Other than that, it works perfectly, and no manufacturer defects have been reported.
If you want a good keyboard controller that gives you more keys, but you want simple and to do most of the work from your DAW, then this controller is the right one for you.
If your play style is more reliant on how many knobs, buttons, wheels, and other recording, editing, playing, and manipulation features other controllers have, then this is not the one for you.
There are many other models that you would be better suited for if that's the case.
But, this controller is popular and music producers all around the world love it for a reason.
If you have the aptitude for your DAW, using the controls on the controller is easy enough, plus you can get a standalone drum pad and use it together with this controller, making it the ultimate duo of awesome music making.
Novation Launchkey 61 MK2 USB Keyboard Controller
Novation is known for making some great keyboard controllers, among other musical equipment, and this model doesn't disappoint.
Music producers all around the world are flocking to this brand, this particular model, because of the enhanced features that it provides.

The Launchkey has just about everything you can think to include in a controller.
The design was made by and for musicians and producers.
Here is what you'll get with the Novation Launchkey 61 MK2:
Extreme quality
Affordability
Software included for Mac and PC: Award-winning Ableton Live Lite, Novation Bass Station, XLN Audio Addictive Keys, V Station, and 4GB of sound and music loops (copyright free)
Features 16 smaller RGB drum pads located just above the keys
Includes 8 mappable knobs
Software controls built-in for ease of use
Easy to set-up: Just plug the controller into your computer via USB, and everything comes to life, no drivers or other software necessary
This model is offered in this version, as well as a 49-key and 25-key versions for producers that need more portability
Semi-weighted and pressure sensitive keys
The 16 smaller drum pads are completely customizable, mappable, and can be used to create loops, clips, triggers, control effects, and many more features.
Custom designed for Ableton Live Lite, which comes with the controller when you purchase it
The Pros and Cons of The Novation Launchkey 61 MK2
Truly endless possibilities await the user of the Novation Launchkey 61 MK2. This device is what music producers dream about.
And, it's more affordable than some of the other brands that don't give you as much, which brings the value of this controller sky high.
The controller uses what is considered by most in the industry to be the best software available right now, Ableton Live Lite.
The Launchkey was designed by industry experts to be fully functional, down to every minute detail, with Ableton Live Lite, so you can know you are getting the best controller if you are an Ableton user.
The drum pads are the signature feature on this model of keyboard controller. The pads are smaller than what is the norm for the industry.
Because they are smaller, Novation was able to fit 16 pads on the device.
The pads are designed to be color coded, so the user can map certain functions and associate them with color.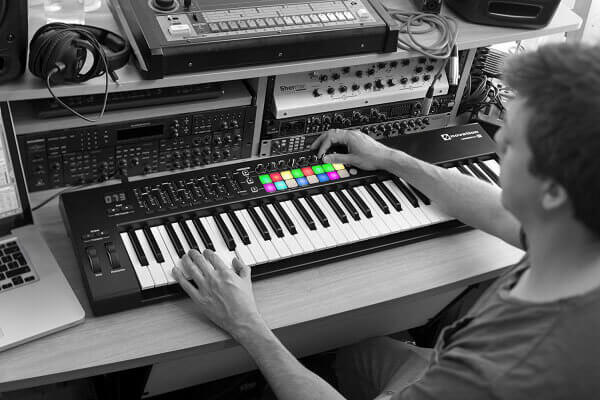 For example, the user could map effects or clips into each individual pad in the top row and use the bottom pads to stop them.
This is just one example of thousands of possibilities.
Novation is proud that this controller can be played with feeling. Every pad and key are pressure sensitive, so you can find a rhythm and feel the beat.
The Launchkey features 8 mappable knobs for control of effects and instruments. There are also 9 faders for complete control of the mix.
For the money, this is arguably the best midi keyboard controller on the market.
The price may throw some people off. But, if you want the best, you are going to have to pay for it.
Many people have reported that the drum pads aren't sensitive enough, which makes for a hard-playing experience.
Some people that have bought the product haven't liked the smaller pads either.
However, just like anything else, the user must take the time to learn the instrument.
The keys have been a point of complaints as well. Regular piano players or even players that use keyboards with weighted keys have a hard time switching over to this controller, because the keys aren't weighted. So that may be a con to you.
It seems like Novation has an intermittent quality control issue because every now and then, and a customer receives a bad one.
These problems are going to happen with every company, but it still is frustrating when it happens to you.
Luckily, Novation has a great customer service to help anyone with any issues.
The overwhelming odds that you'll receive a fine keyboard controller should entice you to try out this controller. You shouldn't be disappointed.
The Novation Launchkey is probably the best midi keyboard under $300.
Our list of the 5 best MIDI keyboard controllers on a market in 2020:
Novation Impulse 61 Midi Keyboard Controller
AKAI Professional MPK249 Performance Keyboard Controller
Alesis V61 USB-MIDI Keyboard Controller
M-Audio Keystation 88 II MIDI Keyboard Controller
Novation Launchkey 61 MK2 USB Keyboard Controller
Final Thoughts
Hopefully you got the information you needed through these midi keyboard reviews.
All the controllers in this overall review have the same basic functions, which you'll need to figure out which ones you cannot live without; you won't be disappointed in your purchase as long as you do the proper research yourself.
Every piece of information you need is on here, and these are the best controllers on the market, but there are some that aren't.
It is important to know that any product above can be:
The best midi keyboard for live performance
The best midi keyboard for beat making
The best keyboard for music production
The best midi keyboard for electronic music
The best midi keyboard for hip hop production
Making a big purchase like this, especially when getting a controller for your studio or band, requires extensive knowledge to make sure you get the best one that you can afford. The features are what it comes down to.
Make sure you know what you need before you spend any money.
Be sure to be on the lookout for newer versions of some of the greatest models and brands out there as well.