Do you have a budding pianist in the house? Start them young. We've listed the best keyboards for kids and toddlers in this article.
Children's keyboards have come a long way. While some are suitable for adults too, lots of brands make specific kid's keyboards with extra learning features or accessible features for youngsters to enjoy.
We're not looking at toys here, but keyboards for the ultimate beginners. We explore more with our detailed keyboard reviews, with the very best keyboards for toddlers and young children to start their musical journey.
Here are the best keyboards for kids and toddlers 2023:
Casio LK-265
We found this to be the best option overall if you are looking for a great keyboard for kids. It has features to keep them interested and allow them to learn piano and keyboard at their own pace. It's also relatively good value, and the best Casio keyboard for kids.
This is a 61-key keyboard. It's not too much smaller than a full-sized model, so even adults could technically use it. In spite of this, it is small and lightweight enough for kids. You can utilize the included AC adapter or you can use battery power to play when you are on the go.
As this is a pretty big keyboard, it has a lot of electronic features included. The speakers are pretty good, and loud enough for practicing at home. There are also 150 rhythms to choose from, and 400 tones to play. There's loads of choice to keep kids interested.
You can use the interesting "Dance Music Mode" which basically lets you add beats, synth parts, basslines and even effects, to produce and sequence music on your keyboard. This gives a good level of fun and extra music understanding.
The light up mode means there are 60 songs inbuilt that can be learned by following the lit keys. This makes it simple and easy to get started and learn basics. Also, you can use the Chordana app, compatible with the display of this keyboard, to learn songs that you know and love.

Image credit: Casio
See it on Amazon.com
What we like (and don't like) about the Casio LK-265:
Light-up keys in the learning mode.
Intuitive dance music production mode.
61 touch sensitive keys.
Compatible with Chordana app.
Not the best for toddlers as it is probably too big.
Some of the voices sound a bit "thin" and low quality.
This is a good option for older children and teenagers due to the size. It has a lot to like, particularly the light up learning mode, meaning it is a good beginner keyboard.
Casio SA-46
This is a keyboard that is certainly kid sized. Though it can be used by adults for triggering the odd sound, really, it is designed with youngsters in mind.
The mini keyboard has 32 small keys which are quick and easy for children to start playing, they don't have to apply a lot of pressure.
There are multiple sounds built in, with a simple button to switch between piano and organ. There are also full songs, 100 timbres and 50 rhythms. Kids can trigger these rhythms to learn the basics of playing in time too. 5 drum pads also allow kids to play around with percussion sounds and timings.
For a small and relatively affordable electronic keyboard for kids, the speakers are decent enough. Not spectacular, but they can hear what they're doing.
There's only 8 notes of polyphony which makes it a bit more difficult if they start playing complex melodies, but by this time they probably will have graduated to larger keyboards.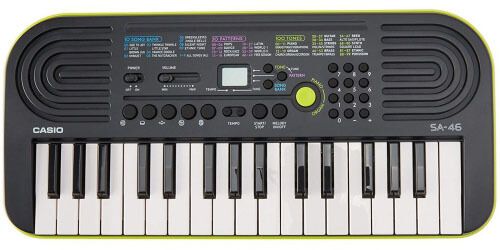 Image credit: Casio
See it on Amazon.com
What we like (and don't like) about the Casio SA-46:
Easy controls for children.
Simple LCD display.
Mini keys are easy for small hands.
50 inbuilt songs to play along to.
Headphone output so kids can listen privately.
Only an 8-note polyphony.
Small keys for older children.
This is a good option for toddlers, it allows them to learn simple melodies on a small keyboard which is easy to control. They can even wear some toddler headphones, so you don't have to hear the practice!
Yamaha PSS-F30
This is another option that is great for toddlers. If you're looking for the best Yamaha keyboard for kids, especially young kids, the PSS-F30 could be your answer. It's similar to the Casio SA-46 in terms of size.
This is certainly not a toy, even though it does have mini keys, it has some pretty good musical features and smart extras other keyboard makers haven't thought of.
There are loads of preset songs, and you can learn them using the songbook that is included with a download code. There are 120 brilliant voices combined with 114 styles, so there are a lot of options for different sounds to keep kids entertained.
The "smart chord" function lets you play full chords by just holding down one key. There are also some features you might not expect, such as sustain and even a metronome included. You can give your toddler the best musical starting point.
Power can come from 4 AA batteries or from USB power. You can also make use of the headphone jack for quiet practice.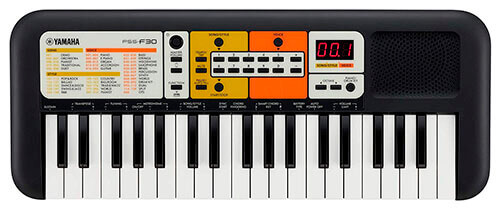 Image credit: Yamaha
See it on Amazon.com
What we like (and don't like) about the Yamaha PSS-F30:
Easy mini keys for toddlers.
Sustain and metronome included.
Affordable.
The songs in the playbook are popular and modern, appealing to children.
USB or AA battery power.
No touch sensitivity.
Keys are pretty small for older kids.
It's another option for toddlers, really, but if you are looking for a lot more sounds than many of the mini toddlers keyboards, this could be the one for you to buy.
Alesis Melody 54
54 keys is a good size for a children's keyboard. This keyboard is small and portable enough, without being too small to practice some of the basics. You can even play two handed when you get to this stage of your lessons.
The inbuilt speakers are pretty good quality considering the low price tag. Alesis is a brand with plenty of good value keyboards, pianos and MIDI keyboards.
There are plenty of sounds including synths, piano sounds, strings, percussion and even guitars. 300 sounds in total, which can be played layered on top of each other or in "split" mode. You can have a bass sound on the left hand and piano on the right, for instance.
The education suite is another plus point. You can learn 40 songs that are included within the education suite, or even record your own songs within the keyboard. The Melody 54 also comes with a 3-month subscription to Skoove Premium, allowing online music lessons.
To top it off, this keyboard comes with a microphone. You can even sing along with your favorite songs while you play the chords. If you are the parent of an aspiring singer, this could be a great way for them to get used to recording and performing.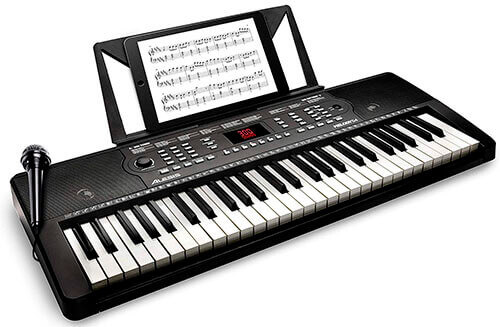 Image credit: Alesis
See it on Amazon.com
What we like (and don't like) about the Alesis Melody 54:
Can be used with AA batteries or a power adapter.
Comes with a microphone.
Education suite helps you to learn 40 inbuilt songs.
300 sounds to choose from.
Layering and split modes.
Inbuilt speakers don't sound the best.
Touch sensitivity on the keys is a little unreliable.
This is an affordable keyboard for children. As such, it isn't made with amazing quality, and the components such as speakers aren't the best. That said, the technical specs are good, and you can learn the basics easily on this keyboard. The microphone is a big bonus.
RockJam RJ761
If you want to use the digital piano to take lessons or learn how to play on your own then the RockJam option could be ideal. It is another 61-key model, this means it is big enough for two handed play.
This model is also usually sold with a stand and often in a bundle, it even comes with a stool, sustain pedal and headphones. The music stand included is designed for learners to use books, or tablets that can be used for lessons.
The lessons themselves come in a variety of different learning features included in the RockJam. RockJam players get access to "Simply Piano". This is an app that has lessons for loads of current and popular songs. There are also connections such as MIDI and USB for your computer, making it compatible with these apps. The package even has stickers for each key included!
It has 200 different tones, and the teaching function is designed to help you learn 30 inbuilt songs, another reason this is great for beginners.
Some cool tech features are included as well as a lot of compatibility (such as MIDI). The record and playback is a bonus, and means you can listen back to your practice.

Image credit: RockJam
See it on Amazon.com
What we like (and don't like) about the RockJam RJ761-SK:
Comes with access to Simply Piano.
More learning features and a learning mode included.
200 tones.
MIDI and USB compatible.
Speakers sound a bit tinny, thin and poor quality.
Keys don't feel professional, and are cheaply made.
Overall, if you are looking for included lessons and a package with loads of accessories, the RockJam could be a really good option. This is better for slightly older children and is a great keyboard for teenagers to learn how to play. The app includes current songs that they will probably be interested in!
Roland GO:PIANO
What an age we live in! The Roland GO:PIANO has voice control in the form of Alexa, meaning you can change settings with your voice. This might seem like a novelty, but it can actually be quite useful during performances of certain songs.
As well as using the Alexa technology to actually control the keyboard, you can use it to check the time or weather, set an alarm and all the other cool stuff Alexa can do.
Roland is a big name in the world of music tech, and this brand is synonymous with quality. This has the best piano sound out of any of the options on the list, making it more of a digital piano for children rather than just a keyboard.
There are 40 onboard sounds to play. Though this is not as many as some of the other options, they are all very high quality sounds, making it a top choice for those who want a bit of audio fidelity.
Bluetooth can be used to hook this up to different apps on devices, so if you want to use this as a way to learn, it is possible to do so. There's an app made by Roland, Partner 2, which gives more functionality to your digital piano.
The lightweight design is a plus point, it weighs just 14 oz., so you can take it to practice easily.

Image credit: Roland
See it on Amazon.com
What we like (and don't like) about the Roland GO:PIANO:
Alexa enabled.
Very high-quality Roland sounds included.
Lightweight.
Can be used with an adapter or AA batteries.
Recording and playback with free cloud storage for your recordings.
More expensive than many 61 key options.
No lighting keys.
This is a good option for the tech lovers who want to use things like Alexa to enhance their playing. Roland can be relied on for good quality, and this is a well-built model, great for teenagers and children.
The ONE Light Keyboard
This describes itself as a "smart" keyboard for kids because of the fact it has inbuilt lessons. These come in the form of excellent light up keys that can guide you through simple melodies and help you to learn the very basics.
The free app that comes with this has lots of resources for beginners including a crash course, sheet music, lesson videos and even games you can play with your keyboard to help to learn. This keeps kids engaged.
If your kid isn't going to have traditional lessons, and you're looking for a piano to help them learn, this could be the option. Just be warned, you really need to hook it up to the app, otherwise, The ONE keyboard is not the most useful. Even some of the tones you can use to play feed from the app.

Image credit: The ONE
See it on Amazon.com
What we like (and don't like) about the The ONE Light:
Great light-up key design.
Games and lessons on the app.
USB MIDI cable. Use this in your DAW or other computer app.
The app is needed for most functions.
Pretty expensive for what you get.
There is plenty to like about the lesson functions. If you don't mind having to pair with a companion app to unleash the potential, The ONE Light is a good way to learn how to play.
Korg tinyPiano
We hesitate to call this a toy, because it is much more than that. Any product carrying the Korg logo should be expected to have some pretty good audio functions, and if you buy the tinyPiano for your kid, you shouldn't be let down.
It's hard not to notice that this is an exceptionally cute little model. It's really only suitable for tiny kids and toddlers, but you can see how it is the option of choice for putting in their play room. It looks great. The next Beethoven may well have one of these in their room!
In spite of its acoustic look, this is a digital piano. It comes with 25 keys and some surprisingly good electronic features. It actually has 25 tones included that can be played. 50 demo songs are also included for hours of fun.
It has a tiny 1 W speaker, but this is fine for your little one to start enjoying their playing. There's a headphones option if you want them to listen privately, too. Power can be supplied by batteries or a power adapter.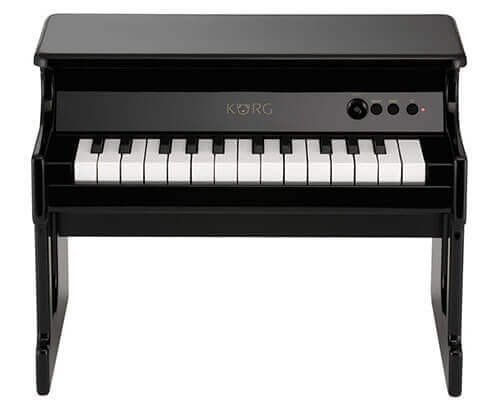 Image credit: Korg
See it on Amazon.com
What we like (and don't like) about the Korg TinyPiano:
Looks fantastic.
Available in four colors.
25 sounds to choose from.
Has a realistic piano feel to get kids used to the keys.
Small. Only suitable for toddlers and young kids.
A bit bulky and heavy to carry around compared to some options.
If you want a digital piano for kids that can sit in their playroom or bedroom all the time, this could be an option for you. It looks fantastic, and Korg live up to their reputation in the world of audio production.
Conclusion
Brands such as Korg, Casio, Yamaha and Alesis all have their own products aimed at kids. This is a great way to get them started, and an adult piano really won't be suitable for toddlers.
As you can see, there are a lot of different choices out there and you will largely be choosing based on age and whether your kid is a beginner or not. The options for best keyboards for kids on our list can provide you with something suitable in a lot of different categories.