We live in an age where you don't necessarily need lessons in person to learn an instrument. You can learn to play piano online with some excellent resources, and though you can pick up some great advice on YouTube, there are certain sites that are better resources for learning to play piano.
In this article, we're looking to compare the top piano websites where you can learn how to play piano this year. We've reviewed five of the best options, with different features and different price points.
Here are the best sites/apps for learning piano online in 2023:
1.

Skoove

Skoove is a fantastic site for learning how to play piano. This can be the best way to learn piano online as it is a very interactive platform. It can lead the way and even show you where you are going right and wrong when playing piano. This can be used via your desktop or laptop computer. In terms of mobile options, you can use this app via an iPad or other Apple device and though there is a free version, the best results come from using the premium version. This has a monthly cost.

Skoove has been very well thought out. The lessons are designed in a way that makes a lot of sense, taking you from the very basics through to things like sight reading and some of the more technical aspects. Finally, it has loads of current hit songs that it can help you to learn.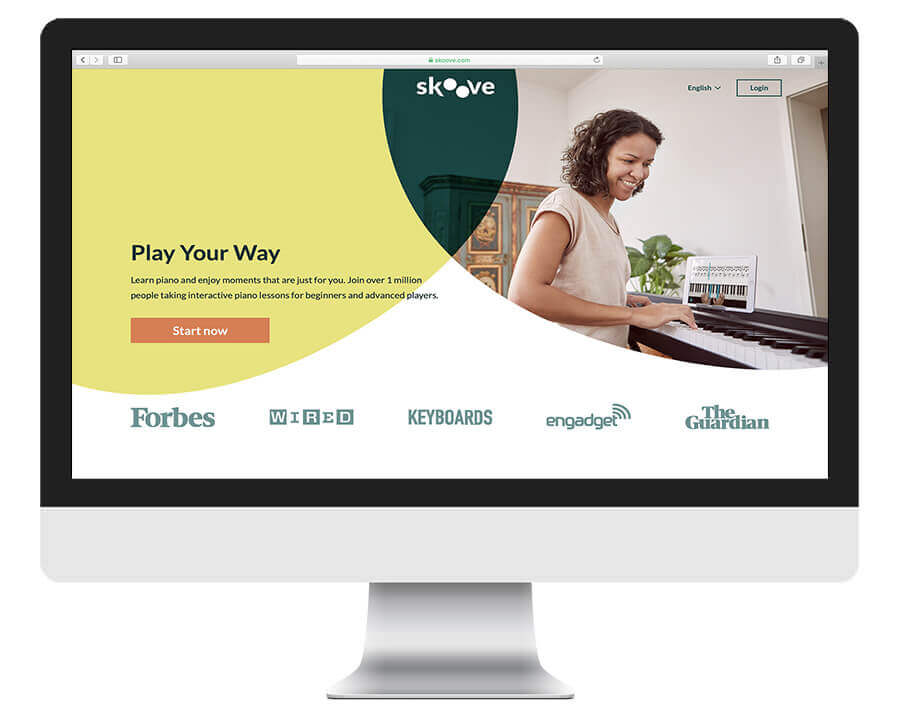 Check out Skoove
The app uses the microphone on your device to "listen" to your playing and can actually analyze your playing and provide feedback on whether you have hit the notes right, or imperfections in your playing. In this respect, it provides the best online piano lessons for those looking for an alternative to traditional lessons taking place in person. You can get interactive feedback.
The lessons take about 10 minutes each. They're easy to digest and can be used by adults and older children. The Skoove app promises to have you "playing a song in minutes" and this is no marketing ploy, it really does get you through the basics quickly before building on the basic knowledge.
Once the basic lessons have been completed Skoove introduces "intermediate" lessons with a little more about theory. This is where you will also learn more songs. Songs are updated regularly so there is plenty of new material. You can go at your own pace through the course and you can even re-do lessons that have not stuck in your brain as well as others!
What we like (and don't like) about Skoove:
Simple monthly pricing.
Professionally designed to take you from beginner to intermediate.
Can give feedback based on recording your playing.
Brilliant for Apple users and pop music lovers.
Free lessons only give you a small taste of the Skoove course.
Skoove gives an all-in-one course. A lot of the sites for learning to play piano online need you to navigate yourself. Skoove is more step-by-step. It makes sure you don't miss out on any of the knowledge that you need. If you are self-teaching, it is easy to have gaps in your knowledge, but Skoove does a good job of avoiding this and giving an overall knowledge of piano playing.
2.

Udemy

Udemy is an interesting option. It is not a specific course made by one person or company. Instead, Udemy is a platform that encourages people to make their own courses, with video and written lessons.

Udemy is a very interesting platform for learning pretty much anything, as well as the best online piano lessons you can learn how to paint, how to make a website, how to become a makeup artist, there are endless courses on there!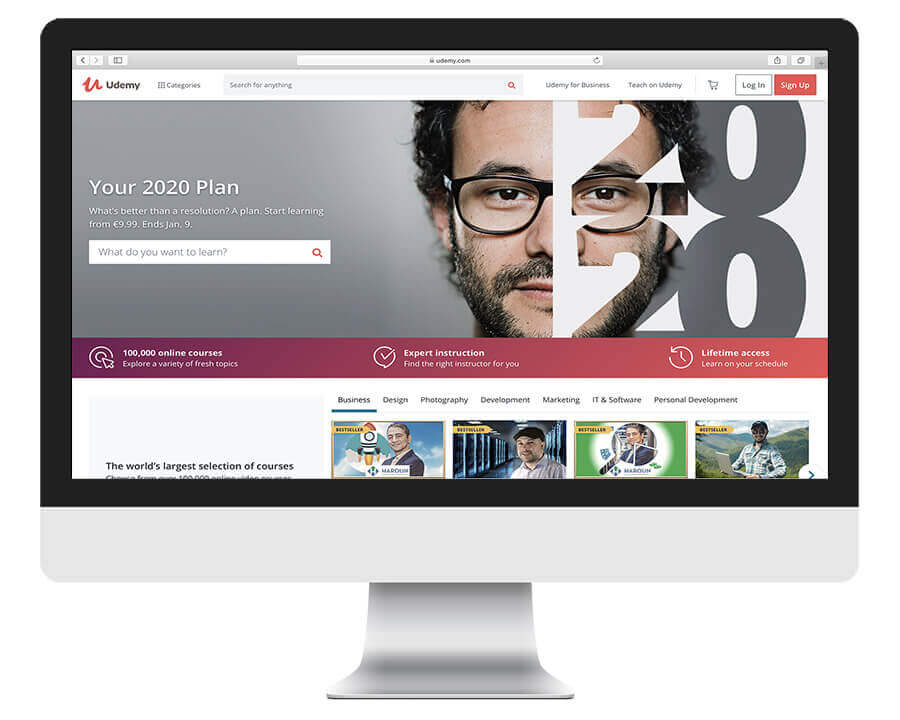 Check out Udemy
The fact that it is not music specific means that there are definitely pros and cons to the Udemy platform. There are a lot of different courses and you need to pay for each one you take, rather than a monthly subscription.
Because Udemy offers lots of different courses made by different companies and individuals, it means you can specialize. If you want to learn how to play piano online but specifically have an interest in jazz piano, you can find a jazz piano course. Being able to explore thee niches is one of the best things about Udemy.
The courses can be relatively inexpensive. There are lots of people competing on the platform and this can drive prices down.
There's a robust system for reviews, so you can see what other people are saying about a course before you take it. This can reduce the chances of you buying a course and ending up disappointed with the quality. Courses are split into lectures, and before you buy you can see an outline as well as how many learning hours you need to invest.
What we like (and don't like) about Udemy:
Lots of different courses to choose from.
Niche down and learn a specific style of piano.
Many courses are affordable.
Convenient video formats.
Some courses can be lower quality.
Video production is not always top quality.
No monthly subscription option.
Udemy is a simple way to learn if you make the right choice. It might be that you have to find a specific course though, and this can be time consuming. The site is an inventive idea but the quality control is not always done by musicians. You can't always be 100% certain of the quality.
That said, there is so much learning material on Udemy. You can learn virtually anything you want at an affordable price tag.
3.

Flowkey

Flowkey is designed as a song-based way to learn how to play piano. There are over 1,000 songs included and full guides to how to play them. This is a great way to stay interested rather than playing scales or learning theory before actually learning songs to impress your friends!

The huge list of songs lets you sort by difficulty, too. If you want to just filter the beginner songs while you are getting started this is super easy to do. As you progress, you can increase the level. Also, you can filter by the types of music.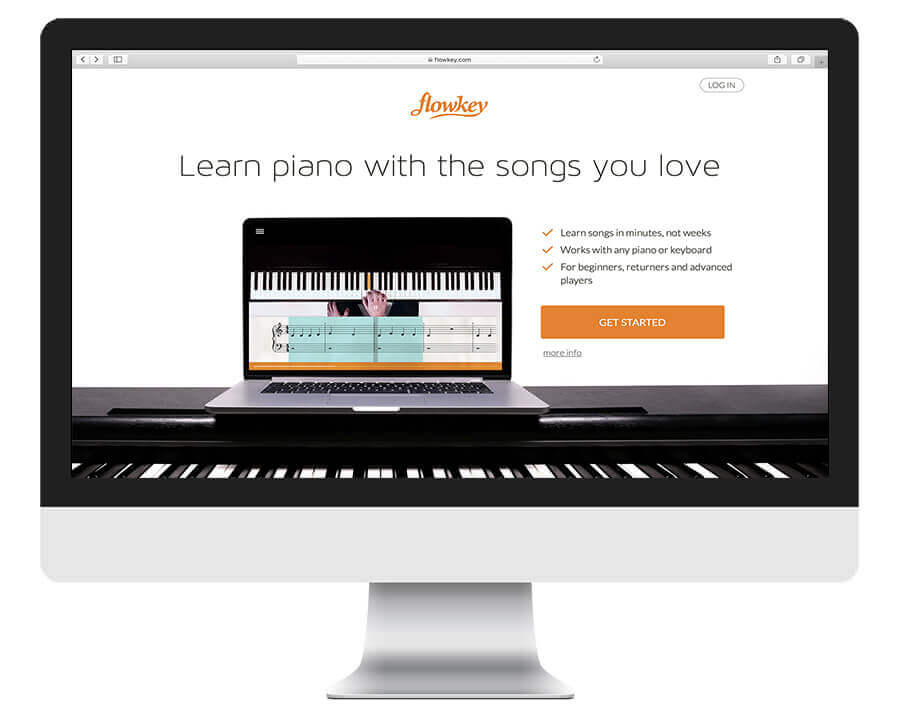 Check out Flowkey
It isn't all based on songs as there are lots of lessons designed to help you with your technique and technical knowledge of playing piano. Like some of the other apps, it comes with the ability to listen to the playing and provide you with feedback, or let you know how close your playing is to the original.
Flowkey is another option with a monthly subscription. This works out as far better value if you are willing to commit for a year as the monthly price becomes much more affordable. However, you'll have to pay for the full 12 months.
There are multiple ways to learn in the Flowkey app. You can choose between "Wait Mode", "Slow Mode" and "Fast Mode" as well as looping modes. This means you can repeat different section that you haven't learned as well or are struggling with.
Though this is a high-tech piano learning method, it can be used with old-fashioned acoustic pianos as well as modern digital pianos. The fact that it has a microphone to pick up your playing means it doesn't need USB. That said, if you connect via USB or MIDI it does seem to pick up your playing much quicker.
The app does have some feature about theory and the left and right hand. It also offers training on how to read music. You won't have to go anywhere else to find this information.
What we like (and don't like) about Flowkey:
Complete course.
Lots of clever modes for learning in a style you find easiest.
Loads of songs. Sort by ability and style.
Expensive if you sign up for short periods of time.
Free trial is very limiting.
Doesn't offer in-depth information about theory.
If song-focus is the way you want to learn, Flowkey could be a great option for you. It takes some of the "boredom" out of things, when you have to learn about technique and how the piano actually works. It probably isn't the best basis to become a classical musician, but it is great for playing pop songs.
4.

Hoffman Academy

Looking for the best place to learn piano online for kids is different to looking as an adult. There are likely to be some differences in terms of learning style based on age. If you are looking for the best for kids, the Hoffman Academy might be a good choice. Their whole learning style has been developed with children in mind.

The Hoffman Method is "grounded in child development and learning theory". It is designed to teach children to learn a few basics by ear before starting to advance into other areas such as solfege, composition, reading music, theory and even improvisation.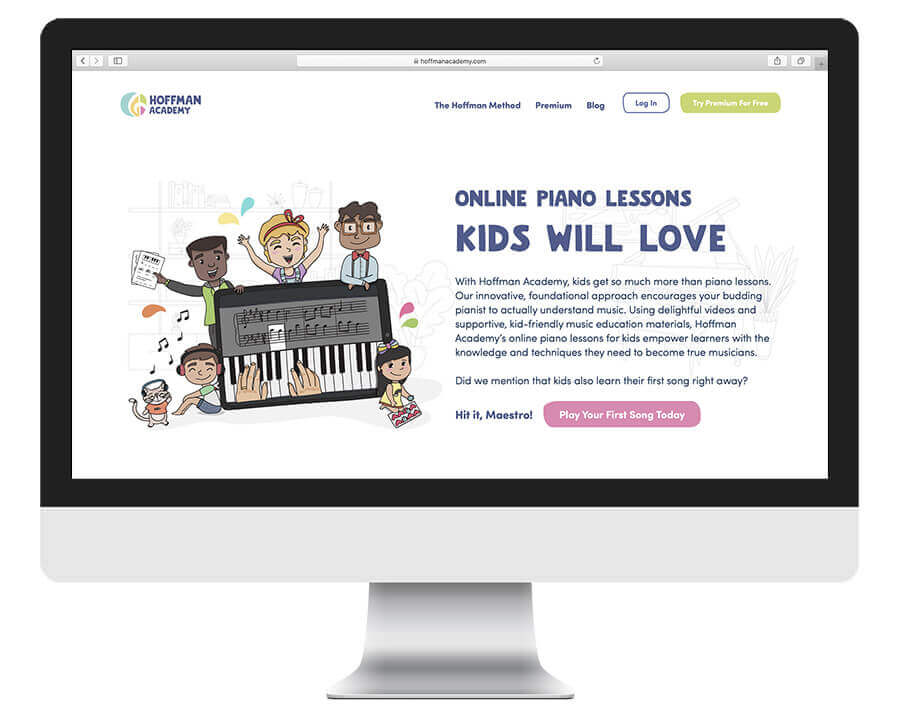 Check out Hoffman Academy
This course has a lot of video lessons, but there's a bit of a "kids TV" feel to some of them. It probably isn't a good course for adults as you may find it a bit basic and be able to advance more quickly than the site suggests.
You can try the Hoffman Academy for free. They have a free option for life, but also a premium version that has a free trial.
Some of the features kids love include the games that are included. These are able to help children to internalize some of the knowledge needed to play piano, but suit the shorter attention spans and turn it into something that feels fun. This makes it more likely that kids will stick with it.
Progress isn't slow, either, the Hoffman Academy can get your children playing songs relatively quickly. There are quality backing tracks to play along with, too.
What we like (and don't like) about Hoffman Academy:
Simple and easy for children to understand.
Interactive games to keep the kids interested.
There is a free membership.
Try the premium option free for 30 days.
Very expensive if you pay monthly.
Not the best for adults to learn.
If your children are reluctant to have lessons in person and want something they can easily engage with an app on their devices, the Hoffman Academy could be the ideal option. Not great for adults, but ideal for getting your little ones started, especially if you don't mind paying for premium.
5.

PianoLessons by Pianote

Pianolessons.com is run by Pianote. Pianote is a paid service for a full course on how to play piano, whereas PianoLessons is designed as a free starter course and video lessons for beginners who want to start to learn piano online on a budget.
Check out PianoLessons.com
You shouldn't expect the same level of detail as we see on some of the paid courses or premium options, but this is just designed to cover the basics and teach you to play some songs.
That doesn't mean that there is not loads of great information on this site. In fact, lots of areas are covered with at least some basic information and simplistic guides. The videos and text lessons are very professionally made.
As well as individual lessons to learn specific songs, there is a bank of "general" lessons covering everything from time signatures to posture when playing.
What we like (and don't like) about PianoLessons by Pianote:
Free resource.
Professionally made videos and well thought out.
No interactive features or feedback on your playing.
Some information withheld for Pianote members.
There's no doubt that PianoLessons.com want you to eventually sign up for their premium course, but they offer a load of information for free. Much more than the other piano sites offering you the chance to review with a free trial. A great option if you are on a budget and just want simple text and video lessons.
Conclusion
There are different options for different budgets, but it is a good idea to choose one resource and work your way through their lessons. A cohesive course taught with the same ideas throughout will help you to learn how to play piano in a shorter time span.
Eventually, you may want to pay for a premium course, but there are free trials or even totally free sites out there if you are on a budget. The reviews on our list show why there are so many different varieties of learning resources, websites and apps to help you learn.