If you're looking to get started playing piano or keyboard it can be easy to assume that you are going to have to spend a lot of money on equipment, but the best cheap keyboard piano can be both affordable and good quality, especially for beginners.
In this article, we run the rule over some of the cheapest 88-key keyboards as well as 49 and 61 key options which still offer plenty of quality.
Under $300, there are some very good instruments available, with plenty of features. There are even some good models under $200 and under $100 if you don't mind making a few small sacrifices in terms of features.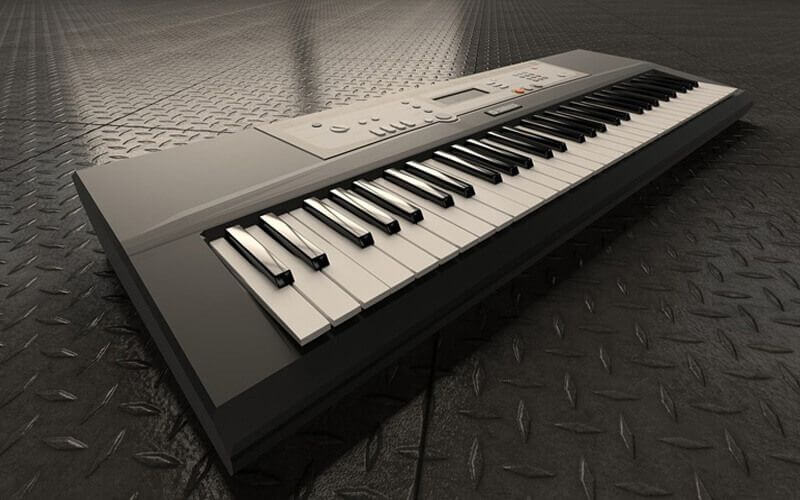 If you are a beginner, it makes sense to not invest too much money until you know that piano is the hobby for you. Getting started on a budget means you can graduate to a better model or a digital piano with a more authentic feel in the future.
Why not start with a digital piano? Well, if you know you plan to eventually graduate to playing these instruments then you can opt for the best digital piano under $300, but these products are generally far pricier than keyboards.
We have included models of digital piano on the list which have 88-keys but to get a top quality option you might not find a great deal of choice on a budget.
Best Budget Keyboard Piano Options
Here are the 10 best cheap keyboards and pianos worth buying in 2023:
RockJam RJ761 61-Key Electronic Piano Keyboard
The RockJam RJ761 is one of the best keyboard solutions for beginners, and people who are in the market for a cheap electronic keyboard with accessories.
Though RockJam is not one of the elite piano brand names that everyone has heard of, they have created a very good option for what is almost a mini home studio!
As well as having 61 full-sized keys to get your fingers used to the techniques of playing keyboards, this has a lot of inbuilt sounds. There are 100 rhythms, 100 tones and 30 songs which can be played along with. The record and playback option gives you the chance to record what you are practicing or producing.
The accessories are truly one of the most impressive things about this keyboard, which costs under $200. It comes with a comfortable, padded stool which is perfect for use with the keyboard stand (also included). You also receive a set of headphones for private practice and even a sustain pedal for adding more tonal characteristics to your playing.
Numerous connections including MIDI and USB allow you to control other devices with this keyboard and even hook it up to your computer or laptop for recording straight into software.
The RJ761 is a good cheap keyboard piano for anyone needing a lot of accessories. It makes the perfect setup for a young aspiring keyboard player.
Alesis Recital 88-Key Digital Piano
There aren't many good 88 key digital pianos for under $300, but the Alesis Recital is exactly that.
It is marketed as a 'beginners digital piano' (and it really can be called a good beginner digital piano) so don't expect to be playing big festivals with this as your only instrument, but for a full-sized and good quality product that won't break the bank, the Recital can be a positive option.
It has 88 semi-weighted keys and is probably the best weighted keyboard under $300 in spite of not having a fully weighted action.
These aren't as realistic as 'hammer action' keys but still feel better to the touch than keys which aren't weighted, and give more dynamic options to your performing.
There are five voices included. This is a lot less than many of the keyboard options, but even the best digital pianos tend to focus on a few good quality sounds modeled on acoustic instruments, whereas keyboards may have lots of sampled 'synthesized' sounds.
The semi-weighted keys can be altered so that they are more or less sensitive, to suit your playing style. Other great options are included such as a split mode allowing the left and right hand to play different sounds, alternatively, layer two sounds across the whole keyboard such as piano and violin.
Inbuilt effects include reverb, chorus, and a pedal style resonant effect. The 20W speakers are also surprisingly loud and powerful, great for home practice. You can plug headphones in if you would rather practice in private.
Though some other, more expensive digital pianos may have more features and a more realistic feel, this is arguably the best digital piano under $300 and gives quality sounds and a full 88-key keyboard.
Casio CTK-3500 61-Key Portable Keyboard
Casio is a brand name you're bound to associate with keyboards and pianos. The CTK-3500 is a good cheap keyboard under $200 which has many different sounds and features you would associate with more expensive models, backed up by the impressive Casio brand.
61-keys means not quite full size, but this is big enough to play some two-handed melodies and learn most of your favorite songs.
The touch-sensitive keys also allow you to play different velocities and volumes.
The CTK-3500 is advertised as an option for both beginners and musicians who need a solution for composing on the fly while they are touring.
As well as 400 different tones, this has 150 rhythms built into its memory. This is combined with 'Dance Music Mode' which has dance rhythms designed for playing along to or composing more electronic styles of music.
More features aimed at producers include a variety of different effects including chorus, reverb and flanger for altering the sound and adding a new dimension to the melodies you play and compose. This means far more options than some competitors.
This comes with the option to use either mains power or batteries, so you really can practice wherever you like.
Though the sounds don't quite have the authentic feel of piano, this is a great option for people who like using synth sounds and keys to compose and learn songs.
Alesis Harmony 61-Key Portable Keyboard
Alesis is a brand synonymous with a variety of different types of music technology products. They make great audio interfaces, top quality MIDI controllers and many more music production and performance tools.
The brand is known for both quality and affordability so it is only natural that they have one of the best cheap keyboards on the market.
The Harmony 61 has some technologies that other keyboards don't offer. The cleverest features include the LCD screen which can display chords and notation to help you with your learning.
There is also an AUX input, which means you can load songs from your iPod, phone or other device for playing along to. These features are very helpful for learning to play.
Other education functionality includes a lesson mode which can help to show you how to play using certain techniques. It also has split mode, meaning someone on the left and on the right can both be playing the same notes, great for lessons.
Other features which are more standard for keyboards of this size include 320 different instrument sounds that you can play and 100 drum rhythms for playing along to.
Another brilliant function is that you can record your own backing tracks to play along with.
True to form, Alesis offers plenty of compatibilities as you can plug this into a computer via USB or MIDI to control other audio devices and software. Play it as a standalone keyboard or use this to run your home studio.
Lagrima 88-Key Electric Piano Keyboard
LAGRIMA is a brand which offer some of the best cheap 88-key keyboards. To find a full-sized, 88-key model you will usually have to part with more money than $300.
This model has many of the features of a traditionally smaller keyboard, such as having lots of different sounds (480 tones in total).
This model looks great, is available in black and white and comes with a stand for more of an upright piano feel.
The keys are designed to feel like piano keys, but have come in for a little bit of criticism. If you want a cheap digital piano which sounds and feels like an acoustic option, this may not be the one for you.
The keys don't quite have the intuitive feel you will be hoping for, and though the sounds are good, they don't sound particularly 'authentic'.
Other tech features include 80 inbuilt demo songs to play along with, as well as 200 different rhythm presets. The inbuilt speakers are decent quality but there is also a headphone jack for private practice.
Some users have criticized the piano keys, saying they need to be hit particularly hard to generate sound. Also, it only has 64 note polyphony so may struggle with more complex and quick melodies.
If you just want the cheapest 88-key keyboard to learn songs on something full-sized then this can be a viable option, plus the fact that it has USB and MIDI connectivity also means you can use this with virtual instruments and to control other sampled piano sounds.
Yamaha PSR-E263 61-Key Portable Keyboard
The Yamaha PSR range has been around for over 20 years now. Yamaha manufacture such a huge number of instruments, but their good cheap piano keyboard options are some of the most popular products in their range.
As the PSR range has continued to be updated over the years, the brand has introduced more tech features, such as those in the PSR-E263.
This is a 61 key model. Though it doesn't have hammer action, it does offer touch sensitivity to let you play with dynamics based on how hard you press the keys.
The keys themselves are full-sized, which is perfect for learning the right techniques for playing keys in the future, even on different models.
There are 100 songs built in, and the PSR-E263 is compatible with the Yamaha Education Suite, this means that the piano can help you to learn how to play without the need for a tutor. If you are learning with a tutor, the keyboard can be split for lessons.
Other tech features include the AUX input and headphone output. This connectivity allows you to play along to songs from your iPod or other device and also to listen through either internal or external speakers or on headphones.
There is a reason Yamaha is one of the first names you think of when it comes to digital pianos, and this is a good affordable keyboard piano.
Lagrima 61-Key Electric Piano Keyboard
Some instrument aficionados may be surprised to see two LAGRIMA models in our list of the best cheap keyboards.
Though the brand doesn't quite have the same reputation as Casio or Yamaha, for instance, they do make some good affordable instruments. This is one of the top cheap keyboards under $100.
Though there are quite a few different keyboards on the market under $100, they don't tend to have the best features and reviews.
Though there is always something of a trade-off when purchasing a cheap instrument, this does have plenty of great features.
This includes 128 different timbres and rhythms, 12 demo songs, a display screen for showing options and songs and even a microphone which is included to let you practice your singing as well as your playing.
Record and playback functionality is great for either starting to come up with your own ideas for songs or just recording your practice to review later.
This keyboard can be powered by mains power (the adapter required is included) or it can take AA batteries for playing on the go.
Though some of the inbuilt sounds on this model aren't the highest quality, and the keys don't feel particularly realistic, to be able to start playing at such a low price point is very appealing for those taking their first steps into piano. This is popular among children for the same reasons.
Casio SA-46 32-Key Portable Keyboard
This is quite a different keyboard to the other options on the list, mainly due to the fact that it is very small and compact, and therefore probably more popular among kids.
That said, it has some great reviews and because of the fact it only has either 32 or 44 keys depending on which model you purchase, the portability can't be argued with.
If you are a classically trained pianist, playing within a couple of octaves will be quite tricky, but for most of us who are just looking to play along to our favorite tracks, come up with some melodies or even trigger some sounds in a live show, the Casio SA-46 can work wonders.
Though it doesn't have the same size as some of the other options, this can actually be a benefit for some users. The battery life is excellent, and because this is so small and has a headphone output, it can be perfect for coming up with new ideas on your travels.
Tough it is fair to say that most of the 100 inbuilt timbres are nothing more than 'fun sounds' to play around with, some of them are actually surprisingly good quality for something that is so small and almost feels toy-like. This is one of the reasons this model has such good reviews from customers.
This won't be the best budget keyboard piano for everyone, but if portability is high on your priorities then the SA-46 could be worth looking into.
The ONE Smart 61-Key Portable Piano Keyboard
The One Smart keyboards are becoming increasingly popular among beginners. For an aspiring pianist, having a product like this can help you to explore piano at your own pace and build a good level of knowledge.
Though the Smart Keyboard isn't cheap, it is compatible with the brand's Smart Piano App which will guide you through hundreds of different songs and techniques.
This works with a wide range of devices including phones and tablets. The app displays lights on the keys to help you to work out which keys you should be playing.
You can learn via specific exercises or by going through your favorite songs to keep things interesting. There are even piano-based games to help you to learn the basics.
This keyboard has a good level of connectivity, with both Aux in and Aux out meaning you can plug this into other sound systems or play along to your MP3 player.
There is space for a microphone if you want to plug in a 6.25mm connector and sing along with your favorite songs, too.
In terms of the piano itself, it has 417 different tones and can be powered via mains power or 6 AA batteries. Weighing just 11 lbs, it is relatively easy to take out-and-about with you, should you need to.
Though this is pretty expensive, and only just comes in at under $300, it has a lot to offer in terms of learning how to play piano.
If you are an absolute beginner and want an instrument to hold your hand through the early steps, this could be a good choice.
Novation Launchkey 49 USB Keyboard Controller
Novation is a brand with a lot of innovative products for the bedroom musician. Though this is a keyboard controller, and requires a computer and DAW (specifically, Ableton Live) to work to its full potential, this is a perfectly acceptable way to learn and play keyboard if you wish.
Though it will need to be hooked up to a computer at all times, there are some benefits to this too. The Novation controller has drum pads, faders and knobs which you can assign to control different aspects of your software.
This can be the centerpiece of a whole home studio and even allow you to do incredible performances utilizing multiple tracks.
You don't have to use it to control every aspect of your software. If you wish, you can just control virtual instruments including piano sounds such as 'Addictive Keys' which actually comes with this controller.
It works equally well on PC and Mac, and you don't even have to buy any additional software. Ableton Live Lite is included in the box, so you can start to produce and experiment with a variety of different sounds just as quickly as you get your software installed.
Designed for use in studios, this is only really an adequate portable setup if you are using it with a laptop, but plenty of musicians take their laptop everywhere anyway!
The Novation Launchkey 49 is one of the best MIDI keyboard controllers and has a lot of power as a control interface, but keep in mind the fact that it doesn't generate sounds without software.
Conclusion
As you can see from our list of best keyboards under $300, there is a lot of variation within this price range. To make the best choice for your own needs, you should work out the environment in which you will be using the keyboard (does it need to be portable?) and other factors including whether you are a beginner or an experienced player.
Some keyboards feel more like pianos, some have more of a 'synthesizer' vibe to them. Some can teach you to play, whereas others will allow you to assign multiple sounds and use them as a performance workstation.
Features can be surprisingly varied, and as technology increases, some brands are adding new and exciting functionality.
There are plenty of great instruments available under the $300 price point. Spending a little time researching the top cheap keyboard options can help to ensure you get the right model for you.