Finding the best MIDI keyboards for beginners in 2023 can be a big challenge, but not because of a lack of choice. There are lots of different models from a variety of brands, all with their own different features.
Some people want a MIDI keyboard that is small and simple but does an effective job. Others are in the market for a MIDI keyboard with all the "bells and whistles" and a controller keyboard for beginners that can do far more than just trigger some notes. Some keyboards feature pads, sliders, and knobs that can be assigned to do different things within your instrument and DAW.
Whatever your goal when it comes to a MIDI keyboard, we've got options below to suit, all at the price tag of under $100.
Here are the best cheap (under $100) MIDI keyboards for beginners:
Midiplus X6 Mini
If you are looking to get a MIDI keyboard that can be more than just a small controller to play in a few notes, you will want something bigger than a lot of the other options on the market. Finding 61-keys to play is rare, and though the Midiplus model has smaller keys than a standard keyboard or piano, it is a great option on a budget.
As well as having a larger number of keys than a lot of the other options under $100, the keys are weighted to give a fairly realistic feel compared to playing piano. If you are looking to learn how to play the piano with a MIDI keyboard this could be a good choice.
The additional controls aren't as abundant as some of the other models on the list. It is fair to call this a simplistic design, but it still has sensors to control the pitch and modulation and some customizable knobs, you can use these to assign to different aspects of your instruments or DAW.
Image credit: Midiplus
See it on Amazon.com
What we like (and don't like) about the Midiplus X6 Mini:
61 weighted keys for more expression.
No driver needed on Mac or PC.
Powered by USB.
Backlit LEDs and touch sensors.
Keys are small, and may be awkward for larger fingers.
Not as many assignable controls as some competitors.
Generally speaking, if you are looking for a product that is a MIDI keyboard first and a MIDI controller second, this could be the right option for your needs. It is suitable for learning to play the keys as well as tapping in notes and melodies within your DAW. In our opinion, it's the best MIDI keyboard under $100 for beginners.
Samson Carbon 49
A 49-key size is popular for those looking for an entry-level MIDI keyboard. It is big enough to play some rock and pop songs two-handed, but also small enough so that you don't have to worry too much about storage and transport.
Under $100 the choice is a little limited, but not too bad, and the Samson Carbon model comes out on top of these averagely-sized keyboard controllers.
The keys themselves are semi-weighted to replicate the feeling of a synthesizer or even a digital piano, though they're not the highest-quality keys. There are also options to assign 14 different control parameters to change the settings within a VST or other software.
This includes some good connectivity functions, too. It has a MIDI out, and can connect to USB and iPad. There's even an integrated slot for your iPad. It's totally USB powered, too.

Image credit: Samson
See it on Amazon.com
What we like (and don't like) about the Samson Carbon 49:
Comes with Native Instrument's Komplete Elements.
Good value-for-money.
Decent touch sensitivity.
14 assignable controls for VST parameters.
Works better with Apple iPad than other tablets.
Build-quality could be a little better – definitely a budget model.
In general, if you don't mind a product that doesn't have the most rugged feel, but provides plenty of control for your software, the Samson Carbon 49 could be a really good choice. It's one of the best 49-key MIDI keyboards for beginners.
Ammoon Worlde Panda mini
Though this MIDI keyboard does not boast extremely rugged build-quality, there is an awful lot you can do with it! As well as having 25-keys for playing in simple melodies, chords and basslines, it has so much more that you can control from the relatively small and portable surface.
There are 8 backlit pads, these are designed in the style of some of the more expensive Alesis MIDI keyboards. Ammoon proves that inexpensive MIDI keyboards can do a similar job. There are 4 "banks" of controls including assignable sliders, knobs, and, of course, the trigger pads. For such a small and affordable MIDI keyboard, this can become the center of a live performance.
Like some of the other options on the list, setup is incredibly simple and it is powered by USB. This makes it the perfect companion to your laptop and a good, inexpensive buy for bedroom musicians.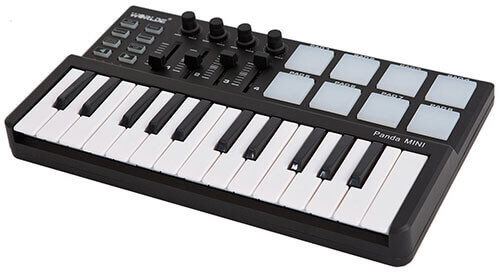 Image credit: Ammoon
See it on Amazon.com
What we like (and don't like) about the Ammoon Worlde Panda mini:
Four banks of assignable controls.
Easily integrates with a lot of different software.
USB powered.
Lightweight and portable.
Keys feel a little flimsy and low-quality.
No software included.
Not as durable as some of the other MIDI keyboards.
It might not last your whole music career, but if you want to start building a home studio with a small and affordable MIDI controller at the center of it, it could be your answer. Just don't expect to be able to play big, classical compositions with this keyboard as it will be too small. 25-keys is great for portability, but restricts the abilities of pianists.
Midiplus Minicontrol
Depending on where you are buying from, and at what time, this could be the cheapest option on the list. We've included it because it represents pretty good value for those on a budget and comes in well under $100, plus, it has some good features, too.
This is another MIDI keyboard model with mini keys, so if you have large hands and fingers or you are used to the feel of a digital piano or acoustic piano it will take some adjustment.
The size is slightly unusual at 32-keys, but this gives a bit more range than most of the other mini and cheap options that often have 25-keys.
There are a lot of controls including pitch and mod wheels, four rotary encoders that you can set to control what you like, and even an arpeggiator. This is not something you find on many of the cheap MIDI keyboards. There are also 8 velocity-sensitive pads for drum beats, but with an A/B mode this can be extended to control 16 sounds.
Further adding to the good value for money is the fact that this comes with a basic version of DAW software, Cubase LE. This comes as an access code and if you don't already have a DAW it can be very useful.
Image credit: Midiplus
See it on Amazon.com
What we like (and don't like) about the Midiplus Minicontrol:
Lightweight and small.
32-key range, an improvement on 25-key models.
Includes an arpeggiator.
Assignable knobs and pads included.
Hard to play for larger hands.
Controls can be confusing for beginners.
If you are wondering how cheap to go when buying a starter MIDI keyboard then the Minicontrol might be your answer. It's an affordable model that still does an effective job, and as long as you are confident you can deal with smaller keys it is fine for both studio use and portable use.
IK Multimedia iRig Keys 37
IK Multimedia is a big player when it comes to making audio equipment and one of the most impressive offerings in their range is the iRig. Initially designed for use with Apple mobile products, it has extended this so it supports Android and is amazing for use with your phone or tablet.
A lot of MIDI keyboards really struggle to connect to mobile software, or need complex adapters in order to do so. The iRig finally makes it simple. Beginner musicians often enjoy being able to practice on-the-go and you don't need a laptop to do so.
You get just over 3 octaves of range with the 37-key MIDI controller, but, of course, there is the option to change the octave up and down while you play.
This model is available in a size to suit. If you want to, you can pay for an extra upgrade and get a model with full-sized keys instead of the standard mini keys. This is good for people who are used to piano keys, for instance.
As you'd probably expect, it doesn't have the same level of assignable knobs and sliders, this is largely to save space. You can't easily use it to program drums, for example.

Image credit: IK Multimedia
See it on Amazon.com
What we like (and don't like) about the IK Multimedia iRig Keys 37:
Easy to connect to your mobile device.
Available with full-sized or mini keys.
Simple control interface.
No assignable pads, sliders or knobs.
Not all music apps on phones and tablets support the use of iRig.
For the mobile musician, this can be a great choice, but it is also possible to use it with a laptop in the studio. Small, efficient, and with a great level of compatibility, the iRig is bound to be a popular choice with tech lovers.
Korg nanoKEY2
Some people will have portability right at the top of their list of criteria for a MIDI keyboard, and for those people, the nanoKEY2 is potentially the right model to choose.
This is an unusual design and it is not the best for beginners who want to learn how to play a piano or keyboard as it will feel totally different to those other instruments. However, for those who just want to punch in some MIDI parts to songs, the nanoKEY2 is a way to do it that is both affordable and absolutely tiny. This will fit in most laptop bags discretely and will come with you on your trips without being a nuisance.
The button-design that has replaced the keys is a little odd, but they are still velocity-sensitive, and you can even turn on a sustain button to make it more like the expression of a piano.

Image credit: Korg
See it on Amazon.com
What we like (and don't like) about the Korg nanoKEY2:
Tiny and portable.
Relatively affordable.
Button design takes some getting used to.
Tough to play multiple keys at once.
Doesn't have the same feel or expression as other keyboard designs.
No assignable controls other than the note buttons.
This will be exactly what some people are looking for. While it doesn't suit everyone's needs, it is a good MIDI keyboard for people who want something to slip in their iPad or laptop case and take out and about with them.
Beginner's Guide: How to choose a MIDI keyboard
Our buying guide covers the key considerations when it comes to finding the right MIDI keyboard. Different newcomers will have different musical ambitions and the type of MIDI keyboard they purchase can either make life easier or more difficult.
Consider the use
The design and features you should look for are dependants upon what you want to achieve. If you are looking to learn to play classical music and take piano lessons, the right keyboard might be different from if you want to program in drum beats.
For example, those who plan to use the MIDI keyboard to learn some piano songs, you might prioritize features like touch-sensitivity and full-size keys, as these will feel more like a digital piano or even an acoustic piano.
If you are using it to control synths, or to perform live, some of the other functions such as assignable knobs and faders can be a lifesaver. They can stop you from having to go back and forth to your computer or use extra equipment.
Number of keys
This is a decision for everyone to make. Some people are happy with a small number of keys to be able to play in simple melodies, chord progressions, and basslines. 25 keys is just about enough for this. However, if you want to learn how to play things with two hands then 25-key models will not do the job effectively.
The number of keys will tie directly to the portability. Obviously, an 88-key model is harder to transport than 25!
The highest number of keys on the list is 61, which is fine for most rock and pop songs, but still not as big as a standard digital piano or acoustic piano. Learning Beethoven might not be possible on one of these models. 49 or 61 key models are perfectly fine for most beginners.
Assignable knobs, sliders, and pads
For some people, this will be the most exciting thing their MIDI keyboard offers. For others, it will just be added confusion.
Knobs, sliders, and pads can be set to control different aspects of your DAW or VST software. This means you can change filters or alter sounds while you play. Pads can even be set to trigger loops and drum beats.
If all of this sounds a bit confusing, don't worry. They are simply added extras and you do not have to use them when you are playing. If you just want to focus on the keys, this is fine. For some producers, these pads and sliders will play a key role in writing and performing music.
It's a matter of personal preference, but it is certainly nice to have the option to make alterations via knobs and sliders. However, if portability is a consideration, keep in mind that all these extra controls add to the size of your MIDI keyboard.
Compatibility and free software
It's worth checking before you purchase a MIDI controller if it will work with your setup. It needs to be compatible with your computer. Most will intuitively link to most DAWs whether you are running Mac OS or Windows.
If you want to specifically use the MIDI keyboard with a mobile device, check this compatibility and how it works. The iRig is probably the best cheap MIDI keyboard for this.
Some of the keyboards include some free software. This is an added bonus for multiple reasons, not least because you know it will work with the hardware you are buying.
Conclusion
Finding the best budget MIDI keyboard is about finding the one that suits your needs. There are options for home studios, performances, and for bedroom producers listed, as we provide MIDI keyboard reviews for all kinds of musicians.
Luckily, we live in an age where there is a lot of affordable audio gear out there. You don't have your options restricted too much, even if you are looking for a MIDI keyboard under $100.