In this article, we are going to look at the best arranger keyboards on the market. We have researched and compiled 10 arranger keyboard reviews that will give you a better understanding of the top instrument in the market and help you choose the best from them.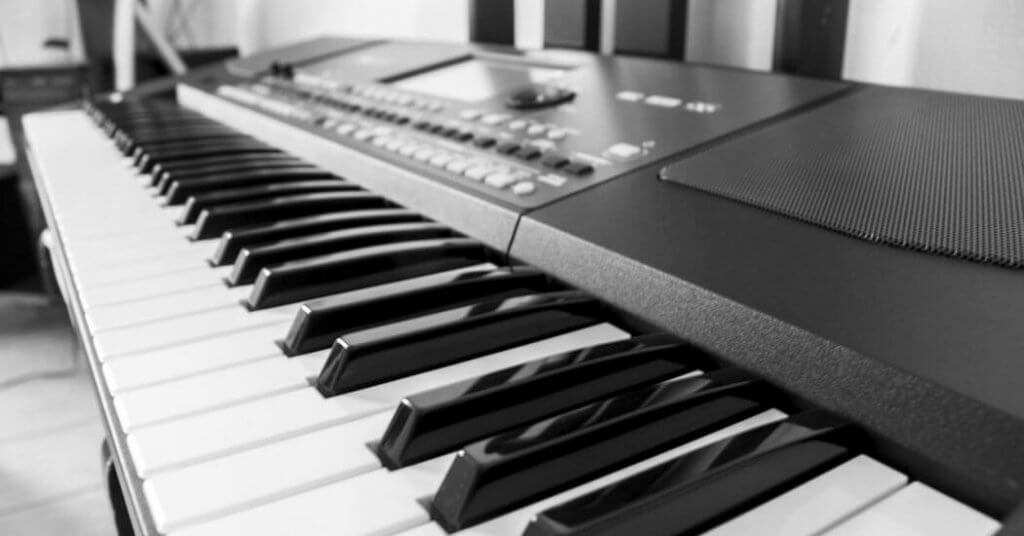 In this guide, we will also show you a few things that you should look for when buying an arranger and help you answer a few questions about the keyboards.
Top 10 Best Arranger Keyboard Reviews for 2021
Here are the 10 best arranger keyboards 2021:
Yamaha PSR-S975
The PSR-S975 is one of the best music arranger keyboards with powerful features that will give your audience a performance to remember. It's an upgraded version of the PSR-S970 that has inherited some of the powerful and updated features form the legendary Yamaha Tyros.
It comes with functionality and versatile effects aided by the Tyros 5 sound engine to deliver natural and authentic sounds. On top of that, it includes 15W x 2 built-in speakers that produce a splendor surround sound and 128-note polyphony for better experience on the instrument.
The keys are designed to give a real piano authenticity. They have touch response that enables you to control the performance and give you good playing experience.
You'll also find features like the LCD screen + external display capabilities, Multi pads, and synth vocoder that will make your experience even better.
Comes with 1625 voices.
Lightweight and very portable.
Real effects.
The keyboard is velocity sensitive.
Expandable memory.

Keys are plastic.
No mic input.
The PSR-S975 offers high quality, meticulously sampled voices and comprehensive effects that will take your performance to the next level with authenticity to satisfy even the most demanding audience. If you are looking for an instrument with a great level of control, this is a great place to start.
Korg Pa300
The Pa300 is a powerful easy to use arranger that comes with a vast of up-to-date sounds, styles and other great features. It features the Korg's RX (Real eXperience) technology which offers a high level of realism complemented by pristine onboard amplification system.
On top of that, the instrument comes with internal PCM memory that enables it to carry over 300 styles, 950 sounds-which include piano samples from GM2 grand piano- and 64 drum kits.
It's well designed with 61 synth keys that provide perfect feedback that any keyboardist would enjoy. The buttons, knobs, swatches, and joysticks work well in combination to make music quickly.
On top of the state of art technology in the Pa300, it's very easy to use. It comes with 5" touch view color display which utilizes a graphical user interface to get you started as soon as you open the box.
Great connectivity options.
High quality and lightweight design.
easy configuration with an Auto update Operating System.
Fantastic playing option.
This is a magnificent arranger keyboard with a lot of potentials and a great build quality. It's an ideal option for both beginner and professional musicians who are looking for the best arranger keyboard under $1000 to play along or write music with.
Yamaha Genos
Yamaha Genos is a 76-key arranger keyboard that features impeccable audio quality and sleek, portable design. The arranger comes with a variety of exciting features that songwriters, singers, producers, and performers will appreciate.
The Yamaha Genos features the best sound quality – best compared to any Yamaha arranger keyboard in the market. It comes with the Yamaha's Articulation Element Modeling (AEM) that recreates the sounds as realistic as possible. It also has wave cycling technology that guarantees no sample will voice off the same.
On top of that, it's loaded with over 1700 sound and 550 accompaniment styles topped with the 128-note polyphony to give you even better-playing experience.
Sleek and portable design.
3D joystick controllers for more expressive playing.
New playlist that allows effortless browsing.
Responsive keys with adjustable velocity sensitivity.

Hefty price tag.
No hammer action keys.
The Yamaha Genos is undoubtedly the best Yamaha arranger keyboard to date. It incorporates all features and functionality that the more discerning players are looking for and it's a powerhouse of quality sounds. If you are looking for an inspirational songwriting tool with big fun factor incorporated, Yamaha Genos is the destination.
Korg Pa900
The Pa900 is another great instrument from Korg's Professional arranger series. It features 61 semi-weighted keys with velocity sensitivity and aftertouch which gives you a great experience when playing.
The Pa900 employs Define Nuance Control technology enhanced by the Real eXperience sound engine to bring a great level of realism to your performance.
It includes a 2-way speaker system that delivers 20 watts on each side giving it a total of 4 loud speakers which provides powerful, clear and rich sounds throughout.
It comes with over 400 factory styles that include 4 variation each and 4 fill-ins and breaks to satisfy the audience with different music taste from all over the world. It also includes 7" touch view display screen that makes the editing and accessibility parameters easy for players.
Supports Microphone connectivity.
Massive internal ROM which can accommodate up to 192 MB user data.
Easy to use User Interface.
Compact and lightweight design.
4 Stereo Master Effects.

Sounds and styles cannot be played directly from USB or hard disk.
Storage size is not comparable with the more advanced Korg arrangers.
The Korg Pa900 is a superb keyboard with the realistic sound engine and great build quality. It comes out as a great instrument for programming and creating all types of music. If you are looking for a great instrument for your studio that you can easily work with, this is a good place to start.
Korg Pa1000
As a member of the Korg's acclaimed Pa series, the Pa1000 is a high performer with plenty of great sounds which keeps the performance fresh and exciting.
The instrument has a powerful performance functionality, an easy to use user interface rich and loud sound all of that combined to give the best performance even to the most demanding audience.
The Pa1000 features the four times PCM memory of its sibling Pa900 and enable extendable PCM to 600MB. It also includes 430 styles and 1152 locations to save and cover almost every imaginable style you can have.
The improved speaker system produces a loud full-bodied sound that is enhanced but the TC-Helicon Vocal Harmonizer to give you the best experience possible. There's even a standardized video output that enables you to project song lyrics where your audience can sing along as you play.
7" touch view TFT.
2X33W speaker system with bass reflex.
600MB user sampling memory.
Defined Nuance Control.
TC-Helicon Voice Processor.

The keys might click a bit loud upon release.
This is a great instrument to push the boundaries of your music creativity. From subtle morphing between variations, fine mixing between sounds to the most radical note crunching effect, the instrument gives you the experience like none other. It has set a new standard for Korg arranger keyboards offering excellence in all corners of the instrument at a more affordable price.
Roland E-A7
The E-A7 is compact lightweight arranger keyboard that comes with powerful speakers. It has 61 velocity-sensitive keys that are solid with no wiggle.
The front panel is laid logically where the sounds are on the right, the mixing in the center and accompaniment on the left. This is a unique design handed down from one of their flagship BK-9 with many benefits even with small display.
The keyboard boasts to include over 1500 sounds that are very bright and playable. There are over 600 styles that are well programmed for intro, variations, and ending. It also enables you to create your own style with a makeup tool which enables easy tweaking of styles and SMF songs.
Comes with great sounds and styles.
Compact and portable design.
Dual display design.

No battery power option.
Small design.
Roland EA-7 is a fine affordable arranger keyboard that comes with great sounds and styles. It's an ideal instrument for players who are looking for the best Roland arranger keyboard to travel with and enjoy great sounds at an affordable price.
Yamaha Tyros5
The Tyros5 is a special arranger keyboard from the Yamaha Tyros, a premium and spectacular series of arrangers from the company. The instrument comes in two sizes 61- and 76-key variations that are spectacular. Its layout and interface is something that you'll greatly appreciate as it complements its slim elegant and unique style.
The sound quality is great and fulfilling and just by listening to the instrument you can easily tell it's a premium instrument. It comes with a vast amount of sounds and new and high-quality effects with highly intuitive controls.
Being a premium instrument, there are many features that this instrument has to offer. From stunning voice to realistic sound engine to basic and pristine styles and a scintillating design that will mesmerize your eyes, you'll utilize each and every penny if you spend on it.
Great design that will mesmerize even experts.
Big LCD screen with pop up function.
Easy to use interface.
Articulate voices that give authentic styles and voices.

No built-in speakers.
No touch view display.
The Tyros5 is just awesome in performance and features. It comes with realistic voices and serious technology embedded inside to give you an experience beyond your imagination. If you are looking for a premium instrument that you can rely on completely, Yamaha Tyros5 is a good option to go with.
Korg Pa4X
The Pa4X is the fourth generation keyboard in the famous Korg Pa series. It comes with additional benefits offering more effects, styles, and sounds compared to its predecessor. It features over 1800 sounds and over 500 styles on top of the extendable sound engine that offers up to 24 oscillators and can be layered, and split.
It comes with a detailed 7" touch view LCD screen that makes it easier for you to search for contents, change settings as you enjoy the power of the instrument.
The keys are semi-weighted with velocity sensitivity and when playing they don't' feel cheap at all. Generally, there's a lot of power in this instrument as it gives you the power to edit and control sounds, songs, styles, and phrases.
Expressive and detailed sounds.
Powerful backing sequencer.
Comprehensive manual.
Premium arranger.
Available in 61- and 76-key versions.
This is among the best of the best professional arranger keyboards in the market and it sounds stunning. It offers a wealth of features, and based on sound is equal to the Tyros5.
If you are willing to invest in your future and you need a powerful arranger keyboard that will not only give you good sound but also the power that you need to grow in your music career, you should go with the Pa4X.
Yamaha PSR-A3000
The Yamaha PSR-A3000 is an outstanding arranger keyboard that comes with a wide range of sounds from all over the world. This advanced keyboard is a revised version of the earlier PSR-A2000 with upgraded features in terms of sound, quality and the overall look. It features over 1000 voices and styles topped by real scale tuning, a big LCD screen, and two powerful speakers.
With the instrument you'll find joystick, for live control and advanced expression, full-blown turning scale feature like the Real Time Scale Tuning and a nifty scale set button to enable you to set the perfect scales fast and effortless.
There's a 16 track sequencer, WIFI/MIDI capabilities and a variety of DSP effects. You can also record your performance directly into a USB drive as an audio file and be able to share it or play it back on the instrument.
Wide variety of sounds from all over the world.
Easy to use interface.
512 MB FlashROM expansion capabilities.
30W built-in speakers.

No touch screen LCD.
Built quality can be improved.
Overall, this is an advanced arranger keyboard with excellent music collection and superb tonal quality. It's definitely the best in terms of price range especially if you are looking for a Middle Eastern music instrument.
Casio CT-X5000
The Casio CT-X5000 is a portable instrument that fits perfectly as the best arranger keyboard for beginners. It comes with the famous AiX Sound Source technology that has an expandable library of over 800 instrument sounds, 235 rhythms and a 15W x 2 speaker system.
The CT-X5000 includes a 61-key touch sensitive keyboard that responds beautifully and lets you layout chords effortlessly. It has a 17 track MIDI data recorder and 42-part mixer that enables you to craft advanced songs and sequences. There are also assignable pedal inputs that allow players to get external creative control and an LCD screen for easy control of the instrument.
100 DSP effects.
Affordable.
Air sound source technology.
Compact and portable design.

The user interface is a bit comprehensive for beginners.
The Casio CT-X5000 is a versatile instrument that performs well in concert, studio and professional settings. It comes with great features that any beginner or advanced musician can enjoy. It's definitely the best arranger keyboard under $500 and a good option for a player who is on a budget.
Arranger Keyboards and How to Choose?
Arrangers are portable keyboards that come with the professional sound engine and a number of tools to enhance the songwriting process.
They provide sound sequencing tools to flesh out an idea and create full fledge songs and are very powerful for live performance, especially for one man band.
While the arrangers come with great sound engines, the scope of their sounds isn't as broad as that of a work station. They, however, offer a good selection for a live band and music composition and a number of backing accompaniment styles that enables you to tailor to particular music.
Here's what to look for when buying an arranger keyboard:
Sound Quality
In keyboards, the sound quality makes all the difference in how effective the instrument performs. When looking for a good arranger keyboard, you should always check the sample rate and their bit depth. If you target arrangers with sounds recorded from premium acoustic instruments and you'll definitely get quality sound that will inspire you.
Removable Media
This is an important feature that will enable you to save data and patching information. With it, you won't lose your data and settings in case your keyboard needs repair and it is reinitialized. Also, if you create patches and exceed your storage capabilities, you can organize them according to your performance needs and not lose data.
The Keybed
Arrangers come in a variety of sizes and number of keys. You can find arrangers with 88, 76, 61 and even 49 keys some with touch sensitivity, weighted, semi-weighted and synth action. You should determine which type of keybed action and number works best for you and go for it.
RAM/ROM – Upgradeable
This is an important aspect when choosing an arranger keyboard. With ROM expansion, you can add a sound card, thus extending the sound range in the keyboard. RAM, will determine the amount of time you have when sampling and being able to extend it will give you the ability to enhance your keyboard for better performance.
Conclusion
Finding the best arranger keyboard from all the available keyboards in the market can be tiresome. There are many factors that make an arranger keyboard more effective with the most important ones being the functions, ease of use and price. With our reviewed options above, you can determine what arranger fits you best and even get an idea of how it can help you in your music journey.