Any keyboard player can attest that having the best keyboard amp will significantly change the sound output of the keyboard. Unfortunately, there are so many available options and choosing the right amp can be very tricky.
Lucky for you, we have researched and compiled a comprehensive keyboard amp reviews to help you in your search. Read through our review and make your decision wisely.
Top 10 Best Keyboard Amp Reviews for 2021
Here are the best keyboard amps 2021:
Roland KC-600
The KC-600 is the update of the top-selling Roland keyboard amp, KC-550. Its power output is improved to 200 watts powered by the two way speaker system including the 15-inch woofer that produces strong bass tones.
The amplifier comes with great features like Balanced XLR, output that allows you to send signals to pa consoles without a Stereo DI box. It also includes a stereo link I/O that enables you to connect two KC-600 together to produce a full stereo sound.
Even better, its power section is redesigned to offer better power stability, enhance bass production and reduce the overall weight.
Generally, the KC-600 provides the versatility of its predecessor while giving even better output. It is a workhorse amp that keyboardists, bass player, drummers and more will cherish.
Great sound quality.
Added number of features.
Simultaneous multiple unit utilization.
Great built quality.
The Roland KC-600 amplifier is a great keyboard amp that many, professional and budding musicians will appreciate. It produces powerful and clear sounds without any distortions offering a full keyboard frequency spectrum making it perfect especially if you are into acoustic.
Behringer Ultratone KXD15
This is an amazingly powerful keyboard amplifier that provides great sound and effects at 600 watts. This amp is loaded with a turbo sound 15-inch speaker and a high-frequency driver. It also includes a 4-channel stereo mixer and Klark Teknik effect processor that offers full on-the-go functionality.
With the revolutionary Class-D amplifier technology, the Behringer KDX15 delivers massive power plus incredible sonic performance in an easy to use lightweight and portable package. The Turbosound system makes all the difference by offering crispy clear sounds that anyone, beginner or expert, can't get enough.
Its 12 dB boost is carefully optimized to provide the ultimate tools for keyboard and vocal optimization. The entire audio spectrum is covered ensuring you get a perfect sound. Even better, special attention is paid to the critical midrange frequencies to ensure you are getting the exact tone you are playing.
Quality sound output.
Enough effects and options.
Cost-effective.
Great connections options.

Can seem a bit small for the 600W output.
The Ultratone KXD15 bridges all boundaries of a musical amp gadget. With its quality sound engine, 600W output and great portable size design, it proves to be one the best keyboard amp options you can go with.
Peavey KB 1
The Peavey KB 1 is another great keyboard amp that comes with two channels, two-band EQ for the channels and exceptional controllability. It has a compact design and great output making it a workhorse amplifier for keyboardist, guitar player and another musician who is looking for a small package with full range output.
The KB 1 gives 20 watts RMS from an 8-inch heavy-duty speakers that are loud and crisp enough for your playing. The front panel headphones automatically disable the internal speakers when plugged in.
Its tough black covering along with the heavy-duty corners provides a built quality that you can't compare with many amps on the price range. Better yet, there's metal grille that provides protection on the speaker while enabling it to produce a loud and clear sound.
Lightweight and portable design.
Headphone output.
Two channels + equalizer on each for easy controllability.
If you are looking for a portable keyboard amplifier that sounds amazing, then the KB 1 is a perfect fit. It's a self-contained compact sound workhorse that will fit keyboard, acoustic and drum players. This instrument will give you 20W of clean power that is conveyed in an 8-inch speaker and an additional input for headphones for an even better experience.
Roland KC-110
The KC-110 is a 30-watt stereo pro-quality amp that can be powered by eight AA batteries. The batteries can take you up to 9 hours; even the rechargeable batteries although you can still use AC power with an adapter.
The KC-110 comes with high-quality effects; EQ, chorus, and reverb plus dramatic stereo image. It enhances hands-free performance on the stage enabling you to change the effects on/off with a footswitch. It also includes three-channel where you can use a MIC on one and a stereo input on others.
The amp gives you a rich stereo sound that encircles the whole room. Its dual power (15W+15W) enables great sound projection which is enhanced by the stereo multi-band chorus with wide mode and reverb that can enhance any instruments sound. Even better, the amp's built-in stand enables great placement for optimal projection.
Portable design.
2 band EQ controls.
Stereo input.

Produces just 30W which drops to 20 when you use battery.
Even though this is a bit expensive than other amps with similar power ranting, the KC-110 is a good keyboard amp that will definitely give you what you pay for. It's well built, small enough with three channels to plug in two or more instruments and give you tone balance to ensure you get clean and loud sounds from it.
Behringer Ultratone K900FX
The Ultratone K900FX is a 3-channel, 90W all-in-one keyboard amplifier. The three-channel operation comes with separate volume and controls and an additional mic input on channel one for a direct dynamic microphone connection. It features a 12-inch woofer and 1-inch tweeter that delivers clear sound in a full range spectrum.
The sound is enhanced by the 24-bit FX processor with great presets including chorus, flanger, reverb and other multi-effects. There's also a feedback detection system that indicates feedback frequency and lets you control it easily and effectively. You can use the dedicated 5 bands EQ to get the quality sound edge you are looking for. The settings are very simple so you don't have to rehearse for days to get hold of it.
Easy to use.
Portable.
Quality sound output.
Warm and comfortable design.

The sound might feel a bit weak for a 90-watt amp.
The K900FX is robustly built making it durable. It offers an outstanding power balance with a great value in a compact durable package at an unbelievable price. This amp is definitely great for people in need of a cheap keyboard amp that produces subtle undertone and can create a pleasing sound.
Alto Professional Kick 12
The Alto Kick 12 is a powerful workhorse that suits keyboardist, drummers, and anyone in need of a great amp. It comes with a 400W power which includes a customer tuned electronic crossover, 4-channel mixer, and a built-in Alesis effects that enable it to be a versatile amp for keyboard drums and electronic percussion.
Each component in the amp is optimized for maximum efficiency to make an amp that not only sounds good but also weigh even less. It incorporates modern circuitry to provide great power in a minimal enclosure and tuned to give you the best power output.
The amp includes a bi-amp design with 12-inch LF woofer and an HF driver which enables it to amplify every frequency clearly.
Built-in Alesis digital effects.
Compact and portable design.
Quality sound output.
4-channel mixer with stereo input.

It's might be not loud enough for a large audience performance.
If you are looking for a portable keyboard amplifier to give your music real premium effects with no hokey limitations, then the Kick 12 is a good place to start.
This amp is a complete re-imagination of what a keyboard should sound like build with loud amplifiers. It's fit for both budding and experienced musicians who are looking for an amp that can replicate and produce the louder sound of a quality keyboard.
Roland Mobile Cube
The Roland Mobile Cube is a battery-powered keyboard amplifier that instantly plugs you into the music. It's small but mighty that any electronic music instrument use anywhere.
At a size that is no larger than a briefcase, the mobile cube fits best to be a traveler musician's friend. You don't have to have an AC power source, its battery-powered meaning you can operate it anywhere all you need is to plug in and jam. It includes two high-efficiency speakers that provide stereo sounds loud enough for many performance occasions.
The Roland's Legendary FX engine enables the amp to give quality effects that sweeten your vocals and add flow to your keyboard playing. You can also minimize vocals in prerecorded music making it even perfect for karaoke performances.
Versatile usage with different instrument.
Microphone input.
Minimal and compact design.
Battery-powered to use anywhere.

Low power output not suitable for large performances.
The Roland Mobile Cube is a perfect choice for musicians looking for a small keyboard amp with a stereo input. It is versatile where you can plug in your mic, keyboards, drums, electric and acoustic guitar and other instruments and jam for up to 15 hours with batteries.
Coolmusic DK-35
The Coolmusic DK-35 is a versatile portable amp incorporated in a kickback cabinet loaded with a 10-inch coaxial loudspeaker. It features two channels with equalizers with bass and treble controls plus effects.
The built-in two-band EQ enhances the sound quality where you can stabilize the sounds and make the rhythm lively all these in a few EQ adjustment.
Also, you can connect to an external CD or mp3 and use it to practice along with the music you like. There's a headphone socket that enables private listening and a DI output to connect to a pa or a recording system.
Produces great keyboard sounds.
Allows users to play along with their favorite songs.
Easily supports another instrument.

Durability can be a concern.
The DK-35 is a great keyboard amp that is designed for better drop resistance. It includes great functions that enhance its functionality as a versatile amp. Generally, this is a great choice for musicians in need of a cheap keyboard amp that can work for their keyboards and other instruments alike.
Peavey KB 4
The KB 4 is a 3-channel keyboard amp that features separate input on each channel to handle different sounds. It comes with a stereo mixer plus 2 band equalizer and additional effects to control the sound output.
With the channels, you can find separate inputs to handle microphones, vocals and other instruments that you might need to play along with. You will also find a headphone output that enables you to play in a noise controlled environment.
On top of all that, the build of the amp is compact with additional casters and handles to enable easy movements.
Easy to use.
Excellent sound quality.
Portable.

The design can be improved.
The KB 4 packs up many professional features that you might need to sound great. It comes with an easy to use interface plus three channels, stereo capabilities and sound magnifiers that many musicians would fall for.
Behringer Ultratone KT108
This is a 15W keyboard amp that comes with 8-inch dual-cone speaker that gives quality sounds. The KT108 features two channels each with volume controls for a three-band EQ, an input for CD/mp3 and headphone output to play in silence.
It includes VTC (Virtual Tube Circuitry) that creates an amplified replica sound of a keyboard. The sound can also be enhanced by the 3 band equalizer to create even better sounds. It weighs just 12 lbs making it a perfect fit for a portable amp.
Compact and portable design.
Crisp clear sound produced.
Realistic price.

Not loud enough for large venues.
Not very versatile.
The KT108 is a great amp for rehearsals and home practices. It produces loud sounds that do not distort until you increase to the top end volume. It's a perfect entry audio master that is not only a good choice for a portable amp but also something that offers convenience with different performance venues.
Buying Guide
As you can see in our keyboard amp reviews, there are tons of fantastic choices that you can explore in the market. Each instrument is different and fits the different need for different musicians making your choice even hard to make.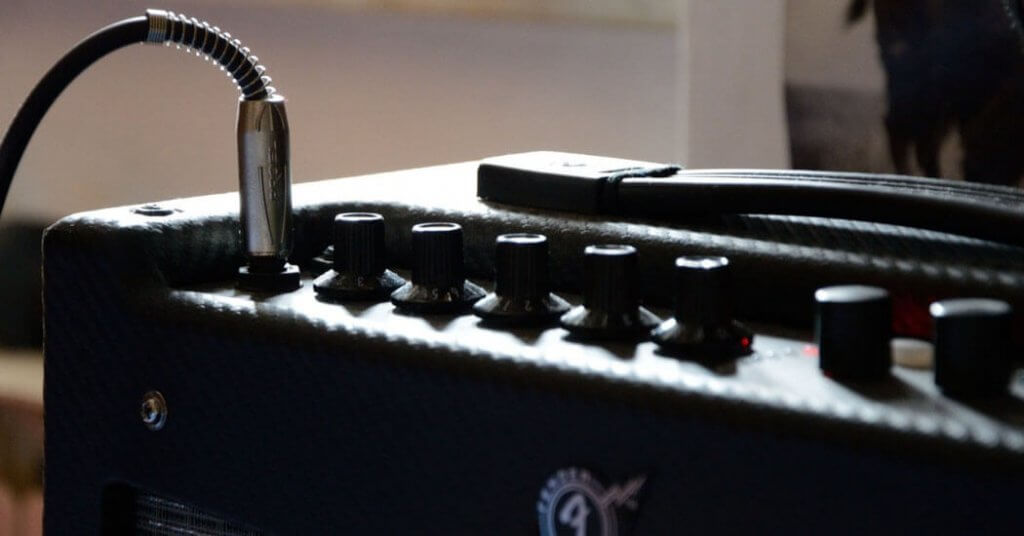 For this, you must take your time to research the features in the amplifier that will fit you best. Below we are going to look at some of the things that should facilitate your decision when looking for the best keyboard amp.
Understand Your Needs
If you are looking for an amp to rehearse or play at home, you'll certainly go for a different option than those looking for performance amps.
On this, things to look for is sound quality and effects. Volume shouldn't be an issue because you need a low output. Their dimension should also be minimal to allow easy portability and storage.
On the other hand, you need an amp with higher power output for a stage amp. If you go with a smaller amp you're almost guaranteed a bad performance with distorted sound since you'll be driving it beyond its reasonable limit.
The Effects
If you want an amp that will allow you to sound good on the stage and make the sound even great you need good effects on the amplifier.
Most of the amplifier that we've reviewed come with great effects. Some have more sophisticated than others but the end goal is that they will change the overall sound output. When making your decision, you need to consider the effects and how they will fit your requirements best.
Design
Although this does not necessarily affect the sound quality of the amp, the design is something that many people are concerned about. If you travel often or you have a limited storage space, you should probably go for an amp with a compact and minimal design.
Also, the stability and sound projection can also be affected by the amp design. Generally, you'll find amps with different qualities and prices and choosing the right amplifier will go back to your needs.
Conclusion
Amplifiers, in general, are to a certain extent a confusing products category considering the many available options. There is a lot should be involved when choosing a perfect amp for you and without help sometimes you'll end up with a wrong pick.
Fortunately, you can easily get a match from our fantastic picks in the keyboard amp reviews section. We have considered each need and given only the best so if you carefully read through this post, you'll definitely get your match.