The Yamaha DGX 650 is a professional digital piano – a full keyboard with weighted hammer action. It features a polyphony of 128 tones to layer notes without dropping off or compromising a single one. And there is a lot more to learn here.
---
The damper resonance helps recreate the interaction of strings on acoustic pianos and the built-in amplifiers and speakers provide a clearer sound.
The DGX 650 has a touch sensitivity of four levels and the sound mechanism derives from Yamaha's standard CFIIIS concert grand piano. It also features 100 preset songs and over 100 voices along with a full dot LCD display.
A number of effects and functions are available including Chorus, Reverb, Split Mode, Layer Mode, Transpose and nearly 200 styles of accompaniment.
Technical Specifications
Dimensions (WxDxH): 55 x 17.5 x 5.75 inches
Weight: 49.6 lb (22.5 kg)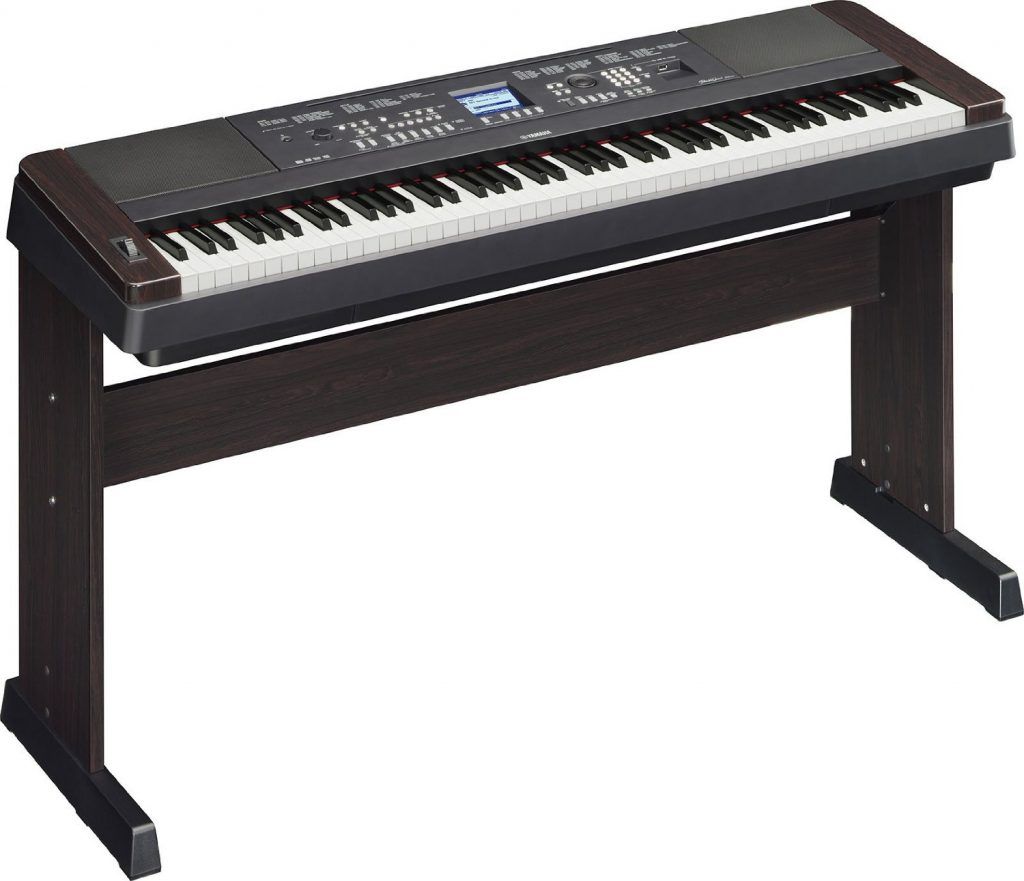 Keyboard: 88 Tones
Weighted Keys: Graded Hammer Action
Polyphony: 128 Notes
Touch Sensitivity: 4 Levels
Sound Mechanism: Pure CF Sound Engine
Number of Preset Voices: 147 + 15 Drum and Sound Effect Kits
Number of Preset Songs: 100
Effects: 
Reverb (35 Types)
Chorus (44 Types)
Damper Resonance
Intelligent Acoustic Control
Functions:
Dual Mode
Metronome:
Tempo Range: 5 to 280
Split Mode
Layer Mode
Pitch Bend
Panel Sustain
Transpose: -12 to 0, 0 to +12
Accompaniment:
195 Styles
Fingering: Multi Finger, Full Keyboard, AI Fingered
Style Recommender
Smart Chord
Pedals: Damper
Amplifiers: 6W x 6W
Speakers: 2 x 2″ (5 cm), 2 x 4.7″ (12 cm)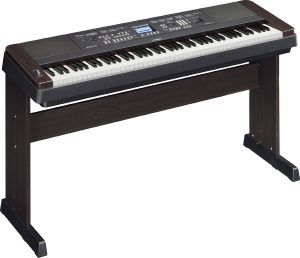 Display:
Full Dot LCD
320 x 240 dots
Contrast
Score Display
Lyrics Display
USB Recording and Playback
Inputs/Outputs: 
Click Here for Pricing, Pictures and Reviews on Amazon.com
Features
Sound Sampling
The Yamaha DGX 650 provides exquisitely authentic piano sound with its Pure CF sound sampling.
This technique uses meticulously recorded audio of Yamaha's renowned CFIIIS concert grand piano.
The result is a multitude of dynamic levels ranging from pianissimo to fortissimo and the ability to create a number of sounds just like those of a standard piano.
LCD Display
The DGX 650 offers a full dot LCD display to make the menu easier to follow. The display also has the ability to show scores and lyrics with which the player may follow along.
Smart Chord and Style Recommender
Smart Chord can create entire chords from Pop triads to jazz styles. It does so with just the touch of one tone.
Style Recommender suggests a number of appropriate styles based on what is currently being played.
Play in a particular voice or just a simple melody is enough to create a list.
Touch Sensitivity
The DGX650 provides a touch sensitivity of four levels. This is useful for playing complex pieces and creative expression in how the player strikes each key.
Functions
Available functions include dual, split and layer modes for playing multiple voices at once, pitch bend and transpose for shifting pitch and octave, a damper pedal and a built-in metronome with a tempo range of 5 to 280 beats per minute.
Pros and Cons
Like many in the Yamaha brand the DGX650 offers exceptionally realistic audio. This comes from its famous sound sampling technique. Many users also boast that the piano plays naturally like an acoustic piano.
It offers good response and action with its weighted keyboard and multi-level touch sensitivity.
The DGX650 is easy to adapt to for players of all skill levels. It presents itself as a professional digital piano with serious use, such as professional recordings or performances, in mind.
Even with its many advantages, however, the DGX650 is not without flaws. Some users complain about its menu interface, stating that it can be difficult to operate simultaneously while playing.
Pros
Realistic Audio: 
The Yamaha DGX650 utilizes Pure CF sound sampling to provide a sound rich enough to rival that of the real thing.
Good Action: The piano's keys are responsive due to its hammer resonance and touch sensitivity.
Plays Like a Real Piano: With its multitude of features including weighted keys, touch sensitivity and superb sound sampling, the DGX650 offers an experience close to an acoustic.
Professional-Quality: The sound, feel and action of the DGX650 model make it a great choice for professional performances or recordings.
Easy to Use: Even with its many functions and capabilities the piano has been known as being simple to control.
Cons
Menu Interface:While the majority of the instrument is easy to configure, some users reported difficulty accessing the piano's menu. This may make it difficult to change options in the middle of playing.
Conclusion
The Yamaha DGX650 offers much for beginner or expert pianists to experience.
It produces an exceptional piano sound along with weighted keys and 4-level touch sensitivity.
The high-quality digital instrument features a full display along with automated features to make learning and composing much easier.
For those looking for a digital instrument to perform live or record, the Yamaha DGX650 has something for every type of player to enjoy.