Digital piano is awesome; thus it is important to be guided when buying one. The safest and quickest ways is to look at the digital piano reviews and comments of persons who have bought the same device and have used it.
It is always highly important to know the specifics before choosing the best digital piano for you.
It allows you to consider all pros and cons of each of the pianos you have to choose from and you can make the decision based on facts, not opinions.
However you most likely won't have the chance to play each of the pianos before making the decision.
For your convenience we have created this ultimate list of 65 digital piano reviews that shall tell you exactly what you need to know in order to make the decision.
This review will help you to choose the right electronic keyboard or piano priced within your budget.
To provide you with a large scope of perfectly priced options we investigate a range of digital pianos ranging in price from under $100 to $3000.
Our TOP 3 Picks for 2019
1. All things considered, the Yamaha YDP-184 is the best digital piano you can buy for under $3000.
2. The Yamaha DGX-660 gets our vote for the best portable digital piano.
3. For those seeking to strike a balance between cost-effectiveness and quality, we recommend the Casio PX-160.
Use these quick navigation buttons to jump to the desired section:
Best Keyboards Under $100
The under $100 category of digital keyboards is perfect for the beginner musician on a very tight budget. This category is also very suitable for parents choosing the first instrument for their child.
Here are our top picks for the best piano keyboard under $100:
XtremepowerUS 61-Key Electronic Music Keyboard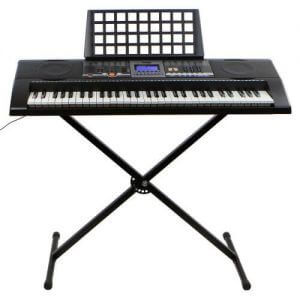 Looking for keyboard to start your music career with? The XtremepowerUS electronic keyboard is a good place to start.
It comes with adjustable height, ranging from 12-38 inches. It also has in-built speakers and an LCD display to guide the learner.
Its X-style keyboard stand is foldable making it easy to transport from place to place as your music career progresses.
The XtremepowerUS keyboard is also relatively light, weighing about 20 pounds.
On the downside though, it needs to be plugged into a wall socket to work, which means it might not be the best bet for outdoor performances, except you have an independent power source.
Hamzer 61-Key Digital Music Piano Keyboard
The Hamzer 61-key digital piano keyboard is a good alternative for outdoor performances since it comes with 6 AA Batteries that it can be powered with.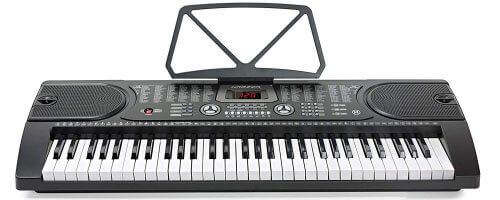 It is ideal for learners as it comes with recording capability and playback so you can progressively improve your piano skills.
It also comes with a detachable stand to allow you to play music from sheets like a professional.
This Hamzer keyboard also allows the pianist to select chord timbre, program rhythm, as well as utilize effects such as ensemble, vibrato or sustain.
However, it only has one actual piano sound in all the 100+ pre-programmed sounds.
Yamaha PSR-F51 61-Key Portable Keyboard
If what you have in mind is functionality and user-friendliness, the Yamaha PSR-F51 is the best digital piano to buy. Anyone can find their way around this top digital piano in less than a few minutes.

With its intuitive panel, keyboardists only have to select a voice and rhythm and start playing.
Its lightweight design and portability come with 61 keys, 120 voices, and 114 rhythms to set the tone for your musical performances.
The Yamaha PSR-F51 also comes with batteries so it can be powered on the go.
Casio CTK-2550 61-Key Portable Keyboard
The Casio CTK-2550 61-key keyboard is the ideal choice for the intermediate learner. With 50 dance music rhythms, 48 polyphony, 400 tones and 100 rhythms, it really expands your musical horizons.
This top-quality keyboard can connect to your iPhone or Android through the Chordana app, available for download on your App store. This app shows you how to play your favorite songs on the Casio CTK-2550.
It also comes with headphones, suitable for late night practice sessions.
On the downside, you may not be able to enjoy your sheet music so much with this keyboard as its sheet stand, cannot accommodate many sheets.
Casio SA-76 44-Key Mini Keyboard
The Casio SA-76 lives up to the brand reputation that makes it trusted by many studios, live music performers and producers. It is quite portable and can fit anywhere.

This cheap piano keyboard has a fully-packed frame that gives you access to a 10-song bank, 50 patterns and 100 different tones.
Its 44 mini-sized keys do not diminish from the fact that anyone, kids, teenagers, and even the music professionals can make plenty out of it.
Unfortunately, it doesn't come with memory to allow you to record your sessions.
Its speakers also take space that could have been used for improved features.
Best Keyboards Under $200
These next range of keyboards provides a mix of quality, standard and optimum enjoyment even at an affordable price still.
Here's a list of some of the best keyboards under $200:
Casio CTK-3500 61-Key Touch Sensitive Keyboard
The Casio CTK-3500 61-key keyboard offers 150 built-in rhythms and 400 high-quality tones. Like the Casio CTK-2550, you can learn how to play your favorite music with the Chordana app, connected to this keyboard.
It is both battery- and AC-powered and comes with headphones for quiet playing.
It comes with a pedal to sustain and damper and a scoring system. It also has dance music mode and effect.
Let's not forget the 61-key keyboard that allows you wide latitude for musical exploration.
Joy JK-63M 61-Key Electronic Piano Keyboard
With 255 timbres and rhythms, the Joy JK-63M makes an excellent choice for keyboard playing fans.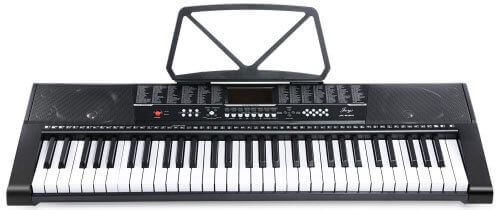 This keyboard also provides 61 kinds of percussion and 50 demonstration songs.
It provides for vibrato, vibrato sustain, sustain and accommodates recording functions.
This electronic keyboard is built strong and sturdy so there's little risk of it falling from its stand.
The Joy JK-63M also comes with USB port so you can enjoy and play along to your favorite songs.
However, you may want to consider purchasing an independent power cable as its complementing power cable isn't made of the best quality and may not last long.
Casio CT-X700 61-Key Portable Keyboard
If you're looking for a balance of quality and affordability, look no further than the Casio CT-X700.

It comes with a powerful AiX sound source, comparable with more expensive variants.
This keyboard is adequate for advanced pianists as it comes with 600 tones and 195 rhythms for any occasion.
If the in-built music isn't to your taste, you can connect your iOS or Android device through its USB port.
The Casio CT-X700 also comes with a smartphone shelf to carry your phone while you play from it.
Yamaha YPT-260 61-Key Portable Keyboard
Are you an aspiring musician looking for a good keyboard to start your music career with? Look no further than the Yamaha YPT-260.

It boasts of 400 high quality voices and 130 auto accompaniment styles and allows up to two people to play this top top entry level keyboard by creating two middle C notes.
The YPT-260 keyboard is suitable for learners as it comes with nine-step lesson function, known as the Yamaha Education Suite and a free downloadable songbook to help the learner get started.
However, you may have challenges connecting this keyboard to a computer system, due to the lack of adequate ports and recording software.
Best Digital Pianos Under $300
It just got even better. This range of pianos are cost-effective and the right choice for all your piano needs.
Their streamlined designs and are most ideal for your space and it is really not going to be a regret choosing to buy any of these.
Here are our choices for the best digital piano under $300:
Williams Legato Digital Piano
For someone looking for a great digital keyboard to start music lessons with, the Williams Legato is the best digital piano for your money.

It comes with 88 keys and 5 great sounds – bass, synth, piano, electric, and organ.
These voices can be layered to be produced simultaneously, or in split mode.
It also comes with an inbuilt metronome and 5 free songs with McCarthy Music Educational software.
To get the most out of this digital piano, it would be recommended that you complement it with a set of headphones.
Artesia PA-88W Digital Piano
The Artesia PA-88W delivers sound that is both great and expressive. Little wonder it's a top-rated digital piano under $300.
It comes with additional 3D stereo instrument samples to create a natural feel like a traditional piano for practice and musical performances.

You can also adjust the key sensitivity to make it respond with a harder or softer touch, based on your preference.
The Artesia PA-88W comes with a rich 3-layered grand piano sample and inbuilt speaker system for the traditional piano feel.
You could also plug in headphones for a more personalized feel. It's also compatible with music apps and learning software.
Best Digital Pianos Under $500
It is far easier to find great options for digital pianos in the under $500 range. There are plenty of good inexpensive instruments out there.
Here are our reviews of some of the best digital pianos under $500:
Korg B1 Digital Piano
This top-rated digital piano is a product of innovative technology which delivers full-range fidelity.
It comes with options with respect to touch control for the keys which can be adjusted to your taste (light, normal, heavy) thus making it suitable for all categories of keyboardists.

It has a pitch range from 427.5 to 452. Hz to fit the playing style of any performer.
The Korg B1 also has a maximum polyphony of 120 voices, and 8 sounds, such as acoustic, electric piano, harpsichord, and organ.
With a tempo range between 40 – 120 beat per minute, it works just as well as any traditional piano.
Korg SP-170S Digital Piano
Korg is no newcomer to the digital, electronic instrument market. With many years of innovative technology, they have constantly produced a range of instruments that have superior tone quality and touch sensitivity, making them the envy of their rivals.
The stand out feature of this piano is the natural hammer action technology, which provides a reliable and accurate response every time you play.
With the SP-170S Korg have launched a simple, yet elegant digital piano that makes use of Korg's signature stereo sampling technology to provide a budget price instrument that still delivers excellent results.

The pianos 120-note polyphony allows for very little drop off of sustained notes during play and is very impressive, although when in stereo the polyphony drops to 60 notes.
We really like how the instrument provides ten high quality sounds for performance use.
It has a quick play button so that users can return to the default piano tone in an instant.
Compact enough to fit into smaller spaces, it offers the market a quality instrument that offers a great alternative to purchasing, a cumbersome acoustic instrument, that is not properly tuned and may need constant maintenance.
If you are restricted with space and cash, the Korg SP-170S may be a serious consideration for you, if you are prepared to make a few sacrifices elsewhere.
Casio Privia PX-160 Digital Piano
The Casio PX-160 is designed for entry-level beginners who are looking for a best-sounding digital piano to learn and play on.
It supports a 128-voice polyphony, something that is usually found in only higher-end keyboards.

Despite being one of the best digital pianos for beginners, it also a touch of professionalism with its acoustic piano sound that features a realistic hammer response, damper noise, and damper resonance, to give the keys an authentic sound, just like a traditional piano.
Another reason why this is a great piano for learners is that the keys are graded from left to right, in such a way that the lower register are more resistant than the higher register keys, allowing the keyboardist play more expressively as his skill level grows.
Lagrima LG-8830 Digital Piano
If what you're looking for in choice of a digital piano is practicality and quality, backed by excellent customer service, then the Lagrima LG-8830 is the best digital piano for you.
With its 128MB DSP2000 sound source, you can be assured of clear and stable sound.
It comes with a folding flip cover design to protect the keys from the elements when not in use.
The 3 metal pedals serve to soften, sustain and introduce sostenuto to the tone.
Players can also record their performances and playback to assess themselves with a dedicated button.
It also has MIDI input and output terminal that allows players to upload their recorded performances onto their devices, or download teaching software.
However, this piano can be a drag for fast players initially, since its keys are weighted.
A newbie to electronic pianos may have issues assembling it for the first time as the instructions in the assembly manual are quite vague.
Yamaha YPG-535 Portable Grand Piano
For those ready to graduate to a keyboard that gives more room for expression with its 88 keys, the Yamaha YPG-535 is a good choice.

It emits one of the most realistic piano sounds available in the market for a digital piano.
It has 30 inbuilt songs and another 70 in the complementary CD-ROM.
It doesn't end there; you can download more into its internal Flash ROM, once you connect it to PC.
This top electronic piano is also equipped with 361 XGlite realistic sounding voices, ranging from trumpet, flute, soprano, tenor, saxophone, organ and so much more.
Williams Allegro 2 Plus Digital Piano
The Williams Allegro 2 Plus 88-key digital piano comes with 10 sound samples that include classical and modern pianos.

You can get to work with this one, right out of the box.
It has modulation/FX control that makes for realistic control of rotary and vibrato effects on select instruments.
The Allegro 2 Plus also comes with 5 free songs from the McCarthy Music, to aid keyboard skills development.
Best Digital Pianos Under $600
Discover the best of the music world with these top digital pianos under $600:
Casio Privia PX-350 Digital Piano
This top-rated digital piano employs Casio's proprietary sound source, known as 'Acoustic and intelligent Resonator (AiR)'. This piano produces a realistic sound like a traditional piano.

It also comes with a Damper Resonance simulator that provides a rich sound of the strings when the pedal is used.
It has 250 inbuilt instrument tones and room for more created by you.
The PX-350 comes with ¼' audio outputs that allow it to be connected to the external recording and audio reinforcement equipment.
However, you may need to turn the volume to its highest to get good sound or use an amp. Without the volume really high, the high notes might seem timid and the low notes a bit squashed.
Korg LP-180 Digital Piano
The Korg LP-180 is a good, inexpensive digital piano that comes in two color tones – in black and white.
Its keys are naturally weighted to feel like a traditional piano, with a heavier touch in the lower ranges and progressively lighter in the higher ranges.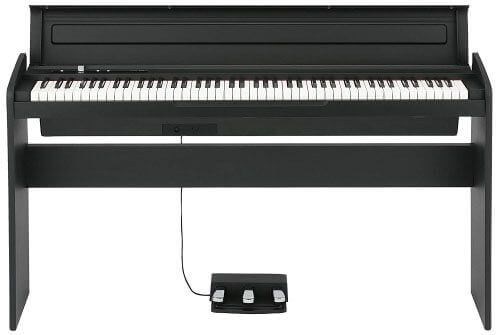 It comes with 10 different high-quality sounds with reverb and chorus effects for interesting playing.
Its three-pedal unit introduces a damper, soft and sostenuto effect to the music played.
The complementary headphone jacks also ensure that you can enjoy your music without disturbing anyone.
However, when setting up this piano, it cannot be placed flush against the wall because of the hinged lid.
It has to be placed a few inches away from the wall to give room for the lid to swing easily.
Best Digital Pianos Under $700
In this list, we introduce to you some of the richest and authentic digital pianos with the sound of the grand pianos.
Read our in-depth reviews to find the best digital piano under $700:
Korg SP-280 Digital Piano
The Korg SP-280 is a mid-range piano that does not claim to be all singing and all dancing but it does produce great sound as is very good value for money.
We love how bold Korg has been with the shape of this piano, not being afraid to stray away from the norm and offer up something different.

Though the SP-280 is more portable than other digital pianos, it doesn't sacrifice sound quality or selection.
The impressive range and variety of features it offers make it the perfect middle ground piano.
Because of the Natural Weighted Hammer Action keys, the Korg SP-280 offers a playing experience similar to an acoustic piano.
The lower register of the SP-280 electronic piano has the heaviest action, and the response lightens in the upper registers.
This piano boasts 30 different voices and tones as well as 10 demo songs as well as a midi in and out so that you can record your own music.
Beginners can take advantage of the full, weighted hammer keyboard, and professionals have the option of enjoying the same three-pedal functions that an acoustic piano provides.
Oh, one last thing, we are very impressed with the superb quality of the 22-watt speakers that are more than adequate for large performances.
Yamaha P-125 Digital Piano
Generally, the Yamaha P series of digital pianos are quite accessible to beginners, and the Yamaha P-125 is no exception to the rule.
It's a piano that is quite portable; you can tuck into under your arm, or carry it over your back, once it's been properly packaged in its carrying bag.

It features a fully weighted keyboard with 88 full-sized piano-style keys.
You can enjoy the P-125 with the Smart Pianist app, which allows them to play along to their favorite tunes stored on their mobile device.
It is also quite simple to use due to the fact that it's not overstocked with features and frills.
The Yamaha P-125 also has in-built speakers as well as headphone inputs, so you can plug in your headphones to save your loved ones from hearing you practice the same tune for the 100th time.
Casio Privia PX-770 Digital Piano
The Casio PX-770 is a sure stunner for brilliant performances thanks to its AiR Sound Source that comes alive with a realistic damper performance, that reverberates through the entire body of the piano, not just the keys and strings.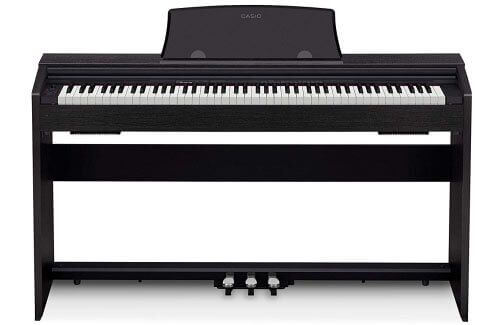 It can be easily connected to any device; PC, Mac, iOS, or Android device, without the need for drivers or installations.
The Casio Privia PX-770 digital piano also comes with Tri-Sensor II Scaled Hammer Action that can be adjusted or customized to suit any playing style.
It also boasts of 18 tones and an inbuilt stereo speaker system housed in a modern wooden cabinet.
The PX-770 is ideal for those with small apartments as it fits well into compact spaces.
It's one of the coolest looking digital pianos in the under $700 range.
Best Digital Pianos Under $800
From beautiful elementary pieces to famous classical themes, we bring you the definitive list of the best digital pianos under $800 to suit all your needs.
Yamaha DGX-660 Digital Grand Piano
From the heart of its Pure CF Engine, the Yamaha DGX-660 emits the sound of a grand piano. With this digital piano, you can learn, share and play music, all in one suite.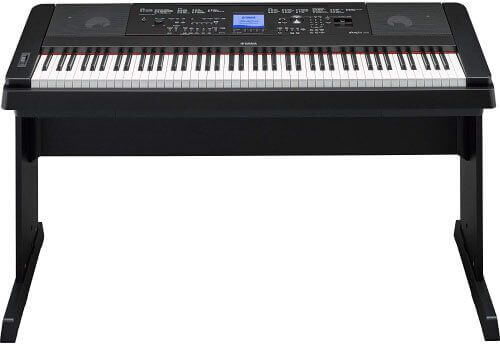 Its keys are Graded Hammer Standard (GHS), thus featuring a weighted action (heavier touch in the low end and lighter touch in the high end), similar to the hammers in an acoustic piano.
Yamaha has addressed every detail on this keyboard including the easy to read LED display that is bright and ample.
You can easily switch the display between score and lyrics showing notations from any song that is being played via MIDI.
The DGX-660 also comes with a 6-track recorder so you can capture your performances then add additional layers of effects to spice it up.
You can also connect a microphone to the keyboard so you can sing as you play as it is sieved through the digital effects of the built-in speakers.
The DGX-660 is our choice for the best portable digital piano in this price range.
Roland FP-30 Digital Piano
The Roland FP-30 is the ideal fit for those who have always wanted to have a piano in their home but worried about the space and budget implications.

This affordable keyboard features 88 keys that fit into any space, making it the best home digital piano.
It accommodates Bluetooth wireless support for popular music apps such as GarageBand, piaScore, Sheet Music Direct, and many others.
The Roland FP-30 comes with a powerful amplifier that delivers impressive sound.
The combined effect of its headphones and quiet keyboard action ensure that you can enjoy playing without risking anyone waking up on the wrong side, thanks to your music.
Casio CGP-700 Digital Grand Piano
The Casio CGP-700 is one of the few keyboards less than $800 with an interactive touchscreen interface.
With 6 speakers (4 on the top panel, 2 in the stand), it guarantees the surround experience of a grand piano without the size of one.

It works with the SP-33 pedal system, which creates the soft, damper, and sostenuto tone.
Its keys are also as realistic the keys of a grand piano, thanks to the Tri-Sensor Scaled Hammer Action II technology, which makes it suitable for both the professional player and beginner, with a heavier feel in the lower register, and a lighter feel as you work your way to the top.
The CGP-700 also boasts of 550 instrument tones, such as bass, drums, and guitars and also 200 ensemble rhythms.
Best Digital Pianos Under $1000
If what you're looking for is the best bet in piano manufacturing without having to break the bank, then the under $1000 category is what you should look at.
Here're the top contenders that deserve to be called the best digital piano under $1000:
Kawai ES100 Digital Piano
The simple outlook of the Kawai ES100 belies the cool technology that lies within.
The ES100 has a weighted keyboard using Advanced Hammer Action IV-F that delivers the feel of a real piano and also utilizes Harmonic Imaging sound sampling to provide an impressive mimic of acoustic sound.

It utilizes springless technology and sturdy construction to deliver a consistent upward and downward motion for an authentic piano playing experience.
It has close to 20 sounds such as wood bass, rock piano, and harpsichord.
The ES100 has a maximum polyphony of 192 notes ensures no notes are masked or clipped during complex passages.
It comes with 12 demo songs and built-in Alfred Piano lessons for the beginner.
It also has slots for a 3-song built-in recorder, great for personal self-evaluation or to ensure that you do not miss those moments of inspiration.
The ES100 is a good digital piano for anyone looking to balance affordability with functionality.
Casio Privia PX-5S Digital Stage Piano
With the Casio PX-5S, acoustic sound and feel are just the beginning. It introduces the powerful Hex Layer for layering sounds.
It comes with four programmable arpeggiators making it the best stage digital piano as it comes with stage settings for the ultimate outdoor performance.

The Casio PX-5S has in total, 100 user configurable stage settings arranged in sets of 10.
This wide variety of controllers and siders allow sound to be manipulated for a hi-fidelity sound generation.
However, the keyboard offers no after-touch on the keys, which is something even lower-priced keyboards have on offer.
Casio Privia PX-780 Digital Home Piano
The Casio Privia PX-780 sits in a class of its own. Every buyer of this model gets more than his money's worth in beauty and design.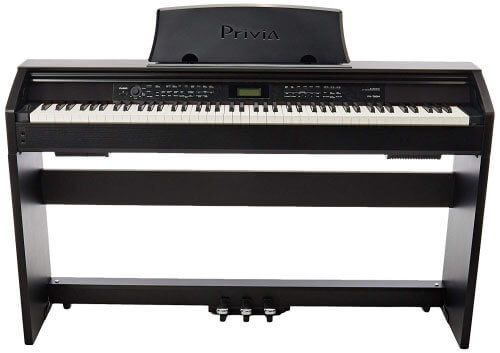 The PX-780 is part of the Privia Piano Line and does not disappoint.
The extensive features of this perfectly engineered electric piano include 250 built-in tones with a split and layer feature.
It houses 128 notes of polyphony which is more than enough for a beginner or intermediate pianist.
The dual 20-watt speakers ensure crisp clear grand piano sounds.
The powerful sound engine and 88-key weighted keyboard give users the advanced play that you should expect from a high-end digital piano.
Let's not forget that the Privia series are made with furniture grade material that would make an excellent addition to any home's décor.
The Casio PX-780 is ideal for anyone that wants the best upright digital piano, short on space, and wants a practice tool.
Williams Overture 2 Console Digital Piano
At first glance, the Overture 2 looks more like a decorative piece than a digital piano going for around $1000.
It maintains a high-quality, even at high levels, although it might peak when the full range of the keys are played at the same time.
This top digital piano has a reverb, EQ, and chorus for effects.
It has 4 sensitivity levels and 128 different sound sets, some of which include the grand piano, organs, clavinet, harpsichord, amongst others.
It also boasts of a 4-speaker amplification system, a shipping weight of 132.3 pounds, and sustain, soft, sostenuto pedals, like a real grand piano.
Best Digital Pianos Under $1500
For the best of piano playing experience, with an outer lush class and luxurious finish, we present to you the best digital pianos under $1500:
ONE Smart Piano Digital Upright Piano
The ONE Smart Piano is one piano that is actually built to teach you to play it, and any other piano.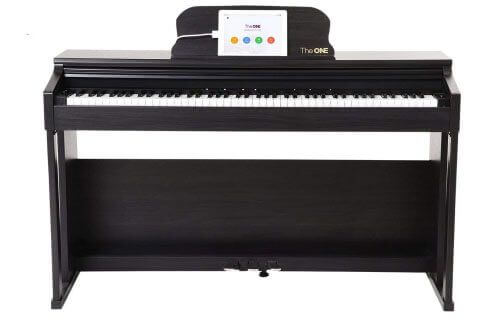 With over 200,000 users all over the world, it's been bringing piano lessons closer and more personalized for many people.
Why shouldn't you be one of them?
The keys of this piano light-up so the learner can follow the cues and start playing like a pro in minutes.
The keys are also hammer-action, giving the feel of a grand piano, with higher sensitivity and rebound speed.
This digital piano is also the only Apple MFI-certified digital piano integrated with technology that facilitates self-instruction.
Casio Privia PX-560 Digital Stage Piano
The first thing that would strike you about this keyboard is its blue casing, unlike the conventional black.
The Privia PX-560 is a good stage digital piano with a full-fledged synthesizer.

It also utilized the Hex Layer technology, allowing users to create massive splits and layers sounds simultaneously.
You can also edit tones into something new that is all yours.
The PX-560 is adequate for music lessons and labs.
Roland F-140R Digital Piano
The Roland F-140R digital piano comes with a compact design, well-suited for smaller apartments.
Its SuperNATURAL piano sound engine offers the rich acoustic sound of a grand piano.
It also comes with headphones developed with a 3D Ambience effect to greatly enrich the piano experience, as if the sound is emanating from the instrument itself.
Its onboard rhythm accompaniments make playing more fun, giving the impression of a band playing along to the chord.
It comes with 305 sounds to play with.
It also comes with Bluetooth connectivity that converts the sostenuto pedal to a sheet music app for hands-free page turning.
Korg LP-380 Digital Piano
The Korg LP-380 represents a significant improvement from previous versions of the Korg digital pianos.
The LP-380 digital piano is ideal for serious students. It's an energy efficient instrument that doesn't skimp on sound quality or options.
There is a lot to learn about this digital piano and there is no doubt that you should take your time to learn everything that matters.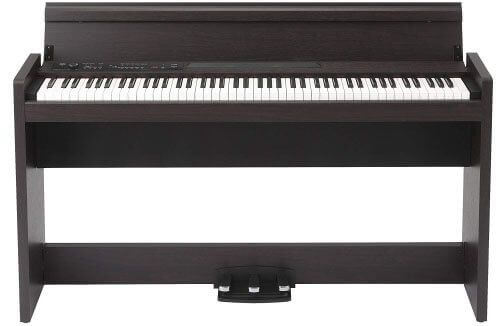 The LP-380 is one of the slimmer, more elegant designs that Korg offers; at just a little over a foot deep, the LP-380 can fit almost anywhere, blending easily into any room.
The added protection of the wooden key cover keeps the keys safe when the piano isn't in use.
Though the LP-380 is a great all around digital piano, the feature that really sets it apart and makes it such a strong contender for students is the inclusion of three pedals.
There's no need to purchase additional pedals when using the LP-380, cutting down on overall cost.
One of the piano's main drawbacks, its lack of portability, should not be too much of an issue for students who prefer a more stationary piano.
Kawai MP7 Digital Stage Piano
If you're looking for a good digital piano for performers, the Kawai MP7 is a good bet. It's one of the best digital pianos for advanced pianists.
It has a full 88-key keyboard making it great for mimicking a grand piano. Unlike a grand piano, it has a small frame making it very easy to move around.

The MP7 can produce woodwind, percussion, and strings sounds. It has 28 different acoustic settings, as well as electric pianos, organs, and pipe organs. This is definitely worth taking a closer look at.
All sounds can be customized using the adjustment knobs next to the built-in LCD display.
Sounds can be multi-layered and recorded. A USB input is available for downloading and uploading music.
This machine has 3 key sensors per key that guarantee notes are played on demand.
Many keyboards miss notes if the same key is played twice in rapid succession; the root cause for the missed note is the user not releasing the key completely before pressing it again. The 3 key sensors eliminate this issue.
The MP7 is very customizable. The micro-editing features make it possible to mimic other types of pianos.
The 256-note maximum polyphony chip is a memory chip; this chip allows 256 notes to play at one time without cutting off any notes.
Kawai KDP90 Digital Piano
In this piano, Kawai outdoes itself by ensuring that all sounds, from the piano sounds and the other instruments, all sound like the original. The Kawai KDP90 is a great digital piano that is chockfull of features.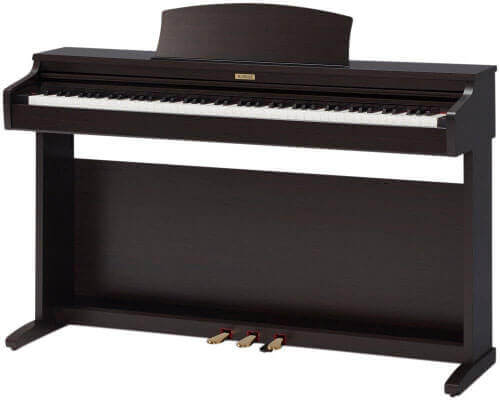 It has harmonic sound imaging technology, 88 weighted keys, USB audio and the soundboard speaker system that Kawai is well-known for.
This digital piano offers rich tones thanks to the exceptional graded hammer action. It is overall a very impressive instrument.
The board can be split into two 44 keynote boards to allow for great duel composing and play.
The newly refined pedal system reproduces the feel of damper pedals perfectly and allows for half damper.
The KDP90 is a well-thought-out digital piano that creates acoustic piano sounds that resonate.
Find 40 pre-programmed songs to play along with or for practice.
There are so many features available with the KDP90 that there are too many to list.
Kawai has always been a reliable source for great instruments and offering them at a great price point.
The Kawai KDP90 is an exceptional example of what focused engineering can bring to the table and deliver. For exceptional sound and features at a great price point, it is hard to beat the KDP 90.
Best Digital Pianos Under $2000
For those who are not willing to the shy of the expenses involved in acquiring a digital piano that can match an acoustic piano anywhere in the world, we present to you the best digital pianos under $2000:
Yamaha ARIUS YDP-181 Console Digital Piano
The Yamaha ARIUS YDP-181 digital piano replicates the sound of a concert grand piano thanks to its Pure CF Sound Engine.
It features 88 weighted keys with Graded Hammer effects that make playing much like an acoustic piano.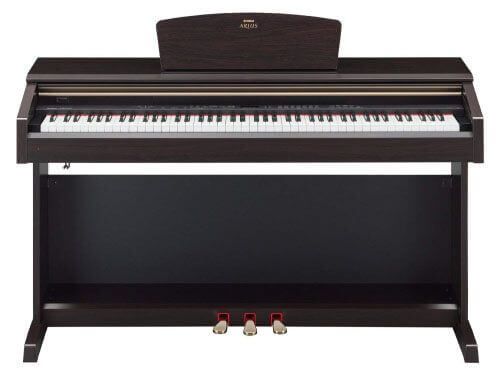 Its 128-note polyphony also mimics an actual piano by allowing for multiple notes to be heard without being cut off when sustained.
The Stereo Sustain produces mellow vibrations when the player depresses the damper pedal.
This digital piano is ideal for both learners and pros alike.
Many other reviewers have adjudged it the best digital piano for students.
It has Dual Voice capability that allows you to play two different instrument sounds at a time and has a total of 14 tones onboard.
With the piano's preset songs and track recording function, players have the ability to learn songs and keep detailed progress recordings, which we think is a great feature for students.
Yamaha CP4 Digital Stage Piano
The Yamaha CP4 stage piano is simply a great instrument. It offers you the features, sound, and controllability that takes your music to the next level.
You get 45 grand piano sounds, which is exceptional on its own plus you get 47 vintage EP's which completely sweetens the deal.
The 341 crystal clear voices including organs, bass, claves, pads, strings, and the Motif Sound Set.
Yamaha has gone above and beyond with the engineering, features, and design of the CP4.
The professional controller features allow you to take your music making up a notch or two. This is a full MIDI controller that includes controls for pitch, mod and more.
They have thought of everything in this professional series of stage piano. The large lighted buttons, the foot pedals and more add to the control features that help you outperform yourself every time.
You get everything that you need, want and more with the Yamaha CP4 and it all fits in an instrument that weight under 50 pounds.
Kawai CE220 Digital Piano
In a market where the consumer is spoilt for choice, the Kawai CE220 is the best digital piano under $2000 that money can buy.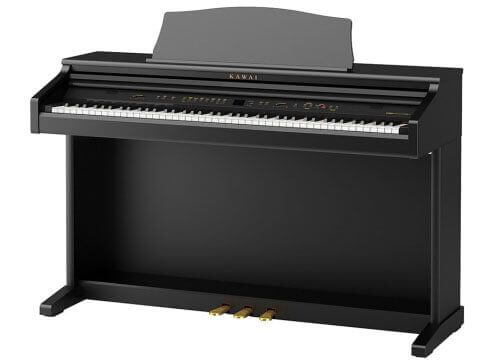 It features the AWA PROII graded hammer action technology, that gives the keyboard the feel of a real piano.
You can also control its sensitivity, giving the user the ultimate control in adjusting the instrument to their exact specifications.
The user can also set the dynamics on each layer, so as to balance the two voices against each other.
Unlike any other digital piano out there, this one is individually tailored to touch sensitivity.
The Kawai CE220 is a real crowd pleaser and it features a dual and split keyboard if your friends fancy a duet!
Get practicing your party piece as you will want to play it all night long!
Best Digital Pianos Under $3000
For those looking for stylish, sleek and good-looking digital pianos that are competitively priced, we present to you the category.
The $2500 – 3000 range is where you will find the crème de la crème when it comes to features, quality and possibilities.
Here are our picks for the best digital piano under $3000:
Yamaha ARIUS YDP-184 Console Digital Piano
The ARIUS YDP-184 delivers all the convenience of an electric piano without sacrificing the rich tones of an acoustic piano.
It is no surprise that one of the finest makers of acoustic pianos has created a digital piano that perfectly mimics the sounds of a grand piano.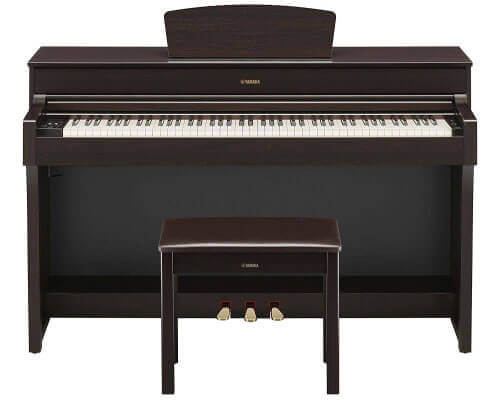 Like most Yamaha digital pianos, this comes with the Graded Hammer Action that provides a heavier touch in the low end and lighter touch in the high end.
It also has Stereophonic Optimizer which adjusts the spacing of the sound separation from the piano when headphones are plugged in.
The YDP-184 also comes with internal sensors, which accurately senses and interprets the pattern of keyboard play to create a grand piano playing experience.
It has strong and vivid bass and allows the user to move MIDI songs to PC and play with piano software.
But before you rush out to get one for yourself, try getting a bench too, because the bench that comes with it somehow too narrow.
The Yamaha YDP-184 is a great option for the serious player. In our opinion, it's the best digital piano under $3000 right now.
Roland RD-2000 Digital Stage Piano
The Roland RD-2000 signifies freedom. Players can adjust for pitch, tone, attack and sustain until they've gone beyond the often-clinical sound of other digital pianos.

It's powered by V-Piano Technology to ensure that the acoustic voice is perfectly natural, responsive, and richly detailed. You can also map sound patterns to different key ranges.
This digital piano also includes over 1,100 additional sounds for covering any style of music with just one keyboard.
It might take you a while to get through all of them. Why not get started now?
Nord Piano 3 Digital Stage Piano
This modern digital stage piano boasts of outstanding keyboard technology, improved weighted action and expanded memory.

It simulates the pedal noise of lifting and releasing the damper mechanism, creating the feel of a traditional piano.
You can also connect to an external player in order to rehearse or with previously recorded music.
The Nord Piano 3 stage piano also features 1GB of memory dedicated to exclusive sounds from the Nord Piano Library.
Other Digital Piano Reviews Worth Your Attention
Casio Privia PX-750 Digital Piano
The Casio PX-750 is a digital grand piano with an 88-note scaled hammer action tri-sensor keyboard, amongst many great features.
The keyboard features 250 built-in tones with dual and layer functions. It has three foot pedals in addition to USB MIDI functioning.
The exterior features its own stylish storage cabinet with a sliding key cover and includes a matching stand.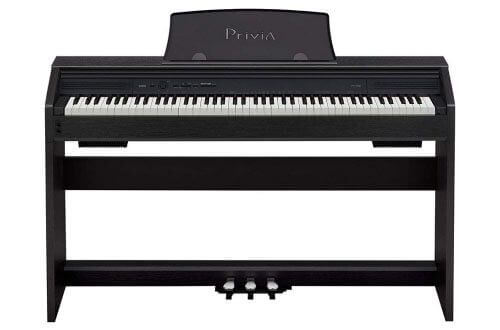 Alternate instrument voices such as strings, organs and bass can be utilized for experimenting or recording.
The keyboard offers a recording functioning with playback available for learning, practicing and performing.
Casio's 'Acoustic and Intelligent Resonator' as a sound source provides an acoustic realism that cannot be denied.
The piano produces great polyphony and is ideal for those who are fans of strong clear sounds, it certainly impressed us.
The PX-750's graded hammer action and realistic ebony and ivory keys provide for comfortable play, which is great to see as often less expensive pianos do not have weighted keys.
The keyboard also offers a touch sensitivity of three levels to allow for a sound experience close to that of an acoustic piano.
There is no LCD screen on this piano, which is the only downside along with the bulkiness of this model, but other than that this is an all round great choice for beginners and amateurs.
Yamaha P-155 Digital Piano
The Yamaha P-155 is versatile enough to use at home or on stage as it features a number of the finest performance characteristics as well as its aesthetic advantages.

For the realistic sound and feel of a piano, the instrument provides graded hammer action and 4-layer piano samples.
The great array of features also includes a 'Key-off' and stereo sustain samples with adjustable damper resonance along with its 128-note polyphony provide a distinct realism along with a sound of professional quality.
Don't worry about annoying your neighbours as there is a headphone port that allows for practice and play without disturbing others.
This piano is also portable, so it is great if you need to take to performances easily.
The Yamaha P-155 digital piano has 17 voices with split and dual modes as well as a metronome and track recorder with playback.
The downside of the recording system is that it only allows you to store one piece of music at a time, but songs can be saved via USB and imported as MIDI files. There is also an LCD screen, but the advantages far outweigh these small issues.
If you are looking for a piano with a professional feel without a professional price tag, the Yamaha P-155 should tick all of your boxes.
Yamaha ARIUS YDP-142 Console Digital Piano
The Yamaha ARIUS YDP-142 is a digital grand piano with an 88-note weighted action keyboard.
The piano is a much-improved upgrade to the YDP-141 model and its sound sampling relies on Yamaha's famous CFIIIS grand piano, thus offering numerous levels of sound dynamics.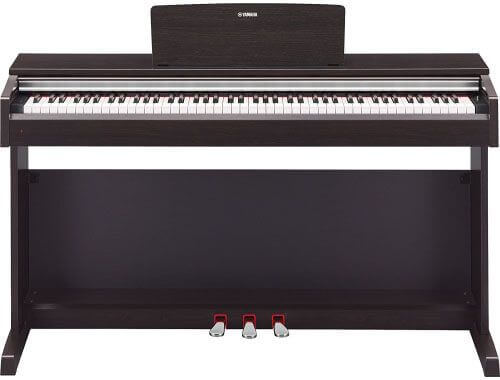 Its Pure CF Sound Engine allows for very precise notes and great quality sound, even from novices.
For its price tag, this piano is packed full of high-quality features and is a very impressive piece of kit.
The weighted action is modelled on the hammers of an acoustic piano, offering heavier touch in the low tones and lighter touch in the high tones.
The touch sensitivity can be used in three ways to accommodate playing style.
The damper pedal offers a continuous or half-damper response for enhanced control.
Sounds good, doesn't it? It sure is worth taking a better look at this magical piano.
The YDP-142 comes in two finishes Black Walnut and a Dark Rosewood finish, both of which look the part as well as sounding the part.
The YDP-142 also features several built-in voices from a number of instruments including organs, the harpsichord and the vibraphone.
It has an inbuilt 128-note polyphony that allows advanced players to experiment with notes and play more complex pieces.
Williams Overture Digital Piano
The Williams Overture is an 88-key digital piano with realistic weighed hammer action keys and a velocity-sensitive touch response.
Its 64-note polyphony allows for enhanced creative expression as do its 15 voices and 58 preset songs.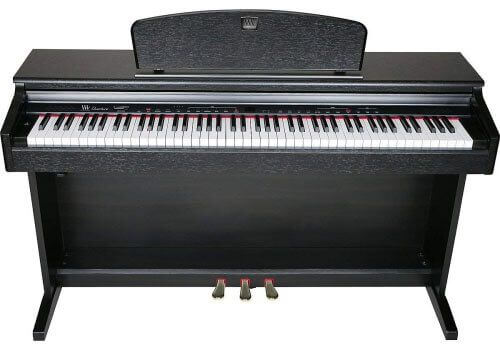 The full-size keyboard features dual mode and split layer function for learning, teaching or experimentation.
The Williams Overture has a 2-song recorder for keeping track of progress development or song trials.
A backlit LCD screen allows you to keep track of your progression and is an appealing feature to those new to digital pianos.
Three damper pedal provide sustain, soft and sostenuto note effects.
The Williams Overture features expanded connectivity as well.
It contains a MIDI in/out line, a USB to device connection and two headphone jacks.
If you are stuck for USB devices, the piano does have an impressive sound recorder built in, in which you can store multiple pieces of music.
With built-in speakers, the Overture packs a punch and will be the life and soul of the party in any room.
We like the distinctive look of this piano, as it is not afraid to stand out and will add a sense of sophistication to any room.
Williams Allegro Digital Piano
The Williams Allegro digital piano features a full-size keyboard with fully weighted keys with hammer action for a realistic piano experience.
It has a touch sensitivity of four levels to provide adequate training and preparation for playing the acoustic piano along with velocity sensitivity.
The Williams Allegro, by admission, is a low budget piano and it does not claim to reach levels required of professionals.

Beginners will love the attractive look of the piano and will easily get to grips with its 88 weighted keys in no time.
Although this is a cheap digital piano, the Allegro does have more expressive control over the internal sounds than any other keyboard in its class.
It offers a polyphony of 64 notes for rich expression and mastery of complex musical pieces.
The piano features eight voices for experimentation, recording or practice with other instrument sounds.
There are 10 inbuilt songs ranging from classical pieces to popular songs that beginners can begin to play on their own.
The metronome features adjustable tempo control to assist in practicing various works or to aid in efficient recording.
The Williams Allegro also functions with split and layer modes for enhanced practicing. It also features a damper pedal and MIDI recording and playback ability.
Yamaha DGX-650 Ensemble Digital Piano
The Yamaha DGX-650 is a good professional digital piano. It comes with a full-size keyboard with weighted hammer action.
It features a polyphony of 128 tones to layer notes without dropping off or compromising a single one. And there is a lot more to learn here.

The DGX-650 has a touch sensitivity of four levels and the sound mechanism derives from Yamaha's standard CFIIIS concert grand piano.
It also features 100 preset songs and over 100 voices along with a full dot LCD display, which makes music easier to follow and is a fun feature for younger learners.
A number of effects and functions are available including Chorus, Reverb, Split Mode, Layer Mode, Transpose and nearly 200 styles of accompaniment.
The chorus feature is something we are really taken by as it can create entire chords, from pop triads to jazz styles with just the touch of one tone, sounds impressive, don't you think?
If all of these features sound a little overwhelming, don't worry, this is a very intuitive piano with features that put user ease at the heart of its production.
An experienced player who plays this piano will be surprised at just how much like an acoustic piano the DGX-650 is, so much so that this model is often used in professional recordings.
We recommend you to check the new Yamaha DGX-660 – it is amazing!
Yamaha P-35 Portable Digital Piano
The Yamaha P-35 is an 88-note portable digital piano with a Graded Hammer Standard (GHS) keyboard that offers a feel similar to that provided by an acoustic piano.
The instrument utilizes Advanced Wave Memory sampling to retrieve acoustic sound, a technique that creates a deep rich sound by using a pair of waveforms captured with separate microphones.
There are 10 fun and creative inbuilt voice demos, including two grand pianos, two harpsichord variations and a vibraphone and there are 10 preset songs.

The P-35 also boasts a touch sensitivity of four levels, offering a more realistic response.
The MIDI In/Out outputs provide versatile connectivity for transporting tracks to and from a computer and other instruments.
With a sturdy stand, headphone outputs and a duo mode feature, the P-35 has everything you need to get you started on your musical journey.
The unit also features a number of Function modes for enhanced expression and practice ability. This is a low-budget digital piano that is not going to break the bank balances but refuses to compromise on quality.
If you are looking for an introductory level digital piano, you can't go far wrong with the Yamaha P-35.
This piano is ideal for schools or at home and is sure to make learning to play the piano fun.
Casio Privia PX-850 Digital Piano
The Casio PX-850 features a full keyboard with 88 weighted keys utilizing Scaled Hammer Action with three layers of touch sensitivity.
Casio intended to make the most impressive digital grand piano of all a time and we are finding it hard to disagree with them.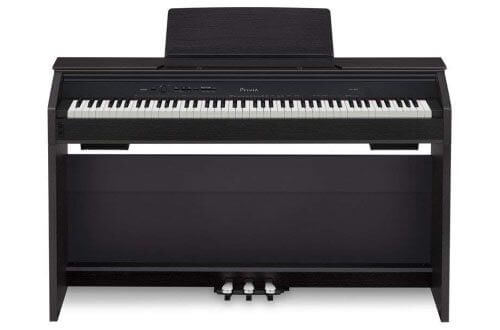 Its Acoustic & intelligent Resonator sound source captures the acoustic grand sound and the PX-850 produces this sample beautifully.
The 20-watt speakers will amplify your beautiful music and the impressive memory will allow you to store more music than ever before.
The Damper and String Resonance and Hammer Response systems have also been put in to guarantee that you get the most realistic playing and listening experience possible in a digital piano.
Also impressive is the instrument's 256-tone maximum polyphony, the highest of any digital piano on the market.
The superb polyphony allows each tone to be expressed when complex portions are played in more advanced pieces.
There is no LCD screen, but this is a minor negative as all its other features will blow you away.
Of course, with high quality comes high price tags and this model is certainly something that you need to be certain of before investing.
If you do go for it, you will not be disappointed and you will be sounding like a professional in no time.
Yamaha P-105 Digital Piano
The Yamaha P-105 is an 88-key digital piano with graded hammer action that gives it a similar feel to an acoustic.
The P-105 follows on from all-round favorite, the P-95, that was once considered hard to beat but has now been surpassed by this model.

The piano's sound mechanism is derived from Yamaha's famous Pure CF sampling technique.
This sound sampling is recorded from the celebrated Yamaha CFIIIS acoustic grand.
It has a 128-note maximum polyphony for total tone expression.
With separate woofers and speakers located at each side of the keyboard, the P-105 surpasses its competitors in this budget range.
You will be hard pressed to find the same sound quality for this price. It features four levels of touch sensitivity for realistic acoustic response.
It also offers a variety of connectivity options with a USB port and AUX outputs, although there is no midi port.
If you did want to record directly onto the piano you can do, however there is only enough storage for one piece of music.
The instrument's Pianist styles are unique to this model and allow users to turn a simple chord into full accompaniment.
Yamaha P-115 Digital Piano
The P-115 is one of the best-selling digital pianos on the market, and for a good reason. It includes the sound of the renowned CFIIIS 9' concert grand.

The keys are made with Graded Hammer Standard (GHS) that have heavier touch in the low end and lighter touch in the high end.
This makes it ideal for practice until the keyboardist is ready to test his skills on an acoustic piano.
You can also control the keyboard through the Yamaha free app, 'Digital Piano Controller' that is compatible with iPhone or iPad.
It also comes with in-built drum rhythms for practice and performance. You could choose from patterns such as rock, swing and shuffle.
On the downside, the control buttons are not intuitive, and it can be difficult to memorize most of the functions.
Casio Privia PX-150 Digital Piano
The PX-150 is one of the latest in a long line of quality digital pianos from Casio and it packs a powerful punch in terms of sound quality and features.
With an outstanding 128 polyphony, 88-note tri-sensor key design and quality dampener resonance simulator, the sounds from this piano are very realistic.
This lightweight digital piano features weighted keys with tri-sensor scaled hammer action.
The touch sensitive keys can be a little tricky to get the hang of, but after a bit of practice you will feel like and expert.

You will have plenty of space to practice as this piano features over three times the amount of memory as previous Casio models and has a USB and MIDI port, if you are making lots of music.
One nifty feature is the ability for you to split and layer your sounds on the PX-150, you can play bass with your left hand and have two layers of tones at your right.
The Casio PX-150 uses an Acoustic and Intelligent Resonator sound engine to produce a piano sound true to the acoustic piano.
Not only does this piano sound like an acoustic, the ebony and ivory touch keys also look the part.
Roland F-120 Digital Piano
The Roland F-120 features the Ivory Feel-G weighted keyboard, giving the player genuine touch response as that found in an acoustic grand piano.
With a 128 polyphony, built in external output and metronome recorder, to name but a few excellent features, the Roland is making waves in the digital piano world.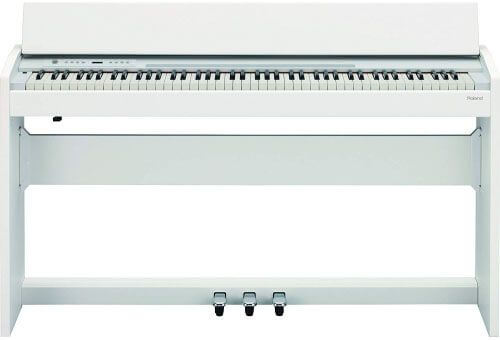 The SuperNATURAL sound engine offers a tonal representation that rivals that of the real instrument.
This technology is pushing the boundaries of electronic music production and we think that Roland have done a great job.
Another feature that we love about this piano is the dedicated front panel keys that allow for piano practice and structured lessons.
You can see how Roland have gone the extra mile when developing technology that captures a proper decay of each note, just as it would the sound on an acoustic piano.
With a lightweight and stylish finish (you can choose between a black or a white finish) this is a piano that looks as great as it feels, which is not often the case when it comes to the aesthetics of digital pianos.
The Roland F-120 is an impressive entry level digital piano that you should definitely learn more about.
Roland RD-300NX Digital Piano
The RD-300NX is a lightweight digital piano with a full-size keyboard featuring the Ivory Feel-G texture and touch.
This feature offers immediate access to versatile piano and electric piano voices with simple one-touch buttons.
Roland set a precedent with their RD-700NX piano, but the 300NX offers the next best thing for those on a tighter budget.

The sound mechanism derives from the series' SuperNATURAL engine that provides a realistic experience compared to a standard piano.
The Sound Focus feature allows even the most delicate notes to be heard and ensures the sound is rich and full without coloring or compressing its tone.
The great tonal variation will appeal to those who are serious about making digital music and, why it will not be suitable for professionals, it will play well for performances.
There are some features that are difficult to navigate, particularly the voice changing function, which can be a little complicated.
This is just one small negative in a sea of positive features of this excellent, cost-effective piano.
The model remarkably offers hundreds of preset songs and many times as many voices for the best in instrumental expression.
With all the added features that you would expect on most top digital pianos, such as midi output, USB functionality and headphone outputs, you can pretty much be up and running as soon as you take it out of the box.
Roland HP-201 Digital Piano
The HP-201 is an 88-tone digital piano with weighted keys and 128-tone polyphony, which is one of the highest polyphony tones among most popular digital pianos. For an enhanced experience it offers four levels of touch sensitivity.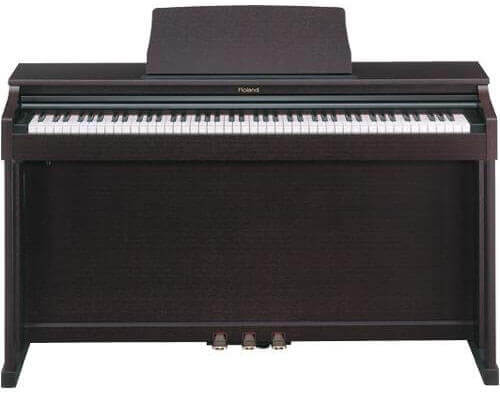 We love how each tone has multiple samples of its own and the touch response means each key reacts to the slightest pressure from the lower tones to the delicate treble tones.
The piano features a PHA II keyboard and offers a genuine acoustic grand feel by providing the same natural response found in the real instrument.
The weighted keys are heavier in the lower range while lighter for higher tones.
One of the pianos best features is its improved keyboard. It shows a wider dynamic range with multiple sound samples for every tone.
The Roland HP-201 offers Twin Piano Mode that splits the keyboard into separate halves in order to facilitate instruction. Both teacher and student benefit from using their own keyboard.
It comes with a number of features built-in such as its metronome, music stand and pedals, among others.
The device includes a number of adjustable features for total control in addition to USB MIDI connections.
Yamaha YPG-235 Portable Grand Piano
The Yamaha YPG-235 76-key portable grand piano is a sleek and powerful keyboard loaded with features that are great for musicians of all ages.
With Yamaha's Graded Soft Touch piano style keys and weighing in at just over 18 pounds, this lightweight piano replacement is perfect for all your music needs.
For the beginner pianist, Yamaha's Education Suite, various lessons modes, and lesson grading system are a magnificently powerful tool that can help you start playing and performing in front of friends.

The Yamaha Education Suite is a learning tool that comes with three distinct modes: Waiting Mode, Your Tempo Mode and Minus One Mode, all features that you will not see in many other models.
For the advanced musician, its 6-track/5 song slot recording system is great for outlining and creating music.
Once you are accustomed to playing, there are five different equalizer sounds are included to provide the best playback, whether it be through the keyboard's internal speakers, headphones, or external speakers.
There is a USB to Host connectivity provides an easy method to transfer and back up any recordings.
The only downside is that there are only 76 keys, which may be a little restrictive for those who are wanting to reach higher levels of piano playing, but other than that this is a great piece of kit.
Casio CTKVK3 PAK (CTK-2080) Keyboard Package
Casio has a great ability to market their keyboards to the general instrument-buying public. Their strategy has kept them in business as instrument specialists.
With the CTKVK3 PAK they have tried to attract the buyer who doesn't want to find out that there are a whole lot of accessories that they haven't budgeted for and will be needing in order to make the instrument functional.

The bundle pack includes the power supply as well as a keyboard stand. The inclusive pack still manages to come in at around $200 and the accessories, if bought on their own, would at least sell for $60.
As far as the actual keyboard goes, this 61-key variety is a standard entry level type keyboard and Casio have been making these for almost as long as they have been in the calculator business.
The keyboard, itself, is the CTK-2080 – the entry level instrument in the CTK range.
It offers multi-functionality and includes many different sounds as well as accompaniment and sampling features. This keyboard is especially suited to first-timers who want to be exposed to the world of music.
Yamaha PSR-E343 61-Key Portable Keyboard
Yamaha has had a long history of making portable keyboards and continue to refine the technology that accompanies these instruments. With previous models setting pretty high standards how does the PSR-E343 compare?
The PSR-E343 is a worthy competitor in a pretty saturated market. Buyers are spoilt for choice, but for those doing their homework and comparing prices in a feature for feature scenario they should definitely put the PSR-E343 on their list of options.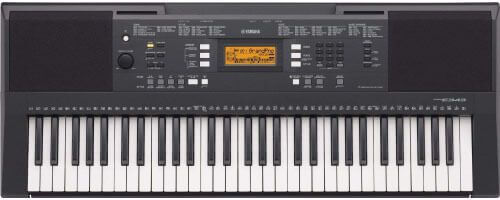 The keyboard offers a large range of features and provides a plethora of experimental music-making to satisfy the creative curiosity of musicians.
The Yamaha PSR-E343 comes in at a very reasonable price and offers an array of typical keyboard functions which can be utilized to create a vast range of musical projects for the novice to intermediate musician.
The PSR-E343 is born from a long line of electronic keyboards and Yamaha have learnt over the years which features are being sought by their customers.
They continue to meet and exceed the expectations of their clients and manage to pack in an impressive range of features into this highly portable model.
If you are a loyal Yamaha fan, you will be suitably impressed by this model, but if you are new to Yamaha you will not necessarily be blown away.
Yamaha ARIUS YDP-162 Console Digital Piano
Yamaha has had a long-standing background of providing quality acoustic instruments.
125 years in the music business has given them a reputation of producing high quality products.
They may not have produced the first digital instruments but their entry into the digital piano market has always been met with favorable reviews.
Presently their keyboard ranges are split into the cheaper ARIUS range and the more expensive Clavinova series which generally offers a greater range of features.
The YDP-162 is the mid-priced version of their latest offerings in the ARIUS range.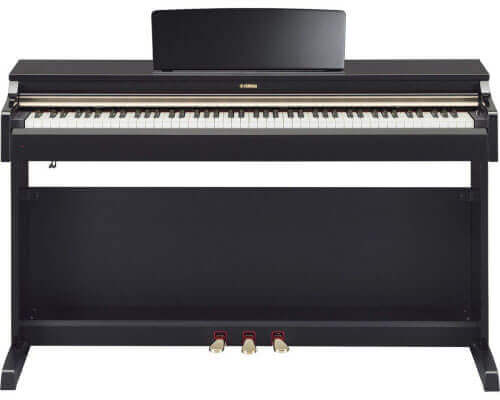 It is a stylish looking instrument that offers a few well-chosen features and a really good sound and feel.
Yamaha has yet again produced a top quality digital piano with excellent sound reproduction.
It exceeds the expectations of users familiar with Yamaha's already stringent quality controls and sets a new standard in digital sound and touch realism.
The instrument offers a deeply satisfying sound while being played and easily fills the space in a reasonably sized room.
The instrument sound remained suitably accurate and complex over the range of volume settings.
The ARIUS provides a digital piano solution for users needing a true-to-life sound and feel.
Casio CTK-2400 61-Key Portable Keyboard
Casio's long-time foray into the keyboard business has been met with mixed reviews over the years.
This has not stopped them producing a wide range of keyboards that have had successful sale records and kept them in business. The CTK-2400 is marketed as a sampling keyboard and this feature is what may attract buyers to it.

As a standalone instrument it provides a good starting instrument to young, curious musicians who like to explore musical possibilities through creative sound use and want an instrument that will give them access to some fun elements and assist them in making music.
You will not be blown away by this model as it is pretty standard and is not in the market of stretching its users.
Not every musical instrument has to be exciting though, sometimes you just need an instrument that will do the job at a hand.
The CTK-2400 has a large selection of functions that serve to enhance even the most novice of musicians to produce some substantial musical productions, but not necessarily showstoppers.
The CTK-2400 piano keyboard is a pretty decent entry-level keyboard with some added extra features that offer a little more bang for your buck.
Casio Privia PX-860 Digital Home Piano
Casio has really 'upped' their game in the digital piano market over the last few years.
Perhaps the high level of competition amongst many brands has made this the case, but nevertheless it bodes well for the consumer who would like some leverage in deciding what digital piano represents the best value for money.
With the PX-860, Casio have launched their product into the 21st century, boasting a range of totally usable features that favor the pianist in keyboard players.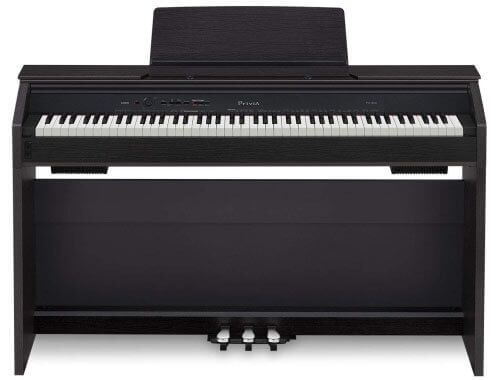 The multi dimensional morphing AIR sound source has an upgraded memory capacity and boasts three times the memory of previous samples.
This adds realism to the sounds created on the instrument.
The reverb, chorus and brilliance effects give the user a range of options in producing just the right edge to the sound and the variety of these give the user great control in adding the right finesse to the sound.
Casio has also taken the route of enabling interaction via USB ports for those musicians who like to link their instrument to notation and recording software.
There is a lot to be admired in this cool looking digital piano and it is worth a demo at your nearest stockist.
Yamaha ARIUS YDP-V240 Console Digital Piano
Yamaha has outdone themselves with the YDP-V240. This beautiful digital piano is in a class by itself. It is the instrument that easily accommodates every player from the novice to the expert.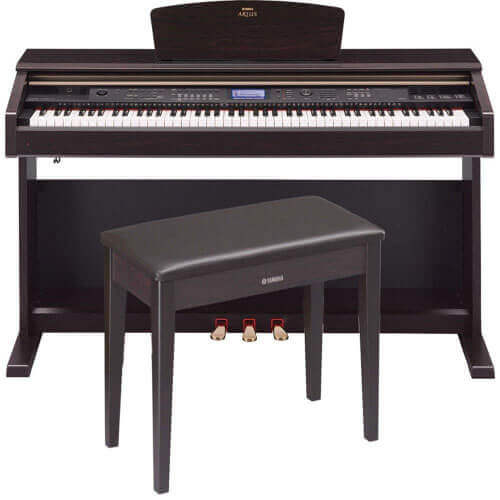 It offers dynamic stereo sampling. A 64-note polyphony. It has 131 voices, 361 XGlite Voices, 12 kits, 160 style options and 30 preset songs.
It is the instrument that you can learn on and the instrument that will grow with your skill set.
The 88-key graded hammer weighted keyboard crafted of synthetic Ivory keys gives the performer the response that compares to some of the finest acoustic pianos.
Yamaha's Pure CF Sound Engine delivers unprecedented sound.
The sound of the Yamaha CFIIIS 9 is produced seamlessly thanks to the Pure CF Sound Engine technology.
Record as you play with the built-in record feature.
Enjoy USB connectivity for easy data storage and for easy interfacing. From the realistic feeling pedals to the comfort of a familiar feeling weighted keys this electric piano really delivers.
Yamaha Piaggero NP-31 76-Key Portable Keyboard
There is no disputing that Yamaha is a leader in instruments and the Yamaha NP-31 just adds to the proof!
The Yamaha NP-31 delivers a great deal of features in a slim profile, compact, lightweight design. It is made for the musician on the go that wants a great reliable instrument that can go anywhere they go.

You can choose from the 6 AA battery powered function for on the go or the AC power adapter to power up this lightweight keyboard (less than 12 pounds) anywhere.
The Yamaha NP-31 delivers exceptional sound for a compact keyboard thanks to the AWM technology. The Advanced Wave Memory system allows the NP-31 to deliver a range of musical instrument sounds with precision.
The 76 key graded soft touch keypad enhances practice and performance with the acoustic piano like responses without the hammer weight. The built in metronome ensures practice is productive.
The voice control buttons and more make this an exceptional choice for piano players that need to take their work wherever they go. Don't let the portability fool you, this keyboard delivers.
Casio Privia PX-130 Digital Piano
The Casio PX-130 comes chock full of features that are perfect for the student, the musician and anyone that wants an instrument that delivers impressive concert piano sounds.
Some of the features that the Casio PX-130 offers include 88 keys that are weighted to scale, 128 polyphony, a full 16 tones with split and layering, 4 types of reverb, 4 types of chorus with a brilliance of -3 to 0 to 3, layer function with variable balance, 1 song recorder with 2 track function, built in 8 watt speakers, dual headphone jacks for teaching, USB port for connectivity and more.

One of the favorite features of the PX-130 is the duet mode for students. The duet mode is the perfect education tool for the budding musician. It allows the instructor to listen in and provide examples all during the instruction.
The Casio PX-130 is packed with features that are intuitive and user friendly.
This is a good keyboard to get started with and to grow with. It delivers the power you want for most compilations in a compact size.
It is a versatile instrument that can go wherever you go from home to the classroom and beyond.
Korg SP-250 Portable Piano
The Korg SP-250 is a popular, portable piano for all the right reasons. It offers the features, reliability and musical sounds that are hard to beat at this price point.
The graded hammer action delivers 3 different responses to work well with any style.
Choose from the 30 on board music sounds including strings, organs, guitars, chorus and more. Layer the sounds together to come up with unique composures.

You get the multi-velocity grand piano sound that is dynamic and that mimics the true sound of the grand piano.
It offers dual head phone output making it ideal for student and trainer use, bass reflex speakers with 22 watts of power and the output jacks makes it easy to connect to external devices.
The keyboard come with chorus and reverb effects that are completely adjustable to help further customize the playing experience.
Easy touch button features make this keyboard user friendly for the novice and appreciated by the advanced player. It has a powerful built in amplification feature.
The light weight case makes it easy to carry to any venue. This keyboard allows a wide range of expression and it perfect for any level skill set.
No matter what your budget is there is a digital piano out there that is priced right and that will meet your skill set needs.