It is always highly important to know the specifics before choosing the right digital piano for you. It allows you to consider all pros and cons of each of the pianos you have to choose from and you can make the decision based on facts, not opinions. However you most likely won't have the chance to play each of the pianos before making the decision.
Digital piano reviews
---
Other players could help you make the decision with digital piano reviews that are based on their knowledge and experience. For your convenience we have created a list of 44 piano reviews that shall tell you exactly what you need to know in order to make the decision.
---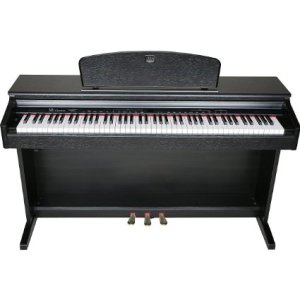 The Williams Overture is an 88-key digital piano with realistic weighed hammer action keys and a velocity-sensitive touch response.
Its 64-note polyphony allows for enhanced creative expression as do its 15 voices and 58 preset songs. The full-size keyboard features dual mode and split layer function for learning, teaching or experimentation.
The Williams Overture has a 2-song recorder for keeping track of progress development or song trials. A backlit LCD screen allows you to keep track of your progression and is an appealing feature to those new to digital pianos.
Three damper pedal provide sustain, soft and sostenuto note effects.The Williams Overture features expanded connectivity as well. It contains a MIDI in/out line, a USB to device connection and two headphone jacks.
If you are stuck for USB devices, the piano does have an impressive sound recorder built in, in which you can store multiple pieces of music. With built-in speakers, the Overture packs a punch and will be the life and soul of the party in any room.
We like the distinctive look of this piano, as it is not afraid to stand out and will add a sense of sophistication to any room. [click to continue…]
---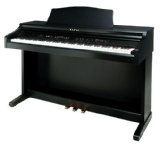 Fierce competition in the digital piano market has led to a great outcome. The consumer is spoilt for choice with instruments that are constantly upgraded in their sound quality, action and features.
The Kawai CE220 is the latest addition to this market and its entry into the competition makes it a leading contender on all three of these fronts, making it a digital piano, that is worth learning more about.
Modern day companies are looking to attract buyers of digital pianos by packing them full of features but sacrifice on sound quality and touch.
Kawai has attended to the requests of the most discerning of customers, not least because of the AWA PROII wooden-key action and a 3 pedal system that it proudly features.
Purists are forever asking if it sounds and feels like a real piano. With the CE220, Kawai have risen to the challenge and produced a quality instrument that is satisfyingly piano-like, both to the ear and to the fingers.
It boasts a progressive harmonic imaging sound technology with 88-key piano sampling, a 192 polyphony and an impressive 22 sound choices.
The Kawai CE220 is a real crowd pleaser and it features a dual and split keyboard if your friends fancy a duet! Get practising your party piece as you will want to play it all night long! [click to continue…]
---

The Williams Allegro digital piano features a full-size keyboard with fully weighted keys with hammer action for a realistic piano experience.
It has a touch sensitivity of four levels to provide adequate training and preparation for playing the acoustic piano along with velocity sensitivity.
The Williams Allegro, by admission, is a low budget piano and it does not claim to reach levels required of professionals. Beginners will love the attractive look of the piano and will easily get to grips with its 88 weighted keys in no time.
Although this is a low budget piano, the Allegro does have more expressive control over the internal sounds than any other keyboard in its class.
It offers a polyphony of 64 notes for rich expression and mastery of complex musical pieces. The piano features eight voices for experimentation, recording or practice with other instrument sounds.
There are 10 inbuilt songs ranging from classical pieces to popular songs that beginners can begin to play on their own.
The metronome features adjustable tempo control to assist in practicing various works or to aid in efficient recording. The piano also functions with split and layer modes for enhanced practicing.
It also features a damper pedal and MIDI recording and playback ability. [click to continue…]
---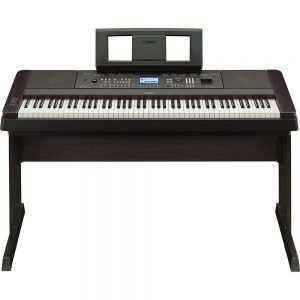 The Yamaha DGX 650 is a professional digital piano – a full keyboard with weighted hammer action.
It features a polyphony of 128 tones to layer notes without dropping off or compromising a single one. And there is a lot more to learn here.
The DGX 650 has a touch sensitivity of four levels and the sound mechanism derives from Yamaha's standard CFIIIS concert grand piano.
It also features 100 preset songs and over 100 voices along with a full dot LCD display, which makes music easier to follow and is a fun feature for younger learners.
A number of effects and functions are available including Chorus, Reverb, Split Mode, Layer Mode, Transpose and nearly 200 styles of accompaniment.
The chorus feature is something we are really taken by as it can create entire chords, from pop triads to jazz styles with just the touch of one tone, sounds impressive, don't you think?
If all of these features sound a little overwhelming, don't worry, this is a very intuitive piano with features that put user ease at the heart of its production.
An experienced player who plays this piano will be surprised at just how much like an acoustic piano the DGX 650 is, so much so that this model is often used in professional recordings. [click to continue…]
---


The Yamaha P35 is an 88-note portable digital piano with a Graded Hammer Standard (GHS) keyboard that offers a feel similar to that provided by an acoustic piano.
The instrument utilizes Advanced Wave Memory sampling to retrieve acoustic sound, a technique that creates a deep rich sound by using a pair of waveforms captured with separate microphones.
There are 10 fun and creative inbuilt voice demos, including two grand pianos, two harpsichord variations and a vibraphone and there are 10 preset songs.
The P35 also boasts a touch sensitivity of four levels, offering a more realistic response. The MIDI In/Out outputs provide versatile connectivity for transporting tracks to and from a computer and other instruments.
With a sturdy stand, headphone outputs and a duo mode feature, the P35 has everything you need to get you started on your musical journey.
The unit also features a number of Function modes for enhanced expression and practice ability. This is a low budget keyboard that is not going to break the bank balances but refuses to compromise on quality.
If you are looking for an introductory level digital piano, you can't go far wrong with the Yamaha P35. This piano is ideal for schools or at home and is sure to make learning to play the piano fun. [click to continue…]
---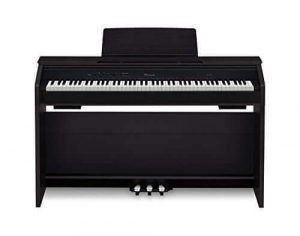 The Casio PX850 features a full keyboard with 88 weighted keys utilizing Scaled Hammer Action with three layers of touch sensitivity.
Casio intended to make the most impressive digital grand piano of all a time and we are finding it hard to disagree with them.
Its Acoustic & intelligent Resonator sound source captures the acoustic grand sound and the PX850 produces this sample beautifully.
The 20-watt speakers will amplify your beautiful music and the impressive memory will allow you to store more music than ever before.
The Damper and String Resonance and Hammer Response systems have also been put in to guarantee that you get the most realistic playing and listening experience possible in a digital piano. Also impressive is the instrument's 256-tone maximum polyphony, the highest of any digital piano on the market.
The superb polyphony allows each tone to be expressed when complex portions are played in more advanced pieces. There is no LCD screen, but this is a minor negative as all its other features will blow you away.
Of course, with high quality comes high price tags and this model is certainly something that you need to be certain of before investing.
If you do go for it, you will not be disappointed and you will be sounding like a professional in no time.[click to continue…]