If you've played a digital piano or a keyboard in a school, college or round a friend's place, there is a really strong possibility that it was made by one of these two brands.
"Casio vs. Yamaha" is a debate which has rumbled on for a long time. In music, people love to have an opinion and often give one brand their loyalty.
Just like Fender has its fanatics in the world of guitar, there are people who will fervently defend their favorite digital piano and keyboard brands!
To add to the debate even further, a lot of people will stick to their favorite brand. Whereas some guitarists will own multiple guitars, it is likely that due to size, you may well only ever have one keyboard at a time, and this is even more likely to be the case with digital pianos. This means at some point, you may well have decided which brand is for you.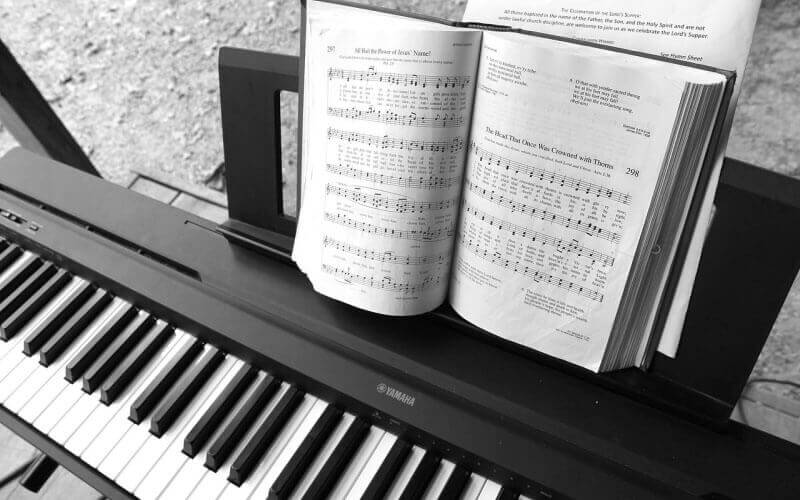 It isn't as simple as naming a brand for everything, though. Yamaha vs. Casio cannot be boiled down into a one-word answer, and we've looked into the strengths and differences in this article.
Our goal is to help you to decide which of these two brands is the best based on your own needs.
First, we're talking about the features and functions of the two brands as well as what the brands themselves offer, before moving on to discuss the prices and what is available at each price point.
Choice
To put it very simply, there is more choice in the Yamaha range than there is in the Casio range. Both of these brands could be described as 'prolific' though, and there is no lack of choice in the Casio range either.
Yamaha's musical instrument operation is massive, and they offer all kinds of instruments whereas Casio sticks more to piano and keyboard products.
This is all we're worried about in this post, but even in the piano and keyboard category, Yamaha wins the day when it comes to choice.
In terms of digital pianos, they have the P-Series which stands for portable, and these pianos offer a lot of quality as well as being lightweight. A little is sacrificed on the speaker front but generally, they feel great to play.
The Arius series is great for all levels of player but is less portable. Clavinova and Portable Grand models are great for professionals and advanced intermediates who want an instrument with a really true acoustic feel.
Within these ranges, there are multiple models all with their own strengths and weaknesses, as we explore in our best of lists.
Casio digital pianos do cover the same bases, even if there are less of them. Within the Privia range are models with a more furniture based style and permanent fixtures for the home. They also make portable digital pianos and stage pianos such as the Casio PX-5S which is very favorably reviewed.
In terms of keyboards, the story is very similar. Though Yamaha offer more choice through more specific features being available and more variations of their models, both offer 25, 49, 61 and 88-key keyboards with plenty of features.
Neither of these brands could be described as lacking in choice when it comes to their keyboards. In terms of cost, Yamaha's keyboards tend to be slightly more expensive for a very similar set of features. For this reason, it could be argued that Casio represents slightly better value for money.
Feel
How do these products feel to play? This is a really big deal, and has a direct impact on how often you want to play the keyboard or piano, how quickly you look for a replacement, and even the playing quality.
A "nicer" feel is something both of these brands are always striving for, but most of the time, that means more realistic and true to an acoustic piano.
You may not want the action of an acoustic piano if you are buying a keyboard, but features such as velocity sensitivity, (meaning that the harder you hit the keys, the louder the note) feel more professional.
In a digital piano, this is all about the 'hammer action' of the piano. This is so-called because the way acoustic pianos traditionally work is by triggering a tiny hammer to hit the string and resonate.
This is the action which has been modeled in the elite products within the Casio and Yamaha range. It is hard to separate them in terms of quality.
Casio's Tri-sensor Scaled Hammer Action
Casio's system is called the 'tri-sensor scaled hammer action' which can be found within their Privia range and many of the products which have a "PX" at the start.
These include three different sensitivities and the keys feel heavier or lighter depending on both how you set up the piano and also whether you are playing low keys or high.
Their reaction to how hard you play the keys is very good, and it feels pretty close to playing an acoustic.
Yamaha's Graded Hammer Action
Yamaha has 'graded hammer action keys' which do a similar job. These have four levels of touch sensitivity which is slightly more than Casio, but generally speaking, they feel just as good, if not better.
Yamaha's graded hammer action can also be adjusted in their top models to suit the sensitivity you prefer.
Though the feel of both Casio and Yamaha pianos and keyboards is similar, at least among similar models, it is worth trying to play both to see if you have a preference before making your purchase.
Tech and Digital Features
Technology is more important than it ever has been! As a musician, an understanding of what tech can do for you gives you an incredible advantage.
Under the technological and digital features of the keyboards and pianos in both Casio and Yamaha's brand, we've considered all of the sounds, effects, and connectivity.
Remember that when comparing brands like this, the price is a big part of the debate. The most expensive Casio is going to be better and has more features than the cheapest Yamaha. We're generalizing to compare the features of similarly priced models (more on price below in our comparison).
Sounds and "Voices"
In general, when it comes to keyboards, Yamaha offer slightly more in the way of sounds and voices, but this depends on the individual models in question. Generally, both Yamaha and Casio keyboards offer loads of voices.
When it comes to high end digital pianos, there is a lot less choice as these sounds are far harder to create. Yamaha tend to offer more choice in this respect.
Effects
Effects is one area that Casio products really impress. Some of their products have multiple reverbs and choruses as well as other inbuilt effects, which can add a lot to your playing. These are available at a cheaper price than if you intend to buy a Yamaha product with similar effects.
Connectivity
In terms of connectivity, we are talking about things like MIDI compatibility, USB connectivity to connect to your computer and control virtual instruments and other sounds and even in some cases the ability to record and play music.
Both Casio and Yamaha products offer a good level of basic compatibility. Most of their products have MIDI and USB connectivity as well as the ability to use headphones.
Other Features
As you move up to the more expensive products in their range you will find more features including Yamaha's exceptional Education Suite which can help you to learn how to play piano.
Price
The price comparison when it comes to Yamaha and Casio products is vital. It helps establish who offers better value and also what you can get at the budget you have set for either a keyboard or a digital piano purchase.
We've compared the brands in three categories: budget keyboard, pro keyboard and digital pianos.
Yamaha vs. Casio Digital Pianos
For our full list of recommended high-end digital pianos and keyboards, click here to see which Casio and Yamaha models are on the list (there are plenty).
Yamaha Arius YDP-184 Console Digital Piano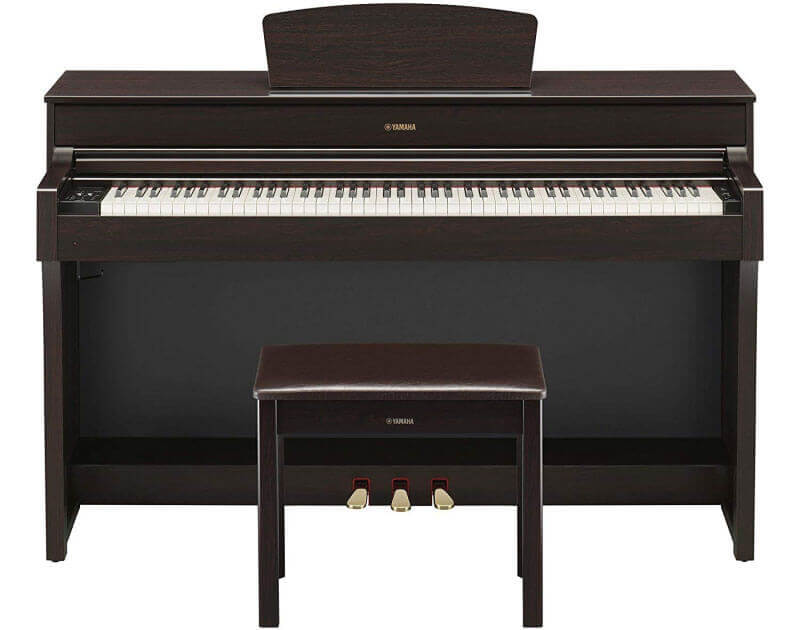 Within this list are the Yamaha YDP-184 which includes Yamaha's amazing Pure CF sound engine which models the sound on a Yamaha grand piano. The sound is one of the best available in digital pianos.
This model also has an LCD screen for displaying sheet music and more, and also has three pedals included. Via an app, it is iOS compatible meaning Apple product users can get a huge amount out of this and can learn how to play piano using the YDP-184.
Casio Privia PX-560 Digital Stage Piano

Casio Privia PX-560 is arguably the highest recommended digital piano in the Casio range. The PX-560 is a high-tech option from Casio which has a good quality acoustic piano tone and a great hammer action, but if you are looking purely for a realistic and true piano sound then Yamaha has slightly better options.
Where the Privia makes up for this is the fact that it has 650 different tones which can be played, much like their keyboards. It also has multiple built-in effects to further enhance your sound.
You can record directly onto a USB memory stick if you wish, and other tech features include the option to layer up the sounds of this piano.
Top tip: If you are looking for a cheaper model of digital piano, you can read our list of the 10 best digital pianos under $1000 that you can buy in 2023. This list includes products from both Yamaha and Casio.
Yamaha vs. Casio Budget Keyboards
$200 is a decent budget for a beginner or even intermediate player to get a keyboard with a good set of features and plenty of different sounds to work with.
Yamaha PSR-E363 61-Key Portable Keyboard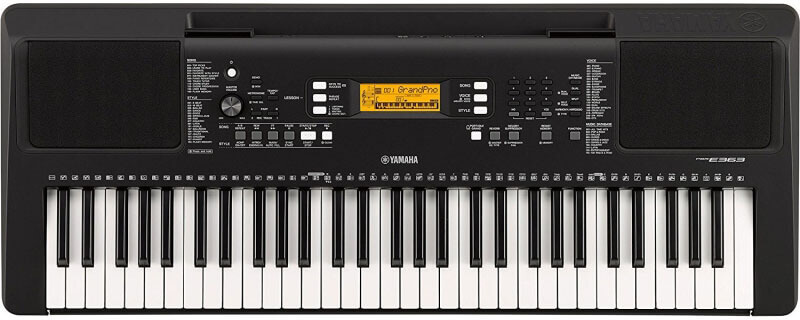 One product that can be picked up under this price is the Yamaha PSR-E363. This has almost 600 voices, is touch sensitive, has an arpeggiator built-in and can play along with songs from your phone or iPad. You can also use the Yamaha Education Suite with this product.
Casio LK-265 61-Key Portable Keyboard

A comparable model in the Casio range is the Casio LK-265, which is one of the best keyboards for beginners. It has 400 voices and 150 inbuilt rhythms, as well as its own learning system which involves lights and has 40 songs which are ready to learn.
Casio CTK-2550 61-Key Portable Keyboard
Under this price point is also the Casio CTK-2550, one of the best cheap keyboards which is much cheaper than the other two we've mentioned.
It can use batteries for power or an adapter, and has 400 tones, which is incredible considering the price. The speakers aren't quite as great, but the price is very appealing.
Casio vs. Yamaha Pro Keyboards
In this range, we get some impressive features.
Casio CTK-6250 61-Key Portable Keyboard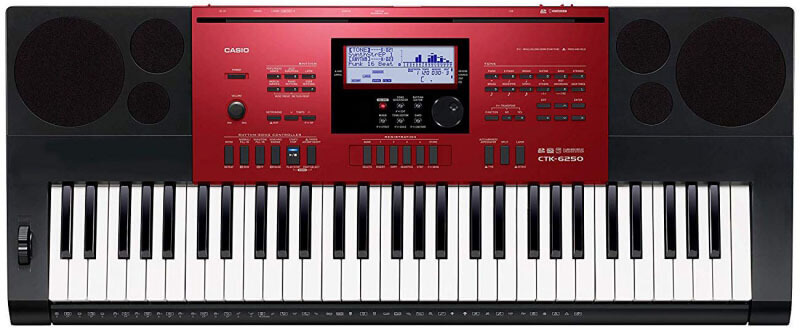 The Casio CTK-6200 has 700 high quality tones, 21 preset rhythms, reverb and chorus effects, as well as some other effects you can experiment with. The speakers are good quality and this is an option which can even be good for live performance.
Yamaha PSR-E463 61-Key Portable Keyboard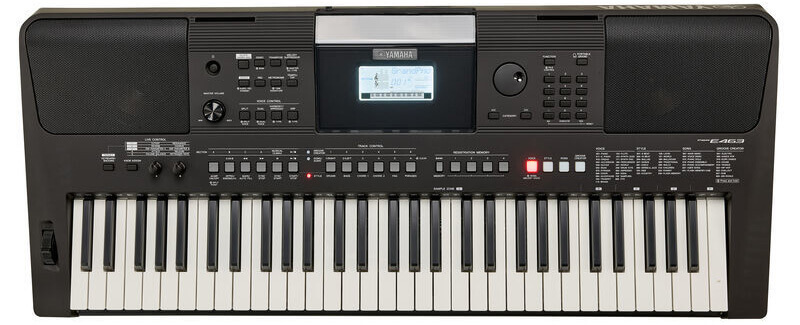 Slightly more expensive, the Yamaha PSR-E463 includes all the same tones as the other PSR models mentioned and some! Over 750 in total. This also has a sampling function so you can record and sample sounds.
Conclusion
Nobody can give a confident answer regarding which of these brands is the best. Generally speaking, they both have their pros and cons.
Casio tends to offer cheaper products with a good level of features and lots of sounds. Yamaha offers more choice, more products and also an exceptional sound when it comes to digital piano sampling, in their high-end models, at least.
Working out the right model for you is what is important, and matching up your needs with the strengths and weaknesses of the brands is the best way to do that.
Undeniably, these are two powerhouse brands in the world of keyboards and digital pianos, and their ranges tend to cover most bases and have suitable choices for beginner, intermediate and pro players alike.