If you've come across this article and intend to read it, then there's only one thing that's on your mind. Do I buy a Yamaha, or a Casio?
Both are good brands, true – reputable and relatively inexpensive – but both offer slightly different benefits.
So let's get right down to it.
Casio Digital Pianos vs Yamaha Digital Pianos
Two comparable models, the Casio PX150 and Yamaha P105 both strive to do one thing – make the player feel like they are playing a real piano. Nothing compares to the feel of ivory and ebony keys, or the vibration of a real grand beneath the fingers, but considering that these two contenders both weigh just 11KG and 16KG respectively, it's a very tall order.
This comparison, Casio PX150 vs Yamaha P105 is a great example of how two mid range keyboards stack up head to head. Casio seem to be intent on bringing that real piano feeling to all of their keyboards and digital pianos, introducing the 'tri-sensor scaled hammer action' to all their Privia models.
They come with three sensitivity settings which make the keys feel lighter or heavier, depending on your preference. Reviews have been overwhelmingly positive on this front, and after scouring the internet, I couldn't find a single bad word about this system – which is good, for Casio.
As far as Yamaha goes, their digital pianos are equipped with 'four levels of touch sensitivity for realistic acoustic response', which are hooked up to 'Graded Hammer Action' keys. Again, in layman's terms, this is basically their way of saying that the keys give a 'similar feel to an acoustic [piano]'.
Whether Yamaha is a little bit more straight with the consumer than Casio by saying that their keys only feel similar to an acoustic piano, I can't say. Either way, they both seem obsessed with bringing home that real-key feeling.
Down to the nitty gritty
Some simple comparisons shed light on the second most important thing you want from a digital piano.
Sound
Yamaha have gone all out with the P105, considering its price, and have installed fourteen voices. The flagship is sampled from the Yamaha CFIIIS acoustic grand – which is a great piano. The Yamaha features fourteen voices in all, compared to Casio's ten. However, considering most of the time you'll want it to sound like an actual piano, is four extra voices really a deciding factor?

Click Here for Pricing, Pictures and Reviews on Amazon.com
Both come with 88 keys as standard, and both come with 128 tones. Both come with top draw sound mechanisms, and both come with tweakable settings to alter the sound in subtle ways. The Casio PX150 just gets its nose in front here, offering four types of reverb, chorus, as well as adjustable brilliance on a six point scale.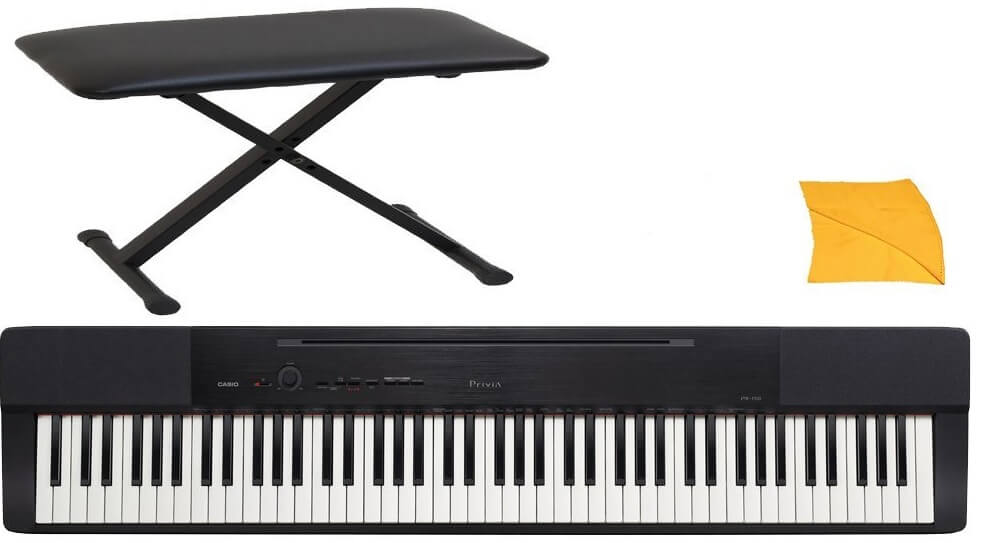 Click Here for Pricing, Pictures and Reviews on Amazon.com
This may not sound especially important, but for any studio musician/recorder, this dampening of the crispness will help make the piano line on any piece shine through or take a back seat depending on need – imagine cranking it up to +3 on the intro of Joel's Piano Man, and then scaling it back when the harmonica kicks, and then back up for the solo – see what I mean? It could be a really nice touch.
It's not to say though, that Yamaha has dropped the ball in any way on this front. Their P105 comes with Reverb, Damper Resonance and something they call Intelligent Acoustic Control – which does a somewhat similar thing. I think with such an expressive instrument at the fingertips of any pianist, the option to toggle these settings manually will always prevail over an intuitive machine.
When we look at the inbuilt functions however, things seem to get a little dicey for the Casio.
It features a straightforward interface with a split, layer and duet mode, and you can transpose the keyboard +/- 12 Semitones, and you get full manual control over it, which is nice. You can also manually tune it up and down to get full range of those 128 tones. It also has a metronome which goes from 20bpm to 255bpm.
I don't think it needs to go that far in either direction, but it does, and that's something, right? When you feel like suspending belief for a little while longer and pretend you're playing an acoustic, you can just walk away and trust in the Auto Off feature to knock the keyboard off after you've gone. Neat.
However, this is where Casio's functions run out, where the technicality ends and the fun begins. If it's all about the tomfoolery for you, then the Yamaha is looking pretty good right about now. It boasts all that the Casio does, albeit with slightly less manual control, as well featuring 10 pianist and rhythm functions, presumably, for when you just want to mess around and have some fun, which quite frankly, I find myself doing a lot.
Sometimes Chopin is just too sad – and nothing cheers a guy up like a remix of Yankee Doodle dueted by a funky jazz robot keyboard. Yamaha has the accompaniment settings that allow you to change the play style of your automated pal, letting you experiment in whatever ways you want.
Where do we go from here?
Casio bring everything you expect to the table, but so does Yamaha: both come with a sustain pedal, as standard, and both come with an optional three pedal kit – not standard.
The Casio keyboard unfortunately features only a single headphone jack, which is good for listening to yourself play – but in comparison to Yamaha's two jacks, it's only half as good. You don't always get someone tapping you on the shoulder while the family's watching TV, whispering 'What are you playing?' But when you do, it'd be nice to be able to hand them another pair of headphones other than the one's you're wearing.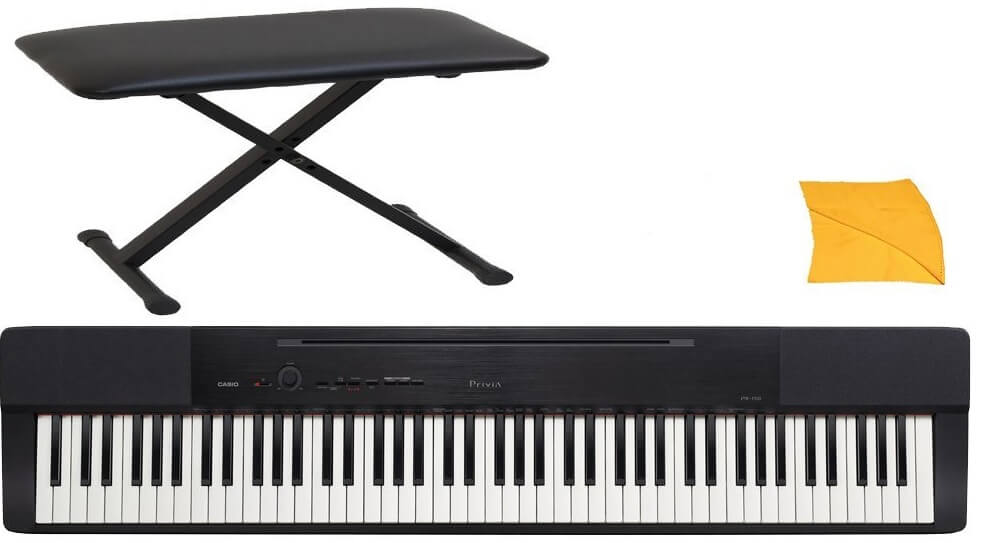 Click Here for Pricing, Pictures and Reviews on Amazon.com
Both feature USB connectivity for your downloading and uploading needs, and both feature line in and line out – however the Casio has MIDI In and Out, and the Yamaha only has Aux In and Out. This however, Yamaha say, is a non issue as the USB offers the computer connectivity, and the Aux allows for seamless integration of other devices – like playing an MP3 device through the speakers on the keyboard, as a backing track say; or when you want to pump the sound on the keyboard and run it through the speakers at home (or anywhere else for that matter).
The next BIG issue is this when thinking about a big purchase like this. In the great bout of Casio Digital Pianos Vs Yamaha Digital Pianos:
Casio offer a 1 year parts and labour warranty.
Yamaha offer a 3 year parts and labour warranty.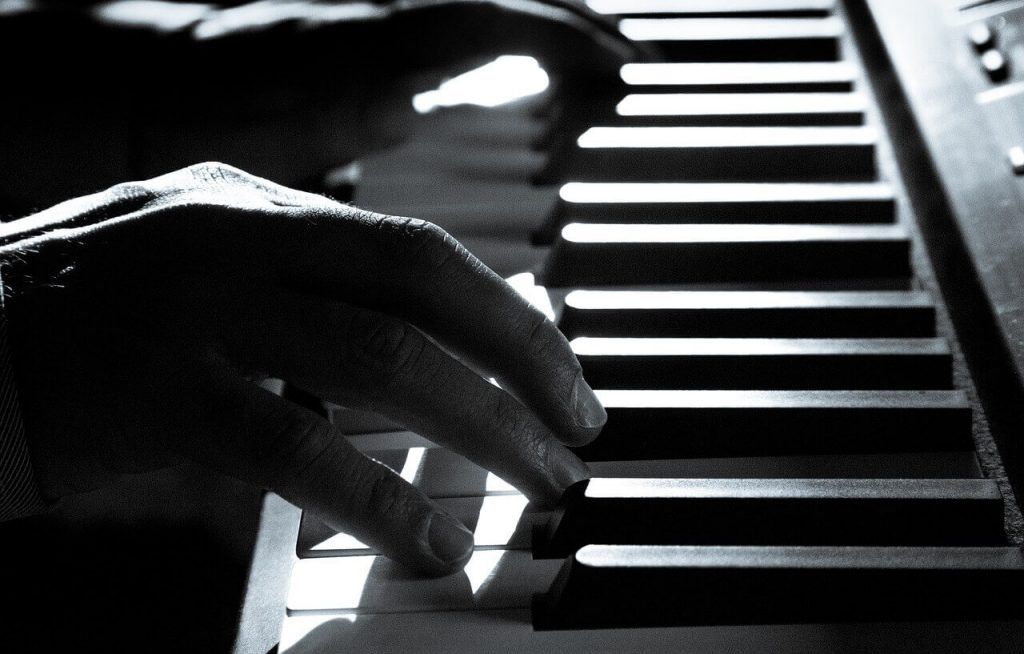 Now, all the reviews sing the Casio's praises in terms of their build quality and sturdiness, so whether it will ever break is one thing you need to ask yourself. Yamaha is known among musicians who play live as the stalwart keyboard brand, so if you find yourself carrying your keyboard around with you, slinging it in the backseat of your car and putting and pulling it off stage three times a night, then the three year warranty might be a bit more suited to you.
If you intend to keep it in your house and never move it, then from what I can see on the internet, both are reliable machines and neither are prone to kicking the bucket for no reason. Aesthetically speaking, Casio has a slightly slicker look, but the Yamaha is no slouch either. Both are notoriously good looking pieces of equipment.
Casio Keyboard vs Yamaha Keyboard. Mono a mono – and the decision?
It's this:
If I were a tech head sound recordist, composer, or working musician in the sense that I was sitting behind a computer screen, layering tracks and listening to playback through headphones worth more than my car, then I'd go for the Casio.
I think the manual tweaks are too good to pass up when you're the type of person who needs control over everything. If you've got it all laid out in your head and you need a to-the-point tool to act as a channel for your music, then this is the digital piano for you.
But if I were a player, who liked to perform every now and then with my friend's band; play for the family at Christmas; teach the little boy next door how to tickle the ivories; and take my keyboard down to the community centre to jam out with the people there; well heck, I don't think anything compares to the fun-factor that the Yamaha has. You can teach, show off and clown around on it with an ease that the Casio can't compete with.

Click Here for Pricing, Pictures and Reviews on Amazon.com
I can't say that one is better than the other. All I can say is that whichever you choose, you're getting a great instrument either way.