Finding the answer to the question of Kawai vs. Yamaha digital piano requires us to go back to the beginning of the story.
Digital pianos are just one of the 'new' types of instruments we have seen developed ever since digital age took over. At first, they were these crude piano lookalikes which were anything but comparable.
In other words, at the time, they were more of a gimmick than something a pianist would even consider using. Naturally, as time went by the technology behind these instruments advanced significantly.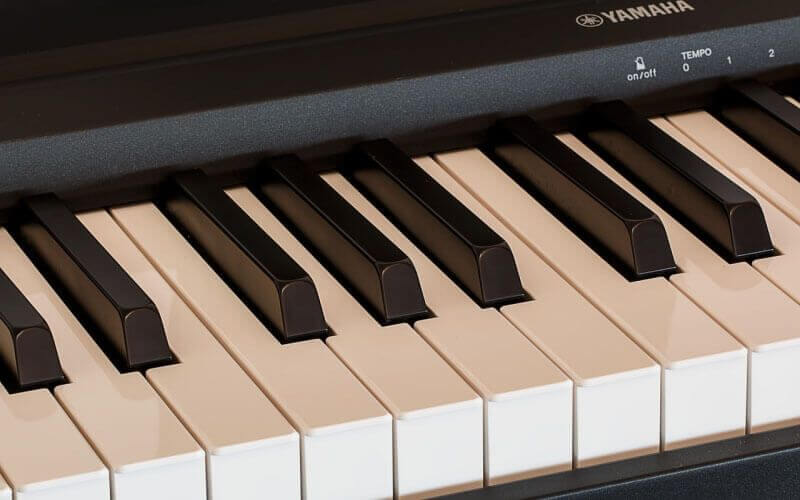 Digital pianos we have today are slowly creeping up to their acoustic counterparts in terms of sound quality and feedback.
With that said, the industry that governs this particular type of pianos has been evolving. Slowly but surely, several top piano brands came out on top as the go-to choices for those who refuse to compromise. One of the most interesting rivalries is that between Kawai and Yamaha.
These two giants have been slugging it out for quite a while now, each trying to increase their market share by producing ever better digital pianos.
Today we are going to try and figure out which one of these two brands is better and if so, why?
Kawai vs. Yamaha Digital Piano – Which One Is Better?
Before going any further, let's just preface this guide by saying that both of these brands make some of the best digital pianos out there. That should go without saying. With that in mind, both Kawai and Yamaha have a different policy when it comes to digital pianos.
Yamaha is much more traditional in their approach to mimicking acoustic pianos. This is especially true when you look at their high-end models. We are talking real wood, natural materials and more.
On the other hand, Kawai has been experimenting with high-grade plastics in their designs. Both of these approaches have their benefits and flaws.
You could say that Yamaha caters to more conservative players who are looking for the highest levels of authenticity while Kawai tailored their line up to the modern pianist.
This difference transcends the materials and design of their digital pianos. Tone and other performance related aspects are also affected.
Yamaha tends to have a much brighter tone which is still full of warmth, especially in the higher frequency range. Kawai's designs are a bit flatter but rather organic in the way they produce the tone.
Kawai vs. Yamaha digital piano rivalry also shows when you look at the feedback mechanisms both brands are using.
Feedback is one of the main metrics for determining the quality of a digital piano. It all comes down to the action – whether it is weighted or not, how this is achieved.
Kawai excels in this respect by delivering some of the best weighted action keyboards available on the market.
Even though they mostly use composite materials, you can still be extremely subtle while playing a Kawai digital piano.
This ability has put them on the radar of those who are on the fence between a more conservative design and something as 'modern'  as Kawai.
Yamaha's weighted action systems are not behind the curve either. While focusing more on natural materials, they are able to closely replicate the action of an acoustic piano. Along with the sensation of authentic piano keys.
Finding the Clear Winner
The most truthful answer you can get when it comes to the whole Kawai vs. Yamaha thing is that there is no clear winner in terms of quality. Both of these brands deliver impressive models, but it all comes down to what you prefer.
Each pianist has their own set of preferences. Just like with cars, you can have two models which are seemingly almost identical, but you will probably like one more than the other. Why? Because it suits your style better.
It is a similar situation with Kawai and Yamaha digital pianos. Some players simply love the more traditional vibe of Yamaha, while others prefer Kawai.
Head to Head Comparison
With everything we've said so far, the best way to show you the difference between these two brands is to do a head to head comparison of some of their models.
We have chosen a couple of digital pianos which are similar in design and are placed in the same price range.
Let's start with two heavy hitters first.
Yamaha Arius YDP-143 Digital Piano
Console digital pianos are among the most popular formats these days. Aside from being somewhat closer to their acoustic counterparts in terms of appearance, they allow for much more relaxed internal design.
Yamaha YDP-143 Arius Series is a top digital piano that comes at around $1000 and has a lot to offer.
The whole thing is made of wood and comes with a rosewood finish. This is an 88 key model that features Yamaha's GHS weighted action.
In other words, the lower notes are going to feel heavier than the higher ones, which mimics the feedback of an acoustic piano.
The sound engine used for Yamaha Arius YDP-143 is pretty versatile and goes by the name of Pure CF. It comes with a large variety of presets, but the one most are interested in is the concert grand piano.
Yamaha used a very delicate technique to sample their Yamaha 9' CFIIIS and deliver that same experience in a digital form.
Reproduction and rendering of those samples is done on a very high level. Sure, a professional pianist would probably notice the difference, but you can't really beat this kind of performance for this price.
Let's recap the main features real quick:
Keyboard: GHS keyboard with 88 keys and matte black keytops
Number of Pedals: 3
Tone Generation: Pure CF Sound Engine
Polyphony: 192 Maximum
Number of Voices: 10
Effects: Four types of Reverb
Now that we have seen what Yamaha has to offer, let's check out a similar model from Kawai.
Kawai KDP90 Digital Piano
Kawai's more or less direct answer to the Yamaha we have just talked about comes in form of Kawai KDP90 digital piano.
Similar in design, KDP90 also features a nice rosewood finish, 88 keys and an overall level of quality that is on par with Yamaha's model. Similarities don't end here, but we will get on that a bit later.
In terms of action, Kawai offers KDP90 with their AHA IV-F – or Advanced Hammer Action IV-F. The main feature of this action is the completely springless design.
No matter the velocity you use, the travel of the key from its default position to being fully pressed is going to be smooth and linear. The idea here is to introduce reliable consistency.
Sound engine that comes with this piano is pretty great. They have used Harmonic Imaging System – a process which is unique to Kawai, to sample their well known EX concert grand piano.
The quality of reproduction and sound this configuration offers is impressive, to say the least.
Aside from the concert grand, KDP90 comes with a variety of other voices as well. Let's check out the main features.
Keyboard: AHA IV-F keyboard with 88 keys
Number of Pedals: 3
Tone Generation: Harmonic Imaging System
-Polyphony: 192 Maximum
Number of Voices: 15
Effects: Three types of Reverb
As you can see, there are quite minor differences between Yamaha's and Kawai's models we've chosen to look at.
The main difference comes in the way they feel while playing and the sound they offer. For the most part, both of these will satisfy an experienced pianist.
Bottom Line?
The bottom line is fairly simple. Figuring out the answer to Kawai vs. Yamaha digital piano question comes down to your own taste.
The best way to be sure is to go out and try both of these brands in person. Everything can be described with words, but you won't be able to understand the true difference until you sit down and play each for a while.
The emphasis on feel over specs comes with a good reason. If you are going for a high-end model, specs are something you should be too worried about.
Most of the new high-end digital pianos meet a certain standard that has been imposed by the market itself. Failure to meet that standard results in a lot of bad press, as the community has a very low tolerance for poor quality control.
As a pianist, your task is to figure out what you need from a digital piano, and then find a model that meets those requirements.
The logo of the brand that is going to sit on the piano you choose shouldn't matter too much. Similar advice can be given to those who are searching for a good beginner digital piano model.
Naturally, shopping in this price range requires a higher level of care. Especially when you are dealing with more compact, all-in-one digital pianos.
We hope this short guide has helped you find answers to some questions you might have had. Ultimately, our intention was to bring you closer to making an educated choice you will be happy with.