The Korg LP-380 is ideal for serious students. It's an energy efficient instrument that doesn't skimp on sound quality or options.
There is a lot to learn about this digital piano and there is no doubt that you should take your time to learn everything that matters. And this Korg LP-380 review will help you.
Though the LP-380 is a great all around digital piano, the feature that really sets it apart and makes it such a strong contender for students is the inclusion of three pedals. There's no need to purchase additional pedals when using the LP-380, cutting down on overall cost.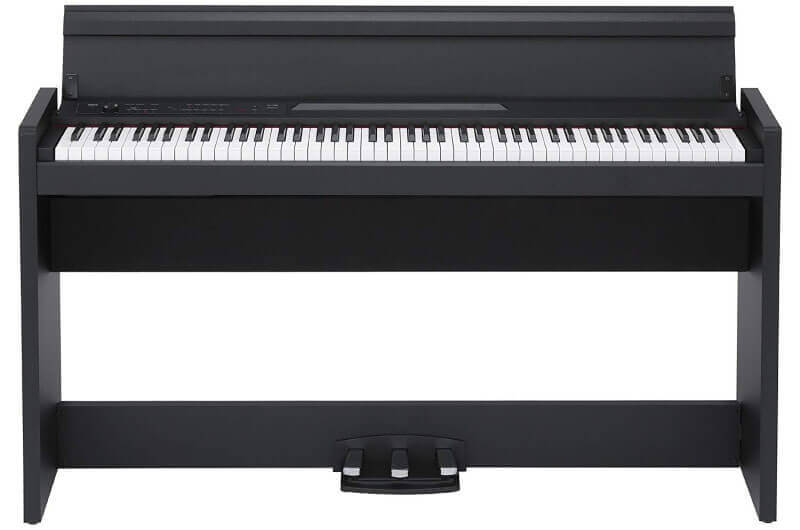 One of the piano's main drawbacks, its lack of portability, should not be too much of an issue for students who prefer a more stationary piano.
Technical Specifications of the Korg LP-380
Dimensions (WxDxH): 53.35 x 13.82 x 30.39 inches (with key cover closed), 53.35 x 13.82 x 36.85 inches (with key cover opened)
Weight: 81.57 lbs (including stand)
Keys: 88, Real Weighted Hammer Action 3
Power Consumption: 15 W
Power Supply: DC19 V, AC adapter
Touch Response: Heavy, Normal, Light
Polyphony: 120
Pitch: Transpose, Fine Tuning
Songs: 30 (10 Sound Demo songs and 20 Piano Demo songs)
Amplifiers: 22 Watt x2
Speakers: 10 cm x2
Sounds: 30 (10 x 3 Banks)
x6 – Electric Grand, Electric Piano
x5 – Acoustic Piano
x3 – Choir 3, Pipe Organ, Jazz Organ, Acoustic Guitar, Vibraphone, Strings, Marimba
x2 – Clavi, Harpsichord
Effects: 3 Levels Each
Metronome
Time Signature
Tempo
Sound and Volume controls
Accent
Pedals
Inputs/Outputs
Line Out
MIDI (In, Out)
Headphones x 2
Speakers
DC19 V
Features of the Korg LP-380
Design
The LP-380 is one of the slimmer, more elegant designs that Korg offers; at just a little over a foot deep, the LP-380 can fit almost anywhere, blending easily into any room. The added protection of the wooden key cover keeps the keys safe when the piano isn't in use.
To ensure that the key cover closes gently, Korg designed it with a soft landing mechanism. Though the chassis is ultra slim, it lacks nothing in stability.
Compared to the previous model (the LP-350), the LP-380 is lighter and easier to move and assemble.
Keyboard
Playing the LP-380 more closely resembles playing a grand piano, thanks to the digital piano's Real Weighted Hammer Action 3 keyboard; keys in the lower register have a heavier response, but the higher up the piano a musician plays, the lighter the keys become.
Though playing quick musical passages can be a challenge on some cheaper digital pianos, the Korg LP-380's keyboard has better responding time to repeated keystrokes than many of its peers.
The LP-380 also comes with the Key Touch Control function, which enables a pianist to choose from three levels to customize how the piano responds to certain playing dynamics.
Pedals
Musicians don't have to worry about buying additional pedals for the LP-380; the damper pedal, soft pedal, and sostenuto pedals are included. Players also have the option of half-pedaling on either the damper pedal or the soft pedal.
Metronome
The built-in metronome, a useful addition for students, gives musicians the ability to adjust the volume, tempo, and time signature, enabling the metronome to conform to any piece of music selected.
To further help pianists keep time, the LP-380 also has an accented metronome, using a crisp bell sound to indicate an accent.
Connectivity
The Line Out jack allows pianists to connect the LP-380 to a digital piano or a speaker system. MIDI capability increases the LP-380's digital accessibility, enabling musicians to easily transfer performance data between their computers and their digital pianos.
Furthermore, devices connected through MIDI can control each other, and musicians have the option of using the LP-380 as a 16-part sound module. The LP-380 also uses a DC19 V power adapter.
Power Consumption

Whereas most top digital pianos require about 40W to function, the Korg LP-380 only needs 15W, less than half of its peers' energy consumption.
Though the LP-380 uses less energy, it sacrifices nothing when it comes to producing crisp, high quality sounds.
Authentic Feel

The LP-380 has four piano samples players can choose from to find the most realistic acoustic piano sound.
Musicians interested in using the damper pedal should use the Classic Piano and Grand Piano sounds, as they most realistically capture the damper resonances that happen when holding down an acoustic piano's damper pedal.
The Real Weighted Hammer Action 3 Keyboard also adds to the LP-380's ability to mimic the experience of playing an acoustic piano. This can really be one of the best 88-key weighted digital piano options in this price range.
The sound realistically responds to the strength with which players hit the keys; creating crescendos and decrescendos has never been easier on a digital piano.
The Pros and Cons of the Korg LP-380
The Korg LP-380 combines physical appeal and musical quality to provide players with a unique experience.
The Real Weighted Hammer Action 3 Keyboard coupled with the three perfectly positioned pedals make the LP-380 a great choice for serious piano students or performers who want an at-home piano.
This could even be your choice if you're looking for the best beginner digital piano that won't break the bank.
It's not as portable as other digital pianos, so on-the-go performers may find moving the LP-380 frustrating and time consuming.
For pianists looking to record ideas and experiment with sounds, the LP-380 is a great choice. It has an impressive song bank and a variety of sound options to choose from.
The Line Out jack makes recording a song fairly simple, and the MIDI connectivity means connecting to other devices is a breeze.
One drawback to the LP-380 is its lack of a Line In jack. Lacking this feature, pianists are unable to connect an audio player to the digital piano, listen to it through the piano's speakers, and play along.
The Korg LP-380 is undoubtedly a great option for serious students; its features offer everything aspiring students need – realistic feel paired with authentic sound.
Performers who want a piano to keep at home or in the studio would also benefit from the LP-380's quality, but performers looking for a portable stage piano would probably be happier with a different model.
Slim, sleek design
Real Weighted Hammer Action 3 Keyboard
Key Touch Control Function
MIDI Connectivity
Energy efficient
Three standard pedals
Great for serious piano students
Not very portable
No Line In connection
Not the best digital piano for performers
Conclusion
A great digital piano for students, the Korg LP-380 has a lot to offer in terms of authenticity. Its goal is to recreate the sound and feel of an acoustic piano, and it does so more than other digital pianos that come in at around $1000.
Though it lacks a few extra connections and resembles an acoustic piano in terms of portability, the Korg LP-380 is a quality digital piano for its price.
Hope you liked our Korg LP-380 review and we'll catch you in the next one!