This Yamaha CP33 Review is going to describe the features, review the functions and provide you with the information you need to make an informed decision about this great digital stage piano.
The Yamaha CP33 is Yamaha's entry level stage piano in their professional line. This is closely related to the Yamaha CP300 but quite a bit less expensive.

It may be an entry level stage piano but it is absolutely a step up from the P series. This is a serious stage piano.
It offers a full range of features that are geared toward the professional. This is an ideal instrument for practice for both the beginner and the intermediate.
It offers a great vibrant sound that is smooth and authentic. There are some really great things about this stage piano that any musician would enjoy.
Of course there is always room for improvement and those improvements have been noted as well (are you listening Yamaha?).
Reviewing the Yamaha CP33 was a relatively simple thing to do because this is an easy to use keyboard that offers very intuitive features. It is a great beginning electronic piano option that will equally be enjoyed by the more experienced user.
The Yamaha Brand
Very few instrument companies can claim a history of producing reliable instruments that is over 100 years long, but Yamaha can.
This company was founded in 1887 by Torakusu Yamaha when he developed his first reed instrument. His success quickly translated into a purchase offer from a well-known group of investors at the time.
Since 1897 Nippon Gakki company has owned the Yamaha Music company! This longevity is almost unheard of in the music instrument industry.
Yamaha became first well known for their upright pianos and over the years have evolved into a front runner in the electric instrument field.
Through a strong research and development program coupled with a true commitment to the musician the Yamaha brand as flourished for many years long beyond any expectation.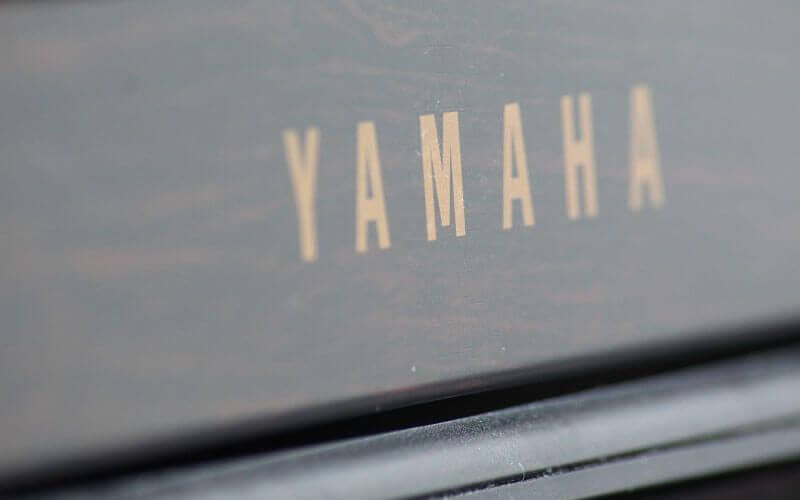 Yamaha has been providing innovative instruments for a long time. They have brought many firsts to the market over their long history and have always maintained a commitment to the user.
When you purchase an instrument from Yamaha you know that you are purchasing an instrument that has over one hundred years of experience behind it.
Yamaha has forged their excellent reputation by providing high quality musical instruments that are ideal not only for the student but that the professional can appreciate as well.
This is a highly regarded and trusted piano company which is key when you are choosing a stage piano.
The Features of the Yamaha CP33
One of the many outstanding features that you find with the Yamaha CP33 is the exceptional keyboard. The keyboard is well balanced.
You want a piano to sound good, of course but you also want it to feel natural. To say the least, the CP33 is a very good weighted keyboard option for its price.
Yamaha has done a great job of making this keyboard feel natural. It offers a graded hammer feel thanks to the innovative technology that is part of the design. The graded hammer gives the keys the resistance that you would find in an acoustic piano.
Realistic piano feel helps both the novice and the experienced player feel "in tune" with the piano.
The 88 key familiar layout has an authentic feel that elevates this stage piano to a new level, even though it is meant as an entry level model it can easily compete when it comes to feel with much more expensive digital pianos.
The AWM tone generation system is innovative and gives the Yamaha CP33 a true to life sound. There is a full 64 note polyphony which gives this stage piano a nice edge over competitors at this price point.
This is a compact stage piano that is easy to transport which makes it an excellent option for both practice away and stage performances at smallish venues. Of course it is also nice to have a keyboard that is easily manageable.

There are quite a few benefits that the Yamaha CP33 has to offer. This stage piano offers samples that are extremely authentic because they come straight from Yamaha grand pianos, concert grade of course that cost in excess of tens of thousands of dollars. The sound is true and simply amazing.
You would not expect to get this sound from a digital piano at this price point. The professional MIDI, USB port is also a nice unexpected bonus on this stage piano.
In many cases at this price point the components are subpar but with the Yamaha CP33 all of the components are top notch and work up to professional standards.
The impressive sound does not end with the true to life grand piano sound. The classics sounds that you expect from a digital piano are also very prominent.
You get that jazzy organ sound that just flows nicely. It works wonderfully when you are playing jazz genre or even "church" music.  It is perfect for a full range of genres.
Since it is an entry level model there is not a long learning curve period that you have to deal with. You can literally learn to use this electric piano in a few sessions. A dedicated learner can easily master this stage piano in a few steps which makes it an excellent option.
Of course we already mentioned the impressive action of this stage piano but it really needs to be expanded on when you are talking about the benefits of the Yamaha C33.
The keys offer a quiet action; you do not get the rub or squeak that you find with some keyboards. There is a "panel lock" feature that allows the user to avoid hitting the wrong key during a performance.
One of the best benefits of this keyboard is that you can easily transition from acoustic piano to stage piano and back again without having to really spend any time "adjusting" to the key feel.
On so many models especially at this price point you may find that the keys just feel unnatural and it makes it hard to transition back and forth. You do not find that unnatural feel with the Yamaha CP33. It feels completely natural to play.
You can easily use this digital piano as a digital audio workstation because it has both modulation and pitch blend wheels.
It offers a quiet practice option, so you can practice any time of the day or night without bothering anyone that may not be appreciative of your music. The quiet action works great if you live in an apartment.
The possibilities are surprisingly unlimited when it comes to this digital piano, especially at this price point. You can use it in mono mode to play along with a band.
This model is ideal for anyone that needs a silent practice tool not only because of the headphone option but also because of the quiet key action.
It is also ideal for any musician that needs a stage piano that is easy to transport and that needs to make a choice based on budget.
It is ideal for anyone that wants to record using their computer and needs a reliable DAW (digital audio workstation).
Some Improvements
There are a couple of things that Yamaha can do to improve. The display for the LED is just too small, of course it does not affect performance but it would be easier to use if the display was larger.
They could also through in a music rest which is not included with the outfit it would be really nice if they included one. Yamaha could also have added some speakers.
Of course at this price point buying some speakers is not an issue but it would be really nice if you did get the speakers.
You can easily buy speakers that are inexpensive that work great with this setup and STILL wind up paying a lot less than you expect or that you would pay for competitor's options that offer the same features.
Yamaha even offers a great range of speakers that you can easily couple with this digital piano.
Other than what is mentioned this digital piano is an excellent option for any budget minded musicians.
Overall
If you are on a budget and do not want to have to sacrifice quality to stay on your budget than this is the type of digital piano, you should be looking at. This is, for sure, one of the best digital pianos under $2000 that Yamaha produced so far.
Yamaha has done an exceptional job with this stage piano. It is a superb learning tool for the beginner but it is also an excellent option for the intermediate player as well.
Yamaha has really put the work in on this model and it shows. It is hard to find a competitor that can offer the same results at this price point. You can buy with confidence because the Yamaha name fully backs the CP33.
Finding a model that compares to the CP33 at the same price point that offers the same features and the same playability would be at best difficult if not impossible. It is a great choice!