I love music, I love it from all sources and love hearing pieces I have never heard before. I am going to be honest it took me a while to come around to the idea that an electric keyboard could sound as good as an acoustic.
Maybe I was a piano "snob" or maybe I felt a little put out that it took me forever to master the piano and electric keyboards just made it all too easy. In any case, I have come over to the other side.
The Other Side
The goal with any electric keyboard is to mimic its acoustic brethren convincingly. It sounds simple, especially in this day and age when electronic technology has given us so many capabilities but the trained ear is a discerning ear and we can pick up on those little nuances.  I have to tell you that of all the pianos I review Yamaha has to be one of the leading brands.
I also have to mention that since I started playing on the digital pianos I am really hooked. I love the ability to compose and hear the other instruments as part of the piece.
I love the amount of control I have over the music and I love being able to practice silently at any time of the day or night and not have to worry about being a bother to my neighbors.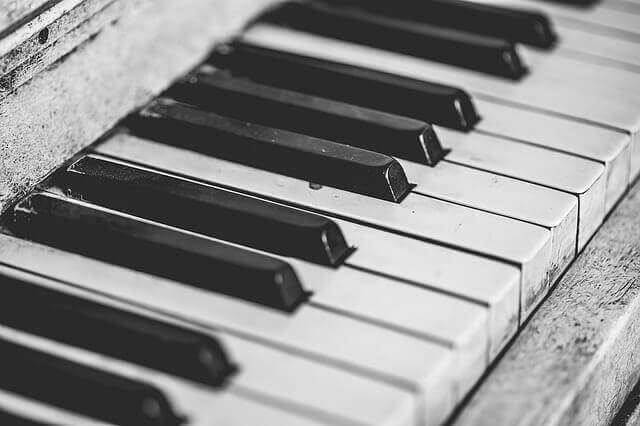 Why Yamaha Leads
Yamaha is well-known for creating acoustic pianos that are simply stellar. They are perfectly tunes pieces of art. It is no wonder that Yamaha has been able to craft convincing digital pianos that offer a rich acoustic sound since they have perfected the acoustic piano.
They put the work into their digital pianos and it really sets them apart from the other brands. I went into this review with pretty high hopes and some pretty high expectations that the Yamaha DG-530 was going to blow me out of the water.
The Yamaha DGX-530
This is billed as an entry level piano but I have to say from the minute I unpacked it I was pretty impressed. Manufacturers will designate an instrument as entry level typically when the instrument lacks features or when it is not the best that they have to offer.
I did not think that this keyboard lacked the most wanted features. I like things simple because I strive to hone my skills without relying on the instrument to hone them for me.
The specifications are:
88 keys
37 pounds
With stand is about 30 inches high
500 rhythms and tones
12 SFX and drum kits
Yamaha's Live, Sweet and Cool Voices (which are patented exclusively to Yamaha)
Performance Assistance Technology
USB port for connectivity
Comes with matching stand
Here is What I Found
The DGX-530 offers everything you could want as a novice and was usable in my opinion for even advanced users. It offers a realistic action on the keys which makes it so easy to transition from acoustic to electric.
It has a nice price point which is a good deal for the novice or the parent that does not want to make a large investment for a child that may or may not continue to move forward with the instrument.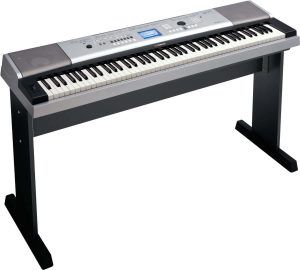 It has a litany of features that are great for both the novice and the advanced player. It offers great innovative Yamaha exclusive features.
It was easy to set up on the stand and was ready to play in minutes. It was easy to connect to my laptop and the sound was really impressive.
It closely matches the acoustic sound of my acoustic piano and even I would have some trouble distinguishing between the two. I was impressed by the style, the construction and overall abilities of the DGX-530.
It is Not All A Bed of Roses
There are some thorns that kind of stuck with me with this model that I had to work to get past. The key feel is great but if you are used to hammering the keys on an acoustic model they may be a little light for you, it is something you can get used to but it does takes some play time.
This is not really the keyboards issue for me it was my playing style. I am heavy handed so it did take a few hours of play time to get past MY deficiencies. Once I was able to change up my style a bit everything just fell into place.
The keys are natural feeling but they are not the graded weight keys that Yamaha uses on its higher end models. For some people this will be a non issue because it all comes down to your own personal playing style. With a little practice anyone can get used to the keys.
I also was not too crazy about the sustain pedal that was shipped with the keyboard. It was a little bit too "sticky" for my likes but again I am not a novice and I have been playing for a while on higher end models.
I think for a novice this pedal would be fine but for an advanced player that has a point of reference I do not think this pedal would cut the muster.
Of course it is simple enough to remedy, just get a better quality pedal and it solves the problem, if it is even a problem for you.
Usability
It is easy to use, which makes it a great beginner's instrument. This is a sturdy keyboard, I was a little disappointed with the amount of polyphony but when you consider the price point and really who it is built for it makes sense that this only has 32.
This may seem relatively low in a world where most machines have at least 48 but when you consider the features and how easy it is to use it is enough.
It offers features that make it a very easy to use tool for composing, recording and practicing. For example it is already to load and save up to 16 different user registrations. It has one touch setting that makes recommendations for different voices to make composing easier.
It also has an expandable music data base where you can just call up a title and start playing along. In a word playing this piano was a pleasure.
The features are nicely edited to provide the most wanted features and they are all easy to use. One of the things that I always faltered with when I moved from being completed committed to only acoustic piano to adding in a digital piano was trying to hopscotch to these behemoth models that took me months to learn how to use.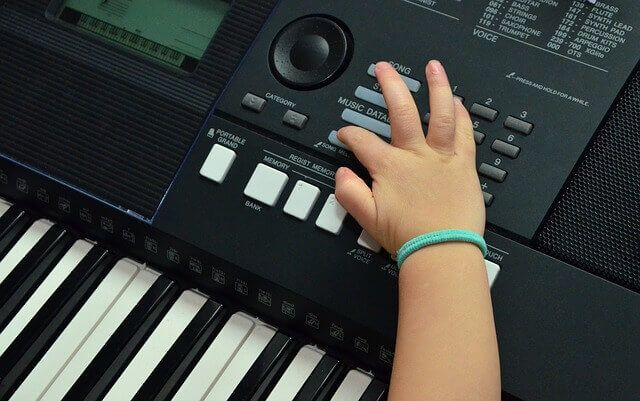 When you are a beginner (no matter how much acoustic experience you have) on the digital piano you have to start with simpler options otherwise you risk becoming discouraged. The more costly high end models are not quite as fun to mess around with as this model is.
The learning curve with the higher end models is tremendous and requires a good deal of commitment to really navigate successfully as a novice which of course takes away some of the fun of playing.
Simple is best for the novice and this model makes it simple to learn and to play.
Portability
It is a heavy machine but still very portable. The beauty of a digital piano is that it can go anywhere. If you live in an apartment or have only a small space for a piano then this can be an excellent solution.
You can move it without the stand which can cut back on some of the weight if you need to take it to practice sessions or to perform.
Overall
If you are a beginner, this is likely one of the best models you will find at this price point. It will grow with you for a long time. It is sold as "entry level" but honestly anyone at any level that is looking for a reliable keyboard will be very happy with this purchase.
It has gotten very good reviews from most all of the users that have taken the time to share what they think about this keyboard and ultimately it is crafted by one of the best brands in the industry.
When Yamaha put their name to an instrument it is a good sign that there has been plenty of effort put into making a really reliable instrument with a great sound. All of Yamaha's digital pianos get their "voices" right from the very expensive Yamaha Grand Piano so the sound is always true.
If you are in the market for a new digital piano and you want to make a choice based on sound reliability and durability this is the model for you.
I really enjoyed the opportunity to review this model. I was nicely surprised from the minute I unpacked the box!