Have you been searching diligently for a digital grand piano? Are you starting to feel frustrated? We are here to help by presenting you with the 7 best digital grand piano reviews. Before we get started with the reviews let's take a look at what criteria we set for determining what makes a digital piano best.
It is important to understand that there are a few universal features that any good digital grand piano should possess, they are features that you really should not have to live without. These features include:
Weighted keys (preferably 88 keys)
Built-in speakers
Midi Interface
Headphone jack
Plenty of polyphony
It is imperative that the best digital grand piano has weighted keys so that it will feel close to how an acoustic piano feels. Good quality hammer action weight keys that are graded are the best keys you can ask for.
Built-in speakers are a very important feature that are important so that you do not have to spend extra money on an external amp.
We decided that a really great digital piano has to have a MIDI interface that is intuitive.  A centrally located headphone jack that is easy to reach is a must have feature and plenty of polyphony.
All of the digital pianos that we looked at met the above the criteria. What we did was eliminate models that could not meet the minimum criteria and then looked at models that could and slowly eliminated models until we realized the list of the 7 best.
The process involved reviewing each option that we found that met the basic criteria and after reviewing the options in detail choosing the best based on the added features and customer reviews.
Listening to what other people had to say about these digital pianos played an important role in helping us decide what was best. Musicians are usually very candid when they report on their instrument purchases.
What We Deemed Best
After much time and effort, we have compiled the list of the 7 best digital grand pianos and here they are:
Yamaha CVP 409 Grand Piano Review
We looked at the Yamaha CVP 409 GP and were not surprised to find that we loved it! First of all, if you see the name Yamaha you already know that you are looking at a digital grand piano that is going to impress.  It offers a full 88 key, keyboard that is nicely weighted to feel so natural.
The white wooden keys with faux ivory tops feel completely authentic and offer an excellent response to the touch.  It offers a completely sophisticated look and because it is a Yamaha you can bank on the fact that there are high quality components.
This digital piano offers all of the features that we set forth in our criteria and then some.  You get four level sampling, string resonance, stereo sustain, Super Articulation Voices and Mega Voices just to name a few of the features that really make this a stand out option.
There are over four hundred accompaniment voices, you can record right to the USB Recorder and easily upload to your computer or online venues. The cabinet is breathtaking furniture quality and made from ebony. The highly polished, outstanding cabinet is reminiscent of concert quality baby grands.
Casio AP250 Celviano 88-Key Digital Piano with Bench – Oak Brown
We are rarely surprised by digital pianos but this one surprised us. Casio is well known for making inexpensive keyboards so it came as quite a surprise to see how much effort the put into the AP250 Celviano.
This digital grand piano has an upright cabinet but a grand piano sound. It offers a nice range of features like four types of reverb, DSP presets for tones, a lesson library a mode (duet) that allows 2 people to play.  The 88 hammer styled graded keys offers a natural touch response.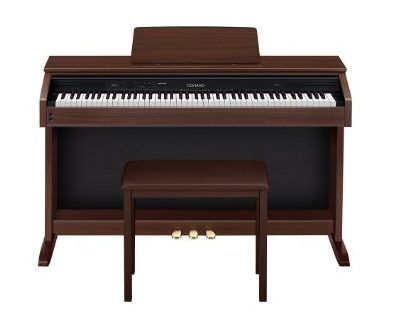 Click Here for Pricing, Pictures and Reviews on Amazon.com
It offers USB MIDI control and 128 polyphonies.  This model uses Casio's patented Linear Morphing System to offer realistic grand piano sounds that would easily trick even the most educated ear.
The Casio AP250 is an ideal teaching tool, it offers many features that can help a budding artist compose like the dual layering which allows you to layer 2 sounds together.
It also offers AIR technology which offers realism and intimate detail. Casio offers "class compliant" USB connectivity so that it can be connected to both Mac and Windows operating systems without having to download additional drivers.  Overall this is a nicely priced option that can easily suit any skill level.
Cameron & Sons CSM-41D 88-Key Digital Grand Piano
While you may not immediately recognize the name do not discount this digital grand piano and we will tell you why shortly. The cabinet is that beautiful baby grand look that really dresses up any space. It is polished ebony to bring out the rich wood. Of course the cabinet is only part of the story.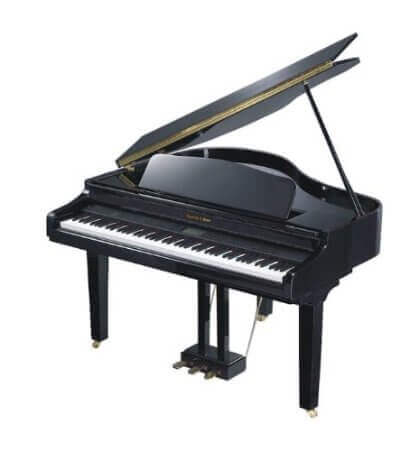 Click Here for Pricing, Pictures and Reviews on Amazon.com
It has all the features that you can find in both the Casio AP250 and Yamaha CVP 409 GP. There are layering functions, 88 nicely weighted keys for easy familiar comfortable play. Hundreds of different voices and 8 types of reverb.
All in all, it is simply stunning to look at and would be ideal in any home, church or venue AND it is about one third the cost of the Yamaha.
It is a little more expensive than the Casio AP250 likely because of the upgraded cabinetry. This digital grand piano is simply breathtaking and easily compares to the Yamaha CVP 409 GP when it comes to the sound.
Suzuki MDG-300 Micro Grand Digital Piano
Suzuki is a leader in producing all type of instruments so we had very high expectations when we reviewed this grand digital piano and frankly we were not disappointed.
The cabinet does not offer tons of wow factor but it certainly makes a statement and is really ideal for small spaces. This micro grand design is perfect for apartment dwellers.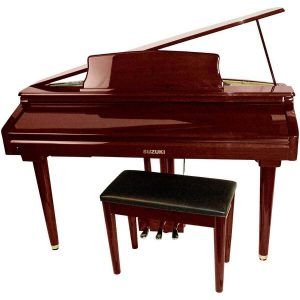 Click Here for Pricing, Pictures and Reviews on Amazon.com
We were not in love with the cabinet but the cabinet is not really the most important aspect. When it comes to sound you would be hard pressed to beat this model.
It ticks off all the basic criteria that we established like the 88 weighted hammer action keys and the 128 polyphony but what really makes the difference is the sound and the high tech features like Bluetooth capabilities which means that you can wirelessly connect to any Bluetooth device.
Of course it also offers MIDI capabilities. This model offers a slew of high tech features that really makes it a stand out option. We would have loved it if the cabinet was a little bit bigger.
Suzuki MDG-330 Mini Grand Piano Review
We liked this mid-sized grand digital piano. It is a tad bit bigger than the MDG 300 and the cabinet is upgraded which we liked. It offers all of the same great features of the 300 with a few extras to distinguish it from its baby sister like the equalizer 10 faders and larger memory so you can store more music.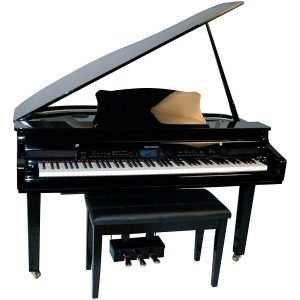 Click Here for Pricing, Pictures and Reviews on Amazon.com
Overall for the price difference (which is minimal) if you have the space you should go for this model simply because the cabinet is nicer!
Suzuki MDG-400 Baby Grand Digital Piano
Now this is a cabinet that made us go WOW. It is a lovely piece of furniture that looks high end.  This model offers a six speaker stereo system that offers an amazing sound. You also get a slew of accessories like an IPad adapter, USB cable, a Demo Disk and other little extras.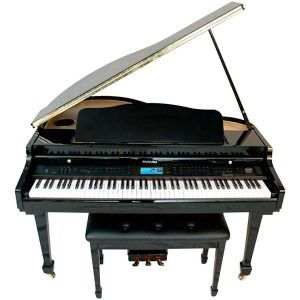 Click Here for Pricing, Pictures and Reviews on Amazon.com
This models offers hundreds of voices and a 24MB piano voice.  This is really a complete entertainment package.  Just like its little sister the Suzuki MDG 300 this is a high tech grand digital piano.
We loved everything about it but the price tag which is on the steep side but in all fairness it is really worth every dime you invest. It is an ideal learning tool, a great performance option and would like great in any room.
Medeli Grand Digital 1000 Review
The Medeli 1000 offers some unique features like displaying music in sheet format on the massively large LED screen. It is over the top with features like the over 600 sounds that you can choose from or the beautiful baby grand cabinet that looks like it was made to house a Steinway.
You can choose from an ebony finish or a white polyester finish. There is a lot going on with this digital piano with eight assignable knobs to help you make the most of each session.  It offers a great resonating sound and has keys that are nicely touch responsive.
Click Here for Pricing, Pictures and Reviews on Amazon.com
Of course it offers all the basics that we identified as being must have features like 128 polyphonies and built in speakers, MIDI capabilities. The Medeli Grand 1000 is a great option but it is a bit pricey but you do get what you pay for in this model.
Hopefully we have provided you with some choices that will make your search for the best digital grand piano easier!