Are you in the market for a digital piano? Whether you're buying for the first time, or upgrading your existing model, when shopping for a piano in the $2000 USD range, you must pay very close attention to quality, playability, and features.
It goes without saying that you must be careful when purchasing a digital piano; the market is flooded with low-quality instruments that are jacked up in price for cheap advertising gimmicks that seem like features.
This list contains the best pianos in this price range from the top 6 digital piano companies in the world: Casio, Korg, Kawai, Kurzweil, Roland, and Yamaha. We have included only one piano from each company, our opinion of the best offering for the price range.
We advise you to take a closer look at what other models are available from a company if they catch your eye. Use the chart included at the end of the list for a side-by-side comparison of the features of each piano.
What to Look for in a Digital Piano
Much of the information covered in previous digital piano guides is still relevant here, so we have included it here for your convenience.
Intermediate pianists will certainly notice the difference between a lower-quality instrument and one of the instruments featured on this list. Even if you are a beginner who is just starting to learn the instrument, but are serious about the piano, consider some of these pianos before you make a purchase.
The instruments featured on this list have the standard 88 keys, 52 white and 36 black. Someone who is just starting the piano may not need all of the keys, but you will need all 88 keys for more complex pieces of music.
A full-sized model with weighted keys and a high maximum polyphony is important to have to learn how to play the piano properly.
At this level, the keybed action is also different. Pricier models often come with weighted keys that mimic acoustic pianos, which have resistance from the hammer mechanism when keys are depressed.
To imitate this feeling, the keys on digital pianos are weighted by a similar hammer mechanism in the keybed. This can allow for a more easy transfer of the technique learned on a digital piano to an acoustic piano and vice versa.
The three types of action you will want to consider at this level are semi-weighted keys, weighted keys, and hammer action keys.
Don't consider purchasing a piano with no touch response unless you are in the market for a synthesizer or digital workstation, where such features do not matter as much.
Hammer action keys by far produce the most realistic touch in digital pianos. It is a feature in digital pianos that uses small hammers in the keybed to trigger notes, like an acoustic piano.
This means that not only is there more resistance to keys, there is a slight delay to the sounding of the notes, like for an acoustic piano.
At this level, you must also consider the maximum polyphony of the instrument. Maximum polyphony refers to the number of individual tones a digital or electronic piano can produce at the same time.
If a keyboard has a low maximum polyphony and too many keys are depressed while holding a sustain pedal, the sound of the tones that are first played will stop.
Pianos in the mid-price range should have a maximum polyphony of at least 128 notes. Don't pay this much for anything less!
Casio Celviano AP-650MBK 88-Key Digital Piano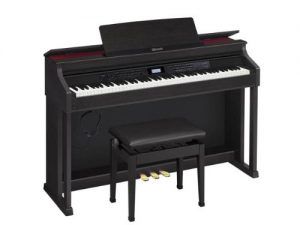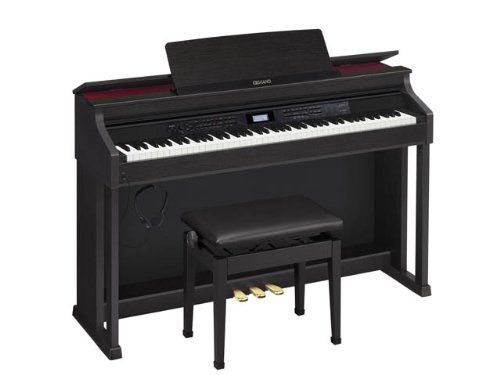 You have to see this piano to believe that such an authentic grand piano sound can come from a digital model.
With Casio's Multi-Dimensional Morphing AiR Sound Source to mimic an acoustic piano and a keybed of tri-sensor Scaled Hammer Action and simulated ebony and ivory keys, the feel of this piano is very authentic.
Click Here for Pricing, Pictures and Reviews on Amazon.com
Also, Casio has installed a lid simulator in the AP-650 model that mimics the lid on an actual piano by changing the sound volume and quality when it is raised or lowered. A nice touch indeed!
Number of keys: 88 keys, full keyboard
Maximum polyphony: 256 notes
Action: Weighted scaled hammer action; tri-sensor keys; Ivory touch
Other Features: 
250 tones, 180 rhythms
LCD display
Split/Layer
Metronome
Textured keys
Three pedals
Lid
Speakers
Korg Havian 30 Ensemble Piano

Though Korg is better known for its synthesizers and workstations, it also offers a few digital pianos that have both realistic actions and versatile mixing and recording features.
Click Here for Pricing, Pictures and Reviews on Amazon.com
If you are interested in an authentic-feeling piano with the capabilities of a synthesizer, the Havian 30 Ensemble Piano is a good choice for you. Whether you're at home, in the studio, or on stage, Korg is always a great option.
Number of keys: 88 keys, full keyboard
Maximum polyphony: 256 notes
Action:Weighted hammer keys; velocity sensitive
Other Features: 
128 tones, 950 sounds, 64 drum kits
Damper pedal
Split/Layer
Metronome
LCD display
Multi-functionality to create, edit sounds, etc.
Speakers
Kawai CN25
Though Kawai has digital models extending into the $2000 range, their Kawai CN25 model has great functionality for a low price.
The CN25 has less digital functionality than the Korg Havian 30, for example, but it functions as a great replacement for an acoustic piano.
If you cannot afford an acoustic piano or do not have the room in your home, consider buying the Kawai CN25.
Number of keys: 88 keys, full keyboard
Maximum polyphony: 192 notes
Action: RH3 action, 88 weighted keys with Ivory Touch surface
Kurzweil Artis SE Stage Piano

If you are in the market specifically for a stage piano, consider the Kurzweil Artis SE 88-Key Stage Piano.
Click Here for Pricing, Pictures and Reviews on Amazon.com
Though the maximum polyphony is relatively low for its price, its digital functionality is very high, making it a great model for ensemble playing and gigging.
Number of keys: 88 keys, full keyboard
Maximum polyphony: 128 notes
Action:Weighted hammer action; velocity sensitive
Other Features: 
256 voices
Split/Layer
LCD display
16 part multitimbrality
Over 1000 complex effect chains
16 FX units
Multiple controllers
Roland F-130R 88-Key Digital Piano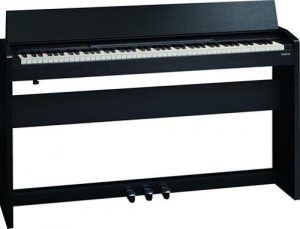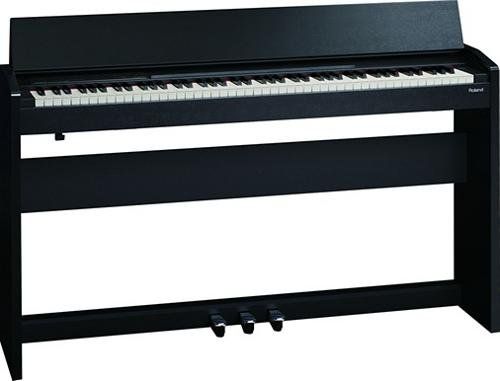 The Roland F-130 made our intermediate list, and remains here as a good mid-priced model for intermediate players.
With 11 grand tones and 305 other tones, the Roland F-130R both sounds great and has amazing versatility.
Click Here for Pricing, Pictures and Reviews on Amazon.com
The F-130R also looks very sleek and everything you need is contained in one model, no need to purchase a separate stand or pedals. It even has a lid to keep your keyboard clean when not in use.
Number of keys: 88 keys, full keyboard
Maximum polyphony: 128 notes
Action: 5 Types of touch sensitivity; Ivory touch; weighted keys
Other Features: 
1 Grand Piano Voices; 305 Tones
Split/Layer
Metronome
Speakers
Three pedals
Lid
ipod /Apple connectivity
Yamaha P-255 Digital Piano

Both portable and versatile, the Yamaha P-255 rounds out this list for our top 6 choices for digital pianos under $2000.
The P-255 is comparable to any model on this list for features, with the added bonus that it is only 38 lbs., and thus highly portable.
Click Here for Pricing, Pictures and Reviews on Amazon.com
The Yamaha P-255 also has a P-255 Controlled application that you can download to your portable media devices, which can act as a guide to all of the features available on this model.
Number of keys: 88 keys, full keyboard
Maximum polyphony: 256 notes
Action: Graded hammer action; Synthetic Ivory keyboard; tri-touch sensitivity
Other Features: 
24 voices
Split/Layer
Metronome
LED display
Speakers
Damper pedal
P-255 Controller Application