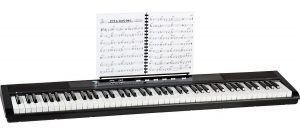 If you are just starting to play the piano you must strike a balance between an instrument with quality, playability, and the features you desire with the price you are willing to pay.
One of the primary considerations for beginner models is the number of keys. The standard acoustic piano has 88 keys, 52 white and 36 black.
Someone who is just starting the piano may not need all of the keys. Additionally, smaller keyboards can be easier to play and more portable.
Smaller keyboards usually have either 76 or 61 keys. Although you will need all 88 keys for more complex pieces of music, if fewer keys means buying a more affordable digital piano model and getting the opportunity to learn the instrument, then there is absolutely no reason why you should not purchase one of these digital pianos.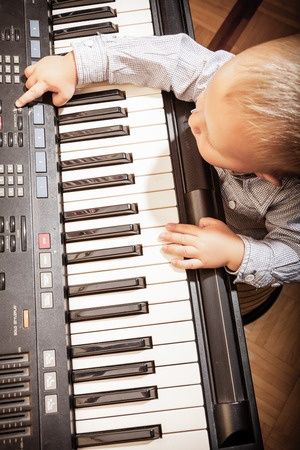 Certainly you can always upgrade to a full-size model later after an initial interest and competency on the instrument is secured.
Another thing to consider is whether or not the keys are weighted. Acoustic pianos have some resistance when keys are depressed.
To imitate this feeling, the keys on digital pianos can be weighted by a hammer mechanism in the keybed.
In the future this can allow for a more easy transfer of the technique learned on a digital piano to an acoustic piano.
Though this is more advanced, one last thing to consider is the maximum polyphony of the instrument.
Maximum polyphony is the number of individual tones a digital or electronic piano can produce at the same time.
If a keyboard has a low maximum polyphony and too many keys are depressed with a sustain pedal, eventually the sound of certain tones will cut out.
Unfortunately, cheaper models of digital pianos will not typically have a very high maximum polyphony.
Here is a list of popular and best  digital pianos under 500$ for beginners, followed by a side-by-side comparison of features in a chart.
Although the market is flooded with low-quality instruments, hopefully this list can inform your purchase. However, if you are willing to spend a little more for a better product, hold out for a piano in the $500–1000 USD range that may also better suit your needs.
Williams Legato 88-Key Digital Piano

This is a great affordable and basic full 88-key digital piano model.
The Williams Legato features five sounds: piano, electric piano, organ, synth, and bass. It also has a built-in split/layer function (which combines sounds) and a metronome.
While it's maximum polyphony is relatively low with 32 notes, the Williams Legato features velocity-sensitive semi-weighted keys, which are moderately better than no sensitivity. Unfortunately this model does not ship with an adapter, which must be purchased separately.
This model also does not feature recording tools, LED display, or pitch bending and modulation. However, if you are just starting out, you will likely not need all of these features (moreover, many people never use them on other models).
What you will get is an inexpensive, basic full digital piano that will last you so long as you take good care of it and use it properly.
Williams Allegro 2 88-Key Hammer Action Digital Piano

For still being an inexpensive piano, the Williams Allegro 2 is a big step up from the Legato.
It features 88 keys and a 64 note maximum polyphony, which is in a much more acceptable range of this feature. Another great feature is the hammer-action keys that more closely resemble an acoustic piano.
Click Here for Pricing, Pictures and Reviews on Amazon.com
The Allegro 2 comes with 10 sounds including classical and modern pianos, electronic keyboard, and synths. It also has more realistic reverb and vibrato effects, allowing for more control over the sounds of the instrument.
Unlike the Legato, the Williams Allegro 2 features an LCD display but it also comes with split/layer functions, and built-in metronome and speakers. Like the Legato you will need to order an adapter separate from the purchase of this instrument.
Yamaha YPG-235 76-Key Portable Grand Piano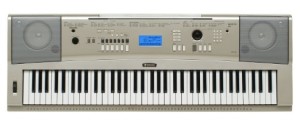 This is a great entry-level student model piano from a respected piano maker, Yamaha.
This is definitely a student model because it only has a 32-note maximum polyphony and 76 keys.
It also comes programmed with interactive lessons from the Yamaha Education Suite—great for beginners!
Click Here for Pricing, Pictures and Reviews on Amazon.com
The Yamaha YPG-235 features 450 voices, an easy-to-use LCD display, and built-in speakers and metronome. This is a model that can capture the attention of a young player, and hopefully sustain them until they are ready for a more professional model.
Yamaha Piaggero 61-Key NP-11

With only 61 keys, and very few features, the Yamaha Piaggero NP-11 is certainly one of the most basic digital pianos on the market. That said it serves its purpose well as a characteristically well-constructed Yamaha.
The Piaggero is super lightweight at 4.5kg and is thus easily transported. For the rank beginner, this model has many of the features that you will need to get started.
Unfortunately, the Piaggero only has a 32-note maximum polyphony and 61 keys, which will only carry a serious student so far.
Click Here for Pricing, Pictures and Reviews on Amazon.com
Eventually you will have to upgrade to a more expensive model with weighted keys, a full keyboard, and at least a 128-note maximum polyphony.
However, if you want a lightweight, compact, and portable piano for when you are on the go, this model may be a good supplement to your collection.
Casio Privia PX-350 88-Key Digital Piano


The Casio Privia tops this list as the best-value digital piano for its price.
Not only is it a full keyboard with 88 keys, but also it has a superb 128-note maximum polyphony and great touch sensitivity.
The sound quality of this instrument is much higher than what you'd expect for its price.
With built-in metronome and speakers, you can't go wrong with this entry-level Casio model. Don't be fooled by gimmicky features for advertising—like the number of voices—this is a solid digital piano and well worth your consideration.
Side-by-Side Comparison of Entry-Level Digital Piano Models
Name
Number of Keys
Maximum Polyphony
Action
Other Features

Williams Legato


Click Here for Pricing, Pictures and Reviews on Amazon.com



88, full keyboard
32 notes
Semi-weighted keys, velocity sensitive



Five Voices


Split/Layer


Metronome


Speakers





Williams Allegro 2


Click Here for Pricing, Pictures and Reviews on Amazon.com



88, full keyboard
64 notes
Hammer-action, velocity sensitive



Ten Voices


Split/Layer


Metronome


Speakers


LCD display





Yamaha YPG-235


Click Here for Pricing, Pictures and Reviews on Amazon.com



76 keys
32 notes
Semi-weighted "soft touch" keys



Yamaha Education Suite


Split/Layer


LCD display


Music Database





Yamaha Piaggero NP-11


Click Here for Pricing, Pictures and Reviews on Amazon.com



61 keys
32 notes
Semi-weighted, touch response



Ten Voices


Split/Layer


10 Pre-set Songs


Metronome


Speakers




Casio Privia PX-350


Click Here for Pricing, Pictures and Reviews on Amazon.com



88 keys, full keyboard
128 notes
Tri-sensor scaled hammer action



18 Voices


Split/Layer


Metronome


Speakers