Pedals on a piano are pressed with the feet and used to change the sound produced by the instrument. In acoustic pianos this action leads to a change in the mechanism within the instrument while in digital pianos this effect is emulated. The pedal effects are used to add character to the sound by connecting or sustaining tones.
Experienced pianists will have learned how each pedal works and will have the ability to properly use them to enrich the pieces they play. The following describes the three pedals most commonly found on digital and acoustic pianos and their roles in enhancing the sound.
The pedal on the left side is known as the una corda, or "one string" in Italian. This pedal is more commonly referred to as the soft pedal. It changes the piano sound by making it softer but also making the sound distant. In an acoustic piano three hammers strike the strings to create the tones.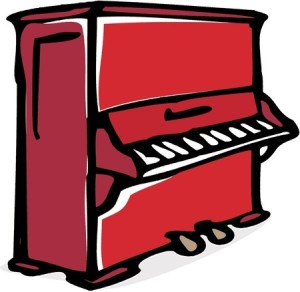 When the soft pedal is pressed the hammer mechanism shifts to the right and only strikes two strings, causing the softened and dulled effect. It can also be used for inflection, controlling the effects of pitch bends, vibratos or other effects. In a digital piano an electronic switch produces this same effect, also allowing for a non-piano sound to be altered.
The pedal on the right is the forte, or "strong" in Italian. This is commonly known as the sustain or damper pedal. In an acoustic piano this pedal sustains the sound produced by the damp strings by removing the dampers from the strings. This allows them to freely vibrate for the time the pedal is being pressed.
In a digital piano there are no strings to accurately produce this effect, thus the effect in these instruments is simply an imitation. The damper pedal is the most commonly used pedal and nearly every digital piano will come with one. It allows the player to produce rich phrasing with a warmth and intensity to the piano sound.
The last pedal on a piano is strictly found on those of the American variety. The third pedal, known as the American pedal but more commonly referred to as the sostenuto pedal, is found on American grand pianos. Sostenute, or "sustain" in Italian is the tone-sustaining pedal located in the center of the piano.
Unlike the damper pedal on the right, the sostenuto pedal does not sustain each tone. The sostenuto pedal gives the player an option to choose the notes he or she wants to sustain. It does this by only releasing the dampers of keys that have already been pressed. Unlike the left and right pedals, the sostenuto is rarely used for most digital pianists.