Much music of the past 250 years, and most popular music is homophonic, meaning that a melody is supported by an underlying voice that offer harmonic and rhythmic support.
If you have been playing piano for a little while, you probably have heard of a chord. To bring us all up to speed, a chord is a group of usually three or more simultaneously occurring notes.
Keeping it simple, if you have ever played the notes, C, E, G at the same time, you've played a C chord. This article deals with smooth transitioning of chords.
There are entire courses and studies devoted to learning how to change chords as smoothly as possible, but we will focus on some simple and enlightening approaches on how to do this on the piano.
This article only assumes that you know the names of the notes on the keyboard. Notated examples are included, but they will be explained thoroughly. Let's get started!
Progression 1
We will use the following chord progression for most of this article: C-G-A minor-F. The following notation uses root position of these chords, meaning you build the chord's triad from its root.
To refresh, a triad is a chord that is created out of thirds, notes that are in letter name away from each other, stacked on top of each other.
If you look at your piano and play a C, skip a note to E, and skip another to G, and play it all together, you are making a C chord in its basic triad from.
Piano music notation uses the treble and bass staff at the same time. Usually the right hand plays from the treble staff on the top and the bass from the bottom.
The C chord is built and reads in the treble clef from bottom up C-E-G in the right hand, the G chord is G-B-D, the A minor chord is A-C-E, and the F chord is F-A-C.
Typical chordal piano playing doubles the root of each chord, each chord's namesake, an octave lower in the left hand.
If you are playing this, you will notice that your right hand is jumping all over the place to play these chords. Not only is this difficult, but it is distracting. Isn't there another way? Yes! Yes, there is.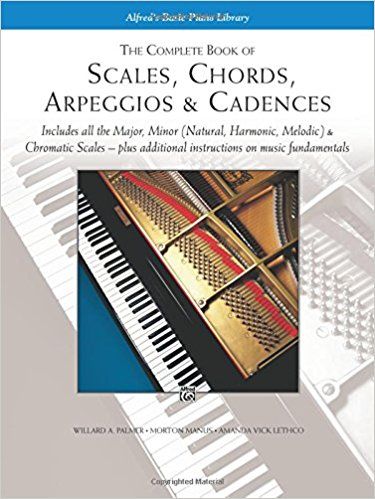 Click Here for Pricing, Pictures and Reviews on Amazon.com
Inversions
The key to your success of changing chords in a musical and economical way is learning inversions. Inversions in the sense we will talk about them are a reordering if the chord's triad. Let's use a C chord for example and number each member of the chord in this way: C is "1", E is "3", and G is "5".
We do this because in tertian harmony, basically what normal sounding music is, the root is 1, the next chord tone is a 3rd away its called a third, and the next chord tone is a 5th away from the root: voila! 1-3-5. With some thinking we find that there are two inversion, the 3-5-1 and 5-3-1.

The first is the root position triad C-E-G, then the 1st inversion E-C-G, and the 2nd inversion G-C-E.
This can be done with any chord, even some a little more complex like a major 7 chord.

I Don't Know What To Do With My Hands
Let's move back to our chord progression example. Our first chord C will be in root position. From there, our smoothest option is for the G chord in 1st inversion 3-5-1, or B-D-G.
This is smooth because our top note "G" is shared for both chords, the other two notes are one note away from each other.
For this article, I will not go into fingerings for the chords, so pick what is most logical and comfortable for your hand.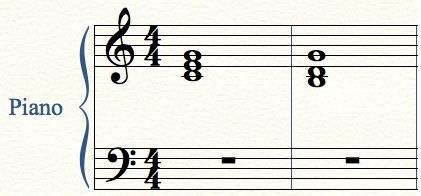 This brings me to my first point. If one member of a chord is present in another, choose your inversion off of that.
To move from our progression for just a moment, we see this clear with going from a C chord to an F chord, or an C chord to an A minor chord.

In each case, a "C" note is shared from one chord to another.
How To Make A Choice
At times, there are not shared chord tones between chords. This is true between our second chord of the progression G, and our third chord A minor. The G triad is built of G-B-D, and the A minor of A-C-E; no shared tones! So, from this point, you will have only two logical choices to make.
The first is most smooth. We will build off our choices from the C to G chords earlier. We can move every note of the inverted G chord up one note to create an A minor in first inversion.

This brings up to a new "rule": if chords are one musical letter name away from each other, use the same inversion and just move each chord tone up or down one note each. For example, let's move from F to E minor, and from F to G. The first group will be inverted for variety. Try to figure out which inversion it is!

So far, this is very formulaic. Using these steps, we can fully realize our chord progression. The last chord, F, can be chosen after A minor using the first rule of keeping shared chord tones across chord changes. Both the notes "C" and "A" are present in both chords.

As I mentioned, there is another option when chords do not share any chord tones. In fact, the only time this will happen in a diatonic chord progression, meaning the chords are derived from one key such as C, is when they move up or down one musical letter.
Back to our move from G to A minor, we have another option. Though not as smooth, it is logical and most chord tones move smoothly.

You will notice there is a skip in the G chord to A minor in the top chord tone from "G" to "E", but the rest of the voices move down just one letter, which is still brings the transition to have an overall smooth sound.
Once again, we can fully realize this decision and apply our other rules.

To summarize this section, we have three main "rules":
If there are shared chord tones across chords, build your inversions around that.
If there are no shared chord tones, move your shape in parallel motion up or down depending on the destination chord.
And finally, you can still achieve smoothness with not using option 2, as long as you are thoughtful in which inversion you choose.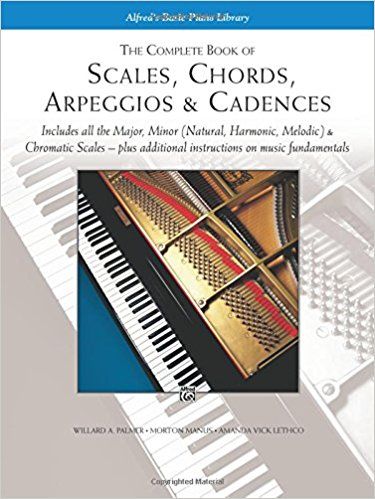 Click Here for Pricing, Pictures and Reviews on Amazon.com
Other Examples
I am including another version of the same chord progression starting on different inversion so you can see this in action again.
The base has been added back in this examples. As you will see, the bass does not move smoothly at all, and it doesn't need to.
Our ears are searching for the root of chord, and if we want to give each chord the a stable sound, it's best to provide the root in the bass. The bottom column will have the letters bolded to show that it is the root in the left hand.

Here is a different chord progression in the same key also using these same ideas. Please, go ahead and practice these! This progression is A minor-C-F-G.

Finally, if you are up to speed on the different keys of music, try this example out in the key of G. It uses the exact same rules!
This progression is C-E minor- B minor- D. Watch for shared tones and parallel movement in tones from chord to chord.

Conclusion
Any good pianist knows how to transition chords like this. Though this was just the basics, you can get a lot of mileage out of this info!
Knowing how to smoothly transition chords can help take you from someone who can fudge around with a few chords, to a musician who is really putting time into learning their stuff.
It takes time to learn what notes chords are built of and how to invert them, but once you have this down your ability to smoothly transition in a musical way from chord to chord will sky-rocket. I hope this guide helps! Play through these examples and have fun!