The Yamaha DGX-640 is an exceptional digital piano but without a Yamaha DGX-640 review there would be no way to know if all the features that you want are there.
When you are shopping for a digital piano if you are a beginner you may not have a complete grasp of what all the features mean.
Of course if this is not your first rodeo than you likely are well aware of what you are looking for.
Some of the things that you should look for are:
88 keys being the standard
Are there speakers- is that an important feature for you?
Number of Polyphony-the higher the better
Touch sensitivity
Touch response
Number of controls
All of the above are important considerations, especially for a beginner. A lot of beginners get "caught up" in the things that really do not affect play.
They look for the bells and whistles but do not take the time to look at the important things like the number of Polyphony (the number of notes that a digital piano plays).
If you do not plan on want to buy an amp than having internal speakers will be an important feature to you.
If you do not mind buying an amp as a tradeoff for getting the features that you want than having internal speakers is no big deal.
Good quality weighted keys are always a recommendation for both beginners and experienced players.
Of course having 88 keys would be most like playing an acoustic piano. The keys should have a good range of touch sensitivity and respond naturally.
The number of controls is actually not as important as the features that the controls, control. Did that sound a little confusing?
In other words, when you are looking at a digital piano look at the features that it is stocked with, don't get distracted by the number of controls or LED screen.
Let's Take a Look at How the Yamaha DGX-640 Measures Up with Features
We have to start by saying that the Yamaha DGX-640 comes with a couple of things that you normally do not get when you purchase a digital piano.
Most digital pianos will come with the power adapter and a music stand BUT the DGX-640 offers the piano stand and foot pedal as well.
Typically, you would be responsible for buying the foot pedal separately as well as the piano stand. These are very nice add on's.
This digital piano is great for music production. It is a good replacement for an acoustic piano on the stage or at home BUT it has the added designation of being a great model to produce music with as well. That is another great added value if you are serious about music.
The DGX-640 has 88 graded hammer type keys. The Graded Hammer Standard (GHS) gives these keys a natural feel and response.
They are very much like acoustic keys. The matching decorative wooden stand elevates this digital piano to just the right height.
The backlight LED display is bright and easy to read. The entire DGX-640 is built using intuitive technology to make it easy to use for beginners.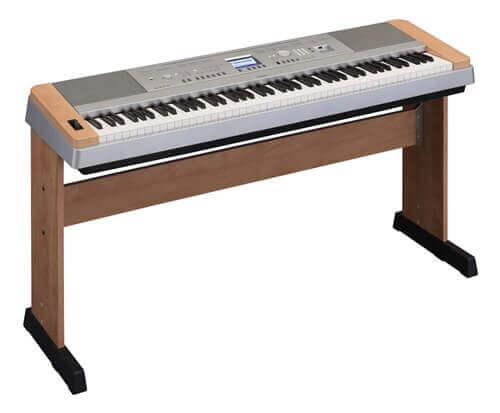 Click Here for Pricing, Pictures and Reviews on Amazon.com
There is a front panel USB jack that makes connecting USB devices convenient so that you can either play along with MP3's or use it to record.
There are over 230 DSP so you can always find the right voice. It offers an easy song arranger so that you can edit the DSP as you see fit or you can play them as is, it is all about user preference.
The DGX-640 has Performance Assistance Technology to help ensure that you play perfectly every time.
The Music Notation Display lets you know every note that you are playing to help you to perfect your sound.
The MND allows you to compose and keep a record of your work, it is especially helpful when you are composing complex or longer pieces.
It does have built in speakers so you do not have to spend the extra money on an amp. The controls are easy to use and designed to be intuitive which means where you would expect to find the controls you will and what you expect the controls to do they do.
Clearly Yamaha put a lot of thought into the design of this model. They designed it for several different skill levels and to be a multipurpose digital piano.
It is a great value to have a digital piano that you can grow your musical skills with and not have to worry that you will quickly outgrow.
In far too many cases beginners will settle for a "beginners" digital piano only to find that they quickly outgrow the digital piano and have to start their search all over again.
It is far better to buy right the first time and not have to worry about upgrades for a long time.
The Sound
A digital piano can have all the bells and whistles and still not have the most important component. THE SOUND.
Yamaha is well known for producing digital pianos with some of the closest to acoustic sounds in the industry and they do not disappoint with the DGX-640.
If you are looking for a practice piano that offers true acoustic sound this is it. Yamaha builds some of the world's finest acoustic pianos and takes the sound from those pianos and makes digital copies for their digital pianos. The sound is true and clear AND hard to find anywhere else.
All of the DSP is on point and can enhance your ability to create beautiful music.
Who Is This Digital Piano Best for?
If you are a beginner the Yamaha DGX-640 is a great place to start. If you have some experience this would be a great place to expand your skills.
If you are a composer, you will love it. Producer? You will love it.
In other words, this is a great digital piano for any skill level or need. This digital piano would be a great option for anyone that studies the acoustic piano and wants a piano to practice on but does not want to spend the money for an upright.
It is also a great option for anyone that does not have the space for a grand piano but wants the grand piano sound.
It would be a good investment for anyone that is looking for a quality digital piano for practice, performance and composing.
The Downside
There really is no downside. There is really no need for improvement. This may be a little costlier then what you would hope it would be but you do pay for what you get when it comes to musical instruments.
In most cases you would look at an instrument of this caliber and try to find something wrong with it and find things like "no stand" or "no pedal" but Yamaha provides both.
The sound is right, the keys are great and responsive and the controls are easy to use. there is nothing that makes you look at this model and think "it's perfect…but". There is no way to improve this digital piano.
Anyone that is looking for a complete all in one digital piano would be happy with the DGX-640.
Overall
The Yamaha DGX-640 is a nice balance between having too many features and not having enough features.
The Yamaha DGX-640 offers the most important features while not overburdening you with too many.
It is lighter than some models but not what you would call "lightweight" however it is light enough to carry and move on your own.
The stand is furniture quality and made of wood so it compliments any décor.
The Yamaha DGX-640 is a great choice for anyone that want a reliable instrument that sounds just like the real thing. It is an ideal way to practice, record and compose.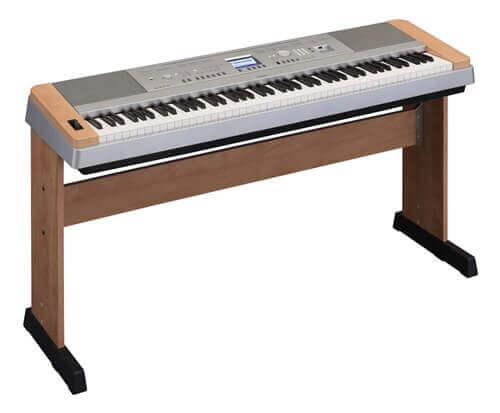 Click Here for Pricing, Pictures and Reviews on Amazon.com
It can easily be the digital piano that you have for years because it offers so many features that you can grow with.
One of the best reasons to buy the Yamaha DGX-640 now is because Yamaha is discontinuing this model so if you wait there may not be any left in the near future.
Those that have made the purchase have rated it 4.5 stars on a 5-star scale and report being very happy with it even after owning it for quite some time.
One of the key reasons that this digital piano is able to find such high user satisfaction is that it has one of the best sounds on the market.
Overall after reviewing the Yamaha DGX-640 we have to agree that this model offers everything that you could want and then some without being overcrowded with features. It is a great balance of technology, sound and superior Yamaha engineering.
You get a 2-year warranty on parts and service against manufacturer defects. You get the trusted Yamaha name behind the product and you get a reliable instrument that will provide you with years of playing. Buy it!