This Yamaha P-80 review will help you to learn what you need to know to make a decision as to whether the Yamaha P-80 digital piano is right for your needs. This is an entry level digital piano.
Note: The P-80 has been discontinued by the manufacturer. The new model of this digital piano is the P-125.
Yamaha is well known for offering complete range of electronic instruments from great entry level keyboards to professional performance models.
Yamaha has the expertise and the experience to really put into a digital piano what all users want. Yamaha has been creating instruments for a very long time both electronic and acoustic.
They use their acoustic instruments to create the sounds for their electronic instruments so you wind up with electronic instruments that sound like very expensive acoustic instruments.
The Yamaha P-80 digital piano is an excellent option for inexperienced users that are looking for a decent practice instrument that is very easy to navigate.
Yamaha has kept the Yamaha P-80 digital piano simple so that entry level users would feel comfortable using it.
The Yamaha P-80 has plenty of features that would make even intermediate users comfortable taking it with them on the road and even on the stage but it also comes across as being a great learning tool for those that are inexperienced with digital pianos.
Have you ever seen a digital piano that is just full of switches, control knobs and LED lights and felt intimidated? The Yamaha P-80 is not that type of digital piano. You will not feel intimidated by the control panel. It is not overwhelming yet it gets the job done.
One of the best things about the Yamaha P-80 digital piano is that it has a very natural feel and sound. It is very important especially as a beginner player that the digital piano is as close to the feel of an acoustic piano. The P-80 has a very natural sound because it is taken right from a concert grand piano.
One of the many goals that Yamaha had in bringing the P-80 to market was to offer beginners something that was authentic sounding, natural to use and that would not take tons of time to learn.
They did a nice job of meeting their goals.
What Does the Yamaha P-80 Digital Piano Have to Offer?
It offers you a full 88-key keyboard that is graded and weighted to feel like an acoustic piano keyboard.
As you know from our digital piano reviews, Yamaha really knows how to mimic the action of a real piano and as a result to produce the best digital pianos with weighted keys.
Yamaha did build this with the student and teacher in mind because it is lightweight and easy to transport but not so light that you wonder if it is a real instrument or not.
It can easily be tucked away when not being used because it is not one of those monster sized keyboards which of course is another nice feature for anyone that is starting out and that may not have the excess room for storage.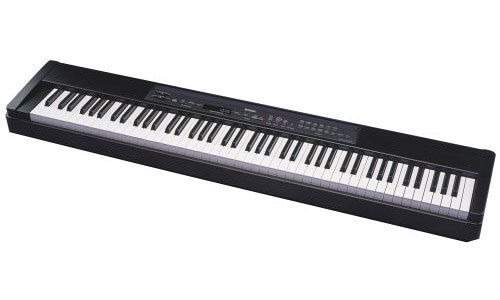 It includes a music stand and a pedal which adds to the piano feel of the keyboard. The pedal does take a little getting used to because it does not play exactly the same way that a pedal on an acoustic piano does.
With a little practice it will feel completely natural to you. It is not only the Yamaha P-80 that has this "pedal" difference, most all digital piano's do.
There are dual headphone jacks that you can plug up to for silent practice sessions and to share your sessions with an instructor.
It also a computer interface jack so that you can connect to your laptop or computer and play along. It can be used as a MIDI controller.
The P-80 allows you to prerecord an entire song then play it back with just a one button push. It has a layering feature for composing.
You can play back a previously recorded song then add additional layers or even edit.
The P-80 offers a 64-note polyphony and a nice range of voices. The built in metronome will help you to keep time nicely.
The front panel controllers are nice for easy access and to make immediate adjustments. The control panel is intuitive and very user friendly.
Some Issues
The keyboard is well weighted and graded but it is plastic. You may wonder why this is an issue?
When you are playing to an audience you can barely notice the clicking of the plastic keys but when you have your piano headphones on you can hear the clicking of the plastic keys noticeably.
When you are in the middle of silent practice not only can the user hear the clicking but so can anyone else in the room. The noise sounds similar to the keys on a laptop that are being typed away at.
Oddly enough while this clicking is a bother to some user's other users have not even noticed the sound but you should be aware if you are particular sensitive to these types of noises.
Of course avoiding the clicking noise (and it may not even bother you) really just means that you will have to play with the volume engaged and avoid headphone use. For some people it is not an issue, most beginners do not even notice.
The other issue (which is like the previous issue, not really an issue) is that the P-80 does not have internal speakers which means that you would have to buy them separately. Frankly at this price point you would be hard pressed to find any manufacturer that offered speakers built in.
It is not truly an "issue" but someone that is not familiar with digital pianos may naturally assume that the speakers are already built in. They are not so you will have to purchase some.
Who Is It Best for?
Hands down the person that will get the most out of the P-80 is the student. It can be the best beginner digital piano for learning.
The piano sounds close enough to the real thing to make sure that you are in tune and the keys are natural enough that transferring the skill set from one instrument to another would not be difficult.
It is also a great option for the road. This is a lightweight digital piano that is compact and that would travel nicely, especially for musicians that do not necessarily want to risk their more expensive equipment.
Anyone that needs a digital piano that is easy to transport will love the P-80. Of course if you are a dedicated piano player and simply do not have the room nor the money to purchase an upright the P-80 would be an excellent option to use as a practice tool.
This is a good budget digital piano that could easily work for a full range of needs for anyone that has to consider their budget first. It is inexpensive but in no way does it lack quality or performance.
You get the same great sound from the Yamaha P-80 that you do from the much more expensive top-rated digital pianos that Yamaha has to offer.
What you do not get is all the high end controls (which are not really needed but are nice to have).
Overall
Does the Yamaha P-80 digital piano have every available feature that Yamaha has to offer? No! Is it worth purchasing? Yes.
Note: The P-80 has been discontinued by the manufacturer. The new model of this digital piano is the P-125.
Overall this digital piano does exactly what it is supposed to do. It emulates clear crisp sound that sound like it comes far from beyond this price point. It makes a great practice tool and can travel well.
Yamaha has done a nice job on this entry level digital piano. It has just the right amount of bells and whistles to accomplish the tasks that you hope too without being overbearing.
One of the biggest mistakes a student can make is buying outside of their range of abilities. It is always best to start out with an instrument that you feel comfortable using then it is to purchase and instrument that has too many bells and whistles so you have to spend months just acclimating yourself to what you "can" do once you learn how to do it.
Overall every user that has reviewed the Yamaha P-80 digital piano has been satisfied with its performance and overall functions.
Most users have found that the sounds that emulate are right on point and sound almost identical to their acoustic counterparts.
Most users report feeling satisfied with their purchase and have even complimented the Yamaha P-80 on its ability to stand up to the rigors of travel and everyday usage.
Every user that has reviewed this digital piano has recommended it for purchase especially for the beginning student.
You can feel confident in making this purchase not only because of the high positive reviews but also because Yamaha offers a 2-year warranty on parts and labor should something go wrong in the first two years!
This is a good investment for any student that wants to be able to practice, gain confidence and perform with a digital piano that they are comfortable with.