Yamaha have had a long history of making portable keyboards and continue to refine the technology that accompanies these instruments.
The PSR-E343 is a worthy competitor in a pretty saturated market. Buyers are spoilt for choice, but for those doing their homework and comparing prices in a feature for feature scenario they should definitely put the PSR-E343 on their list of options.
The keyboard offers a large range of features and provides a plethora of experimental music-making to satisfy the creative curiosity of musicians.
It comes in at a very reasonable price and offers an array of typical keyboard functions which can be utilized to create a vast range of musical projects for the novice to intermediate musician. The PSR-E343 is arguably one of the best keyboards under $200.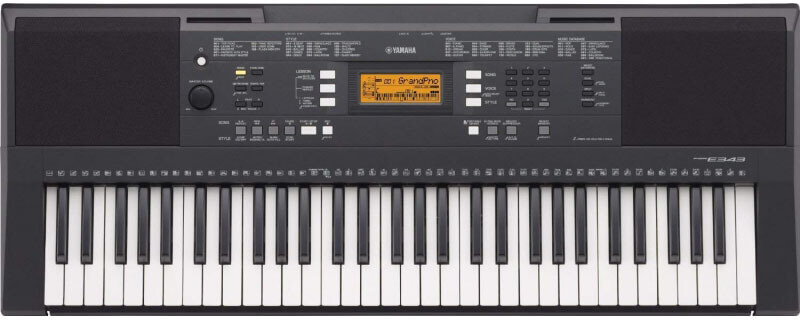 The PSR-E343 is born from a long line of electronic keyboards and Yamaha have learnt over the years which features are being sought by their customers.
They continue to meet and exceed the expectations of their clients and manage to pack in an impressive range of features into this highly portable model.
Sound
For a small, portable keyboard that is battery driven, the PSR-E343 offers a fair amount of volume that fills a room quite satisfyingly.
The many, preset sounds provide a large palette to draw from and have a generally excellent accuracy in terms of realism for many of the sounds.
Yamaha have produced great tones for this instrument particularly the more electronic options and a pretty decent piano tone, which is always a difficult instrument to emulate.
Sounds are dynamically diverse and offer a multi-dimensional spacious feel to them. Added to the already great tone generation an EQ function allows for an individualised tonal setting, giving users flexibility in fine-tuning the sound that they are looking to create.
The EQ gives users a high level of control over the sound customization. While Yamaha do not use sampling to draw on their tone creations for this keyboard, the digital tones do have some depth and aural interest.
Touch
The keys are ever so slightly narrower than those of a standard piano, and as with most keyboards of this type offer only a one-touch response, without any weighting or pressure sensitivity.
This does mean that musicians lack opportunity to develop the finer touches of keyboard playing in learning to adjust the dynamic level through finger touch, hand weight and pressure.
My personal feel is that this leaves musicians in a poorer state in their skill development in the long run. The keys respond much like those of a typical organ.
For beginners however it still offers an opportunity to play easily and not have to focus on the finer muscle control executions that have to be made on weighted and velocity-sensitive keyboards.
But if you want to practice and develop your piano skills, then you should look for a more advanced keyboard with weighted keys.
Features of the Yamaha PSR-E343
The choice of voices, together with adjustability of the tones through a wide series of effects, including Reverb, Chorus, Wide Stereo, Harmony  and on board EQ, make for a full spectrum of tones that can be tweaked to provide just the right sound for any performance.
Recording facilities allow for two-track recording and five songs on board. Connection capabilities allow unlimited storage on other memory devices and connection to keyboards, iPads and the like.
The detailed backlit LCD display shows notes being played and chords being used and provides detailed information on choices being used. It is especially useful when using Yamaha's on-board teaching facility.
It allows users to improve their playing ability and to teach themselves how to play numerous popular piano works in the beginner to intermediate range.
The Yamaha Education Suite exposes users to a full range of 102 songs and demonstrates how to play them through the use of music notation and a demonstration of finger sequences needed to achieve a satisfactory performance.
Accompaniment rhythms and harmony features offer a large selection of choices to enhance even simple pieces and add musical interest to any performance. The accompaniment offers a selection of intros, fill-ins and outros and the possibility of using one finger to add chordal structures to pieces.
A transpose function and on-board metronome is available and a large range of connections to other devices via USB, AUX and line inputs and outputs. The keyboard is also light and portable.
Being powered by batteries and power supply, it is suited for transporting to any venue where music may be required and is ready to go from the moment it is switched on.
The Pros of the Yamaha PSR-E343
The number of features on this keyboard alone gives it an edge on its competitors and complemented by the selection of voices and features is a sound generation source that provides realistic complex tones.
Traditionally these cheaper keyboards sounded rather synthetic over the entire range of voice selections, but this has changed with improved technology and electronic tone generation techniques.
Yamaha have definitely improved the voice set on this keyboard and other electronic keyboard brands will have to up their game if they are to compete in this market.
It's a great keyboard for budding musicians who want to experiment with different sounds and who would like to teach themselves to play, through experimentation and use of the on-board teaching facilities.
The Yamaha-Education Suite provides a ready set of teaching sequences to help new players acquire the skills to perform the loaded repertoire that comes with the keyboard.
This system is quite remarkable in how it operates and users who are prepared to spend some time acquiring skills will be amazed at its effectiveness in improving playing ability.
It also offers some quite complex harmonizing and accompaniment features to make even the earliest beginners sound quite accomplished.
The accompaniment styles provide a rich tapestry of background sounds and chordal support to enhance performances and make the player sound great.
The recording facilities offer musicians an opportunity to use recorded fragments in performances and to learn the skills of layering parts to create more complex music.
A generous on-board memory also means that users don't have to use external devices to save performances and new creations but can store their compositions on board for direct access.
The Cons of the Yamaha PSR-E343
As with most of these budget piano keyboards, the fact that the keys are slightly smaller than those of a regular piano can play havoc with those more accomplished musicians who are used to standard keys.
The soft keys also make virtuoso playing impossibility and tend to negatively impact the use of good hand shape and technique for more serious musicians.
For a keyboard with great layering and accompaniment options it has a significantly reduced polyphony and the loss of held notes can be quite obvious if using the layering functions and accompaniment capabilities in 'chordally heavy ' pieces.
With so many top digital pianos and keyboards coming out with 128-note polyphony as being standard, the 32-notes on this keyboard seems like one is being short-changed.
The fall off from sustained sequences is very evident and unfortunately hampers use of the particularly innovative accompaniment features built in.
It may sound like a small negative but the impact is felt throughout the instrument especially when using a range of functions simultaneously.
The soft-one touch response of the keys will also be a source of frustration to musicians who are used to a velocity-sensitive approach or a weighted keyboard action and in general limits the ability to deliver more virtuosic pieces. The instrument would present more problems for advanced musicians.
Conclusion
For a 61-key entry-level keyboard, the PSR-E343 offers a broad spectrum of pleasant tones. These can be used to provide excellent sounds in conjunction with recording software.
The links to other devices and software make the keyboard quite versatile and for learning to play and perform, the PSR-E343 is a good beginner keyboard.
I would recommend the instrument to early beginners and younger children who show an interest in playing and like to follow the path of self-discovery.
It does present a rich introduction into the world of music and exposes users to the need for following notation and using good fingering while playing.
With many fun features, great sounds and accompaniment styles, musicians have a multitude of choices when it comes to performances and can enhance their playing to a high level of complexity with some clever recording techniques and customisations to accompaniment rhythms and patches.
The PSR-E343 does offer many hours of musical entertainment and tuition in this small but feisty addition to Yamaha's digital range of instruments.