Yamaha has yet another fantastic keyboard to add to their growing collection.
This Yamaha YPT-260 review will depict how successful this keyboard combines necessity, quality, durability, style, and functionality while staying very affordable.
For people that don't want to throw hundreds of dollars at the music store, this keyboard is the perfect choice.
Chances are, as you'll see further into this YPT-260 review, even if you're a seasoned pianist/keyboardist, you may be surprised that you got much more than you paid for.
Let's get into the details of this Yamaha YPT-260 review so you can see why it is one of the best cheap keyboards on the market for around $100.
Education
In the 21st century, your keyboard has the ability to teach you how to play it.
This particular model is great for beginners but is also great for more experienced players because of the features and how easy it is to play.
This model includes Yamaha Education Suite, which is a feature set into the keyboard that gives the user a 9-lesson plan with step-by-step instructions.
Players just learning how to play the keyboard or piano will very much enjoy how easy it is to use the feature.
More experienced players will certainly learn a thing or two in the lessons. And, they are great for scale and song practice.
When combined with the other features this keyboard has, any player, regardless of talent, skill, or experience, can enjoy the Yamaha Education Suite feature on the Yamaha YPT-260.
Keyboard Quality
Sometimes the above three qualities don't quite align with one another, but for this keyboard, they absolutely do.
The Yamaha YPT-260 is mostly made of a very hard plastic that encases all the internal chips, computer, ports, etc.
Needless to say, it will survive a few drop tests when accidents happen.
Yamaha only uses the best materials to make their products. They don't cut corners for their cheaper models like most manufacturers do.

The knobs and buttons on the top of the keyboard are well made. Some buttons have a rubber coating to protect them from dust and debris while making it easy to keep your finger on that button.
The volume knob is metal and has the perfect amount of resistance to set the volume exactly where you need it and it won't move on you during play.
The rest of the buttons to the left and right of the screen are the plastic, clickable type that give a satisfying click when the button is depressed.
There's no mistaking whether you successfully pushed the button or not, like in other cheap models from other manufacturers.
The keys have a very easy action to them, like most other keyboards do.
The keys aren't weighted though, like you'd find in a grand piano or more expensive, high-end keyboards.
All the buttons that work all the different features of the keyboard are nicely spaced apart, with features that work with one another together for much easier use.
It doesn't take long at all to understand the configuration, so you can remember where everything is.
It's surprising how much time a keyboardist can save when they have a configuration that makes sense to work with. Having a confusing layout can be quite frustrating.
For beginners, this keyboard couldn't be easier to use. Everything is laid out for them on top, in numbered lists for voices, features, songs in the song bank, and other features.
The screen is nice and bright and easy to understand. It displays every feature that is on, so the user can keep organized while they play.
Features
Here is a list of features that the Yamaha YPT-260 has, with a detailed description of each:
Voices
The Yamaha YPT-260 has 400 voices, or digital instruments and sounds that are mapped to the keys, which gives any player the means to create any kind of music they like.
Styles
130 accompaniment styles are included. Accompaniment styles are simply a feature that tells the keyboard to play some background notes in the key and style you select so you can play along with it.
The idea is to give you a full band or orchestra to play with all within your keyboard.
Backing Tracks
This goes along with the accompaniment style feature. The user may choose a style of backing track, or accompaniment track to play along with.
The user can even record their sessions, so they can work on them more on a professional recording software, or they can write the music down.
This gives the keyboardist another tool to use in the creative process.
Song Bank
Every keyboard has a song bank. But this model has 112 songs that every pianist should learn.
The songs range from classics like Beethoven and Mozart to songs for kids and newer tracks
Yamaha Education Suite
As mentioned earlier, the education feature included is a 9-step program that takes beginners on a step-by-step journey to becoming a master of the keyboard
Auxiliary Input
This keyboard has the capability of hooking up to a variety of devices, including phones, tablets, computers, and other devices that support it.
Useful apps for education can be used from a phone or tablet. And, the Yamaha YPT-260 will integrate seamlessly with any professional recording software on your computer.
Onboard Recording Feature
If you don't have an outside recording device, such as a computer, you can use the onboard recording feature to record snippets, entire songs, practice sessions, backing tracks, and more
Lessons
This feature is actually a variety of different buttons and features that help the user with all the skills a keyboardist needs.
The user can use them by sequence, or steps, as they evolve their keyboard skills, or just learn in a different way.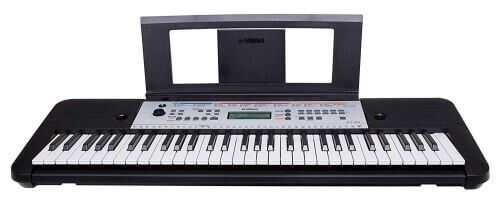 The buttons include a Listen and Learn, 'Timing, and Waiting (Chord Dictation).
Beneath the lesson buttons are two more that are labeled, L/R, which gives the user the ability to use the lesson feature in a split mode, one for the left hand, and one for the right
Other Features
Like any keyboard, these features are displayed by the volume knob on the left-hand side of the keyboard: A metronome function, tempo/tap, phrase recording, song and style buttons that allows the user to control the song through repeat, I/O, rewind, fast forward, auto fill, sync, start, pause, and play buttons.
Right Hand Buttons
On the right-hand side of the keyboard, you will find three larger buttons labeled Song, Voice, and Style.
These buttons easily turn on or off the preset features, or they can scroll through all the different songs, voices, and styles.
Next to the larger buttons are the number keys, which give you control over which of the hundreds of features to incorporate into your creative style.
Below that you can find preset buttons labeled Portable Grand Piano, Ultra-Wide Stereo, and Sound Effect.
The portable grand button will take you immediately to the grand piano voice, which is the default voice for the Yamaha YPT-260.
The Stereo button toggles the way the sound comes out of the speakers.
It also doubles as a button that enables an EQ feature that displays on the screen, so you can fine tune the sound perfectly.
The button for sound effects toggles preset effects on and off and can scroll through effects using the display menu.
Alternate Key Functions
Pictures are listed just above the keys so you can easily recognize what their alternative use is for.
On the left-hand side, you'll find drum symbols that depict which part of a drum kit each key is mapped to.
This is exceptionally useful for making drum beats or recording backing tracks.
After the drum symbols, you will find the Chord Type and Root note displayed above each key.
This simply tells you what note corresponds with which key.
Worth Buying?
Absolutely. There haven't been any reported manufacturer defects that plague the Yamaha YPT-260 en masse.
The quality of the build and the functionality of the features are worth much more than what you'll pay for it.

A beginning keyboardist/pianist is always encouraged to read other Yamaha YPT-260 reviews, so they may have complete control in making the best decision in buying the right keyboard for them.
Although, everything has been laid out for you here in this Yamaha YPT-260 review, so you do have the power to spend your hard-earned money on the perfect keyboard for you.
If you're a beginner, this choice is quite simple.
Final Thoughts
For a keyboard that costs around $100 brand-new, the Yamaha YPT-260 sure has a ton of features and functionality that makes it hard to beat.
Yamaha certainly raised the bar for other keyboards in its class. The Yamaha YPT-260 plays very well, despite it not having weighted keys.
The keys don't feel cheap, and they do have a nice, bouncy response that makes it easy to go from note to chord to note without much effort.
For a more experienced keyboardist/pianist, it will take some getting used to, just like any other instrument would.
A good musician is always adaptable, so picking this up and playing it without missing a note isn't out of reach.
The features are what puts the Yamaha YPT-260 in the top spot.
It has all the same things a far more expensive model would have from another manufacturer for a fraction of the price.
Yamaha is known for making beautiful sounding instruments, so it's no surprise that they outdid themselves with the Yamaha YPT-260.
After all, Yamaha makes the most awarded, best sounding grand piano in the entire world.