A 61-key keyboard can be a good option for beginners, it's big enough for two handed playing, but saves on space and money when compared to buying an 88-key model. We've reviewed some of the best 61-key keyboards in this article from top brands including Casio and Yamaha. Some have great features for beginners, some are better for intermediate players.
Here are the best 61-key keyboards 2023:
Casio CT-X700
We've named the Casio CT-X700 our best 61-key keyboard. The Casio brand is prolific and they have a very big range. It's not a big surprise that the best Casio 61-key keyboard is the top of our list overall.
This keyboard gives a good balance between intermediate and beginner model. It has some very good features if you're new to keyboard, and it is portable and easy to use. However, the strength of the tones make this a popular choice for slightly more advanced players, too.

Image credit: Casio
See it on Amazon.com
What we like (and don't like) about the Casio CT-X700:
Casio keyboard comes with 600 different tones and 195 rhythms to play along to.
USB-MIDI makes it easy to control your virtual instruments or DAW with this keyboard.
A headphone output allows for private practice.
The keys are touch responsive, to mimic the sound character if you were playing an acoustic piano.
Can use battery power or mains, comes with a power adapter.
Inbuilt 6 track recorder and lessons for beginners.
Touch sensitivity doesn't have a hammer action so doesn't feel as realistic as some models.
Controls aren't as intuitive as some models.
The huge array of tones and multi-track recorder makes this a helpful keyboard for composing and learning how to play. It even has inbuilt Casio lessons. Weighted keys could improve the keyboard, but if you aren't too worried about this feature then it could be a good idea to opt for a portable, simple keyboard like the Casio CT-X700. It's one of the best Casio keyboards available in 2023.
Alesis Recital 61
Alesis manufactures some very good keyboards. This is a top-rated keyboard with some quite professional features and functions. If you are used to the feel of an acoustic piano, this might be the perfect 61-key option for a keyboard due to the semi-weighted keys. This gives a similar feel to playing a traditional piano.
On top of this, the Recital 61 has some good tech and connectivity features, meaning it is a good option for people wanting to use it as a central hub to their studio, too.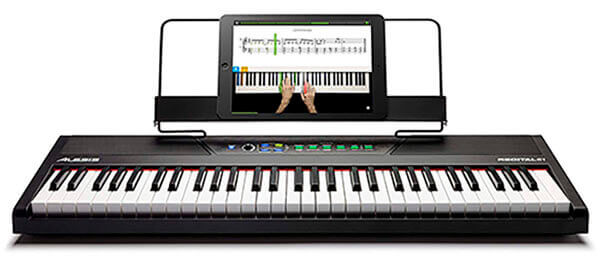 Image credit: Alesis
See it on Amazon.com
What we like (and don't like) about the Alesis Recital 61:
Semi-weighted keys and an adjustable touch sensitivity so you can set to your own preference.
10 premium sounds including acoustic piano and organ.
Comes with inbuilt effects including reverb and chorus.
Two powerful 20W speakers make this one of the loudest options on the list.
Can run on the power adapter or batteries.
Comes with free lessons from TakeLessons and learning modes including split and "lesson" mode.
Though the inbuilt sounds are great quality, more sounds would be better.
Power cord is a little short for some people, annoying if the power outlet is far away.
This has a very nice feel to it, and a premium quality from the powerful speakers and the excellently sampled sounds. It's a top-rated model of 61-key keyboard that doesn't break the bank, either.
The learning modes mean it is good for beginners as well as an option for pianists looking for something portable to play out and about. It's the best 61-key weighted keyboard on our list.
Roland GO:KEYS
You can normally rely on Roland to provide a high-tech option, and their GO:KEYS 61-key keyboard does a fantastic job of packing modern functionality into a very small package. Good for all sorts of musicians, and built to help you to create full compositions as well as play chords and melodies.
Many people looking to buy a keyboard that can connect to their devices with ease opt for the Roland range. They have Bluetooth connectivity to allow you to link to computers, tablets and other devices with ease.
Image credit: Roland
See it on Amazon.com
What we like (and don't like) about the Roland GO:KEYS:
Bluetooth support for audio and midi, so you can connect your tablet, phone or laptop.
One-touch control lets you add effects and change the character of sounds.
Comes with 500 sounds inbuilt including lots of great Roland synth sounds.
Loop Mix mode lets you play notes to drop loops in and out, great for composing, recording and performing.
Keys don't feel very realistic compared to acoustic piano. Not an issue for everyone, but a big issue for those used to playing piano.
More expensive than some of the comparable models.
This is a really fun keyboard, but it is not the most true to an acoustic piano. It's good for touring or playing in a band if you are looking for something that can trigger loads of different sounds.
Streaming backing tracks or sending and receiving midi and audio from this keyboard are more features that appeal to tech loving musicians. The GO:KEYS has something of a synthesizer feel to it, but that may be exactly what you're looking for.
RockJam RJ361
There are lots of reasons not to want to spend a huge amount of money on a keyboard. For instance, if you're buying one for your kid and you aren't sure if they are going to keep up the hobby. The RockJam model means you don't have to make any big sacrifices on quality or functions to get a highly-rated keyboard.
You can buy this as a standalone keyboard, or to save even more money you can buy as a bundle with stool and stand. This depends on where you plan to keep your keyboard, of course, but it is good to have the option.

Image credit: RockJam
See it on Amazon.com
What we like (and don't like) about the RockJam RJ361:
Comes with note stickers to help you to learn to play.
Includes a music stand for your sheet music or for an iPad or Tablet.
MP3 playback can be done via an aux in or USB input, so you can play along to backing tracks or your favorite songs.
Includes 200 rhythms and tones as well as 40 demo songs.
A companion piano application is available to help you to learn, and this is complemented by two inbuilt piano learning modes.
A headphone output lets you play silently and not disturb anyone else.
Speakers and some other components could be higher quality in an ideal world.
The companion software has a charge after a 30-day trial period.
Power cord is quite short.
The sound of this keyboard isn't elite or overly professional, it's definitely designed to be a good option for beginners. However, for the price, it's hard to complain about all the features packed into this cheap keyboard. It's a great budget option for those who don't want to spend too much to get started playing.
Arturia KeyLab 61 MkII
This product is not just great for learning to play, or for playing your favorite songs on the keyboard, it is designed to be a controller. This means you can hook it up to your favorite music software and control it in a live or studio setting. Everything from fading new sounds in and out to playing drum patterns can be done via the Arturia KeyLab MkII.
Image credit: Arturia
See it on Amazon.com
What we like (and don't like) about the Arturia KeyLab 61 MkII:
Easily compatible with Arturia VSTs and other music production software.
5 Expression control inputs. You can add effects and alter the character of the sounds.
16 backlit pads for drums and other sounds. You can use this just as easily in the dark or on stage.
9 rotary knobs and faders that you can assign to different sounds or to alter the sound you are playing.
Expensive. This is double what a lot of the other models on our keyboard review list cost.
Far more simple to use if you have a suite of VSTs and already know how to produce music.
Though it can be a producer or performer's best friend, this keyboard isn't for everyone. It does cost a little extra and there aren't any beginner modes. However, for taking your compositions on the road and performing on stage, this can be a fantastic option, letting you trigger other sounds besides the keyboard sound you are playing, or make real-time adjustments to your performance.
Costzon 61-Key
Just one look at this keyboard will show you why it has made our list; portability. You can see from the design that it is minimalist and designed to fit 61 keys into the smallest space possible, keeping playing functionality at the same time, of course.
Costzon isn't one of the massive piano brands on the market, and not everyone has heard of the manufacturer, but don't let this put you off if you are in the market for affordable keyboard. This keyboard also has some modern features even some of the top brands don't offer, for instance, a rechargeable battery built in. You can charge this model and play it for up to 12 hours.
Image credit: Costzon
See it on Amazon.com
What we like (and don't like) about the Costzon 61-key keyboard:
Comes with touch sensitive keys.
128 tones and 128 rhythms included.
Simple control panel allowing transposing and many other controls including metronome and a drum mode.
Inbuilt battery with up to 12 hours of battery life, or use the power adapter to ensure constant power.
Silicon panel helps to keep the keyboard in place even on top of surfaces.
Comes with a carry case which is waterproof and allows you to take your keyboard out and about with you.
Great value for money, especially when you consider the included sustain pedal and carrying case.
Speakers are quite low on quality, you need to plug this in to other speakers if you want to get the most out of it.
The touch sensitivity doesn't seem to work when connected to a computer or other device.
In general, it's the bigger keyboard brands that make up our list, but for the best portable option it is hard to look past the Costzon 61-key keyboard. It's tiny, but also has really easy controls and good connectivity. The speakers aren't powerful, but if you are planning to connect to a PA system or amplifier, this shouldn't be an issue.
Yamaha PSR-E463
Plenty of people are very loyal to the Yamaha brand, and their keyboard range, PSR, is iconic. They have been making keyboards for decades, and the E463 is a best-selling 61-key model, good for beginners as well as those who are already decent keyboard players.
This can be purchased as a standalone keyboard, or you can buy bundles including the power supply and even a stand if you wish. The keyboard is a little larger than some of the other portable keyboards, but this isn't a problem for some people, and there are extra control options and even a display screen utilizing this space.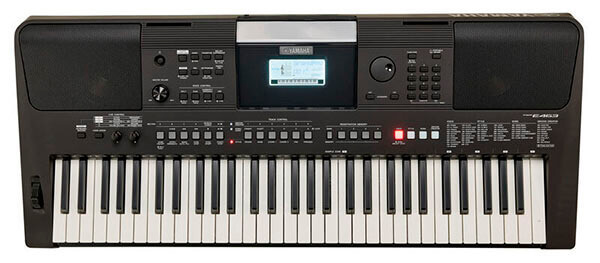 Image credit: Yamaha
See it on Amazon.com
What we like (and don't like) about the Yamaha PSR-E463:
XG Lite voice library allowing playback of Yamaha's huge song library.
Assignable knobs meaning you can change the effects and characteristics of the sounds in real time when you are playing.
2 x 6W speakers are included and offer plenty of power, and a little bit of a bass boost.
Easy USB to MIDI means you can use this as a MIDI controller and link to your DAW.
USB port for flash drives to load and store sound and other data.
Groove Creator mode lets you make EDM style beats on your keyboard.
Controls are a little bit complicated, partially due to the fact there are so many modes and options.
Keys could be a little better in terms of quality. They feel a little cheap.
There's a lot of functionality built in, and the option to write and read data right on your keyboard, perfect for adding new sounds. The Yamaha brand is huge in the world of keyboards and it is no surprise that one of their PSR range has made our list of the best 61-key models. For a lot of opportunities to alter the sound, we recommend the Yamaha PSR-E463, it's a great keyboard option from Yamaha.
The ONE Light
If you are looking for a keyboard that can help you to learn how to play, this could be a fantastic option, and is worth considering if you don't want to get lessons in person. Instead, the lighted keys and learning modes can help you to learn without having to undertake lessons, or by taking lessons online.
It isn't just a novelty product, or only good for learners. It has some good functions once you've learned to play, and The ONE Light keyboard has plenty of sounds and control options.

Image credit: The ONE
See it on Amazon.com
What we like (and don't like) about the The ONE Light keyboard:
LED lighting on the keys helps you to follow patterns and learn to play.
Free companion app provides lots of educational functions and even includes crash courses and games, great for adults and kids alike.
Simple design and it is easy to change the settings. 128 different sounds are available to play with.
MIDI output and recording settings, as well as a high 128-note polyphony so complex melodies can be played reliably.
You need a compatible tablet or other device to get the full functionality of The ONE keyboard.
Speakers don't provide a huge level of volume.
Bigger and bulkier than some other options, so not as portable.
If you are looking for a model that is great for learners, and includes the lighting keys function, this could be the keyboard for you. As well as being good for learning, it comes in lots of colors and is suitable for both children and adults.
Conclusion
There are 61-key keyboards on the market for a variety of different needs. What's best for a beginner isn't necessarily best for a seasoned pro, or someone moving from an acoustic piano to a digital piano.
Our list of the best 61-key keyboards gives options for a wide variety of different users, providing detailed reviews of suitable options from the best keyboard brands.