Williams may not be a name that first comes to mind when looking for a digital piano.
In fact it takes a brave company to go up against names like of Yamaha, Kawai and Korg.
Yet it is worth learning more about the products this company provides to us. So here you go!
Williams Legato Review (Update for 2019)
With the Legato 88 key digital keyboard, Williams aim not to lead the market from a quality standpoint, but rather to provide arguably the cheapest keyboard (around $300) of its type on the market and hopefully sell large amounts of them.
I am sure that Williams are hoping to carve themselves a niche in the keyboard market with this instrument.

The Legato offers a full-size weighted stage piano/controller keyboard for a price that is usually reserved for entry level 61-key portable keyboards.
Are Williams even making a profit on the sale of these instruments?
Sound
So for low price one surely won't be expecting a grand sounding instrument rivalling a Steinway.
At the same time if it sounds like a tin can are you going to want to buy it, even at such a good price?
The sound surprisingly didn't disappoint, being on the warmer side for a piano tone.
There definitely was some loss of quality tone at the high and low ends of the range, where the digitally created tone became more evident.
The bottom end did not have enough depth but this may be because the speakers do not deliver much volume and the keyboard does offer a better bass tone through amplifiers.
The high end notes sound a little thin lacking a clear resonant tone that one would expect from keyboards using sampling technology.
Having said that, the digitally produced tones on this keyboard don't sound unrealistic and offer enough to satisfy the ears.
As far as the other sounds that are available on the keyboard, these provided the standard Midi sounds that can be found on most entry level keyboards.
Touch
The semi-weighted keys have the feel of a typical soft keyboard that offers a fair ability to play notes with expression.
Amongst the many hammer action keyboard types available today, it lacks the now almost standard keyboard action expected of modern digital pianos.
The action is also not graded along the length of the keyboard so all the keys respond in the same way.
The plastic keys definitely feel cheaper and while the budget sound technology may not necessarily frustrate musicians the budget touch technology will probably not endear more accomplished musicians to this instrument.
Personally, I would like to know how well the keys have lasted for regular users of the instrument.
Technical Specs
Keyboard: 88 Full Size Key
Action: Semi-weighted with aftertouch. Velocity sensitive
Sounds: 5 Voices including piano, electric piano, organ synth and bass
Polyphony (max): 32-note
Functions: 2 layers as well as split function at a note of your choice
Connectivity: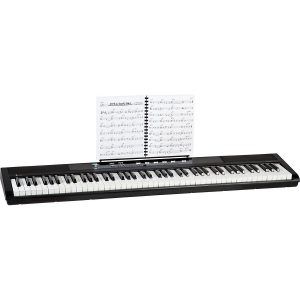 MIDI Connectivity: MIDI In/Out; Line output; USB port, Headphone Jack (1), Pedal input (1)
Preset Songs: 5 songs
Onboard Features
Effects: Reverb and Chorus, not adjustable
Dimensions: Width: 50″ (1,270mm) Height: 3.5″ (88.9mm) Depth: 11″ (279.4mm)
Weight: 19 lb.
Power adapter: Sold separately
Sustain Pedal: Sold Separately
Batteries: 6 x D (not included)
Features
Typical features are not as prolific as on many other brands on the market today, but then again the keyboard is not really priced for offering many features.
The chorus and delay add some depth to the tone but really only offer an alternative one dimensional addition to the tone, being set to a particular depth that cannot be adjusted.
If you like it great, if you don't there is nothing to change the setting.
I would have preferred a level of brightness setting rather than a reverb or chorus function and this may be a consideration for future updates.
There are no recording facilities, no display and no inputs for adding effects units or other devices to the keyboard.
While this might immediately put some people off buying one I did like the fact that the keyboard had aftertouch on it.
This is often a neglected feature on even more expensive models and rarely seen in entry level machines, even by some well-established companies.
The velocity-sensitive response was also pretty good allowing for good facilitation of some more advanced playing.
The keyboard does offer MIDI connectivity for the linking of other machines and computer software that utilize MIDI, and this makes it quite an effective controller keyboard.
There is also a USB port for storage media and other devices as well as a single headphone jack.
5 preset songs offer a demo on how the keyboard sounds with the different tone settings available.
Pros
The price is definitely the plus factor here, but more than that, as a simple instrument, the Legato does not disappoint in its response and feel.

If I had the choice between the Legato and nothing, I would most certainly pick the Legato even above some more expensive feature laden keyboard options on the market.
The fact that keys are full-size (often sacrificed on cheaper entry level instruments) already makes it a winner in my book.
I didn't find the soft response of the keys too off-putting and could execute some medium level pieces quite easily.
Being driven by batteries as well, makes the Legato a nice instrument to take along when camping or to places where power may not be available.
And it also doesn't weigh terribly much (Don't get any ideas on going hiking with it though).
The connectivity through its various ports (including USB) does lend itself to interaction with software and other devices, so typical of many electronic gadgets on the market today.
It includes a layering function as well as a split function which gives users more access to the other tones. Unfortunately levels cannot be set individually.
Cons
The instrument feels cheap and is not extremely robust. The fact that it is so portable may be counteracted in that it will not survive knocks and bumps that come with transporting a bulky instrument.
If one is going to transport the keyboard it may need a custom case if it is to survive and that will add to the weight of transporting it around.
Probably the worst feature is the low polyphony – only 32 notes. It doesn't take much playing before the dropping off of notes becomes apparent.
Just an arpeggio or two, combined with a tremolo and the maximum number of notes will be reached resulting in a noticeable loss of sustained notes.
This can be a little off-putting and should be a consideration in any future models to be produced.
The lack of a string sound on the 5 options is definitely an error in judgement as strings would have offered better usage of the layering function of the instrument.
I could easily have done without the organ sound which requires far more specialization and adjustment to make it a worthwhile tone than a reasonable string tone.
Conclusion
The Williams Legato has a place in the digital piano market as an entry level budget instrument.
For those with limited extra income, it offers a reasonable instrument to make music on.
Home-based studios will find it a very suitable instrument to use as a controller keyboard linked to more sophisticated sound software.
In order to know what to look for in the best midi controller, check out this guide.
The keyboard itself is great for learning on, if a piano cannot be purchased and only costs the price of a few lessons.

It can also make an excellent second keyboard for teachers who like to play along with their students in a small home-studio.
It is worth taking some time out to play on one and to make a decision about the type of instrument that is needed for personal use.
There is definitely a fair amount of commendation for the instrument despite some of its drawbacks.
If your demands for features is not very high and tonal realism is not an absolute must-have, the Legato can provide many hours of satisfactory learning and personal growth in your musical ability.